Carmelo Anthony and the 10 Biggest Pseudo-Superstars in the NBA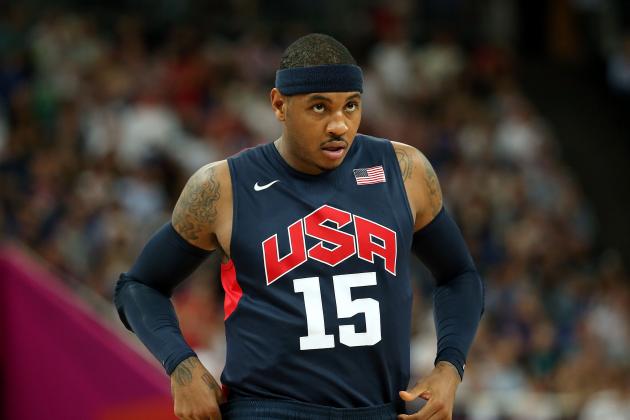 Christian Petersen/Getty Images

Carmelo Anthony is a great example of the pseudo-superstar. A pseudo-superstar is a player, perhaps even a legitimate All-Star player, that pretends to be a superstar. He gets called a superstar and wears the superstar disguise, but he's not a superstar.
A superstar is a player that can carry a team to elite status.
A superstar makes the players around him better.
A superstar plays on both ends of the court.
Carmelo Anthony is not the only offender here. There are other players who aren't superstars but have been called one at various times.
Admittedly, there is a degree of personal preference and experience here. How big of a star is a player? What makes a superstar? Is such and such player really considered a superstar by some? All of these are highly subjective.
At the same time there is a general consensus that's available just by being well-read on the NBA. The players are ranked according to how close they are to actually being real superstars; i.e. the top-ranked player is the closest to actually being a superstar although he is not one yet and the 10th player has a long way to go.
Begin Slideshow

»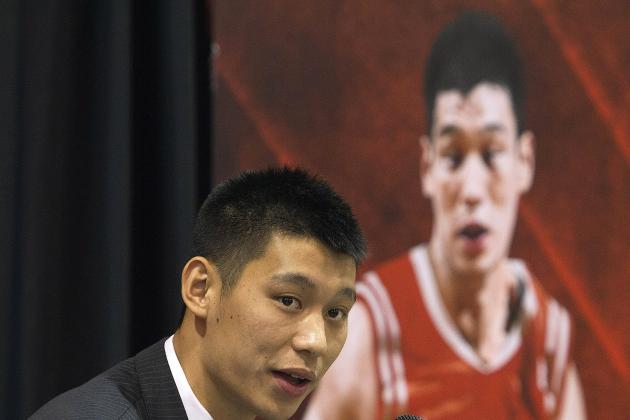 Bob Levey/Getty Images

If there were such a thing as recognition-to-actual-accomplishments ratio Jeremy Lin would be the all-time leader in it.
Never, in the history of professional sports, has a player done less and gotten more attention from it. While that sounds like hyperbole, it's actually not. Name another athlete who got more recognition off of fewer accomplishments?
Don't say Tim Tebow. He was the greatest college player of all time. While his NFL accomplishments might be overstated that doesn't take away from what he did in college, which is where he earned his fame.
Lin had so much of an amateur resume. His career accomplishments are nested in a three-week period, yet he is one of the most recognizable names and faces in the NBA now.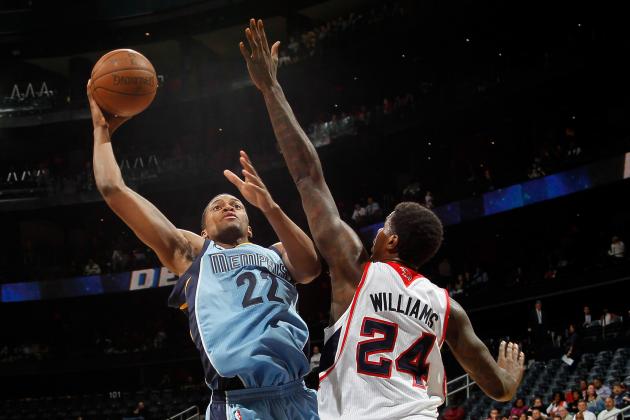 Kevin C. Cox/Getty Images

Rudy Gay gets touted as a "superstar" by some. He's often listed as a player that is "underrated."
He's really not. His fame mostly comes off of a single shot he made over LeBron James to win a game.
That's not to say it's his only game-winner, just the only one he's famous for.
He does have that in his repertoire. He is one of the better "game-on-the-line" shooters in the NBA. Since he came into the NBA he's made 17 shots to tie or take the lead with 24 seconds or less left in the fourth quarter or overtime, according to data from basketball-reference.com.
His shooting percentage is actually very good in those situations too; he has an effective field-goal percentage of .476 in those situations.
He deserves credit for that.
The problem is that the rest of his game is woefully short of anything that could be considered "superstar" status. He's only cracked 20 points per game once in his career, and then it was barely as he averaged 20.1 in his sophomore season.
He has career averages of 5.7 rebounds and 1.9 assists.
If you took his career highs it would be 20.1 points, 6.2 rebounds and 2.2 assists with a .511 effective field-goal percentage. That's not his best year, those are his career highs across the board.
That's not superstar production. It's not even close. It's not even close to being close. Gay is not a superstar. He's barely qualified to be called a star.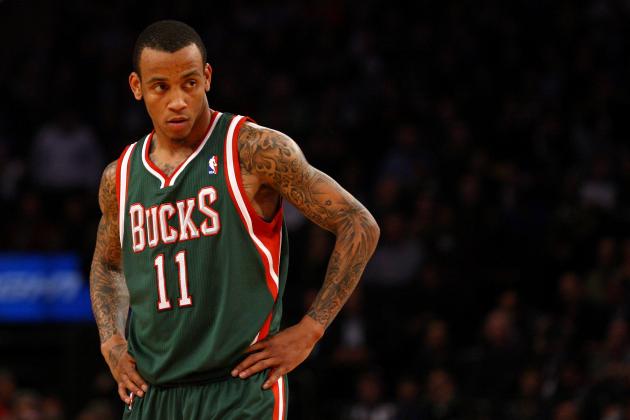 Chris Chambers/Getty Images

Monta Ellis is a flat-out terrific scorer. He has electric moves and a tremendous ability to carve through traffic and get to the rim. He's also a pretty admirable passer for a shooting guard. When it comes to entertainment value, Ellis fits the bill.
The problem with Ellis is that he doesn't have much else to his game. On the defensive end he's flat-out horrible. He gives up .93 points per play. That puts him in the bottom 25 percent of the league.
His OPER of 14.5 with Golden State was also too high for a superstar. Then he went to the supposedly more defensively minded Bucks and did even worse with 15.5.
He gets steals, but a large number of those are just shooting passing lanes; the result is that he gets burned more often than he gets steals, and as a result does more harm than good for his team. When a player shoots the passing lane and misses, it means his man is completely unguarded, and that usually means an easy two points.
Ellis can play defense, he just elects to not put any effort on that end of the court.
Maybe that's why his teams have only made it to the postseason one time in his career.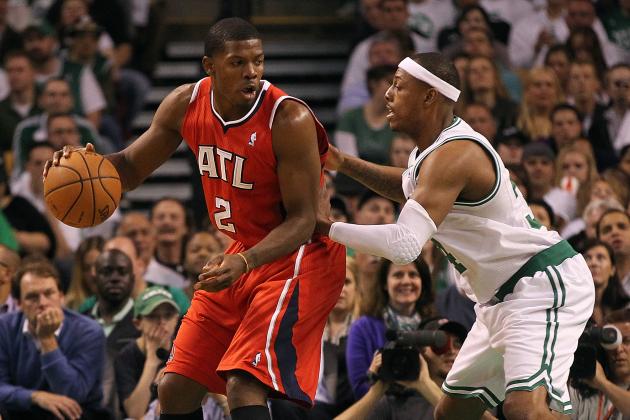 Jim Rogash/Getty Images

Of all the players who currently have a max contract and haven't been amnestied, Joe Johnson is easily the worst among them and the least deserving of it.
Last season he was tied with Ersan Ilyasova and Mike Conley for 32nd in the NBA in win shares. Nothing against Ilyasova and Conley—in fact that's admirable production for what they make—but it sure isn't much production for a player hauling in the kind of cash that Johnson is.
Next year the only players that aren't amnestied who will make more money than Johnson are Kobe Bryant, Dirk Nowitzki and Amar'e Stoudemire. Judging by his paycheck he should be a top-five player in the league, or at least top-10.
Johnson's not a bad player. In fact he's pretty darned good. You could even argue that he's a top-five shooting guard in the league after Dwyane Wade, Kobe Bryant, James Harden and Eric Gordon.
The problem is being the fifth-best player in the league at the weakest position in the league hardly qualifies you as a superstar player.
Just because he's paid like a superstar doesn't mean he is one.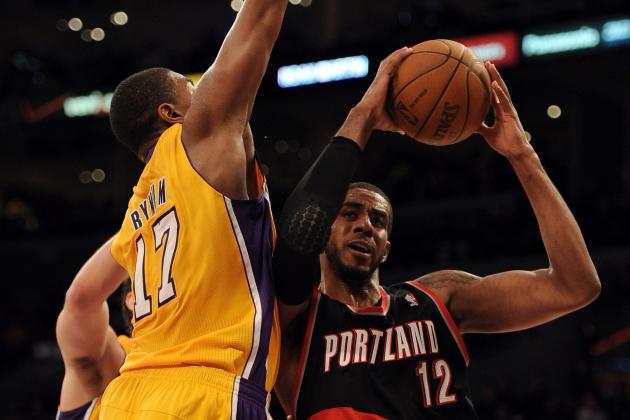 Harry How/Getty Images

LaMarcus Aldridge is an enigma. On the one hand you could argue that he's underrated, even one of the most underrated players in the league.
But here's the problem with Aldridge—and it's really not so much a problem with him as it is his supporters. In their efforts to beef up his credentials and prove how underrated he is his supporters inflate his value, even contending that he's an MVP-caliber player.
Aldridge is not an MVP-caliber player. He is not a cornerstone of a championship team. He could be a valuable piece on one, but not the cornerstone of one.
He is a solid scorer, but he's not a very good rebounder. He averaged 21.8 points but a mere 8.0 rebounds. His total rebound percentage was a mere 12.9 percent, which was only good for 136th in the NBA.
When you're a 6'11" power forward, you need to be at least one of the top 100 rebounders in the league to be considered a superstar or an MVP candidate. Aldridge makes an excellent second option, but he's not the kind of player you can build a title contender around.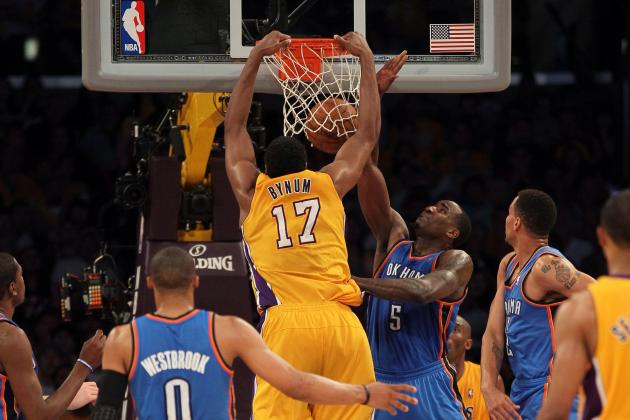 Stephen Dunn/Getty Images

Andrew Bynum is a player loaded with potential and he showed, in flashes, that he could actually realize that potential last year.
Allegedly, he's turning into an offensively dominant payer. He might be. After all he had 16 games last year with at least 20 points and 10 rebounds.
But there are some who are pushing his success way beyond the bounds of being realistic. That 16 was good for the seventh-best total in the NBA, right behind David Lee. That was two fewer than Kevin Durant.
Those who try to compare him, even offensively, with Dwight Howard are ignoring reality.
Howard had 24 such games, and he played six fewer games.
Bynum averaged 18.7 points and 11.8 boards. Those are nice numbers, but they aren't superstar numbers.
Dwight Howard averaged 20.6 points and 14.5 boards. That's a difference of nearly two points and three rebounds.
That's how far Andrew Bynum is from being a superstar.
Well there's that and three Defensive Player of the Year awards.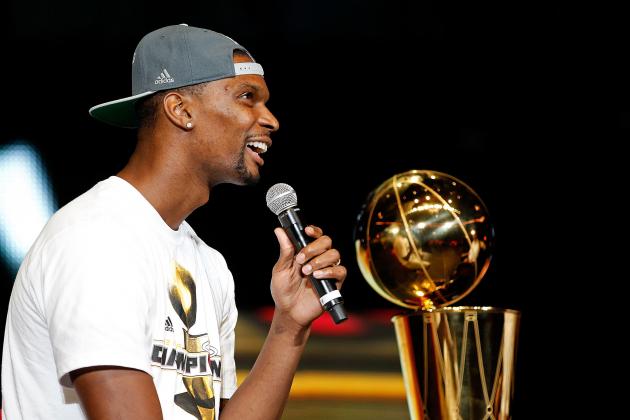 Mike Ehrmann/Getty Images

Are the "Two and Half Men" comments made in reference to Chris Bosh being the third of the Big Three off base?
Yes.
Did he prove his value to the Miami Heat last season when he went down during the postseason?
Yes.
Chris Bosh is a very good player, a borderline elite player, but the borderline is the difference between an All-Star player and a superstar player.
Sure, you can defend him by saying he's taking a lesser role in Miami than he would have with most teams because he's biting the bullet so the Heat can win.
The only thing is that he hasn't always played with Miami, and even if you discount his first two years in Toronto he was only averaging about 23 points and 10 rebounds. Those are good numbers but they aren't superstar numbers.
He's never finished in the top 10 in win shares and this year was the first time he's ever finished in the top 10 in player efficiency rating, when he finished 10th.
Chris Bosh is a good player, even a very good player. He isn't a superstar though. The irony is that in some ways he's been more helped than harmed by having his name tied together with LeBron James and Dwyane Wade. Truthfully, he doesn't belong on the same smoke-filled stage as those two.
Every time his name gets mentioned with them, think, "pseudo-superstar."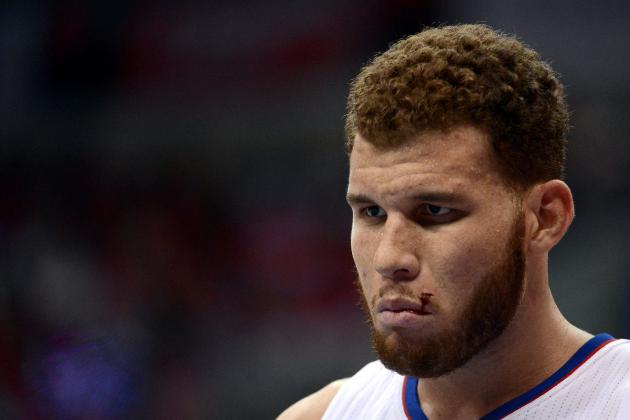 Harry How/Getty Images

Blake Griffin isn't a superstar yet, but he will be. He may even become a legitimate superstar this year; it's all up to him.
He is unfairly criticized for only being a dunker. There is more to his offensive game than dunking. He has a pretty lethal hook shot and a short-range jumper. In fact nearly 40 percent of his field goals come away from the rim.
Would it help him to add more range? Sure it would, but he's a second-year player, and it's a bit of a petty criticism since the closer to the rim you get, the more efficient you are. It's sort of strange in this age of complaining about "volume scorers" that there's a power forward criticized for not taking enough shots from the perimeter.
There is absolutely nothing wrong with a power forward dominating the game from inside. In fact, according to data from basketball-reference.com, his field goals made in 2012 and 2011 were the most field goals in the restricted area in the NBA over that span.
"Only" being the most dominant player in the NBA in the most efficient area of the court since he entered the NBA is simply not an area for criticism.
The reason Griffin is not a superstar yet is defense, or lack thereof. His opponents are amassing a PER of 16.4 against him according to 82games.com. He's giving up .91 points per play according to Synergy.
While you can correctly cite part of the blame for this as the Clippers being a defensively challenged team, it's worth noting that according to NBA.com they do get better when Griffin grabs some pine.
Aside from that it wouldn't hurt Griffin to try to work that free-throw percentage up to .600, or even higher.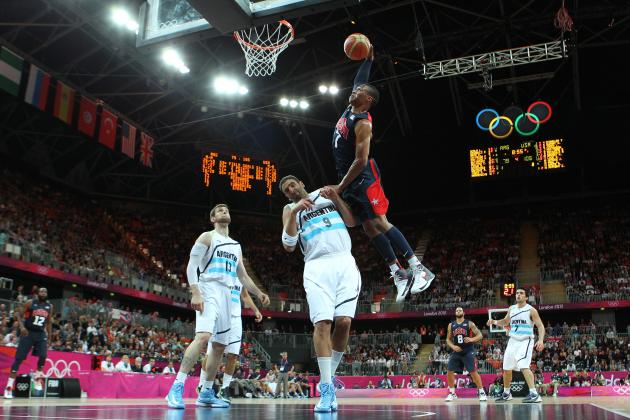 Christian Petersen/Getty Images

Some people want to say that Russell Westbrook is virtually identical to Derrick Rose, and will therefore conclude that either Derrick Rose should be on this list or Russell Westbrook should not be.
Here's the problem though. Russell Westbrook is no Derrick Rose.
Oh sure, there are some similarities. Over the last two years, since both players have really broken out, Rose averaged 24.0 points and 7.8 assists. Westbrook averaged 23.3 points and 7.2 assists.
Westbrook scores .7 fewer points and averages .6 fewer assists.
Westbrook had a PER of 23.3 with a true shooting percentage of .538 and .161 win shares per 48 minutes. Rose had a PER of 23.4 with a true shooting percentage of .545 and .209 win shares per 48 minutes.
Westbrook has a lower PER, albeit barely, a slightly lower true shooting percentage and a significantly lower win shares per 48 minutes.
Bear in mind that Westbrook is the second-best player on the Thunder behind Kevin Durant, and as a result is less inclined to see as many double-teams.
Also bear in mind that Rose was playing hobbled for the second half of this season and his numbers took a hit because of it.
Defensively things aren't quite so close. Rose has a points-per-play against of .78 over the last two years compared to Westbrook's total of .90. That's a dramatic difference.
Rose had an OPER of 11.9 this year and 14.2 last year. Westbrook had an OPER of 16.1 this year and 16.4 last year.
So let's recap. A healthy Westbrook drawing fewer double-teams produces offensive numbers which aren't quite as good and is completely outclassed on defense by Rose, who played a significant portion of his games injured.
No, Westbrook is not as good as Rose. He's an outstanding player, but he seems to have given up almost entirely on the notion of passing this year, and until he re-discovers that aspect of his game, as well as learns to play defense, he's not a superstar.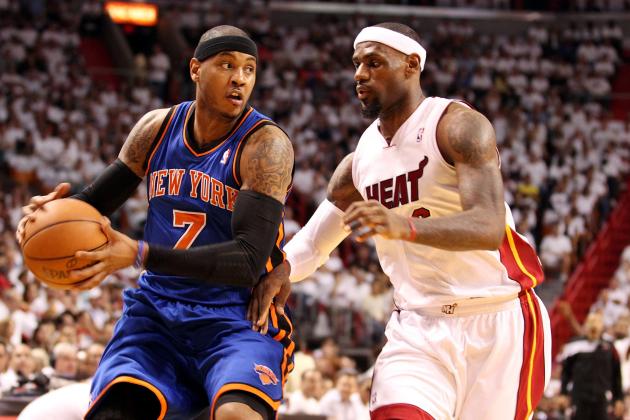 Marc Serota/Getty Images

Carmelo Anthony is as close as you can get to being a superstar as you can come without actually being a superstar.
The problem with Anthony is that he doesn't make the players around him better. Since he got traded from Denver to New York, not only did the Nuggets get better as a team, it seems that all of Anthony's former teammates got better too.
NBA.com's advanced stats reveal some interesting realities.
In 2011, Ty Lawson averaged 18.2 points per 36 minutes without Anthony and 12.9 with him.
Nene averaged 18.3 without him and 17.5 with him.
J.R. Smith averaged 19.4 without him and 13.2 with him.
Amar'e Stoudemire averaged 30.8 without him and 20.2 with him.
This year Stoudemire averaged 21.7 without him and 17.8 with him.
This year Jeremy Lin averaged 22.4 without him and 17.4 with him.
The talented players around him consistently are worse when he is on the court. Great players make their teammates better.
There was no wondering what Ty Lawson meant when, according to NBC New York, he said shortly after the trade, "There's no sticky hands out there."
Anthony, at times, can carry a team with his scoring, and because of that he's on the precipice of being a superstar. However until he "washes his hands" so to speak, he can't be.
Superstars don't forget what they learned in kindergarten.