NBA: 15 Young Players Entering a Make-or-Break Season in 2012-13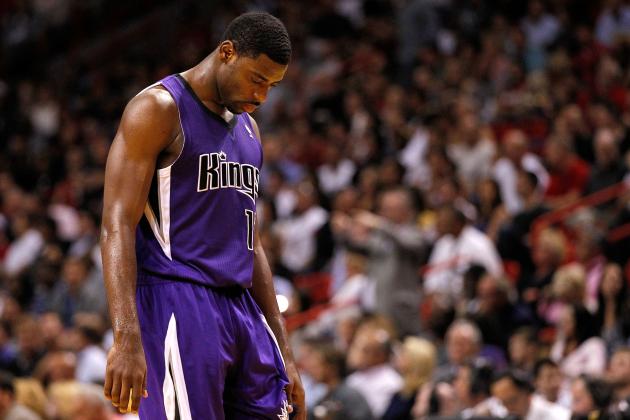 Mike Ehrmann/Getty Images
Evans is looking at an uncertain future with the Kings.
Now that it's September, the month NBA training camps begin, we can finally start looking at the 2012-13 season in a less abstract, more concrete way.
Beyond the big storylines, every season shines a light on players, mostly young ones, who are at a crossroads in their pro careers. Usually, one can tell what type of player a guy will be after his second or third year.
Does he have what it takes to stick around, or will he be warming benches?
Here's a handful of players who may well need to make something—or some things—happen this season if they want to truly make it in the NBA.
Begin Slideshow

»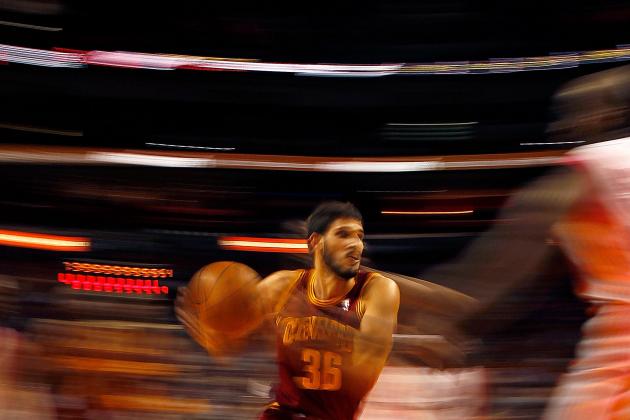 Mike Ehrmann/Getty Images
Casspi stagnated somewhat with the Cavs.
Omri Casspi, the former Israeli league star, may be looking at a return to the overseas market if he doesn't step up his game this season.
After a solid rookie campaign with the Kings in 2010, Casspi slipped a bit in his second year in Sacramento, then was traded to the Cavs and pretty much fell off the map.
His numbers were down across the board (minutes, field-goal percentage, three-point percentage, scoring, rebounding, even games played). It seemed like he was running in quicksand all season.
Casspi will be a restricted free agent after this season. He sits atop the Cavs' depth chart at the 3 and, looking at the roster, he could be third in line for shots after Kyie Irving and first-round pick Dion Waiters.
It's time for him to take the opportunity and run with it.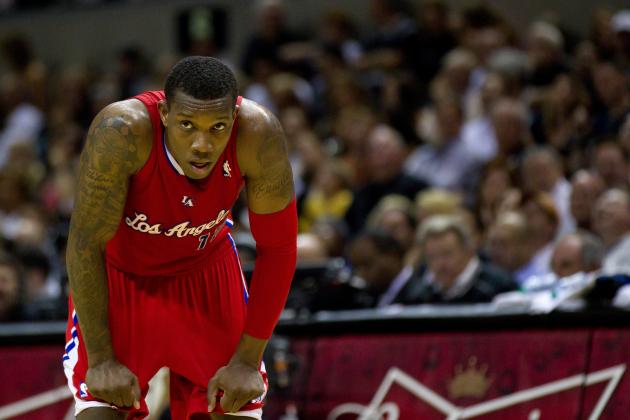 Justin Edmonds/Getty Images
Bledsoe will be expected to step up for the Clippers.
By trading Mo Williams and letting Randy Foye and Nick Young walk, the Clippers were at least implicitly letting Eric Bledsoe know that he'll be expected to do a lot more this upcoming season.
They did bring in Jamal Crawford, but he's more of a shooter.
Bledsoe, who's name has been mentioned in some trade rumors over the past couple of years, will be the chief backup to Chris Paul this season. If the team does not re-sign him (he's a free agent after the year), he may be looking at sliding into a starting role down the road.
Bledsoe is young and talented enough to bring the Clippers back something in return should they choose to part ways with him, and the fact that there's been some clamor for him around the league means anything is possible.
Keep an eye on this guy. We're likely to know a lot more about his status over the course of the first couple months of the season.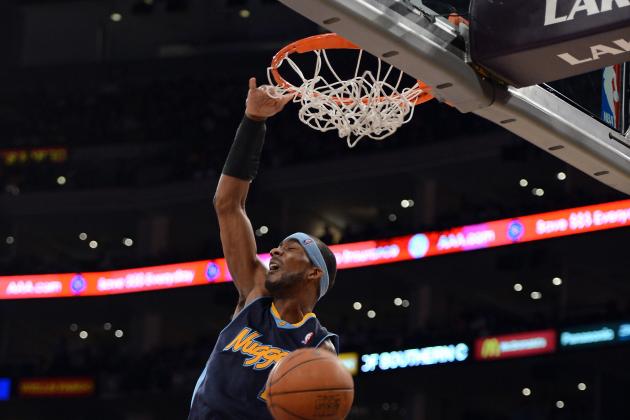 Harry How/Getty Images
Brewer will have a lot to prove with little time.
A member of Florida's back-to-back NCAA title teams, Brewer is now on his third team in five NBA seasons in Denver. And he's stuck in a glut of fellow wing/perimeter players.
Brewer has turned into a mostly defensive-oriented player in the NBA, using his long arms and athleticism to guard the perimeter. Now that the Nuggets have acquired Andre Iguodala, it's conceivable that Brewer will be playing behind him, Danilo Gallinari and Wilson Chandler.
As a fourth option, you need to make people notice you in limited minutes if you want to stick around. Brewer is a free agent after the season.
Do the math.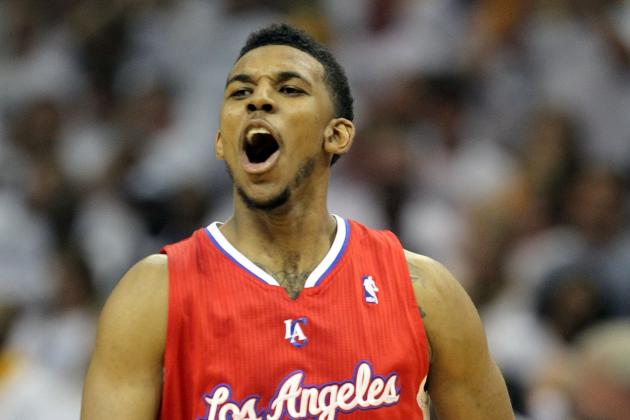 Andy Lyons/Getty Images
Young could stand to diversify his game somewhat.
Here we have a proven scorer. And then what?
Nick Young can fill it up, but he's a lousy shooter (40 percent this past year), doesn't play defense and is an absolute ball-stopping black hole (less than one assist per game over a five-year career).
The Wizards traded him to the Clippers this past season and he had his moments for them. They let him go after having him for just 22 games, and now he's in Philadelphia, in the last year of his deal.
He will be playing for a coach in Doug Collins who may not take well to his shoot-first playing style.
If Young can open up his offensive arsenal somewhat this season—and get along with Collins—he should be attractive on the free-agent market next summer.
If not, he may find interest to be slim.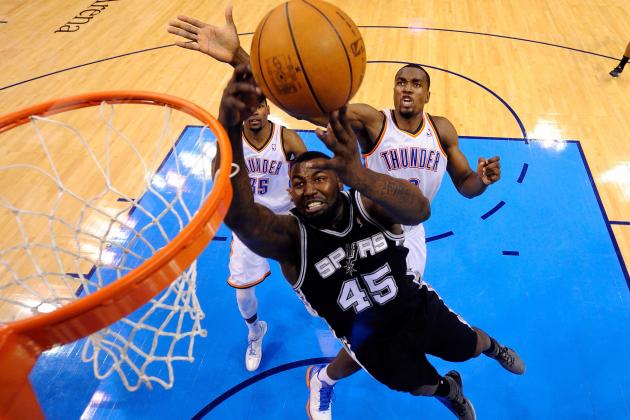 Pool/Getty Images
Blair saw his minutes evaporate in last year's playoffs.
Give DeJuan Blair a lot of credit. After slipping to the second round of the 2009 draft due to having no ACL in either knee, he's averaged 9.5 points and 5.5 rebounds while occasionally starting for a title contender in San Antonio.
Blair has never been a big-minutes guy, but in the playoffs this past season—after averaging over 21 minutes per game in the regular season—he slipped to just 7.6, earning four DNPs and two other stints of just one minute on the court.
These playing-time decisions could well have been matchup-oriented. Or maybe Blair had some nagging injuries. Either way, the drastic drop in minutes suggests he may be falling out of favor with the Spurs.
There are a couple guys ahead of him on the depth chart, including one you may have heard of who goes by the name of Tim Duncan.
Blair is a restricted free agent next summer, so if he wants to stay a Spur, he better make the most of his time on the court.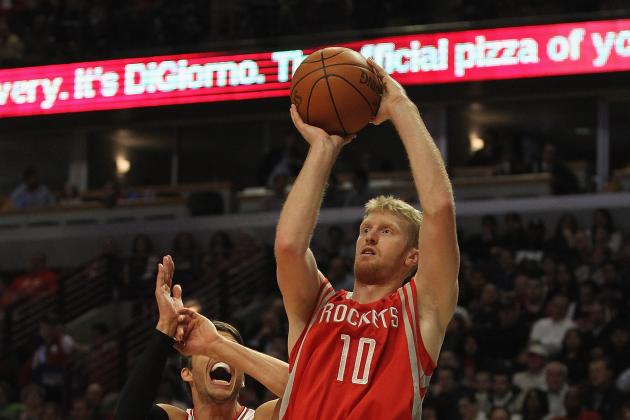 Jonathan Daniel/Getty Images
Budinger has a new team on which to improve.
A big-time shooter and scorer in college, Chase Budinger has shown flashes in his three-year career, but not too much more.
He's been consistent with the Rockets, but he never got a ton of playing time, averaging 21.5 minutes per game.
Now he's in Minnesota with his first NBA coach, Rick Adelman, and he's likely to see at least a slight uptick in minutes with likely only Andrei Kirilenko ahead of him on the depth chart.
He's also a restricted free agent after the year, which means he could well be one-and-done with the Wolves.
If he makes himself more than the fair/solid rotation guy he's been thus far in his career, Minnesota may find themselves in a bidding war.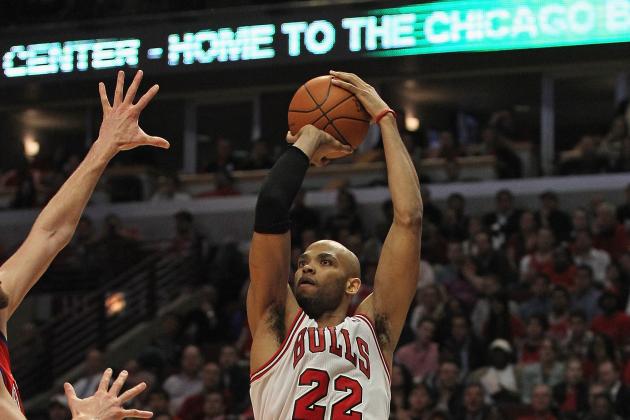 Jonathan Daniel/Getty Images
Gibson may have to outplay Boozer to get himself a good contract offer.
Some might argue that Taj Gibson, the Bulls' third-year power forward, is a better, more worthwhile player than their starting lineup incumbent, Carlos Boozer.
Boozer has underachieved since signing a giant free-agent deal with Chicago prior to the 2010-11 season while Gibson, without putting up gaudy numbers, has played with intensity, toughness and a great deal of aggression on defense.
Those are three qualities not many people would accuse Boozer of having.
Gibson will be a restricted free agent after the upcoming season, and he'll likely continue to come off the bench behind Boozer. The Bulls will be a different team this year until Derrick Rose comes back, and that may help Gibson raise his profile somewhat.
If he can tear it up this year, some team could extend him an offer sheet that would pay him like a starter.
We'll see if he's up to it.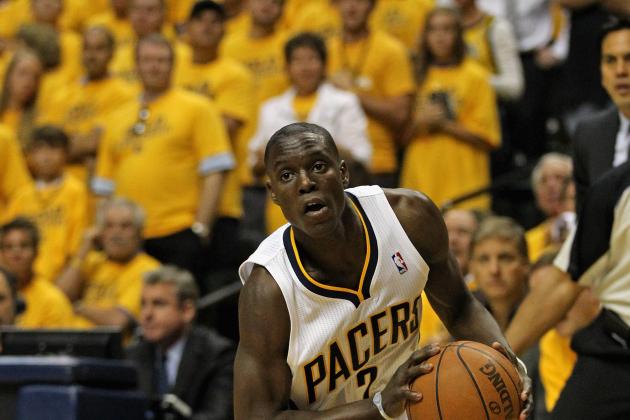 Jonathan Daniel/Getty Images
It's hard to tell exactly what Collison is at this point in his career.
When Darren Collison was a rookie with New Orleans, he turned a lot of heads as Chris Paul's backup. He looked like he could start, but the Hornets weren't going to give him that job over Paul, so they traded him to the young, up-and-coming Pacers.
The problem was, as the Pacers ascended to quasi-elite status and the No. 3 seed in the East last year, Collison looked like he was slipping. He was eventually replaced in the starting lineup by George Hill.
When the Pacers dealt Collison to Dallas and gave Hill a big, new contract in July, it had to make one wonder where exactly Collison's career was headed.
Collison will run the Mavs as he heads toward restricted free agency after the season. He can really make some hay in Dallas given his chance to play with Dirk Nowitzki.
But remember, the Mavs are a team in transition right now, sitting on a truckload of cap room for next summer and employing a fair amount of guys on one-year deals or in the last years of their contracts.
Collison is so young and talented that it feels strange to think he's facing any sort of make-or-break situation at this point, but he is on his third team in four years now.
This year should clear up whether he'll be on his fourth in five by next summer.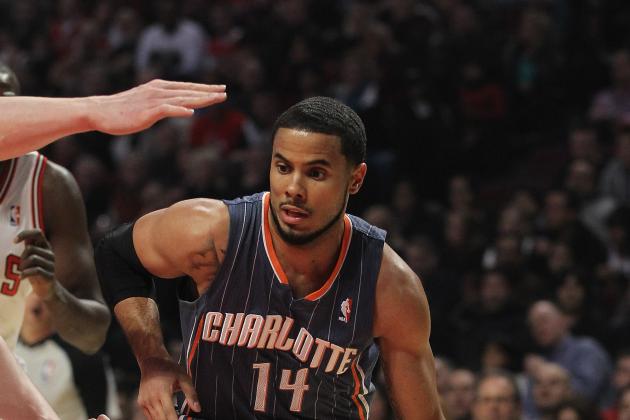 Jonathan Daniel/Getty Images
As the Bobcats plummeted, so did Augustin.
Collison's ostensible replacement in Indiana, D.J. Augustin pretty much hit rock-bottom with the rest of the Bobcats this past year.
His numbers plummeted as the Bobcats became the worst team in NBA history. They subsequently let him walk to Indiana, where he signed just a one-year deal.
He now gets a chance to wash the stench of Charlotte off by coming off the bench for a winning team. There will be pressure, as he plays to prove he's worth what a lottery pick point guard should be paid, but at least he won't be trying to do that as a Bobcat.
Augustin isn't the best shooter or defender, but he can see the floor and distribute the ball well enough to warrant consideration as a true, starting point guard.
This season should prove whether he can really do it, or whether he's better suited to be a backup.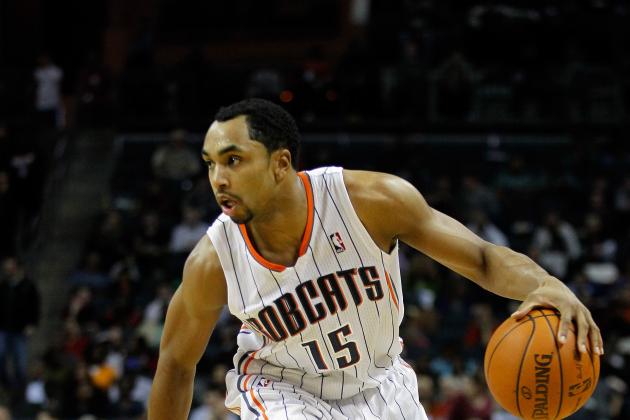 Streeter Lecka/Getty Images
Henderson should be the focal point around which the Bobcats are rebuilt.
Another casualty of the Bobcats' historically bad season, only Gerald Henderson is still stuck in Charlotte.
Being the best player on a lousy team is never a badge anyone wants to wear, but that's where the young and talented Henderson stands right now. If the Bobcats are smart, they'll focus on rebuilding around him, Kemba Walker and rookie Michael Kidd-Gilchrist.
Of course, the Bobcats aren't smart, which is probably why they have overpaid underachiever Ben Gordon listed ahead of Henderson on their current depth chart.
The bottom line is Henderson is a restricted free agent after this year and he has to hope he gets the chance to play enough to earn an offer sheet Charlotte won't match. Unless, of course, the team wises up and realizes it has to turn things over to him, Walker and Kidd-Gilchrist, even if that means another season of misery.
Don't bet on it, though; look for Henderson to be playing elsewhere in 2013.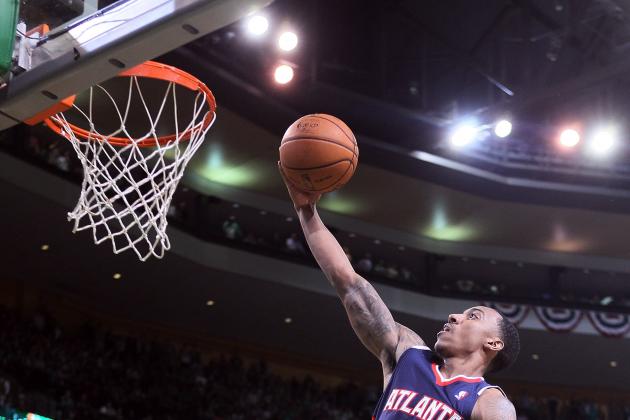 Elsa/Getty Images
Teague could see his minutes reduced this season.
The Hawks made Jeff Teague their starter at the point last year and he responded well, posting solid numbers across the board.
When the Hawks went out and acquired Devin Harris in July, it became unclear if Teague would still be the starter. He had a better season than Harris last year, but Harris makes more money and has more experience.
Both players are free agents after the year, but Teague is restricted. Unless Harris has a huge comeback year, it's hard to imagine the Hawks wanting to bring him back, especially given Teague being younger and easier to retain.
Still, if Teague winds up coming off the bench, it bears watching whether he regresses at all.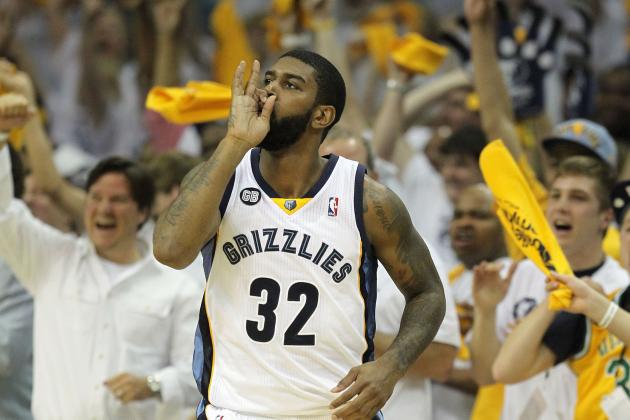 Andy Lyons/Getty Images
Mayo finally has his big shot in Dallas.
Now is O.J. Mayo's time. The former No. 3 overall pick who's been coming off the bench in Memphis and seeing his name in trade rumors for years is now a starter for the Dallas Mavericks.
He's also an unrestricted free agent after the year (with a player option for 2013-14) which means now is the time for Mayo to show what he's worth.
He'll probably be the second option on offense for the Mavs after Nowitzki, and to go along with that, he's also proven to be a better-than-average defender from his time with the Grizzlies. In other words, Mayo couldn't be in a better position to potentially cash in next summer.
He's also in position to cost himself some money.
If Mayo shows that he's not up to the expectations now that he's in Dallas, the offers may not be what he's looking for next July.
Mayo will probably flourish with the Mavs—a well-coached outfit with a winning tradition and a proven superstar—but he still needs to prove it on the court.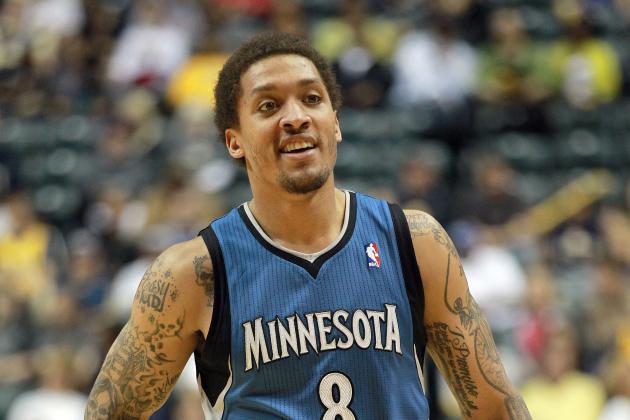 Andy Lyons/Getty Images
Beasley has proven to be a classic underachiever.
What's the deal with this guy? He was the No. 2 pick just after Derrick Rose in 2008. He can score in the paint with ease when he feels like it, and he's athletic enough to be an above-average post defender.
He's now on his third team in five years—an unheard of proposition for such a high lottery pick.
The Suns gave him a three-year deal for just $18 million. It's a contract that seems very small for a player of Michael Beasley's talent.
But when you look at his underachievement, off-court issues and seemingly bad attitude, it also feels like a last-chance-type situation.
If Beasley wises up, plays his butt off and justifies his high draft status, he will be a huge bargain and someone who could well earn himself a lot more money on his next deal.
Conversely, he could continue on the same path and potentially be out of the league at the end of his deal.
Making a prediction on Beasley is probably foolish, but if you go by what he's done up to this point, he'll probably flame out in Phoenix just as he did in Miami and Minnesota.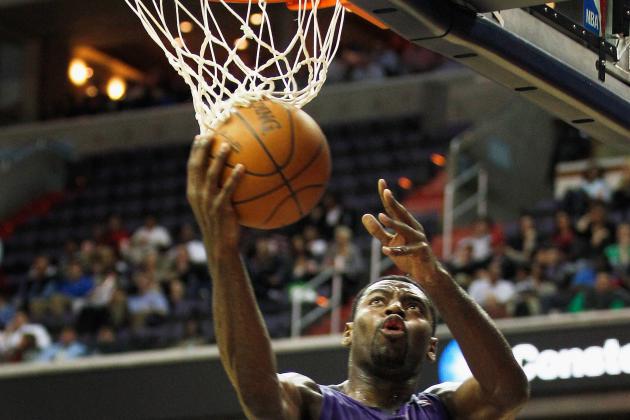 Rob Carr/Getty Images
Evans could be in his last season as a King.
Tyreke Evans is another guy whose timeline is hard to follow.
As a rookie, Evans became only the fourth first-year player to average 20 points, five rebounds and five assists per game, along with a few dudes named Oscar Robertson, LeBron James and, ahem, Michael Jordan.
He won Rookie of the Year putting up those numbers for a lousy Kings team.
His points, rebounds and assists were all down in his second season. His shooting percentage plummeted nearly 50 whole points (.458 to .409), and he missed 25 games due to injury.
He got the shooting percentage back up last season, but the rest of the numbers stayed down. He was shifted at times from playing the point to playing the 3—a move with which he was reportedly unhappy.
After being rumored in trades, it looks like Evans will be a King again this season, and again play the 3. He's a restricted free agent after the year, and if his relationship with the Kings continues to sour, they may just let him play out the year then walk.
What will his market be at that point? If his downturn continues this year, not too big.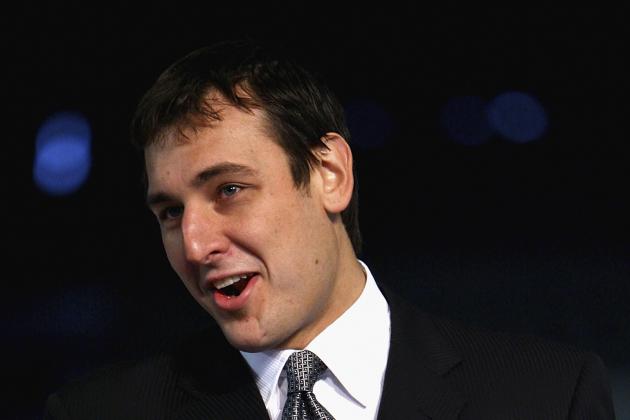 Robert Prezioso/Getty Images
There's Bogut in a suit. Again.
When Andrew Bogut is healthy, he's good. He looks like the No. 1 overall pick the Milwaukee Bucks made him back in 2005—the guy who won Rookie of the Year.
But he's just not that healthy that often.
He missed 16 games in his second season and 46 in his fourth season. In his fifth season, 2009-10, which was shaping up to be his best, he was slightly shoved in the back by Amar'e Stoudemire after finishing on a fast break and wound up with a broken wrist and dislocated elbow.
He would go on to miss 71 more games over the next two years. Last season, the Bucks grew tired of waiting for Bogut to get healthy and dealt him to Golden State.
The Warriors traded their best player, Monta Ellis, for Bogut to not play a minute for them. He's healthy now after a broken ankle last year, but can he stay healthy?
Golden State is gambling that he'll finally be able to play a full season and have paired him with another injury-prone player, Stephen Curry, as the core of its team.
Bogut is dangerously close to being permanently labeled as damaged goods. He's owed $27 million for the next two years before free agency.
If he keeps missing time, it could the last big money he makes playing in the NBA.