Why L.A. Lakers vs. Miami Heat Won't Become Next Great NBA Rivalry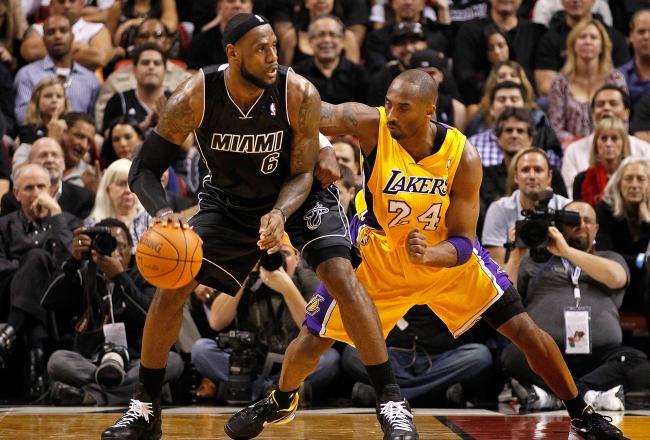 Mike Ehrmann/Getty Images
We may very well see an NBA Finals series or two pitting the star-studded Los Angeles Lakers against the defending champion Miami Heat.
Just don't count on it becoming a regular occurrence.
It's more likely to mimic the brief resurgence of the Lakers-Celtics rivalry that took the NBA by storm when Kevin Garnett and Ray Allen turned Boston into a contender once again. It's less likely to resemble the 1980s, when the Lakers and Celtics accounted for eight combined titles (if you include the 1979-80 season).
Los Angeles made it to the NBA Finals eight times over that span, while Boston did so five times.
There are few reasons that won't happen again.
The first is the extent to which today's NBA is a deeper and more rapidly changing league. It would be foolishly premature to dismiss the Oklahoma City Thunder as the West's next great team, for example.
Intriguing though it may be, this won't be the next epic rivalry.
OKC stormed through the Western Conference playoffs while led by two 23-year-olds, Kevin Durant and Russell Westbrook, along with two 22-year-olds, James Harden and Serge Ibaka. The organization will find a way to hold on to James Harden this season, and they're not going anywhere but up in the immediate future.
It would be equally unwise to write off veteran clubs like the San Antonio Spurs and Boston Celtics, both of which have done a masterful job of quietly injecting talented youth into their lineups even as they remain legitimate contenders.
The Spurs were two wins away from another NBA Finals appearance last season, and the Celtics came within just 48 minutes of one.
Performances like this one should be a reminder that Miami doesn't have the East locked up.
We may not see many more years from Kevin Garnett, Paul Pierce, Tim Duncan and Manu Ginobili, but centerpieces Rajon Rondo and Tony Parker are still fairly young. Plus both franchises will attract another generation of stars as the old guard begins to fade.
For the sake of argument, both the New York Knicks and Brooklyn Nets could become legitimate threats to Miami's preeminence if they can convert their staggering talent into functioning dynamics.
How many times will Lakers meet Heat in NBA Finals in this decade?
Looking four or five years down the road, the Philadelphia 76ers or Indiana Pacers might well have replaced the Heat altogether as the teams to beat.
Even if the rest of the league doesn't improve by leaps and bounds, both the Lakers and Heat have some realities to face.
Los Angeles' window of opportunity is just as narrow as it was the day before Dwight Howard came to town. Howard won't make 38-year-old Steve Nash any younger, nor will he change the fact that 33-year-old Kobe Bryant is already becoming more and more of a jump-shooter.
Howard may help the Lakers attract a fresh batch of stars, but there's no guarantee that will be the case. It didn't work in Orlando, and that L.A. allure doesn't charm everyone.
Meanwhile, there's no telling what will happen in Miami as 30-year-old Dwyane Wade moves from his prime into an inevitable decline. Wade may not age as gracefully as guys like Kobe on account of the fact that he's never been a top-shelf perimeter shooter.
Are these kind of problems with DWade a sign of things to come?
LeBron James appears poised to play at a high level for another 50 years, but he'll need help.
And, he'll need the right kind of help. Sometimes finding that help is easier said than done. Just ask the Cleveland Cavaliers.
Whereas the Lakers at least have a historic legacy with which to attract the league's finest talent, Miami's sales pitch will revolve around James alone. Will that be enough to draw the needed sidekicks?
Or, will they prefer to join Derrick Rose in Chicago, or perhaps Rajon Rondo in Boston?
The Heat won't be the only game in town for free agents looking to add their talents to an already ripe talent pool. The NBA should remain a somewhat multi-polar world rather than one structured by a Cold War-like competition between Los Angeles and Miami.
Though such a "rivalry" would make for good drama in the near term, it doesn't have the makings of an enduring story.
No matter how good a story it would be.
This article is
What is the duplicate article?
Why is this article offensive?
Where is this article plagiarized from?
Why is this article poorly edited?