NBA Power Rankings: The Six Deepest Team in 2012-2013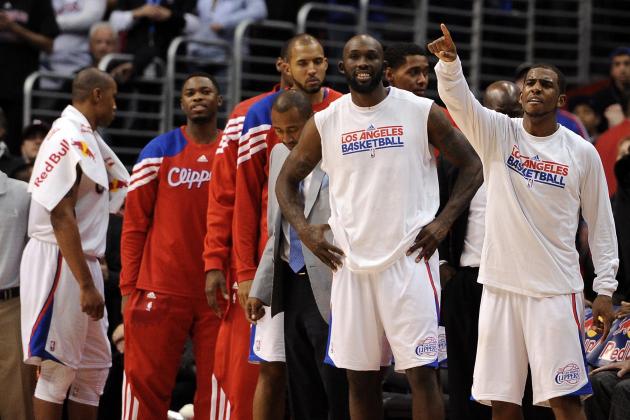 Harry How/Getty Images

A lot can happen in the run of an NBA season. In the blink of an eye a player can go down with an injury or a starter can greatly underachieve. For these reasons, it is absolutely crucial that NBA teams are built around depth.
It takes more than five starters to win an NBA championship, and these six teams obviously understand that, have stocked up on talent, and are ready to grind out the coming NBA season and make a deep playoff run—fueled not only by their starters, but by their talented second units as well.
Begin Slideshow

»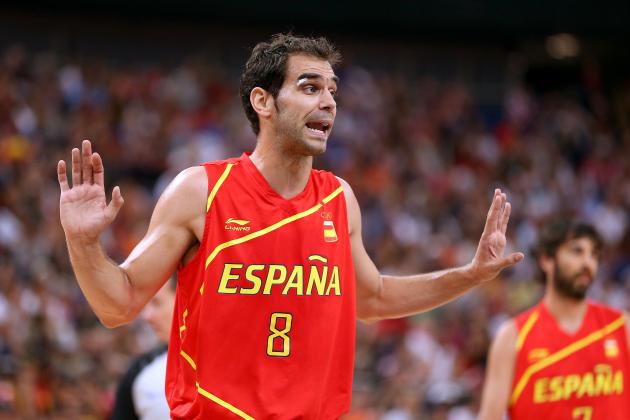 Christian Petersen/Getty Images

PG: Luke Ridnour
SG: JJ Barea
SF: Chase Budinger
PF: Derrick Williams
C: Greg Stiemsma
The Minnesota Timberwolves are certainly a team on the upswing. Led by Ricky Rubio and Kevin Love, with Nikola Pekovic, Andrei Kirilenko, Alexey Shved and others, they certainly have a bright future. The same can also be said for their second unit.
Although I expect them to fight for a playoff spot this season, they won't do much more than that. Given time, however, they should develop in to a sure-fire playoff team in the competitive Western Conference for years to come.
PG: Toney Douglas
SG: Jeremy Lamb
SF: Terrence Jones
PF: Marcus Morris, Royce White
C: Donatas Motiejunas
The Rockets are rebuilding; however, they have a very young and interesting bench. I'm intrigued to see how this second unit—assembled mainly as trade bait for Dwight Howard—will play together. With four rookies, a second-year and a third-year player, they'll get lots of opportunities to develop, and it should be fun to watch.
PG: Jose Calderon
SG: Terrence Ross
SF: Linas Kleiza, Alan Anderson
PF: Ed Davis
C: Amir Johnson
I think the Toronto Raptors are a dark horse to grab the seventh or eighth playoff spot in the East, not because they have any one true star and not because they have a talented starting lineup, but because they have a well balanced roster from spots one through ten and should prove to be a very good defensive team.
The improvements Dwane Casey made last season on defense—especially given the group of players he had to work with—was nothing short of amazing. This year he will look to build on that change of culture with the help of four new players who are all solid or decent defenders: Kyle Lowry, Jonas Valanciunas, Landry Fields and Terrence Ross.
No one knows exactly what Toronto's rotation will look like this season, but we do know their second unit will be led by starter calibre point guard Jose Calderon, will feature Linas Kleiza, Ed Davis and Amir Johnson up front—all three of which have the potential to become excellent role players—and one of Landry Fields, DeMar DeRozan or Terrence Ross playing alongside Jose in the backcourt. This is basically the starting lineup the Raps threw out on the court last season, so look for this group to overachieve—assuming Jose Calderon stays with the team.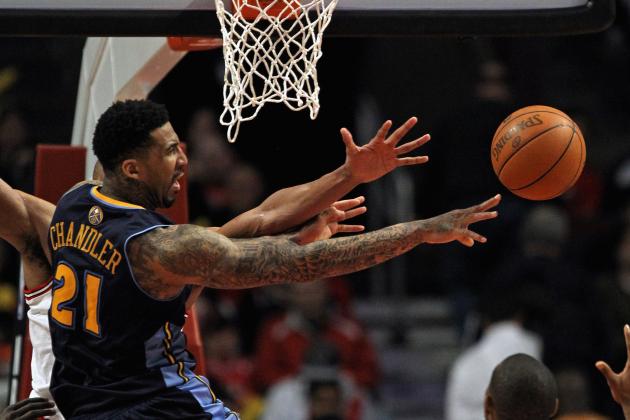 Jonathan Daniel/Getty Images

PG: Andre Miller
SG: Corey Brewer
SF: Wilson Chandler, Jordan Hamilton
PF: Anthony Randolph
C: Kosta Koufos, Timofey Mozgov
The post-Melo Nuggets lack a true star, but they have several decent players and excel at scoring and winning by committee. Wilson Chandler could start on most NBA teams. Andre Miller provides veteran leadership. Corey Brewer makes up for his offensive shortcomings with his solid defensive game and Jordan Hamilton has the potential to be a solid three point threat with above average range and height. The platoon of Kosta Koufos and Timofey Mozgov at Center is nothing to write home about, but if Anthony Randolph can finally play with some emotion the Nuggets will have a surprisingly good second unit this season.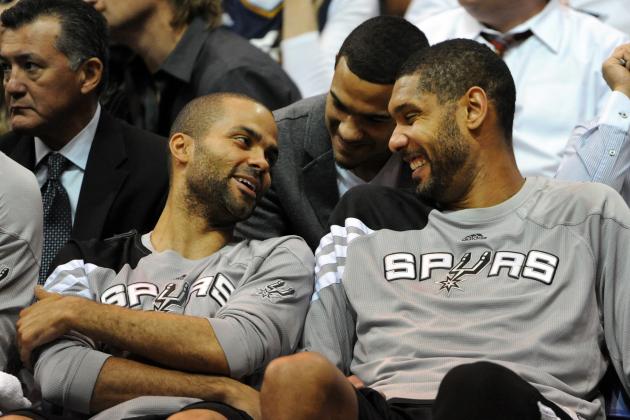 Steve Dykes/Getty Images

PG: Pat Mills
SG: Gary Neal, Daniel Green
SF: Stephen Jackson
PF: DeJuan Blair
C: Tiago Splitter
I'd be sorely mistaken if I did not include the San Antonio Spurs on this list. Their depth is what makes them great every year and this season will be no different. They've left last year's second unit unchanged as Stephen Jackson, Gary Neal, Daniel Green, DeJuan Blair and Tiago Splitter will look to lead the Spurs to another solid season and deep playoff run.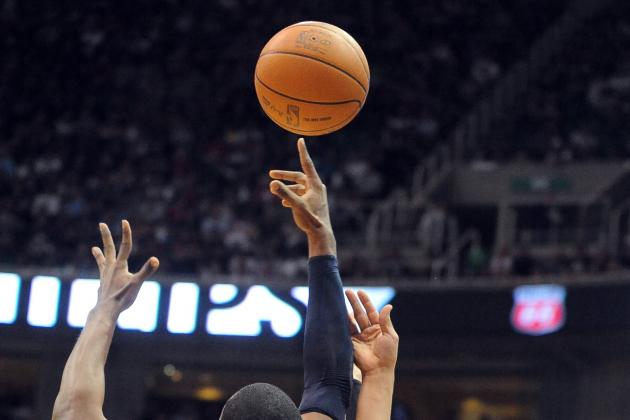 Steve Dykes/Getty Images

PG: Jamaal Tinsley/Earl Watson
SG: Randy Foye, Alec Burks, Raja Bell
SF: DeMarre Carroll
PF: Derrick Favors
C: Enes Kanter
This one may surprise a few people, but what truly makes Utah's bench so great is their depth up front and at the two. The Chicago Bulls used to have the best four man frontcourt rotation in the NBA, but after losing restricted free agent Omer Asik to the Rockets the title now belongs to the Utah Jazz.
Derrick Favors and Enes Kanter have a lot of potential and would be starters on most NBA teams. Instead, they are stuck behind Al Jefferson and to a lesser degree Paul Millsap in what is in my opinion one of the deepest frontcourts in the NBA.
Where this year's Jazz differ from last year's Chicago Bulls is at the two. Jamaal Tinsley and Earl Watson are far from impressive second and third point guards, but the three man platoon of Randy Foye, prospect Alec Burks and veteran Raja Bell make an excellent complement to Kanter and Favors up front.
Look for the Jazz to surprise some folks this year as they are fueled by their second unit.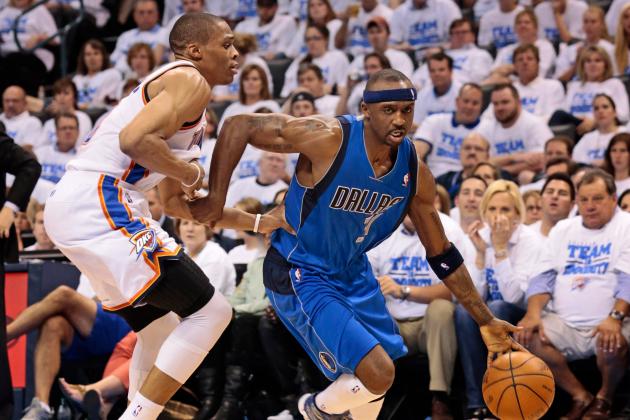 Brett Deering/Getty Images

PG: Avery Bradley
SG: Jason Terry
SF: Jeff Green
PF: Jared Sullinger, Chris Wilcox
C: Fab Melo
The Celtics no longer have the best big three—or fab four after losing Ray Allen—as they have been dethroned by the likes of the Los Angeles Lakers, Miami Heat and the OKC Thunder. However, the Celtics do have one of the deepest roster in the league and the second deepest roster in the Eastern Conference, which will be vital as they look to keep the aging Kevin Garnett healthy and energized come playoff time.
Jason Terry could start for the Celtics, but instead he will come off the bench as their sixth man and the leader of their second unit. Avery Bradley, Jeff Green—who is reportedly close to re-signing with the Celtics—rookies Jared Sullinger and Fab Melo, and Chris Wilcox round out the rest of one of the deepest Celtics teams we've seen in years. That being said, they will be forced to rely heavily on two rookies, which could make things interesting.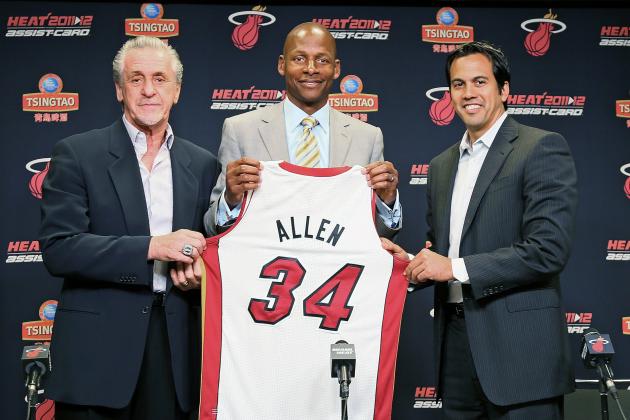 Mike Ehrmann/Getty Images

PG: Norris Cole
SG: Ray Allen, Mike Miller
SF: Rashard Lewis, James Jones
PF: Udonis Haslem
C: Joel Anthony
Without Shane Battier, Mario Chalmers and Mike Miller the Miami Heat would not be the defending NBA champions. Chalmers and Battier are both expected to start alongside the Big Three, but beyond that the Heat offer much more than past their prime players chasing a ring at the veteran's minimum.
Ray Allen, Rashard Lewis and Udonis Haslem are the leaders of the second unit. And their Big Three off the bench brings a ton of experience, leadership and talent… provided they can stay healthy. Norris Cole and Joel Anthony are also two players that could potentially start on a few other teams in the NBA… keep in mind Anthony was the starting center for the Heat just last season.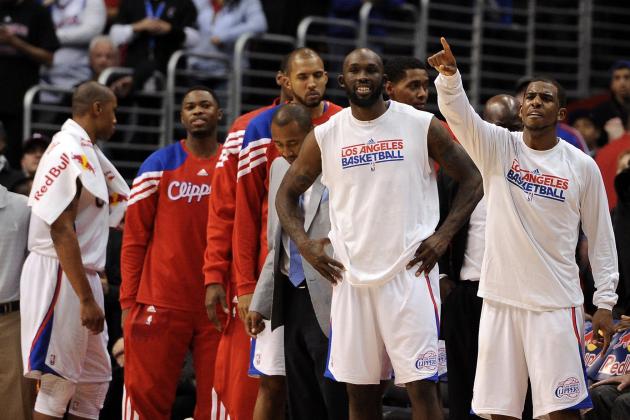 Harry How/Getty Images

PG: Eric Bledsoe
SG: Jamal Crawford
SF: Grant Hill
PF: Lamar Odom
C: Ryan Hollins, Ronny Turiaf
With two former sixth man of the year award winners to go along with the veteran leadership of Grant Hill and Eric Bledsoe—whom I see having a breakout season this year—there appears to be more to lob city than their impressive trio of Chris Paul, Blake Griffin and DeAndre Jordan.
The Clippers have a solid rotation one through nine and will have the deepest roster in the NBA this season.