Every NBA Team's Worst Starter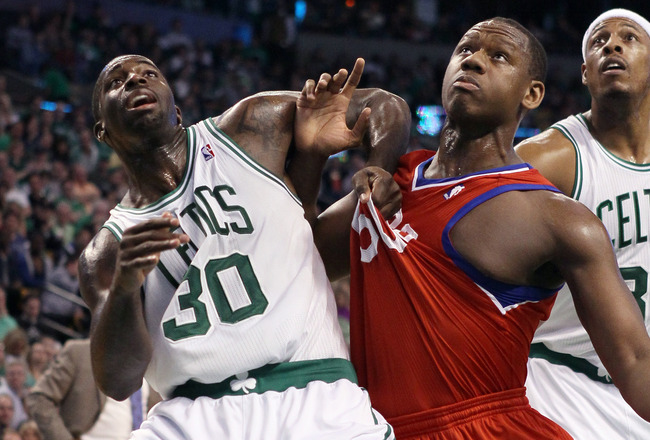 Elsa/Getty Images
You hear so much about the great players in the NBA, it is time the lesser known get their due.
Every team starts a player who may at times seem like the black sheep of the starting unit. Still there are 30 basketball players out there who are incredibly valuable to their respective teams. Yet, if labels must be assessed, they are the worst starters in the league.
Flaws are abundant on all teams in the NBA; the offseason is a perfect time to assess them. This way team's can possibly seek out solutions that will improve their starting units prior to the 2012-13 season.
Atlanta Hawks: Anthony Morrow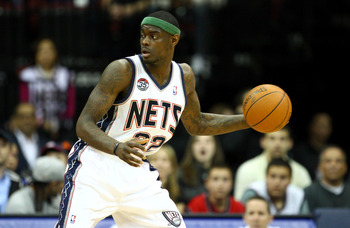 Chris Chambers/Getty Images
The Atlanta Hawks are very hard to figure out right now. Their starting five is still fluctuating and we won't know who will be a part of it until the season opener nears.
Right now, the obvious hole is at small forward. Currently on the roster there are just two true players who man that position. The problem is neither Kyle Korver, nor DeShawn Stevenson are starting-caliber players.
That means there will be some creativity on the part of the Hawks. One possibility is sliding 6'5" Anthony Morrow into the small forward role and going with a small lineup to start games. That means newcomer Lou Williams will start in the backcourt with Jeff Teague.
In this case, Morrow is the weakest member of that group. He managed 12 points per game, but shot a poor 41-percent from the field last season in New Jersey. His two rebounds and one assist per game mean he doesn't bring anything else to the table, either.
The other option is to start with a big lineup and have Josh Smith man the small forward spot, allowing a player like Jordan Williams or Zaza Pachulia to start alongside Al Horford in the frontcourt. In this scenario either of those players become the worst starter for Atlanta.
Boston Celtics: Brandon Bass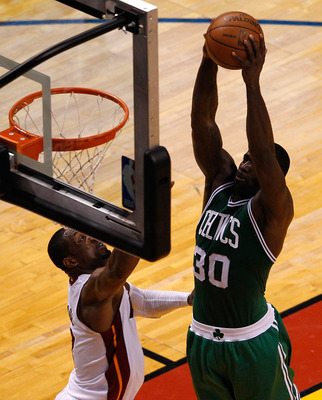 J. Meric/Getty Images
Despite my feelings on Jared Sullinger starting for the Boston Celtics, it appears as though they will begin the season with Brandon Bass in the starting lineup.
Even with Avery Bradley being replaced as the starting shooting guard to start the season by Jason Terry or Courtney Lee, Bass is the worst starter in Boston.
Bass was not brought to the Celtics to start. He was traded for last year in order to come off the bench and backup Kevin Garnett. Thanks to injuries to Jermaine O'Neal, Jeff Green and Chris Wilcox, he was forced into a starting role.
This is not to say Bass is a bad player. He has earned this distinction because of his surrounding teammates. Rajon Rondo, Paul Pierce, Avery Bradley and Kevin Garnett all either were elite, are elite or have the potential to be elite in an aspect of the game. Bass is merely a solid role player.
Brooklyn Nets: Gerald Wallace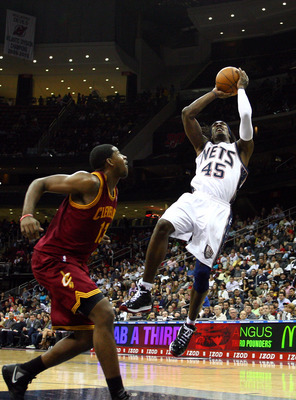 Chris Chambers/Getty Images
The Brooklyn Nets have one of the best starting lineups in the NBA on paper. The one hole, if you can call him that, is Gerald Wallace at the small forward position.
Wallace is a versatile forward who can potentially bring a lot to the table. However, at 30 he may have just submitted his worst statistical season since 2004. He also lacks postseason experience, which is the next step for the Nets. He has started on just two playoff teams in his 11-year NBA career, and never advanced past the first round.
Wallace shot a career-low 41-percent from the field in 16 games with the Nets last season. He also saw his rebounding and point totals decrease from the year before.
He is surrounded by two all-stars in the backcourt in Joe Johnson and Deron Williams, a potential franchise-center in Brook Lopez and a double-double machine in Kris Humphries. In this group, Wallace is the de facto black sheep.
Charlotte Bobcats: Brendan Haywood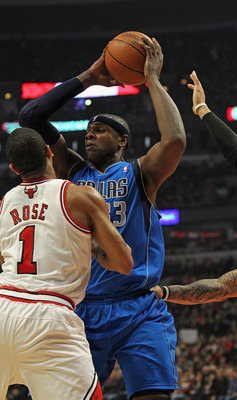 Jonathan Daniel/Getty Images
In a starting unit that is just dripping with potential, journeyman center Brendan Haywood is the worst piece.
The Bobcats potentially will start four lottery picks from the past four NBA drafts. If Kemba Walker beats out Ramon Sessions and Gerald Henderson can start over Ben Gordon, then they will join big man Bismack Biyombo and newcomer Michael Kidd-Gilchrist as a very young, but talented core for Charlotte.
That leaves Haywood as the easy choice for least impressive starter. The 32-year-old will be suiting up for his third team in four years as he makes his way east from Dallas. The only major asset he will bring the Bobcats is experience. He won a championship with the Mavericks and has made seven career postseason appearances.
Haywood will give you a consistent six points and six rebounds per game, but his days of playing relevant minutes for a good team are coming to a close.
Chicago Bulls: Richard Hamilton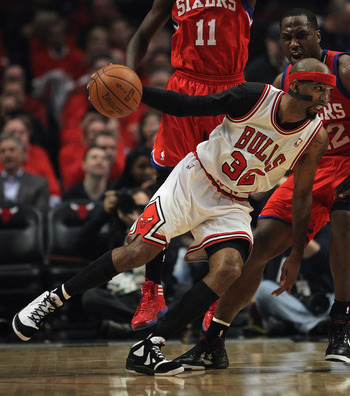 Jonathan Daniel/Getty Images
As Rip Hamilton slides into the twilight of his career, he has found himself in a nice position. He is on a good contending team, with a significant enough role that he still matters, but not significant enough to warrant criticism.
At 34, Hamilton is the worst starter on the Chicago Bulls. He just submitted his worst statistical season since his rookie year. He also has struggled to stay on the court in recent seasons. The last time Hamilton missed less than 10 regular-season games in a season came in 2006 with Detroit.
Hamilton can still shoot a high percentage from the field and help the Bulls on the offensive end, but at this point in his career, he is no longer as valuable as Derrick Rose, Joakim Noah, Carlos Boozer, Luol Deng or even Kirk Hinrich.
Cleveland Cavaliers: Dion Waiters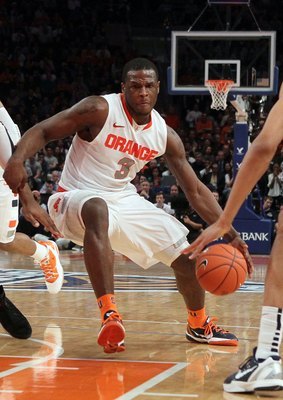 Jim McIsaac/Getty Images
There are a lot of qualifications for this choice as it will depend on what Cleveland chooses to do with their starting lineup this season.
The major competition for Dion Waiters at the shooting guard spot is Daniel Gibson who had a down year, shooting just 35-percent from the field last season. If Waiters enters the starting role as a rookie, he will have the least experience and possibly the least amount of talent in the unit.
The other question mark is at the small forward position. The Cavaliers may start Omri Casspi, which would probably slide him into the worst spot over Waiters.
However, if Kelenna Azubuike can return to the form of a few seasons ago, he will earn the starting spot there and keep Waiters in his current role. Azubuike had two stellar seasons for Golden State before injuring himself and then bouncing around the league.
For a high lottery pick, Waiters does not seem to have the massive ceiling of some of his peers. He did not start in college, nor did he lead Syracuse in scoring. However, NBA teams don't use fourth-overall picks on reserves.
Dallas Mavericks: Darren Collison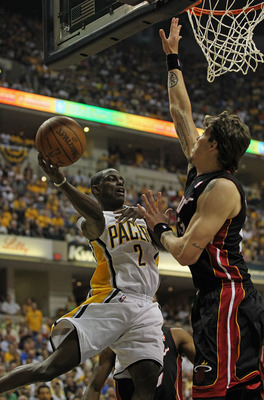 Jonathan Daniel/Getty Images
Dallas has rebuilt their team on the fly with some shrewd offseason moves. They have acquired steady starters in O.J. Mayo and Chris Kaman, as well as point guard Darren Collison.
Those three pair up with last season's starters Dirk Nowitzki and Shawn Marion to make up a surprisingly solid Mavericks unit.
The point guard position in the NBA is the most difficult to play because of all the responsibilities. Therefore starting for a new team in that role is more difficult than anything. Darren Collison will be forced to experience this first hand next season. He is neither an elite distributor, nor a prolific scorer, so this automatically makes him a target for criticism should Dallas struggle.
Collison is one of a few starting point guards in new locations this coming season, and like the rest of them, he will struggle.
Denver Nuggets: Danilo Gallinari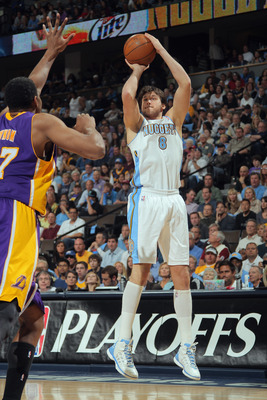 Doug Pensinger/Getty Images
The Nuggets are somewhat of a unique team in their deep makeup. The starting five are almost on equal footing as their reserves.
Denver has put together a very nice team recently and added a very important starter in Andre Iguodala. Outside of him, the starting unit looks the same as last season with JaVale McGee and Kenneth Faried manning the frontcourt and Ty Lawson running the point. The weakest link in this starting unit is small forward Danilo Gallinari.
Gallinari is a nice complimentary player, but for the position he plays, he is below average in terms of NBA starters. His abilities offensively are very important to the Nuggets' success, but he is not nearly as valuable as his four cohorts.
Detroit Pistons: Jonas Jerebko
Streeter Lecka/Getty Images
Jonas Jerebko is a second-year second-round pick who has started 86 of a possible 144 games the past two seasons for the Detroit Pistons.
This coming year he is looking to be the starter once again at power forward. Despite the Pistons drafting a big early in the first round, Andre Drummond is more of a center to pair with Greg Monroe. Tayshaun Prince and Rodney Stuckey will be their usual consistent selves, and Brandon Knight was a pleasant surprise at point guard.
Jerebko is left as the only player out of place. This early in his career it is tough to say, but he appears to be just a steady role-playing reserve. However, in the depleted Detroit roster, he is elevated to the starting role.
Golden State Warriors: Harrison Barnes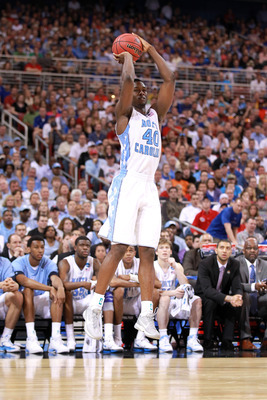 Andy Lyons/Getty Images
When healthy, the Warriors have one of the best looking starting units in the NBA. With Stephen Curry and Andrew Bogut returning, there are few glaring holes on this team.
With the emergence Klay Thompson at shooting guard, all eyes point to the rookie of the group as the weak link. Harrison Barnes was taken seventh overall this summer by Golden State may be able to beat out Richard Jefferson for the starting gig at small forward.
As a rookie, he is the most unpredictable player in the group. If everyone else remains healthy and plays to within shouting distance of their best season, then Barnes will be the worst starter in blue and gold next season.
Houston Rockets: Omer Asik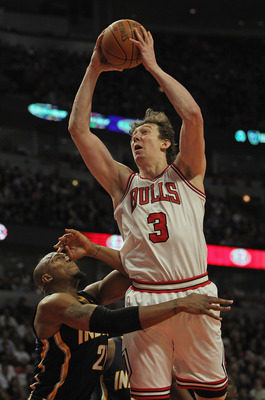 Jonathan Daniel/Getty Images
The Houston Rockets went through a massive roster overhaul this season. There are new starters and reserves almost across the board.
Unfortunately, it appears that Houston may have over-extended themselves to get center Omer Asik. The former Bulls backup will be starting for the Rockets along with newcomer Jeremy Lin and last years starters Chandler Parsons and Kevin Martin.
In two years with Chicago, Asik didn't average more than 15 minutes per game. He also lacked similarly in his production. He averaged just three points per game last season. His lone skill appears to be rebounding (five per game), but there is little question as to who the favorite is for worst starter in Houston.
Indiana Pacers: D.J. Augustin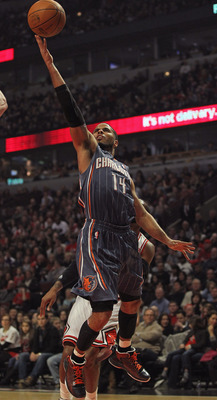 Jonathan Daniel/Getty Images
The Indiana Pacers are another of those teams that are very talented all-around in the starting unit. Though, there was one big change that came forth in the offseason.
The Pacers shipped starting point guard Darren Collison off and signed free agent D.J. Augustin. Collison started all but four games the past two years for Indiana. Augustin is now the lone true point guard on the roster and should start over George Hill.
Three of the other Pacers starters are All-Star caliber and Paul George is a budding young star. While Augustin adjusts to his new teammates and city, he will be the worst starter for the time being.
Los Angeles Clippers: Chauncey Billups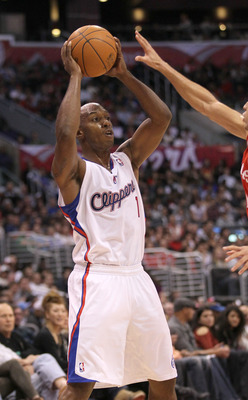 Stephen Dunn/Getty Images
The Clippers have four pretty sure things in their starting unit. The final piece is Chauncey Billups. Unfortunately, Billups missed the majority of last season with an injury.
Even when on the court and starting 20 games, his production had noticeably fallen off and he posted his lowest scoring since 2001. At 35, Billups is on his last legs while the rest of the starting unit are in their prime.
All the experience in the world won't elevate Billups' game to dwarf that of Chris Paul, Caron Butler, Blake Griffin or DeAndre Jordan. He has an opportunity to play for a playoff contender and be a background piece. For both himself and Los Angeles, there isn't much more you could ask.
Los Angeles Lakers: Metta World Peace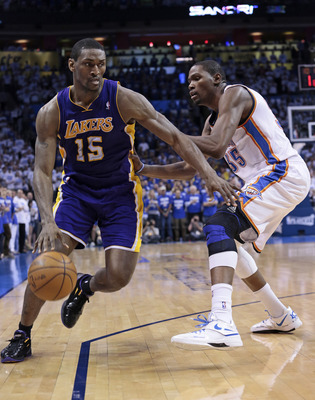 Brett Deering/Getty Images
With the two major offseason moves the Lakers put forth to bring in Dwight Howard and Steve Nash, there is no longer any doubt as to who is the worst starter in purple and gold.
Metta World Peace is the weak link in Los Angeles' starting unit. His production has been in a consistently downward direction over the past four years.
He has not shot over 40-percent from the field since three years ago. In each year he has been with the Lakers his rebounds and points per game have also decreased.
With the star-studded lineup surrounding him, World Peace finds himself at the bottom of the Laker barrel.
Memphis Grizzlies: Tony Allen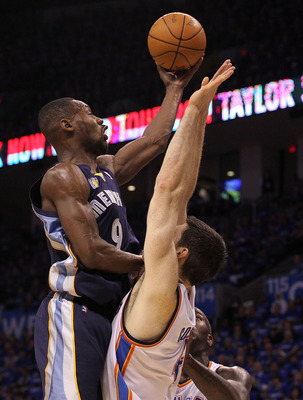 Ronald Martinez/Getty Images
Tony Allen is one of the more underrated players in the NBA. Still, on the Grizzlies, he is the most flawed of their starting five.
Allen can defend any swingman in the league, but his limitations offensively make him the weakest starter in Memphis. Rudy Gay, Zach Randolph and Marc Gasol makeup one of the best frontcourts in basketball, and Mike Conley is holding his own at point guard.
Allen has been in the league for a long time and I don't foresee any massive improvements in his offensive game. He is still an elite defender in the league and a very valuable piece to the Grizzlies' success. The deal is, however, that he is the most expendable piece.
Miami Heat: Shane Battier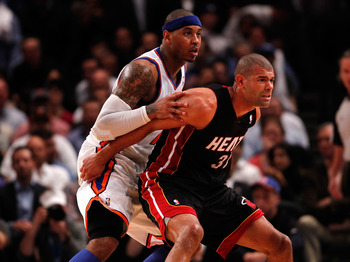 Jeff Zelevansky/Getty Images
There is no shame being the worst starter on the NBA champions. That is what Shane Battier and Udonis Haslem were last season and will be again this year.
The Miami Heat play with numerous different lineups throughout the year, but they are at their best with one of these two players on the floor. The duo give Miami a more natural five-some when they are in the game at the power forward spot.
Mario Chalmers is developing into a very nice, young point guard and the big three are still dominant. That leaves whoever joins them as the tough-luck recipient of the team's Razzie award.
Milwaukee Bucks: Mike Dunleavy Jr.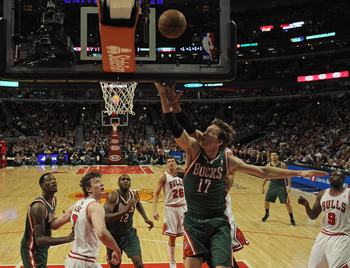 Jonathan Daniel/Getty Images
Milwaukee has a sneakily good starting five. They have a top-level backcourt of Monta Ellis and Brandon Jennings, and an aging, but skilled frontcourt.
Ersan Ilyasova just had a breakout season and Samuel Dalembert may not be a spring chicken, but is valuable to the team at his position. Michael Dunleavy Jr. is skilled in his own right and brings a great offensive weapon to the table. However, the other starters present a more well-rounded or elite skill set for the Bucks.
Outside of his shooting prowess, Dunleavy does not do a whole lot for Milwaukee. He has not grabbed more than 4.5 rebounds per game since 2007. He also participated in just his first postseason two years ago in Indiana.
Dunleavy doesn't provide the Bucks with what they need, which is defense and experience getting into the playoffs.
Minnesota Timberwolves: Alexey Shved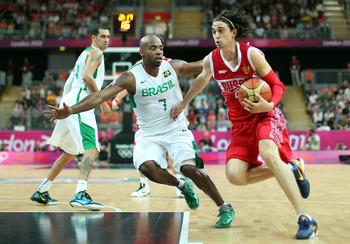 Christian Petersen/Getty Images
There are two new faces in the starting lineup for Minnesota. The difference is that one of those faces is a 10-year NBA veteran who was just named MVP of the Euroleague, and the other will be taking an NBA court for the first time this fall.
Andrei Kirilenko will be starting at the small forward spot for the Timberwolves, but the eyes will be on the shooting guard spot, which should be manned by rookie Alexey Shved.
The fellow Russian has played for CSKA Moscow since 2006 and is finally making the leap into the NBA this season.
With Minnesota already boasting established NBA players at power forward, center, point guard and thanks to Kirilenko, small forward, it is the shooting guard position that creates the most concern.
Shved connected on 33-of-67 three-pointers in 21 games for CSKA last season. Despite numbers like that, the transition is never easy, and his struggles early on will make him Minnesota's worst starter.
New Orleans Hornets: Al-Farouq Aminu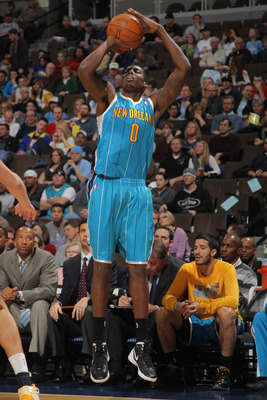 Doug Pensinger/Getty Images
The new-look Hornets will put out an entirely new frontcourt, with Ryan Anderson playing alongside No. 1 overall pick Anthony Davis. Those two are talented and should succeed together as complimentary pieces.
Eric Gordon should return from his injury-plagued season and start performing at the rate he is capable of. The two questions in the starting unit for New Orleans are Al-Farouq Aminu and Greivis Vasquez.
Vasquez has actually progressed nicely and become a serviceable combo-guard. His style of play should suit the Hornets offensive pace perfectly.
To me the worst starter currently is the 2010 eighth-overall pick Aminu. Through two NBA seasons he showed very limited improvement, even with an increased role. Some of that can be attributed to changing teams so quickly in one's career, but outside of that, he has not been good.
He did not play particularly well for the Nigerian team at the Olympics this summer either.
New York Knicks: Raymond Felton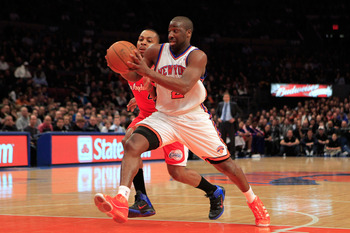 Chris Trotman/Getty Images
Once again there is a new starting point guard for an NBA team. This time the Knicks will be utilizing Raymond Felton in the role.
Because New York's version of the big three take up the majority of the starting five, Felton is stuck carrying the baggage of the worst Knicks starter. As soon as Iman Shumpert returns from his playoff injury, he should be inserted into the starting unit. His promising rookie season paved the way for the belief that he can become an elite perimeter defender in the NBA.
Again there is the issue of a new point guard starting on a new team with Felton. Luckily for New York, Felton previously played for the Knicks and played very well while he was there.
Still, after a down year in Portland, there are a great many doubts floating about concerning Felton's ability to lead a playoff-caliber offense in New York. He will be filling big shoes with the departure of fan-favorite Jeremy Lin as well.
Oklahoma City Thunder: Thabo Sefolosha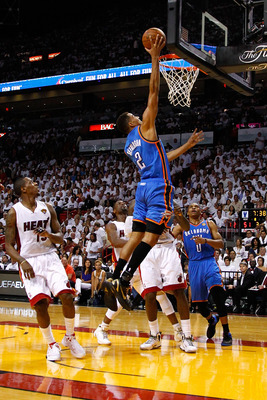 Mike Ehrmann/Getty Images
Once again, there is little shame in being the worst starter on a team that made it to the NBA finals. Still, Thabo Sefolosha finds himself here as much for who is behind him, as how he plays.
Sefolosha is backed up by one of the best young shooting guards in the NBA in James Harden. Fortunately for him, Harden plays so well off the bench, that it works to keep Sefolosha in the starting five.
The Swiss shooting guard has started almost every game he has played since coming to Oklahoma City, but never averaged more than eight points per game. With players like Serge Ibaka, Kevin Durant and Russell Westbrook around him, Sefolosha can get lost in the shuffle.
Orlando Magic: Hedo Turkoglu
Marc Serota/Getty Images
Right now the Magic are in an unsure state. The dust hasn't settled from the Dwight Howard trade and their starting lineup for the 2012-13 season is still in the distance.
At the moment, the filler for Howard's former place appears to be Gustavo Ayon. He was sent to the Magic earlier in the offseason in the Ryan Anderson swap. Ayon is still young and had a pretty solid rookie season.
Scanning the probables in the starting five as of now, the Magic retained a solid backcourt in Jameer Nelson and Arron Afflalo. They also still have the talented Glen Davis at power forward.
The biggest issue with the lineup right now is Hedo Turkoglu. The 33-year-old small forward's best days are pretty clearly behind him. He saw his production drop to near career-lows across the board. He managed just 11 points per game, while shooting the worst three-point percentage since his rookie season.
Philadelphia 76ers: Spencer Hawes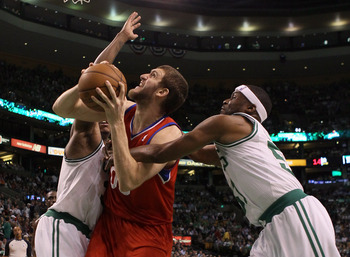 Elsa/Getty Images
Spencer Hawes has the unfortunate honor of being the worst starter on the 76ers.
A team that has gone through a lot of changes this offseason and may boast as many as three new starters, Philadelphia's big man is just not up to par with his teammates.
The 76ers have two great all-around young players in Evan Turner and Jrue Holiday, as well as newly acquired Andrew Bynum at center. The shooting guard spot will be either grabbed by Nick Young or Jason Richardson, both of which would be more valuable than Hawes.
The former lottery pick has managed more than ten points per game in just two of his five NBA seasons. While he did grab a career-high 7.3 rebounds per game last season, a lot of that can be attributed to his supporting cast. With Bynum in the picture as opposed to Elton Brand, those numbers are sure to decrease even more.
Phoenix Suns: Wesley Johnson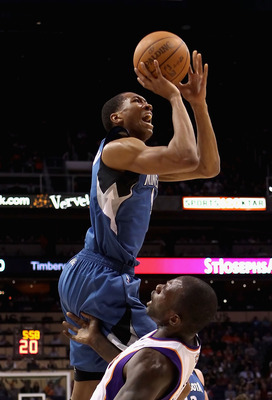 Christian Petersen/Getty Images
The Phoenix Suns have done a pretty solid job of rebuilding on the fly. They made moves to replace Steve Nash both in the draft and free agency. They also grabbed a potential stud in Michael Beasley and consistent power forward Luis Scola.
Their starting unit is looking fairly solid, with Marcin Gortat returning to man the center position after a career year. The one major flaw is at shooting guard where newly acquired Wesley Johnson figures to play.
Johnson is coming off a disappointing sophomore campaign in Minnesota that saw his production drop to just six points and 2.8 rebounds per game. His shooting percentage remained under 40-percent for the second consecutive year, not a good sign for a former lottery pick. Still, the Syracuse product started nearly every game for the Timberwolves.
Unless Shannon Brown takes the starting reigns from him, look for Johnson to be the Suns worst starter next season.
Portland Trail Blazers: Meyers Leonard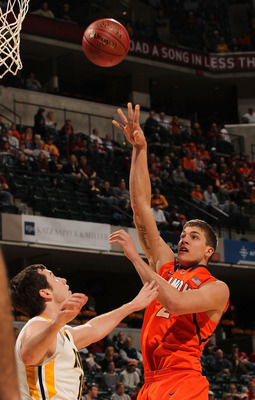 Jonathan Daniel/Getty Images
The Trail Blazers' starting five is packed with potential. They boast three proven NBA players who are still young. LaMarcus Aldridge, Wesley Matthews and Nicolas Batum are all very young and talented NBA players.
The remainder of the starting unit may be made up of the team's two first-round picks, Damian Lillard and Meyers Leonard.
Lillard was the highest-rated point guard prospect this summer and should pan out fine as a solid combo-guard for Portland.
The big question mark is the center position and how Leonard adjusts to playing against NBA-caliber bigs. The Illinois product will struggle in the early-going, but should earn a starting gig. With the amount of young talent around him, he will be hard-pressed to not be the weakest link in the Trail Blazers' starting five.
Sacramento Kings: Jason Thompson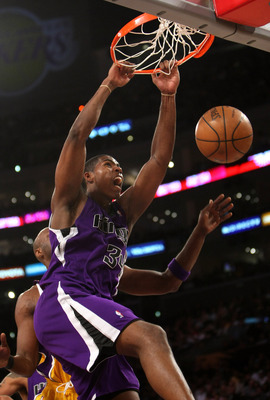 Stephen Dunn/Getty Images
Not many teams can boast a starting five made up entirely of players 26-and-under and still be competitive. That is what the Sacramento Kings are able to do this year.
Isaiah Thomas (23) and Marcus Thorton (25) make up a talented, young backcourt who can score points with the best of them. Tyreke Evans (22) and DeMarcus Cousins (22) are potential franchise cornerstones. The fifth starter is most likely 26-year-old Jason Thompson.
The big man out of Rider was a lottery pick back in 2008. Unfortunately his production has fallen with decent consistency in his first four NBA seasons.
Thompson is still a very serviceable power forward, but in this young core, he is the worst starter on Sacramento.
San Antonio Spurs: Boris Diaw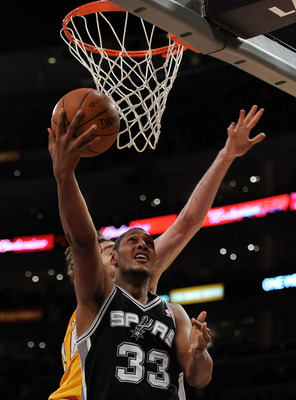 Harry How/Getty Images
The three standards of the San Antonio Spurs will be returning for another year. Manu Ginobili, Tony Parker and Tim Duncan form the core of the Spurs' starting lineup.
This leaves two positions for the label of worst starter. The battle would be between last year's surprise rookie Kawhi Leonard and veteran big Boris Diaw.
Leonard impressed with both his defensive presence and all-around offensive game. His youth earns him the bump over the journeyman Diaw.
Diaw started all 14 playoff games for San Antonio last season and has the inside track for the role this coming year. Still, with the experienced talent and youthful energy surrounding him, Diaw is the tough-luck loser in silver and black.
Toronto Raptors: Jonas Valanciunas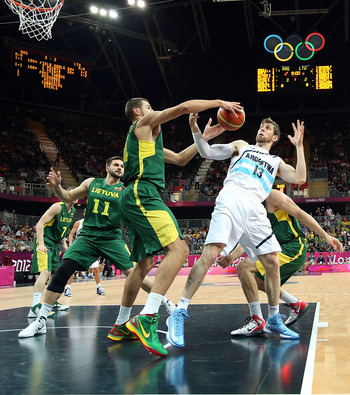 Christian Petersen/Getty Images
The Toronto Raptors' starting lineup is another one that is tough to predict. Because of costly injuries last season and a lot of new faces entering this summer, the five starters are still undetermined.
The one thing that is for sure is that the Raptors are looking a lot better than they have in recent years. A lot of that has to do with new starter Kyle Lowry and returning star Andrea Bargnani. Those two will pair with last year's starter DeMar DeRozan at small forward, leaving the shooting guard and center spots open.
It makes sense that the two positions in the starting unit should go to rookies Terrence Ross and Jonas Valanciunas, but there are other schools of thought as well. Should the spots go to these two players, Valanciunas will be the worst starter of the group.
Valanciunas had a great opportunity to show his talents in the Olympics this summer, but did not impress. Ross is close to a sure thing as a steady contributor as a scoring guard. Valanciunas is a foreign center who is still young and has to learn the NBA game. That is not often a recipe for success in the league.
Utah Jazz: Mo Williams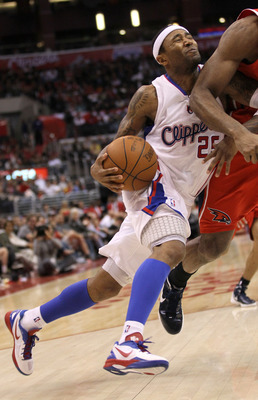 Stephen Dunn/Getty Images
The Jazz will be heading into the 2012-13 season with a new point guard in Mo Williams. They have also added Marvin Williams to start at the small forward.
Outside of those two, the starters will remain the same. Al Jefferson and Paul Millsap make up one of most productive frontcourts in the NBA. Gordon Hayward has been a solid starter at shooting guard for a year and a half now.
Mo Williams will need to adapt quickly into his new team while also getting starter's legs back under him after backing up Chris Paul last season. He will slide into Devin Harris' role from a year ago and have to keep the Jazz' half-court sets effective if they wish to return to the postseason.
Williams is not much of a distributor though and that could hurt with the type of frontcourt Utah has assembled.
Washington Wizards: Trevor Ariza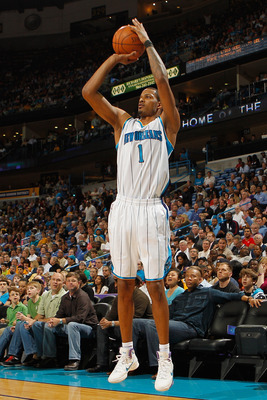 Chris Graythen/Getty Images
Outside of John Wall and Bradley Beal, the Wizards starters are on a pretty even plane. While it is still unclear who will get the starting nod in their frontcourt, Nene, Emeka Okafor and Kevin Seraphin are all solid options.
The small forward spot was a weakness last season and may continue to be one. Washington acquired Trevor Ariza to start in place of Jan Vesely for the time being. Ariza has not shot particularly well recently, just a 40-percent clip over the past three seasons. If Ariza is not using his athleticism to score, then his value is cut short.
On the other hand, Nene and Okafor are established rebounders and offensive bigs in the NBA and Seraphin is a budding young star. If their shot isn't falling, these players won't be totally eliminated from the game.
Keep Reading