LeBron James: The Best Basketball Player Around on the Simplest Terms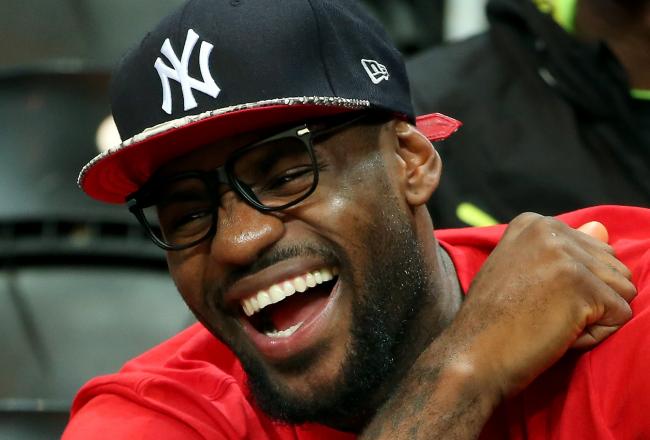 Christian Petersen/Getty Images
The last two years of NBA coverage have been saturated in reporting and analysis related to the perception of LeBron James. How Clevelanders, basketball fans and even fellow NBA players viewed James became a story in itself. The backlash to James' move to Miami, play and on-court antics was chronicled, as was the backlash to the backlash and the backlash to the backlash to the backlash.
The LeBron James narrative had become a self-contained and self-sustaining entity, in the process illustrating the obsessive tendencies of sports fans and the media bodies that both guide and oblige them.
But now that James has won the prize that many foolishly claimed he never could, much of the interest in those narrative lines appears to have died out.
James may be no more likable today than he was a few months ago, but the panacea of winning seems to have somehow made him more palatable to audiences at large. For two years, James has filled a dual role as the league's best player and its most controversial figure. In light of how his story has trudged on, he may finally be able to drop the latter tag while only solidifying his claim as the league's finest.
There will always be a public interest in the finest of any major sport, but James—after a two-year stretch that must have seemed like a lifetime—can finally go back to being the world's greatest basketball player next door. Gone are the villainous characterizations and the various needs for redemption; these days James just goes about his business with an incredible amount of attention but significantly less scrutiny.
That's a relief—not only for James, but for consumers at large who had grown weary of the aforementioned backlash taking on a life of its own. That bit of response was worth consideration and reflection, but the greater basketball narrative churns on, and James has grown significantly since his missteps in the summer of 2010.
The interest in who hated LeBron and how much of that hatred shouldn't have had the life that it did—just as the interest in how James blocked out the criticism—shouldn't have been a headline-worthy affair for as long as it was. A moment in time was stretched out for the better part of two seasons, and though Carmelo Anthony, the Dallas Mavericks, Chris Paul, Jeremy Lin, Dwight Howard and others were able to able to provide varying levels of distraction, the focus inevitably reverted to James and the chorus of boos that followed him.
With any luck, we can all move on. James spent the NBA playoffs confirming what we already knew about his standing, and he has spent hand-picked stretches of the ongoing Olympic Games showcasing his ability to dominate outright. He's answered scathing criticism, dismissed those who live to see him fail and has somehow hushed the senseless noise around him while still being the loudest voice in the room.
Maybe now he's allowed to be LeBron again—even if that means something entirely different than it did prior to 2010, and something entirely different now that he has a title to his name.
This article is
What is the duplicate article?
Why is this article offensive?
Where is this article plagiarized from?
Why is this article poorly edited?