Best Song to Describe Every NBA Team's 2012 Offseason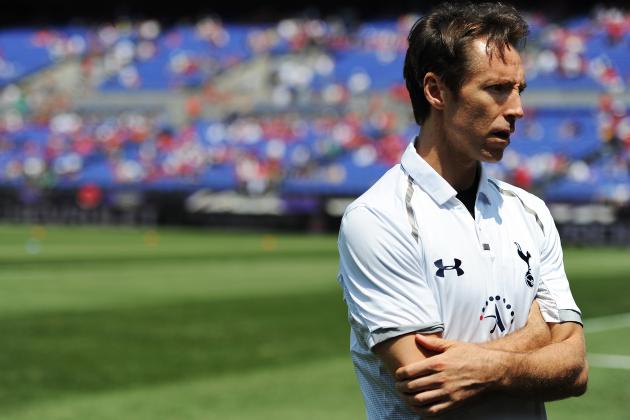 Patrick Smith/Getty Images

The NBA offseason didn't come over us like a tidal wave like after the lockout ended, but it was a series of sizable waves crashing into us over and over again until we were brought to our knees, finally forced to take a long hard look at what just happened.
Steve Nash ended up on the Lakers because everything always seems to work out for them, the Celtics got slightly younger, the Heat got even better and guys got overpaid because this is the NBA, after all.
However, it's still a bit difficult to really recognize what everyone has done until there are some actual games played, otherwise all we can do is try to put everything into perspective.
So, in an attempt to do just that I've gone ahead and described every team's offseason through song. Don't worry, I'm not the one singing, I'll let the professionals do that.
Begin Slideshow

»
The Atlanta Hawks finally shipped away Joe Johnson and the horrible contract that they never should have given to him in the first place, but in the end it's kind of a bitter sweet moment, isn't it?
Johnson was supposed to be the guy to put this franchise over the top, he was supposed to turn them into title contenders but it never happened, so getting rid of him was like admitting that the past few seasons had been useless.
I suppose all there is left to look back on is the fact that he brought the fans happiness, if just for one day.
The Boston Celtics went into this offseason with an array of choices on their plate, the main two being to either blow up their team and start over around Rajon Rondo or to run it all back and see if they can't go for another title with their core.
They chose both, sort of. Kevin Garnett came back, but Ray Allen left, and otherwise they got younger players, although none of the core players on their team are any younger.
Still, they are a bigger and younger team than they were in April, which should be good for them this season.
There were two obvious song choices for the Brooklyn Nets here, either Frank Sinatra's crooner classic about hoping to be the toast of the town and Jay-Z's "Empire State of Mind," which is more about being on top of the town.
Until they're able to unseat the Knicks at least in some way on the court, they aren't on top of the town; instead they're still hoping to be on top, and their offseason reflected just that.
It's been nearly a decade since the Charlotte Bobcats came into the league, and with eight lottery picks and just one playoff series to show, they've had a tough decade.
They haven't just had bad regular seasons, they've had bad offseasons with bad drafts and dumb trades dotting their short history, but it seems they've finally had a successful offseason.
Because of that, Etta James' beautifully drawn out song of success seems necessary.
It seems that every move the Chicago Bulls made this offseason centered around either the absence of Derrick Rose or the dire salary situation that they're in, or at least that they will be in over the next few years.
They were forced to go out and get a guy who can run the offense in Kirk Hinrich, rather than hold onto solid backups. Then they were forced to let Omer Asik go in favor of Nazr Mohammed to keep them from paying a huge luxury tax in a few years.
There truly ain't no sunshine when Derrick Rose is gone.
The Cleveland Cavaliers did very little this offseason, but they were busy, making sense that they were literally busy doing nothing.
The Beach Boy's classic bops on about doing nothing in particular while time goes by, singing, "And you'll find me in my house somewhere, keeping busy while I wait."
Cleveland is basically trying to dip their beaks in anything possible to get a draft pick here or an Andrew Bynum there, just waiting for a domino to be pushed over.
There's a lot of half-hopeful words hanging around the Dallas Mavericks as of late regarding their future, and it's really hard to tell whether or not the future is bright.
On the one hand they've got a bunch of expiring contracts that they picked up this offseason that will give them a chance to land Dwight Howard, but they don't have much of a basis for a solid team four years down the line to entice him (although they could put one together on the fly with some of the pieces they've got).
It seems this offseason was spent mostly just floating on by Dallas after Deron Williams got away from them.
The Denver Nuggets were very particular, very plodding and very determined to get what they wanted this offseason, and for the most part they seem to have done what they wanted to do.
Denver is full of young players, so they re-signed Andre Miller to give them some veteran leadership and then gave an extension to JaVale McGee for cheap when compared to the likes of Roy Hibbert.
They went out and held onto their weapon of choice for the future in McGee and just grooved on ahead.
The Detroit Pistons had a successful offseason, but they probably won't be a better team this year than they were last year.
Detroit got out of paying Ben Gordon next season when they traded him for Corey Maggette, an expiring contract even if it meant trading away a draft pick; they picked up a promising center in the draft, although there are quite a few questions surrounding him.
In the end, Detroit didn't get the home run offseason that they wanted, but they got a solid offseason that they needed.
It seems like the Golden State Warriors out-waited everyone to spend their money and they ended up with some of the best deals in free agency, with the same story coming in the draft.
They patiently, stubbornly held onto their draft pick as long as they could while everyone tried to trade for it and wouldn't you know it, Harrison Barnes fell all the way to them at number seven.
Meanwhile, they were able to snag Carl Landry and re-sign Brandon Rush on the cheap—both solid players on both sides of the ball—by waiting and seeing what the market dictated their value to be.
The Houston Rockets came into the offseason leaving contracts in their wake like my dog is currently leaving fur everywhere he decides to sit down. The opinion far and wide is that a big move was coming, or they were playing for the future.
Whether they were able to end up snagging Dwight Howard or Andrew Bynum or if they were going to pick up some young guys for the future, sit with their draft picks and hunker down for the time being the signs are clear, there's a change down in Houston.
The Indiana Pacers went and whispered some sweet nothings into a few players ears this offseason, letting those guys know they were as dedicated to them as Al Green was to whomever he was singing this song to.
Roy Hibbert signed a max deal with Portland and Indy came around and matched the offer, while trading Darren Collison at the same time, letting George Hill know that he's their point guard for the future. Both of these guys now have full confidence from the front office, and the knowledge that their team might like them as more than just friends.
The Los Angeles Clippers made some interesting roster moves this offseason, picking up Lamar Odom and Jamal Crawford.
Statistically they were terrible moves, as both players had atrocious seasons last year, but the Clippers are operating on the hope that they've got some gas left to help them out.
Odom was hampered by some personal problems and some sadness stemming from the Lakers shopping him and Crawford was playing for a terribly formed offense and basically given free reign on offense, which is never a good sign for him. Los Angeles decided to give these guys one more chance.
Like nobody expected, but to nobody's surprise, the Los Angeles Lakers ended up falling face-first into a pile of Steve Nash, giving them title hopes this season.
Aside from that, they were able to get Antawn Jamison to sign on at the veteran minimum after averaging 17 points last season.
As far as I'm counting that's just two little birds so far, there's bound to be another gift-wrapped player on the way to LA sooner or later.
The Memphis Grizzlies didn't do a whole lot this offseason. In fact, the biggest news was that a guy left, not that a guy was added to the team.
O.J. Mayo left for Dallas, they added Jerryd Bayless and everything else was trades for players who are emergency guys and Wayne Ellington, who shouldn't see the floor more than 40 or so times this year.
Basically, Memphis is playing it like they've got hopes for the team they had last year, especially considering all the injury troubles they dealt with.
The Miami Heat didn't do a whole lot this offseason, picking up Rashard Lewis and drafting Justin Hamilton, but the real news was when they nabbed Ray Allen for the mini mid-level exception.
Most interestingly about the Allen signing was the fact that they signed him away from the Celtics, who were offering to pay him more money.
From the perspective of the Heat, Allen was a friend of their enemy, but quickly became their own friend.
The Milwaukee Bucks didn't do much fooling around this offseason, determined to get what they needed to make this team the best they possibly could.
After trading Andrew Bogut, they looked at their team and saw the lack of height. What they ended up doing was re-signing Ersan Ilyasova for a fair price, trading for Samuel Dalembert and drafting John Henson. Between those three dudes they should be able to fill out the front court.
The Minnesota Timberwolves heard Kevin Love's complaints loud and clear this offseason and went into free agency with both hands, coming out with a nice hoard of players.
They started out by trading for Chase Budinger and offering Nicolas Batum a huge contract, and already they were doing more than half-steppin'.
However, after Batum's offer was matched by Portland they decided to keep going, signing Brandon Roy and then Alexy Shved and Andrei Kirilenko, both coming over from Russia to play.
It also seems appropriate to use a song by one of the coolest rappers of all-time to describe the whitest team in the NBA.
The New Orleans Hornets jammed two eras together, forming the baby of a monster of a team with the past and the present.
From the Chris Paul trade, they had ahold of Eric Gordon who was a remnant of their past, but their present led to a terrible record and the top draft pick. Once Anthony Davis and Austin Rivers were drafted and signed, this Frankenstein of a team was together, ready to kidnap the league and run from the mob trying to burn them down.
This entire offseason for the Knicks has revolved around Jeremy Lin, even if they did end up making some other moves in the middle of the disaster.
Lin went out to get himself a deal to bring back to the Knicks, which most everyone expected them to match, keeping him in New York.
However, they slowly built up the idea that they didn't need him, that he was too expensive, that it was irresponsible to spend the money and they ended up leaving him to sign in Houston.
Ever since they drafted Kevin Durant back in 2007 the Oklahoma City Thunder have done the safe, sensible thing more often than not, taking players with a solid chance of becoming good NBA players.
However, with the top end of their roster more or less set and the additions they make meaning little if they were to fail, they decided to take some risks.
Their walk on the wild side ended with them taking the plummeting Perry Jones and throwing a few bucks at former number two pick Hasheem Thabeet.
The Orlando Magic have been dragging their feet with this whole Dwight Howard saga, but you can't really blame them, can you?
They have a choice between getting Brook Lopez and a few other pieces, making them a mediocre team with the possibility of building through free agency next year, or they can load up on draft picks, get rid of their bad contracts and bottom out.
Of course, it doesn't help that Howard is being childish about the entire scenario.
The Philadelphia 76ers put together an offseason that saw them basically swap Elton Brand for Eddy Curry, although the playing time probably won't work out that way.
It seems that the Sixers have put all the hope on the youth of this team, hoping that the likes of Mo Harkless and Arnett Moultrie can potentially take the power forward spot and even the small forward spot should they decide to trade Andre Iguodala.
The Phoenix Suns had a sad parting with Steve Nash, but as the pretty moaning of Bob Dylan tells us, the two were destined to part, and nobody should feel bad about the whole thing. They did, after all, end up with a few draft picks out of the deal.
What followed for the Suns seemed like a series of hookups post-breakup, putting together a roster that is as interesting as it is strange.
Most of you probably know this song through Jessica Rabbit, but this is my favorite version, both haunting and beautiful.
What came of the Trail Blazers offseason was them jettisoning their past mistakes for some hope for the future, getting rid of Raymond Felton and Jamal Crawford for practically nothing, basically telling them that the time the spent there was worth just that to them.
A goofy song for a goofy franchise. A goofy franchise, that is, that ended up putting together quite a formidable front court this offseason.
What the Sacramento Kings did when they drafted Thomas Robinson was give DeMarcus Cousins someone to aspire to be in terms of effort and motor, which will hopefully turn him into a more determined, focused player.
The San Antonio Spurs didn't buy in to any of the free agents on the market, they decided instead to stick to the players they had and be happy with that.
Pfife and Tip go on about how everyone was more real to them before they got famous, people they meet putting on airs after fame came about, seeming fake and unreliable, which seems to be the way the Spurs approached this offseason.
They gave love to those who were loyal and stuck with that approach.
The Toronto Raptors are ready to go, they made that much clear when they shipped a draft pick to Houston for Kyle Lowry.
What the Raptors have now is a punchers chance of making it into the playoffs, all depending on how well Jonas Valanciunas proves to be in the coming season.
If he plays well, this team could come together in a big way and surprise some people, knocking out a few big fellows on Saturday night.
The Utah Jazz didn't make any huge moves this offseason, plus they gave themselves flexibility moving forward, keeping things light and lean.
Instead of falling in love with some free agent they went out and got Williams'— Mo and Marvin—to fill in at guard and forward spots, bringing in some fresh blood to this team.
Like the song, nothing serious really went down, but it was good enough to make them a different, probably better team.
There's a lot of hope out in Washington these days, and it's not for the reasons that you might think.
Sure, they traded a bonehead for a legitimate center before the trade deadline, picked up some professional players in Emeka Okafor and Trevor Ariza and drafted an exciting young man in Bradley Beal.
However, parades were thrown, babies were conceived, corks were popped and party blowers were, well, blown when news came down that the Wizards had used their amnesty provision on Andray Blatche. Hallelujah!
If you are one of those Twitterers, you can follow me @JDorsey33.