Breaking Down the 2012 NBA Offseason's Best & Worst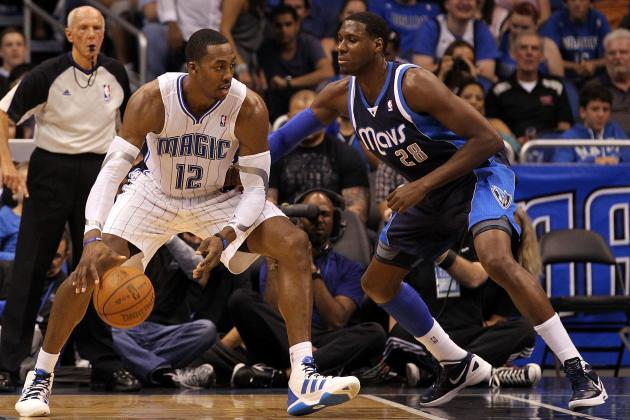 Sam Greenwood/Getty Images

NFL analysts might believe that the men of the pigskin provide unrivaled excitement during their offseason, but the NBA has given them a fight with its offseason action. There's been drama regarding the No. 1 selection in the draft. That predicated the excitement over the draft itself.
Two teams have been sold this offseason. The New Orleans Hornets left the hands of the league. The Memphis Grizzlies were announced to be going to a computer hardware magnate, although the sale has yet to be approved.
Free agency has seen plenty of fervor. Some laudable deals went down, such as the signing of Ray Allen with the Miami Heat. Meanwhile, some signings haven't been so bright.
Players like Steve Nash and Joe Johnson have been traded, reshaping the NBA landscape.
And you can't forget Olympic hoops.
These are among the most exciting things that have been happening this offseason. Here's a guide of the highlights and lowlights of the offseason.
Begin Slideshow

»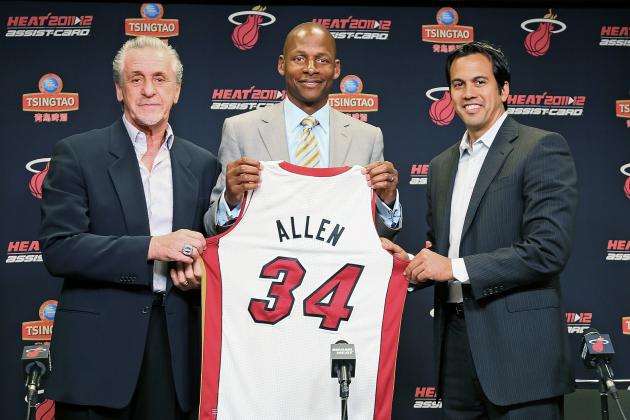 Mike Ehrmann/Getty Images

The Miami Heat made a nifty move in preparation to defend its title by landing a sharpshooting veteran. Ray Allen might be 37 years old, but his aim is as true as ever. He knocked down a career-high 45.3 percent of his three-point attempts in 2011-12. He managed to score 14 points per game.
Allen will help space a Miami offense that didn't shoot that often from downtown.
The Heat placed 10th from last in three-point attempts in 2011-12. The team had a couple of solid three-point shooters, like Mario Chalmers, but it didn't have the aggressive dead-eye outside shooter that it does now in Allen.
Allen will add a dimension to the Heat offense while providing offense that might otherwise be lacking when Dwyane Wade and LeBron James can't come through.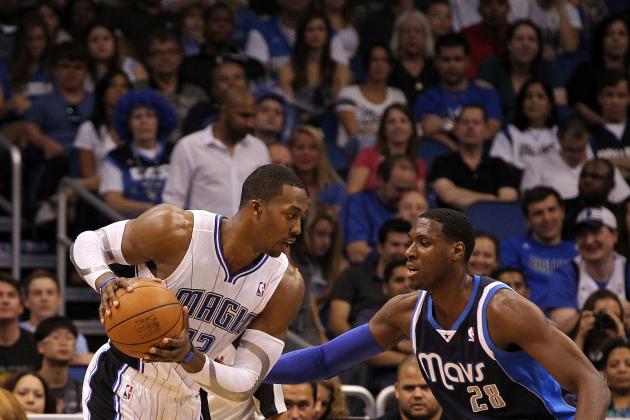 Sam Greenwood/Getty Images

Apparently, something's going to happen soon on the Dwight Howard trade front. According to Fox Sports Ohio, Howard will be traded in early August.
Hopefully, that's the case. Howard has wrought chaos on the Orlando Magic front office and brought uncertainty to the outlook of the franchise by shifting his position on possible trade destinations.
He caused the firing of Stan Van Gundy.
His indecision about preferred destinations and whether he'd extend his contract with his new team or test free agency has hurt the ability of the involved parties to make a deal.
Orlando needs to send him on his way so that it can prepare for the future. The sooner he's dealt, the more time Jacque Vaughn and his staff will be able to evaluate the roster and prepare for the coming season.
The 2012-13 season will probably be rough without Howard, but it'll be worthwhile, as the franchise would set forth on a new path with fewer headaches.
Chris Graythen/Getty Images

A special follow-up to the consummation of the sale of the New Orleans Hornets was the vault of the Hornets from the fourth-worst record to the top spot in the draft. The toil of the Hornets through a dreadful season paid off, as they were able to draft the player presumed to be the No. 1 pick, Anthony Davis.
Davis has much work to do to develop his game, but he does have tools that will make him a helpful player to start. His length and athleticism will key the strong defensive stands he'll make from day one.
As he builds muscle and develops an offensive game in the post, the man with the unmistakable unibrow will fuel a resurgent New Orleans team.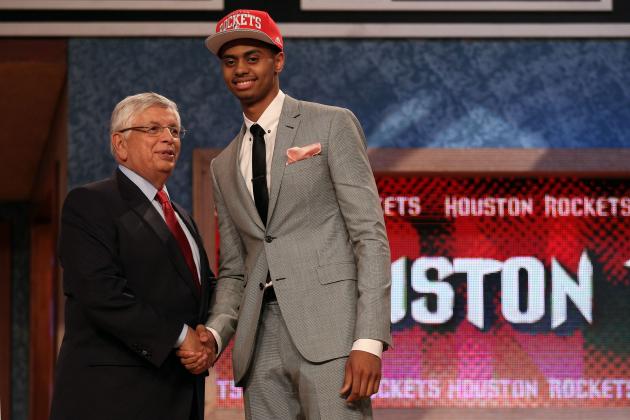 Elsa/Getty Images

Any business person will tell you that quality is more important than quantity. In short, that relates to how the Rockets failed in the draft with their three first-round picks.
Three first-round picks sounds great at first blush, but when one recognizes that all three came in the middle of the first round, it's not that pleasant. Houston picked three average prospects in Terrence Jones, Jeremy Lamb and Royce White.
These guys have some potential to be significant contributors for the Rockets in the next few years, but they won't combine to hurl the team into a playoff spot. Jones is a powerful inside player who isn't always willing to make the most of his abilities. Lamb is a talented outside shooter who sometimes jacks up shots irrationally.
White is a good passer and a strong scorer, but he is unathletic.
Indeed, this cabal of ordinary picks didn't happen by design. Daryl Morey traded up from the No. 14 spot to the Milwaukee Bucks' 12th pick and acquired the 18th pick from the Minnesota Timberwolves in hopes of packaging the picks for a higher draft pick, per the Houston Chronicle. Alas, that trade for a higher pick didn't materialize.
That left the Rockets with a trio of uninspiring mid-first-round picks.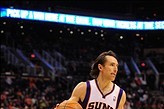 Mark J. Rebilas-US PRESSWIRE

The Los Angeles Lakers recharged their championship clock when they acquired Steve Nash in a sign-and-trade from the Phoenix Suns. Nash defied Father Time by putting up strong numbers in his late 30s.
With his youthful energy, one can hardly doubt that he'll be able to pull off one or two good seasons with the Lakers. He'll be able to run the floor well. His timing and execution will remain sharp.
Nash will use his tremendous point guard abilities to put the Lakers back on track to reach the NBA Finals. He'll be able to control the ball and prevent some mistakes that Kobe Bryant would make by holding the ball too long. The two-time MVP will create more opportunities for Pau Gasol and Andrew Bynum in the post.
In general, Nash will make the offense more multi-dimensional and less predictable.
This will make the Lakers as intriguing as they've been since they won the 2010 NBA Finals.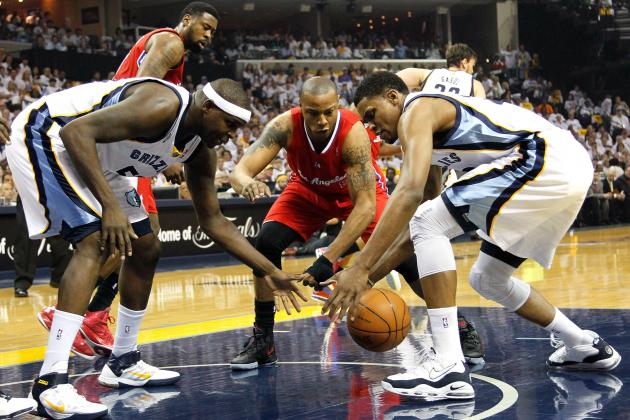 Kevin C. Cox/Getty Images

The Memphis Grizzlies may soon be changing hands, but the man on the receiving end doesn't seem like the right choice. In May, Grizzlies owner Michael Heisley sold the franchise to Ubiquiti Systems CEO Robert Pera.
Pera has both deep pockets and a deep love for the game, although the owner of the wireless networks company lost money very quickly in just a couple months before the sale was announced. He had been listed as a billionaire by Forbes in March.
But his net worth tumbled to $850 million in June from $1.5 billion, as Forbes reported.
This came as as Ubiquiti's stock slid from $35.99 per share in March (according to Forbes) to $11.83 per share (according to The Commercial Appeal). CNBC states that Ubiquiti closed trading on Thursday at $12.21 per share.
Notably, Pera's earnings are almost completely tied to Ubiquiti stocks, according to CNBC. Hence, the small-market franchise would be hurt dearly if Ubiquiti stocks crash and he doesn't have a significant amount of income from other sources, such as bonuses.
On a somewhat brighter note, Pera is looking for local partners to join the purchase, according to The Commercial Appeal. That would help the franchise to an extent, in case Pera's company hits hard times. Also, it shows some openness to the Memphis community on Pera's part.
David Stern has been highly supportive of Pera's purchase of the Grizzlies, as Ronald Tillery of The Commercial Appeal quoted him in a tweet.
"I'm positive that the community is going to rally around the next ownership. They've got a great building, they've got a really good team."

— Commercial Appeal (@CAGrizBlog) June 13, 2012
However, with the uncertain future of Ubiquiti, the Grizzlies seem to have a shaky hand readying to take control of the team.
Hardly anything ignites childlike wonder during the offseason like a good old-fashioned challenge. Kyrie Irving challenged Kobe Bryant to a one-on-one showdown in July.
Whether Kobe eventually relents and accepts the challenge is a mystery that should cause wonderment among millions of fans.
One can easily default to the idea that Kobe will win it. He's the proven veteran who has faked out numerous players through the years and has racked up many, many more points than Irving.
Irving can still work to beat Kobe, but Kobe has seen too much to be duped by a relatively new guy.
Bob Levey/Getty Images

The Rockets made two ill-advised acquisitions in a row by signing Jeremy Lin and then turning around and picking up Omer Asik. Houston overvalued both players by throwing $25 million at each of them over a three-year period.
Daryl Morey put starting money in front of two players who aren't of starting quality. Jeremy Lin can dish it out and score a fair amount, but he's extremely turnover prone. He's also very predictable and only capable of effectively going one way with the ball. Also, Lin is very mechanical, which makes it difficult for him to elude smarter defenders.
Asik is a nice guy to have around. He can defend the basket and set screens, but that's about it. His rebounding ability doesn't blow people away, and he's no scorer.
Sometimes it might seem like a trick for a team to wrest a restricted free agent out of the hands of its original team. However, with the New York Knicks and Chicago Bulls staying level-headed on the values of Lin and Asik, respectively, the Rockets didn't have much of a problem grabbing them.
These expensive grabs, along with team's lackluster draft, put the Rockets in guaranteed lottery range.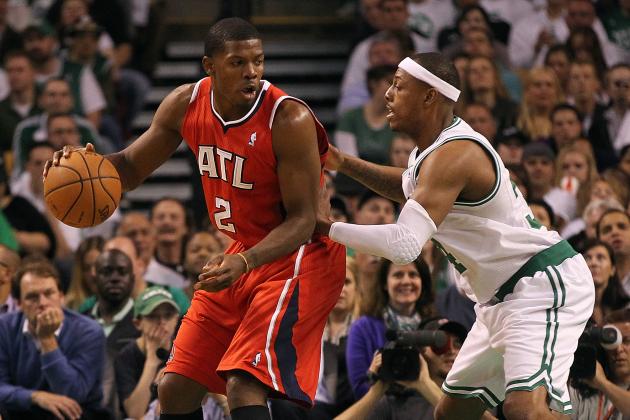 Jim Rogash/Getty Images

The Brooklyn Nets and Atlanta Hawks made a remarkable pact by agreeing to a five-player deal that saw Joe Johnson going to the Nets.
The deal helped both teams significantly. The Nets found a premier scorer to partner with Deron Williams in their backcourt. Also, it gave them perhaps a little extra hope in the Dwight Howard sweepstakes.
For the Hawks, the deal relieved a tremendous salary burden. The Hawks had overcommitted themselves by giving Johnson a six-year, $124 million deal in 2010. Atlanta could be in line for a big-time free agent next year with the space it's making this offseason.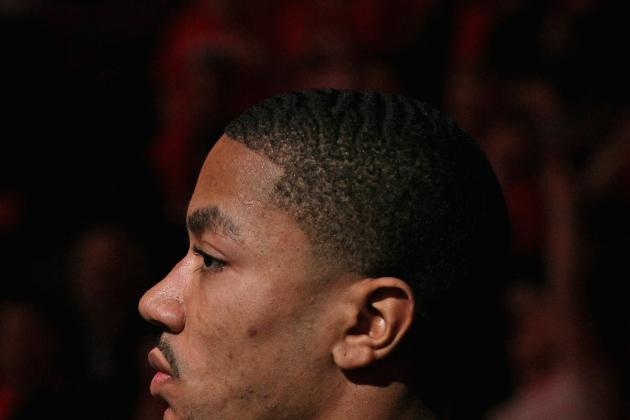 Jonathan Daniel/Getty Images

Chicago Bulls fans had held out hope that their team's best player would heal from his ACL tear in time to return to the team at midseason and give the team some hope of success.
However, it turned out that Rose would be out until March, according to the Chicago Tribune. That means that Rose will likely miss at least two-thirds of the season. The Bulls will be without their key scorer, facilitator, defender and leader for probably 55 games or more.
With Rose returning in time to play 40 games, the Bulls might have had a chance to land a decent spot in the playoffs. Also, with Rose, the Bulls would have been able to manage a legitimate fight in the playoffs. A Derrick Rose who played about half a season could push Chicago through at least the opening round and, depending on the matchup, the second round.
Without him, the Bulls are a low-seeded playoff team or a late lottery team. The point guard position is anything but reassuring without Rose. Kirk Hinrich is only a shell of his former self. Down low, Carlos Boozer can make up for some of the lost scoring. Joakim Noah is a fun player, but he can't make up for what the Bulls will miss in Rose on either end.
Marco Belinelli is a nice addition, but he can only score so much.
Another idea is for the Bulls to completely tank in 2012-13. That could work out very well for the future of the organization. The Bulls could put themselves in the position to draft a wonderful prospect like Cody Zeller or Shabazz Muhammad.
The problem with that is that John Paxson and Tom Thibodeau probably aren't open to the idea of an all-out tank job. Paxson and Thibodeau are most interested in seeing the team play hard and win as many games as it can.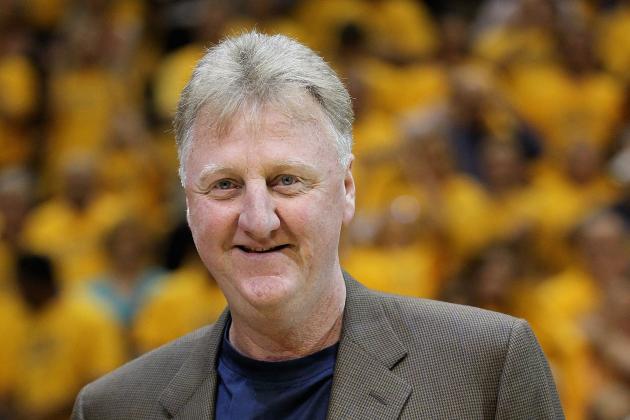 Jonathan Daniel/Getty Images

Larry Bird provided Indiana Pacers fans with an unwelcome surprise in June by announcing that he would resign as president. That came after the franchise made moves in the offseason—like re-upping George Hill and Roy Hibbert—to tighten their status as a rising power in the East.
His reason for leaving seems a bit complex. Mitch Lawrence of the New York Daily News hinted to friction between Bird and Pacers owner Herb Simon regarding offseason moves, while also noting health concerns.
Bird had directed a rebuilding of the Pacers that saw them become one of the better teams in the Eastern Conference in 2011-12.
Hopefully, the departure of Bird doesn't stymie the rise of the Pacers.