Joe Johnson to Nets: Do Atlanta Hawks Have Their Sights Set on Dwight Howard?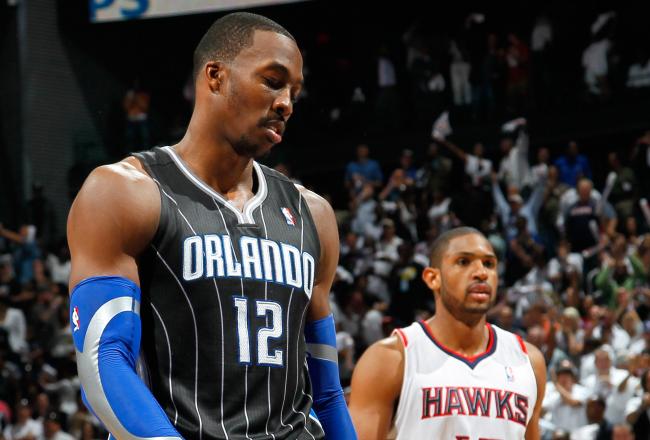 Kevin C. Cox/Getty Images
The Brooklyn Nets are on the verge of completing a blockbuster deal that will impact the future of Dwight Howard.
Thing is, Superman isn't likely to wind up in the NBA's shiniest and newest Metropolis, though a move to his hometown Atlanta Hawks could be in store—strange as that may seem.
Long-time basketball reporter David Aldridge was among the first to report that the Nets had all but swapped out a slew of expiring contracts and a lottery-protected first-round pick in exchange for Hawks All-Star swingman Joe Johnson:
Breaking: Nets "very close" to acquiring Joe Johnson from Hawks for Farmar, Petro, Morrow, Williams, Stevenson and protected pick (Houston).

— David Aldridge (@daldridgetnt) July 2, 2012
According to Adrian Wojnarowski of Yahoo! Sports, the trade isn't contingent on whether or not Deron Williams decides to re-sign with the Nets:
League source tells Y! that Joe Johnson deal now likely "happens with or without Deron." Nets officials are meeting with Williams right now.

— Adrian Wojnarowski (@WojYahooNBA) July 2, 2012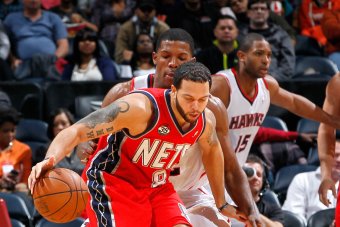 Kevin C. Cox/Getty Images
The addition of Johnson—who's owed nearly $90 million over the four years remaining on his current contract—likely puts any deal for Dwight out of reach for the Nets. Brooklyn may still be Howard's destination of choice, though the Nets would be hard pressed to afford him, assuming D-Will soaks up a significant chunk of the cap space that would be left over after bringing aboard Johnson and Gerald Wallace (at four years and $40 million).
Additionally, ESPN's Chris Broussard suggests that the Nets and the Orlando Magic probably wouldn't have been able to get a deal done, even before Brooklyn moved swiftly to lift Joe Johnson out of the ATL:
Nets, of course, would've preferred to get Dwight, but Magic refused to engage in trade talks. Source: 'They didn't want to dance with us.'

— Chris Broussard (@Chris_Broussard) July 2, 2012
Meanwhile, the Hawks are now sitting prettier than they would've otherwise, what with the league's most expensive contract all but wiped from their books. And—as Josh Robbins of the Orlando Sentinel points out—the Hawks will soon employ two of D12's closest confidants if/when the Joe Johnson trade is finalized:
The #Atlanta #Hawks now will have 2 of Dwight Howard's best friends in the #NBA: Josh Smith and Anthony Morrow. #coincidence?

— Josh Robbins (@JoshuaBRobbins) July 2, 2012
Could it be, then, that new general manager Danny Ferry is positioning himself to bring Dwight Howard—an Atlanta prep legend—back to the capital of the South?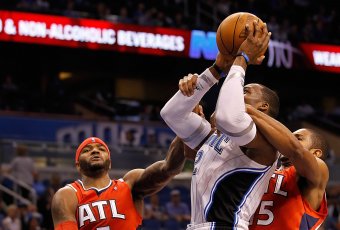 J. Meric/Getty Images
Only time will tell, though the Hawks will find themselves better able to make such a deal happen once Johnson officially lands in the New York metropolitan area.
Atlanta could potentially offer Al Horford, Devin Harris (whom the Hawks acquired from the Utah Jazz in exchange for Marvin Williams, per ESPN's Marc Stein) or Jeff Teague, a contract or two from the Nets and/or future draft picks in exchange for Howard and a bad deal or two from Orlando—between those of Hedo Turkoglu, Jason Richardson and Glen Davis, among others. Or, if Josh Smith is still as keen to leave his home state for greener pastures, the Hawks could throw him into the deal in some capacity.
Whether such a package of assets would actually satisfy the Magic's demands remains to be seen and likely depends on which other teams remain in the running. The Houston Rockets were hot on Howard's trail in the days leading up to the 2012 NBA draft, but appear to have moved on after dispensing a three-year, $25.1 million offer sheet to Chicago Bulls' restricted free agent Omer Asik. The Golden State Warriors were rumored to be in the D12 Sweepstakes, though according to Matt Steinmetz of CSNBayArea.com, the team's involvement was nothing more than hearsay:
Warriors executive today: "Where is Dwight Howard stuff coming from?" Translation: Ws been there, done that. Nothing going on.

— Matt Steinmetz (@MSteinmetzCSN) July 2, 2012
The Los Angeles Lakers would probably be Atlanta's stiffest competition for Howard, assuming 24-year-old All-Star center Andrew Bynum isn't off limits. The Dallas Mavericks—should D-Will re-sign with the Nets—would have cap space with which to sign Howard next summer and could make a push to acquire him before then.
Where will Dwight Howard wind up?
Still, the Hawks have a greater variety of quality assets at their disposal to offer for Howard than do either the Lakers or the Mavs. Swapping out Howard for Horford or Smith et. al (all three of whom are currently 26 years old, by the way) would likely keep the Magic in the Eastern Conference playoff picture and give the franchise a greater measure of financial flexibility going forward.
As for Ferry's Hawks, they'd be able to hit the reset button on a largely fruitless five-year playoff run in dramatic fashion. In Howard, the Hawks would finally have a singular talent capable of carrying the team to the conference/division finals for the first time since 1970.
Of course, this is all assuming that Howard's bad back and Horford's torn pectoral muscle both check out, and that ISO Joe and D-Will both wind up with the Nets.
But, if the requisite pieces fall into their proper places, then the balance of power in the Eastern Conference could quickly shift to Brooklyn—a city that's yet to host an NBA game—and Atlanta, a hoops hotbed that's never been particularly relevant on the professional level.
This article is
What is the duplicate article?
Why is this article offensive?
Where is this article plagiarized from?
Why is this article poorly edited?