2013 NBA Mock Draft: Early Favorites to Land in Next Year's Lottery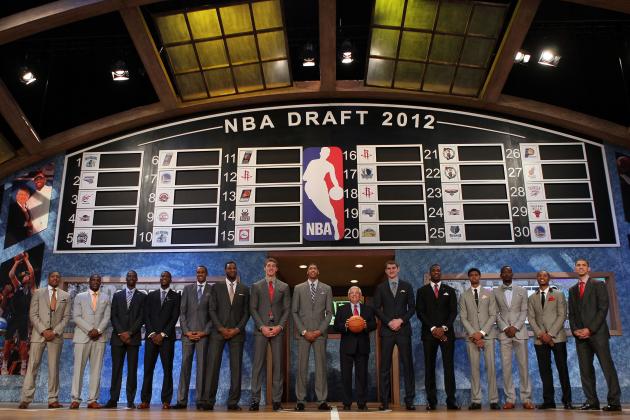 Elsa/Getty Images

It's that time again—already.
With the 2012 NBA Draft in our rear-view mirror, who might be standing on that stage in a year's time?
As always, the more things change, the more they stay the same. Expect to see plenty of guys taken from Kentucky and North Carolina once again. These two schools have re-loaded, and they're prepared to help NBA clubs do the same.
There may be a few more international importants this time around, but there should once again be an influx of freshman and sophomore talent.
Using NBADraft.net's 2013 mock order, here's a look at how next year's draft just might go down.
Begin Slideshow

»
Kentucky just seems to have all the luck.
After losing half the team to the 2012 draft—including first and second picks Anthony Davis and Michael Kidd-Gilchrist—the Wildcats are reloading yet again.
Noel has the kind of length and athleticism that are oddly reminiscent of Davis. And, like Davis, he knows exactly what to do with those physical tools. He's a menace on the defensive end, and he'll get his points thanks to his explosiveness and developing post game.
He's already got a baby-hook working for him, and chances are we'll see more during his freshman campaign at Kentucky.
Maybe the Charlotte Bobcats will have their shot at a defensive juggernaut after all.
So far, 2013 is looking a lot like 2012.
Why not take the next Michael Kidd-Gilchrist at number two?
Thomas is an excellent athlete who gets the ball to the paint and knows what to do when he's there. He's already got a little bit of range, but we didn't see much of his three-point game as a freshman.
The exciting part of his game is that he's got good length on the wing and can use it to disrupt shots and passes alike. He could make a fitting replacement for Washington's Trevor Ariza down the road.
C.J. Leslie has length, hops and the potential to be an incredibly versatile small forward.
He can handle the ball, but he also has excellent instincts around the rim. If his perimeter game improves, there's a good chance he goes this high in the draft.
The other factor that might work in his behalf is just how badly the Cleveland Cavaliers still need a small forward after opting to take shooting guard Dion Waiters with the fourth-overall pick this season. Leslie could be the missing link in the Cavs' young, rebuilt lineup.
With John Henson and Tyler Zeller NBA bound, James McAdoo should have the opportunity to really turn some heads in his sophomore year at UNC.
The speed, build and athleticism are all there. The only question left for him to answer is whether he can remain aggressive. If he does so, he could easily find himself taken in the top five picks next summer. If a team like the New Orleans Hornets can snatch him up, they'd have one of the quickest and most explosive young frontcourts in the league.
Shabazz Muhammad can shoot the ball, but that's not what will impress you most.
He has a wide array of moves that help him get to the rim and finish when there. He even has a decent set of post skills in his arsenal.
It seems like the Sacramento Kings have a number of guards at the moment, but that could change at any moment. More importantly, if Muhammad is still around when the fifth pick is up, whoever's there is going to take him.
The younger Zeller looks to be even better than his brother, Tyler.
He fights hard in the paint, but it's his abilities to pass and shoot the ball that differentiate him from most big men.
He averaged 15.6 points and 6.6 rebounds a game as a freshman, so it's scary to think what kind of scorer he'll become with even more polish.
If the Brooklyn Nets wind up landing Dwight Howard, chances are they won't have such a premium draft position. Otherwise, Zeller's maturity could earn him a starting job right away—even on a team trying to break into the playoffs.
It's tempting to compare Rudy Gobert to Roy Hibbert based on size and finesse alone, but Gobert is actually far more athletic.
He'll struggle early in his NBA career on account of his thin frame, but he's explosive enough to still make an impact.
Gobert would be well-suited to a team like the Warriors. Golden State has size, but they don't have anyone with Gobert's quickness and explosiveness. He'd give the team's interior rotation a different kind of weapon from day one.
Isaiah Austin doesn't quite have Nerlens Noel's freakish athleticism, but he could certainly give him a run for his money as the best big man in this draft.
The seven-footer has exceptional length and a penchant for blocking shots that looked like they were in the clear. He can shoot from the perimeter and drive the ball surprising well for a guy his size.
If his post skills develop enough to make use of his elite combination of strength and quickness, he could become a big-time star in the NBA. A team like the Toronto Raptors would jump at the opportunity to snag such a dominant inside force.
Le'Bryan Nash doesn't have much of a perimeter game just yet, but he's got a nice combination of strength and athleticism. He can take the ball to the rim, but he's also got a post-game more reminiscent of a power forward.
The bottom line for Nash is that once he's in the paint, he's hard to stop.
The Pistons have some young backcourt pieces, and their big-man rotation appears set. Bringing a forward like Nash in would help complete the youth movement.
The Minnesota Timberwolves are still in dire need of a shooting guard, and Archie Goodwin appears to be the full package. He's got a solid perimeter shot already, along with the kind of athleticism that makes him a well-rounded scoring threat.
He's a long 6'5", so his game isn't about scoring alone. He'll defend and hit the glass like a forward, but there's no question he has the instincts and finesse of a guard.
The only way he lasts this long is if the big guys are in higher demand. Goodwin is easily one of the two or three most talented young prospects in the draft.
Just because the Portland Trail Blazers landed Damian Lillard in this summer's draft doesn't mean the team won't still be looking for backcourt help next time around.
C.J. McCollum would give the team a polished combo-guard with athletic ability and a solid understanding of the game. In the best-case scenario, he could become the closest thing to Monta Ellis since Monta Ellis.
The Milwaukee Bucks got off to a good start rebuilding their frontline, but Alex Poythress would add another piece to the puzzle thanks to his offensive skills and athletic ability.
His perimeter game is coming along, but his bread and butter is slashing to the basket and using his strength to his advantage. He also adds a drive-and-kick element to his game thanks to ball-handling and passing skills that would make a lot of guards envious.
The Phoenix Suns have a solid young power forward in Markieff Morris, but there's no guarantee he'll develop into any kind of star. Tony Mitchell is a strong big man who can impact the game on both ends of the floor.
If he played at a more prominent program, he might go a bit higher than this, but for now he'll get attention as a big fish in a small pond.
The Houston Rockets got a little bit of everything in the 2012 draft, but they could still use a combo-guard who can flat-out score.
Young gets his points in a lot of different ways.
He won't hesitate to shoot the three, but he's also a very solid penetrator.
For now, Alex Abrines is a wiry off-guard with solid athleticism. It's become commonplace to compare any international guard to Manu Ginobili—but yes, he reminds you a little bit of a young Manu Ginobili.
Philly still needs a shooting guard after taking Maurice Harkless this summer, so Abrines might fall into place for them.
Patrick Young is a bit undersized, but he should have the right mix of strength and quickness to play power forward at the NBA level.
The Knicks need interior help and this could be the guy to give it to them.
Young is solid across the board. He scores efficiently, rebounds and uses his body well on the defensive end.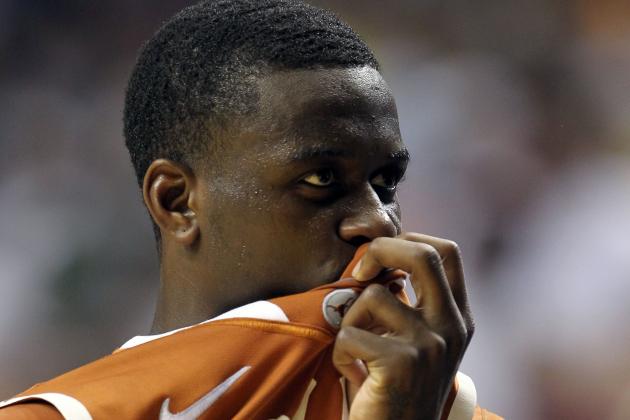 Jamie Squire/Getty Images

The University of Texas has become something of a point-guard factory. And, on the other end of the equation, the Dallas Mavericks look like they'll be in desperate need of a point guard unless they can land Deron Williams after all.
The best part of Kabongo's game is that he's that rare NCAA specimen who can actually pass the ball and run an offense. That plays well at the pro level.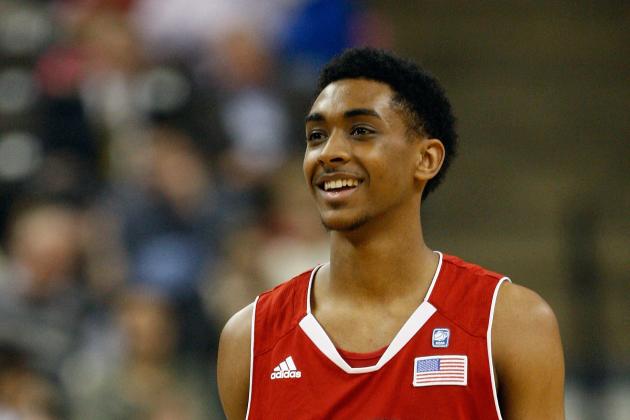 Streeter Lecka/Getty Images

After spending his freshman year at N.C. State, Ryan Harrow is prepared to take over Marquis Teague's job at Kentucky.
Soon thereafter, he could be saving a team like the Utah Jazz.
Harrow doesn't have tremendous size, but he's plenty quick and aggressive with the ball.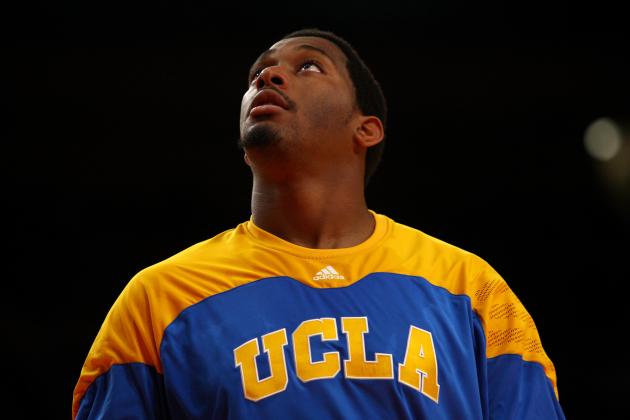 Chris Chambers/Getty Images

You can say this much about Joshua Smith: he's one big kid.
At 6'10" and over 300 pounds, Smith is ready to push some guys around even at the NBA level. He'll probably need to work on his conditioning and expand his skills a bit, but he's not a bad gamble for a team looking to rebuild its interior rotation.
The Orlando Magic are likely to be just such a team.
Finally—a young, more athletic version of Peja Stojakovic.
The can't-miss perimeter shot isn't quite there just yet, but give it time. The more impressive similarities are his size and ability to pass the ball.
The Denver Nuggets have loads of young talent on the roster, so they could go international to space out the infusion of youth over time.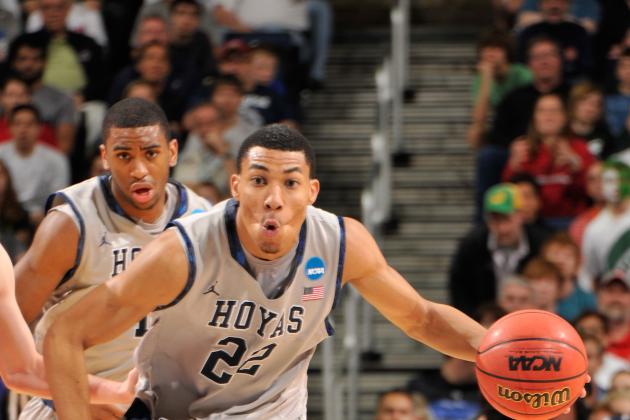 Jamie Sabau/Getty Images

Otto Porter wouldn't replace Paul Pierce any time soon, but he's got a nice combination of skills and could contribute to a team like the Boston Celtics from off the bench.
His mid-range game is already impressive, and he's well-rounded when it comes to passing and rebounding the ball.
That's the kind of talent base that would make Pierce proud.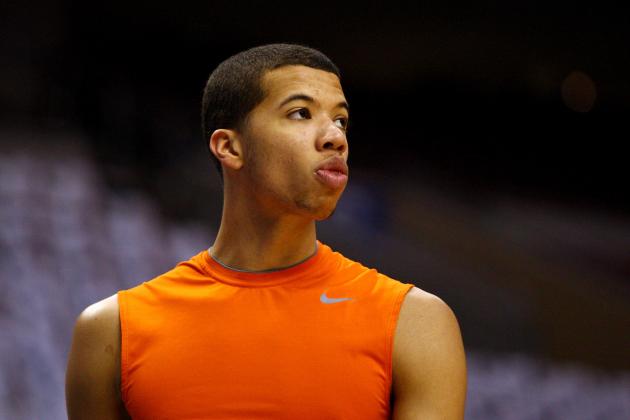 Chris Chambers/Getty Images

The Los Angeles Clippers have yet to find a shooting guard of the future, but they could luck out if they wait a little longer.
Michael Carter-Williams won't generate as much excitement as some of the other guards in this draft, but he's got solid athleticism and shooting ability.
Jeff Withey would provide outstanding depth behind Al Horford.
He moves and can explode in the paint, but his calling card is defense. No shot is safe when he's in the vicinity, and he could make a huge impact even while his scoring ability continues to develop.
The Los Angeles Lakers are looking to get younger and more athletic on the wing, so someone like Wayne Blackshear could fit the profile.
If his sophomore campaign amounts to a breakout season, he should find himself being selected at some point in the first round after the more-heralded prospects are all taken up.
He can already shoot the ball and create his own offense, so the Lakers could have something to work with on their hands.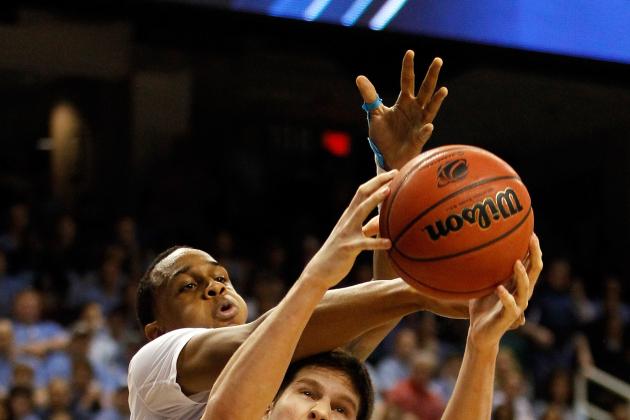 Streeter Lecka/Getty Images

Doug McDermott is more of a shooter than anything else, and it's not entirely clear that he could be a Kyle Korver kind of shooter at that.
Nevertheless, he knows how to create his shot and can do a bit more than just spot up.
The Memphis Grizzlies don't have many guys who can flat out score from anywhere on the court, so this could be a good fit.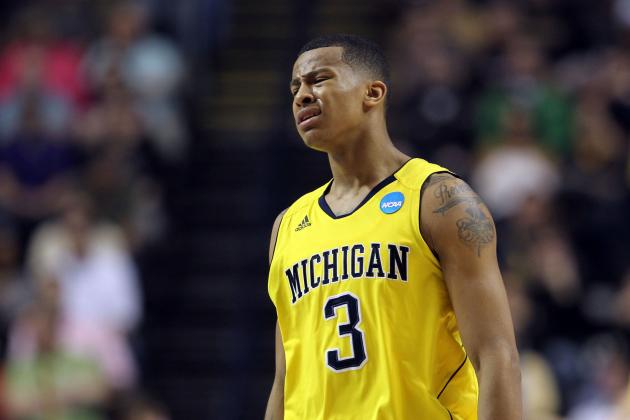 Jamie Squire/Getty Images

The Indiana Pacers probably won't hold on to both Darren Collison and George Hill forever, so someone like Trey Burke could be a huge help down the line.
He'd also fit in with the club on account of his leadership skills and ability to play the position like a true floor general.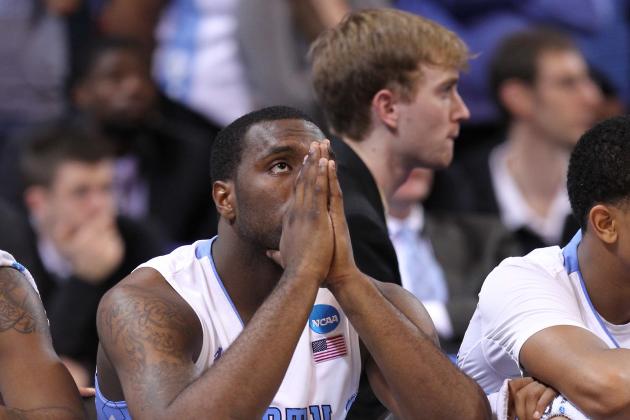 Andy Lyons/Getty Images

P.J. Hairston will have to make the most of his increased opportunities this year if he's going to land in the first round.
He struggles to create his own shot, and may be on track to become the next DeShawn Stevenson unless he diversifies his game a bit more. Still, he's strong and can get to the rim, so a team with some patience could work with him.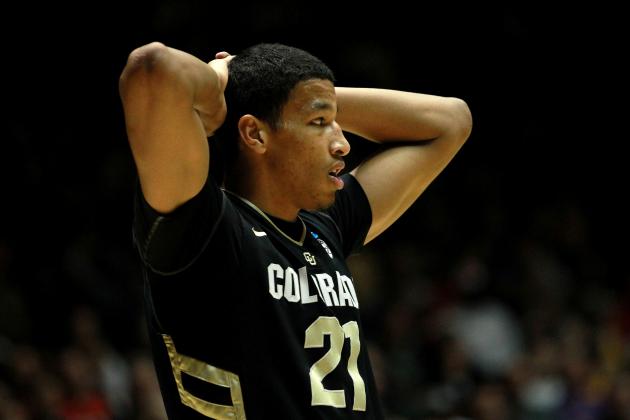 Ronald Martinez/Getty Images

Andre Roberson could well be this year's Jae Crowder.
He's undersized and offensively challenged, but he's a got a lot of hustle in him and can fight for rebounds.
Of course, that's not always enough to excel in the NBA. If he doesn't start to round his game out a bit more, he could slip to the second round.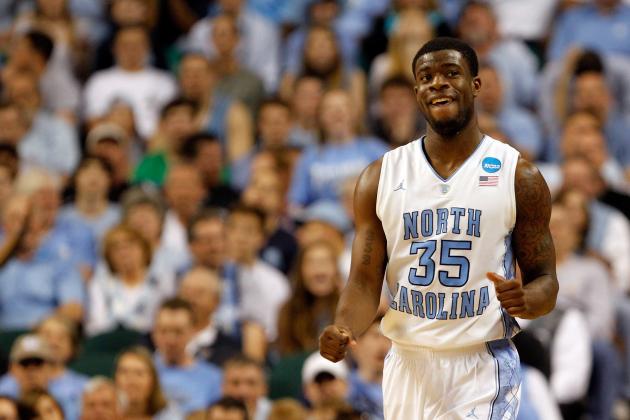 Streeter Lecka/Getty Images

Reggie Bullock has yet to become a very consistent scorer, but he'll have his opportunities with Harrison Barnes now in the NBA.
The 6'7" forward showed a lot of improvement in his second year with the Tar Heels, especially shooting the ball. If he can make a similar jump next time around, he could go much higher in the first round.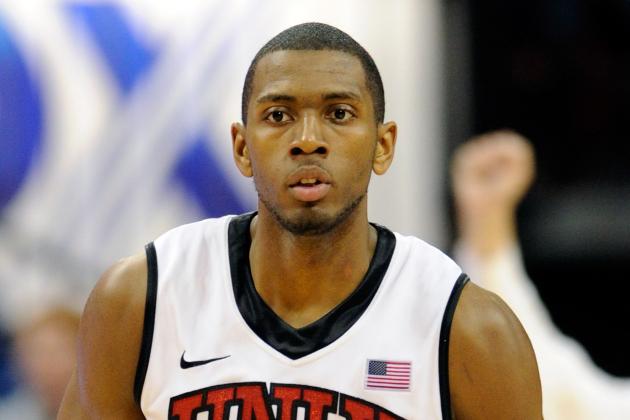 Ethan Miller/Getty Images

If the San Antonio Spurs ever manage to move DeJuan Blair, Mike Moser would be a perfect replacement.
He's strong, athletic and an absolute beast on the glass. With the defense he brings on a nightly basis, he could be a perfect fit for a team like the Spurs.