NBA Draft 2012 Grades: Ranking Every Playoff Team's Draft Day
June 29, 2012

Elsa/Getty Images
While the 2012 NBA Draft was focused on lottery teams and their execution with the top picks, the draft choices of playoff teams will have the most important impact on next season.
Even though players like Bradley Beal and Michael Kidd-Gilchrist (among others) are expected to have the most stellar seasons and compete for Rookie of the Year honors, it will be the role players on the most talented playoff teams that end up making the biggest difference next postseason. 
There's no shortage of talented players heading to NBA Finals contending teams next season, but some contenders didn't put their collective best feet forward with draft day decision-making and will suffer next year because of it.
Which playoff teams put themselves in a better position heading into the 2012-13 season? Find out below.
1. Oklahoma City Thunder: A-
The Thunder picked Perry Jones III from Baylor with the No. 28 pick, which is startling if you know anything about the Baylor standout.
He never played to his potential in college but easily could have been a lottery pick in last year's draft. Jones decided to come back and suffered the consequences, but there's no doubt that he's smiling thinking about his chances of winning a ring next season. 
2. Boston Celtics: B+
The Celtics raised eyebrows by picking two well-known big men late in the first round. 
Jared Sullinger (21st pick) slipped much further than I expected, and Boston hit a home run with this pick. Fab Melo (22nd pick) is an elite defender who will fit in to the Celtics' system.
However, they should've also answered the hole they have at guard with an aging Paul Pierce. But, there's always free agency.
3. Los Angeles Lakers: B+
The Lakers added fire and physicality to their roster with Marquette's Darius Johnson-Odom at No. 55 overall, which I love. The Lakers need more young players who are as feisty as Metta World Peace, but less aggravating.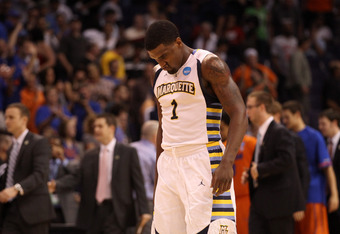 Christian Petersen/Getty Images
They took Gonzaga center Robert Sacre with the last pick (No. 60) in the draft, which will add another player to a big-man rotation that is unclear at the moment with trade rumors swirling.
4. Dallas Mavericks: B+
The Mavericks picked Tyler Zeller with the 17th pick but eventually traded to the Cavaliers for 24th pick (and more), which they turned into Jared Cunningham. The shooting guard from Oregon State boasts relentless defense and attacks the rim with menace.
They also nabbed the 33rd and 34th picks from Cleveland, which they turned into Bernard James and Jae Crowder. James is already 27 years old, but both should be solid rotational players down low for Dallas and solid prospects with potential in-trade scenarios.
5. San Antonio Spurs: B+
The Spurs only had one pick to work with, but they did well with it by picking Missouri guard Marcus Denmon in the second to last pick of the draft.
San Antonio may be worried about Tony Parker's future after suffering an eye injury in the infamous Drake and Chris Brown bar scuffle, so this pick makes sense to a team that doesn't have many holes. 
6. Utah Jazz: B
The Jazz turned their only pick of the night, No. 47, into Tennessee Tech guard Kevin Murphy.
Murphy can score and has a very good shot, but he needs to build his size and get accustomed to the NBA game. 
7. Indiana Pacers: B
Many Pacers fans were scratching their heads when Miles Plumlee was taken with the 26th pick, but it could end up as a solid choice to bolster a strong, young roster. Plumlee fits the Indiana system better than most of the players on the board.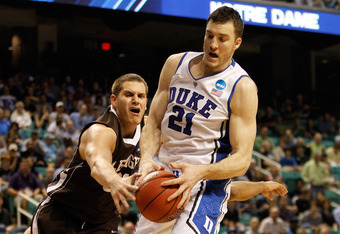 Streeter Lecka/Getty Images
36th pick Orlando Johnson (from the Kings) gives them depth at shooting guard, which they needed.
8. Miami Heat: B
The Heat got off to a bang in their offseason by selecting Arnett Moultrie with the No. 27 pick, but they eventually traded their pick to the 76ers for the 45th pick and a future first-rounder.
That No. 45 pick eventually turned into Justin Hamilton, a center from LSU who will give Miami the size that they needed. His mobility will add yet another energetic big man to the defending champs' rotation.
Plus, throwing in a future first-round pick will give LeBron James and company more role players to work with in the future. 
9. Chicago Bulls: B-
29th pick Marquis Teague shouldn't have been available for the Bulls, but he indeed was. This was a huge pick up for a Chicago team that will face much of the 2012-13 schedule without Derrick Rose. 
But is Teague a weak scorer, or was that just a byproduct of the level of talent around him at Kentucky? We'll find out. But regardless, he'll prove to be a protective point guard who doesn't turn the ball over. 
Also, if the Bulls decide to bring back either C.J. Watson or John Lucas III, Teague will suddenly be expendable at the point guard position. Eventually, they'll deal him for spare parts.
10. Los Angeles Clippers: B-
The Clippers were without a first-round pick for the second year in a row. They picked up Furkan Aldemir from Turkey. 
Los Angeles hopes that the big man can take his rebounding talents with him from overseas and clean the boards to improve this Clipper team.
11. Orlando Magic: C
The Magic seemed to have fallen in love with mid-major talent in this year's draft.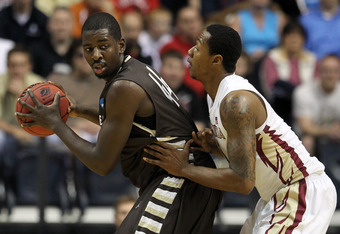 Jamie Squire/Getty Images
Orlando bolstered an already strong position on their roster with No. 19 overall pick Andrew Nicholson from St. Bonaventure. Nicholson has the potential to be a solid starter in this league, but he won't find the minutes that other players would behind Glen Davis and Ryan Anderson. 
They should've found a Dwight Howard replacement in the first round with many solid big men on the board; instead, they elected to find one in the second round. They selected Kyle O'Quinn from Norfolk State with the 49th pick, but don't expect him to log a starter's minutes in his first season with his game still being underdeveloped.
12. Atlanta Hawks: C-
The Hawks surprised many by taking John Jenkins with the 23rd pick as the first Vanderbilt player off the board. I expected him to be the last behind Festus Ezeli and Jeffrey Taylor. He could be the best shooter in this year's draft, but he lacks skill at rebounding and defending. The Hawks could've gone in many different directions with this pick, so it's hard to see this as the right path.
Atlanta then bolstered their frontcourt with No. 43 pick Mike Scott, power forward from Virginia. This is a much better pick, but the Hawks will suffer from not going with the best talent available at No. 23. 
13. New York Knicks: D+
The Knicks only had one pick in this year's draft, and they made an awkward pick with Greek baller Kostas Papanikolaou with the 48th pick. 
Papanikolaou gives the Knicks size at the 2 and 3 positions with his 6'8" frame and should dazzle at times with his quickness and hustle, but he's shown inconsistency as a shooter and will likely need a few years to grow. It's unclear whether or not the Knicks will give him such time. Also, he's almost certainly not going to make a NBA berth next season with his contract in Greece, per ESPN. 
This pick has all the makings to be a bust. 
14. Denver Nuggets: D+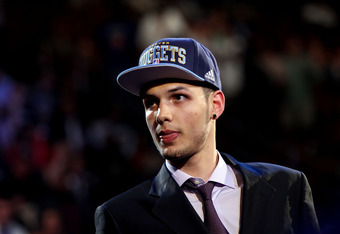 Elsa/Getty Images
The Nuggets could have gone in a lot of different directions than picking Evan Fournier from France with the 20th pick. Just take a look at the players that went in picks 21-30 to see how big of a mistake Denver made.
38th pick Quincy Miller is a solid bench player, but it's no secret that the Nuggets botched their first pick.
15. Memphis Grizzlies: D
The Grizzlies only had one pick, which they turned into Washington point guard Tony Wroten, Jr.
Wroten doesn't fill a need by any means in Memphis with a slew of young point guards, and it's unclear why they picked him with many talented players at more needed positions. He could eventually transfer to a two-guard, but we're still left scratching our heads at this one.
16. Philadelphia 76ers: D-
15th pick Maurice Harkless is looking to be one of the biggest busts in this draft. He fits right behind Philly's most elusive players in Evan Turner, Andre Iguodala and Thaddeus Young and doesn't offer much contrast.
They also offered the No. 45 pick and a future first-rounder for 27th pick Arnett Moultrie (from the Heat). I love Moultrie's upside and that's one of the only things saving Philadelphia in this draft, but they offered too much for him.