NBA Trade Rumors: Rounding Up Latest Chatter on Potential Draft Day Deals
June 28, 2012

The rumor mill could not be churning any harder leading up to the 2012 NBA draft.
There are tons of potential deals being floated around, and nearly every team in the league is trying to make a move. Whether it's trying to trade up, down, into the first round or out of it, almost every GM is working the phones and staying active in an attempt to improve his roster.
Let's take a peek at some of the possible draft day moves that are being thrown around.
Update: Thursday, June 28 at 8:00 p.m. ET by Tim Keeney
The Houston Rockets weren't able to get Sacramento's No. 5 pick, but they still have a few chances to get into the top 10.
The news comes from CBS' Ken Berger:
As expected, source says Houston was unable to get a deal done with Sacramento for the fifth pick. Rockets still trying to get into top 10.

— Ken Berger (@KBergCBS) June 28, 2012
The Rockets have No. 12, 16 and 18, so they certainly have the assets to move into the top 10. 
----------End of Update----------
Update: Thursday, June 28 at 6:58 p.m. ET by Tim Keeney
While all these new trade rumors are popping up, don't forget about the classics.
According to Gery Woelfel, an oldie but a goodie is still being discussed:
Howard to the Lakers, with Bynum going to the Magic, still being discussed.

— Gery Woelfel (@GeryWoelfel) June 28, 2012
Two of the best centers in the league being traded for one another might just qualify for the biggest draft-day trade of all time. Stay tuned. 
----------End of Update----------
Update: Thursday, June 28 at 6:46 p.m. ET by Tim Keeney
The Cleveland Cavaliers haven't been able to get their hands on Charlotte's coveted No. 2 pick, but according to sources (via ESPN's Chris Broussard), they have thrown out a new offer:
sources: Cavs offering 4, 24 and 33 picks for Charlotte's 2 and 31 picks

— Chris Broussard (@Chris_Broussard) June 28, 2012
Who the Cavs want is still a bit up in the air, but with Charlotte having so many different holes to fill, moving down two spots in order to acquire another pick makes sense. We'll see if they bite. 
----------End of Update----------
Update: Thursday, June 28 at 6:15 p.m. ET by Tim Keeney
Once Anthony Davis likely goes No. 1, the Charlotte Bobcats are on the clock. However, their pick is an incredibly sought after one.
After earlier reporting that five teams were after the pick, ESPN's Marc Stein (via Chris Broussard on SportsCenter) tells us the Bobcats have narrowed down the potential suitors:
Also from @Chris_Broussard on SportsCenter: Bobcats narrow five potential trade partners for No. 2 pick to two teams (Cavs and Rockets)

— Marc Stein (@ESPNSteinLine) June 28, 2012
This makes sense. The Cavs have the No. 4, 24, 33 and 34 picks to potentially dangle, while the Rockets have No. 12, 16 and 18. 
Stein goes to give us another update from Broussard's report, giving us an idea of what the Cavaliers want for big man Anderson Varejao:
Good stuff just now on SC from @Chris_Broussard: Cleveland has discussed dealing Anderson Varejao for No. 7 (Warriors) and No. 12 (Rockets)

— Marc Stein (@ESPNSteinLine) June 28, 2012
Varejao's name has really jumped into trade rumors over the past 12 hours, but it appears the Cavs aren't willing to give up the Brazilian for cheap. 
----------End of Update----------
Update: Thursday, June 28 at 5:26 p.m. ET by Tim Keeney
Dads get to coach their sons all the time, only it usually happens in middle school and high school, and sometimes college. Not the NBA.
According to sources, via Sports Illustrated's Sam Amick, Doc Rivers is trying to change that:
Sources say Boston's push to move into the lottery is partly driven by a desire to land Duke's Austin Rivers, son of Cs coach Doc Rivers. Celtics have the No. 21 and No. 22 picks.
With ESPN's Chad Ford and nbadraft.net both projecting Austin Rivers No. 10 to the Hornets, it appears Doc Rivers is going to have to make a big move to acquire his son. 
----------End of Update----------
Update: Thursday, June 28 at 5:15 p.m. ET
Rockets Not Giving Up on No. 5
We reported earlier in this post that Houston attempted to acquire the No. 5 pick from the Sacramento Kings by offering the No. 16 and Kyle Lowry, but were rebuffed by Kings GM Geoff Petrie.
That hasn't stopped Rockets GM Daryl Morey from keeping a line of negotiation open and he still intends to get that pick out of Sacramento come hell or high water.
According to Marc Stein and Chad Ford of ESPN, the Kings will not commit to dealing the pick and may wait until during the draft itself to see who is available for them to select at the position.
The analysts have found reason to believe the Kings are enamored with Thomas Robinson and will nab the Kansas forward if he is still on the board. If he has been picked, the Kings may be willing to ship the selection to Houston, who would likely take Andre Drummond.
Update: Thursday, June 28 at 3:00 p.m. ET
Jazz Willing to Lend a Hand
The Utah Jazz are looking to upgrade their backcourt and may be willing to absorb Mo Williams' $8.5 million contract next season (if the 29-year-old exercises his player option as expected).
This would allow Williams' current team, the Los Angeles Clippers, to clear the cap space required to swing a deal with the Dallas Mavericks for Lamar Odom.
Marc Stein and Chad Ford of ESPN reported that the deadline for this deal is likely Friday, as the Mavericks will have to pay Odom $8.2 million for the 2012-13 season if he is not cut by that date.
This potential deal would give the Jazz an experienced guard, the Clippers a versatile forward to come off the bench and free cap space up for the Mavericks. It's a win-win-win situation.
Hawks Not Ready to Say Goodbye to Josh Smith
New Atlanta Hawks general manager Danny Ferry is reportedly hesitant to part with disgruntled forward Josh Smith, according to ESPN's Marc Stein.
The Orlando Magic, hoping to convince Dwight Howard to re-sign, have made contact with ATL to explore a potential deal that would bring Smith to the same roster as his close friend.
Boston, Houston and the Los Angeles Lakers are also teams rumored to be interested in the Hawks athletic swingman.
Fortunately for Atlanta fans, Ferry is going to wisely hang back and survey the landscape before making a rash decision to trade one of his best players. 
Update: Thursday, June 28 at 2:30 p.m. ET
Bobcats Shut Down Timberwolves
We reported earlier that the Bobcats were mulling over five different offers for the No. 2 pick. GM Rich Cho has narrowed that down to four after he soundly rejected the Minnesota Timberwolves offer.
According to Jonathan Givony of DraftExpress, the T-Wolves offered last year's No. 2 pick, Derrick Williams, in exchange for the right to select again at that spot in 2012.
Sources say Minnesota offered Derrick Williams to Charlotte in exchange for the #2 pick. Bobcats quickly rejected.

— Jonathan Givony (@DraftExpress) June 28, 2012
The 'Cats had no interest and must feel they can get a much better player from another franchise or a better prospect if they stay put.
Rockets Are Over Pau Gasol
The Houston Rockets no longer have any interest in obtaining Pau Gasol from the Los Angeles Lakers, according to ESPN's Chris Broussard.
Sources insist Houston no longer interested in trading for Pau Gasol.

— Chris Broussard (@Chris_Broussard) June 28, 2012
Houston nearly landed Gasol after the 2011 lockout as part of the infamous trade that sent Chris Paul to the Lakers, but the league quickly vetoed the deal.
Now that the Rockets have obtained a number of valuable trading chips (notably the No. 12, 16 and 18 picks in the first round), they are clearly trying to cash in on a bigger prize, like Dwight Howard.
Are the Spurs Shopping Blair?
Adrian Wojnarowski of Yahoo! Sports is reporting that the San Antonio Spurs are looking to clear some roster space in order to bring over some former draft picks that they have stashed in Europe. One of the casualties from this house cleaning may be their 2009 second-round pick, DeJuan Blair.
Spurs are shopping forward DeJuan Blair, league sources tell Y! Spurs have Euro picks they could bring over next season, need roster space.

— Adrian Wojnarowski (@WojYahooNBA) June 28, 2012
Davis Bertans, Nando De Colo, Adam Hanga, Erazem Lorbek, Ryan Richards and Viktor Sanikidze are the prospects that the Spurs have been developing overseas and they must feel one or more of these players are ready to make the leap to the NBA.
Warriors Lucky Number 7
Despite it being involved in numerous trade rumors leading up to the draft, Marc J. Spears of Yahoo! Sports has found that the Golden State Warriors plan to stick with the No. 7 pick.
The @Warriors don't have anything hot trade wise & expect to keep 7th pick. Expect GS to select best player available regardless to position

— Marc J. Spears (@SpearsNBAYahoo) June 28, 2012
The insider expects for the franchise to take the best available player and thinks they will not draft based on need.
Golden State still has three other picks (No. 30, No. 35 and No. 52) that they can possibly involve in trades. 
------END OF UPDATE-----
Houston Rockets Making (More) Moves
GM Daryl Morey is definitely racking up a long distance phone bill, as he has easily been the most active player in the trade market this offseason. Houston has already acquired the No. 18 pick from Minnesota and swapped their No. 14 selection for Milwaukee's No. 12.
NBA.com's David Aldridge reported that Morey offered the No. 16 pick and Kyle Lowry to Sacramento in exchange for the No. 5 and Chuck Hayes, but was turned down by the Kings' front office.
Rusty Simmons of the San Francisco Chronicle also found that the Golden State Warriors are considering offering the No. 7 pick (which would likely be Andre Drummond) to the Rockets for two first-rounders, although that may be a backup plan at best for both organizations.
Expect Houston to keep stockpiling picks, as they seem hell-bent on preparing a "Godfather" offer for Orlando in exchange for Dwight Howard.
Charlotte Bobcats Have Five Offers for No. 2
According to ESPN's Andy Katz, Michael Jordan and the Bobcats have received five separate offers for the No. 2 overall pick. 
GM Richard Cho has a tough decision to make, as there are great prospects available (Thomas Robinson, Michael Kidd-Gilchrist, etc.) with the selection, but acquiring some veteran talent could help the team most.
Aging Contenders Looking to Move Up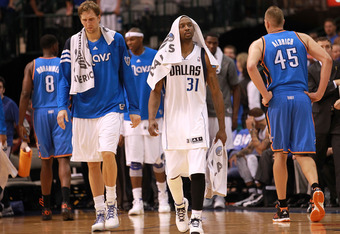 Ronald Martinez/Getty Images
The Dallas Mavericks and Boston Celtics are both teams that are fringe title contenders but have too much baggage and not enough youth on their rosters to actually win it all.
They are hoping to fix that by moving up in tonight's draft, giving them a better chance to score a promising young prospect.
Katz found that the Mavs and C's are both making calls around the league to figure out a way to move up, but nothing has come about yet.
Boston has a great chance of succeeding, as they possess the No. 21 and 22 picks in the first round.
Is Iggy On the Move?
The Philadelphia 76ers might be willing to flip Andre Iguodala tonight if they feel they can land a suitable draft pick in return.
According to John Mitchell of the Philadelphia Inquirer, the franchise is interested in the Warriors' No. 7 pick or the Raptors' No. 8 selection.
Mitchell writes:
It must be pointed out that none of the Sixers is untradable, according to multiple sources. If the right deal is on the table, and the Sixers believe that it will improve them, Thorn and coach Doug Collins will pull the trigger.

With both teams needing a lot of help on the wing, Iguodala could very well be in a new uniform next season.