NBA Draft 2012: Teams That Must Nail 1st-Round Pick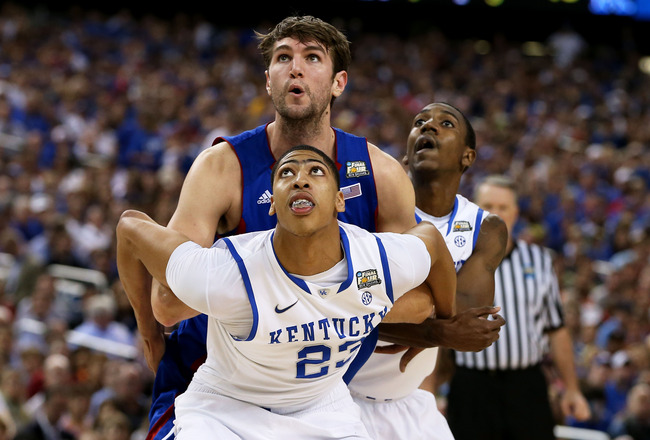 NBA franchises drafting with lottery picks need players like Anthony Davis to become stars, or they will always be looking up at the top teams in the league.
Jeff Gross/Getty Images
Every team in the NBA draft wants to avoid picking a bust, but teams drafting in the lottery need to cash in a winning ticket.
Failing to select a stud in the first round of the NBA draft means more mediocrity for the league's bottom feeders.
Save parity for the NFL. The NBA is a star-driven league run by dynasties.
The NBA draft is the only shot for teams outside the elite to acquire that star power necessary to compete. There's a reason LeBron James didn't assemble his "Big 3" in Charlotte and took his talents to South Beach instead. Don't expect any other big-ticket free agents to set up camp on a losing squad, either.
Jeremy Lin proved to everyone that not all impact players are drafted at all, much less in the first round. But the lottery is still where most franchise fish swim. Here are seven NBA teams that must land a big one to have any hope of reversing their recent lack of fortune.
Charlotte Bobcats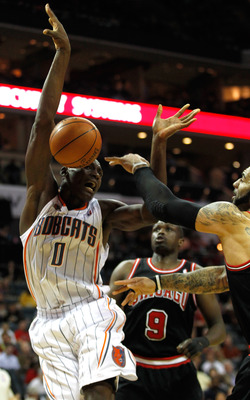 The Bobcats are a little discombobulated right now and desperately need a franchise player to set things straight.
Streeter Lecka/Getty Images
The Charlotte Bobcats ended the lockout-shortened NBA season with 23 consecutive losses. They finished at 7-59 with the worst winning percentage (.106) in league history. They were outscored by nearly 14 points a game, also a league record.
The club is being called the worst team in NBA history. Michael Jordan, the league's greatest player of all time, is now a front office laughingstock.
Sports Illustrated's Sam Amick described the team's search for a new coach as comical.
"Sources who were involved in the search were left chuckling at the discombobulated feel of the whole affair."
ESPN's Ryan Feldman reports that the Bobcats ranked last in points per play by pick-and-roll roll men and 29th in the league this season in rebounding percentage.
Based on those statistical weaknesses, Charlotte should be targeting a big man in the NBA Draft who can be an effective pick-and-roll player and rebounder.
Thomas Robinson looks to be that man. He was Charlotte's projected pick in 10-of-11 major mock drafts. Only Anthony Davis to the New Orleans Hornets was a more popular choice.
If the Bobcats do indeed take Robinson, they need him to become a star quickly to avoid another historically bad season.
If the team is not sold on Robinson as the franchise changer the team desperately needs, the Bobcats may trade out of the No. 2 spot.
New Orleans Hornets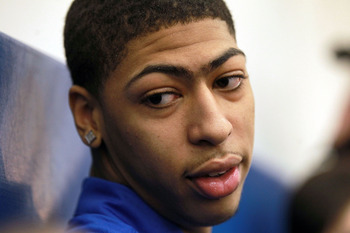 New Orleans needs Anthony Davis to live up to the hype.
Andy Lyons/Getty Images
Losing Chris Paul clearly crippled the New Orleans Hornets.
The Hornets finished in last place of the Western Conference at 21-45 without their star player. Owning the third-worst record in the league helped them win the lottery and land the first pick in the NBA draft.
Kentucky's Anthony Davis is the consensus projection for New Orleans' pick in mock drafts everywhere. His talent is unquestioned. The Hornets would be mocked for not taking him.
But all this certainty doesn't guarantee New Orleans anything. Davis can only lead the Hornets back into contention if he lives up to all this hype.
The team's big trade with the Washington Wizards last week indicates that it plans to build around the Kentucky star. It's a solid blueprint as long as Davis doesn't bust.
Any team drafting No. 1 overall is wise to invest heavily in the top pick. Drafting Davis and building around him is the right move by all accounts.
The extra investment just means that Charlotte's future is now tied even tighter to the performance of its top pick. If for some reason Davis doesn't work out, the team will be set back even farther.
Sacramento Kings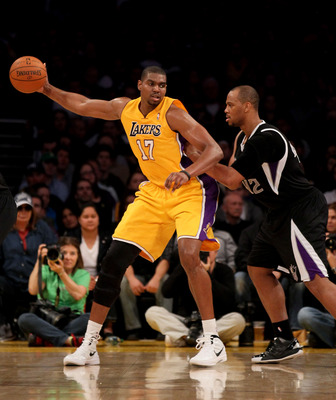 The NBA's elite will keep playing keep away from Sacramento if the team doesn't nail its first pick.
Stephen Dunn/Getty Images
The Sacramento Kings feature plenty of young talent on their roster, but still finished second to last in the Western Conference at 22-44.
Drafting from the lottery in consecutive years has not helped this team return to the top. Keeping that trend for a third consecutive year would come as a huge cause for concern.
Of the King's seven top draft picks since their last trip to the playoffs, only DeMarcus Cousins stands out. Three of the other six are no longer on the team. Two are role players.
There are rumors that Sacramento will trade out of the No. 5 spot and move down in the draft. ESPN's Chad Ford and Marc Stein explain why.
"The tipoff that the Kings are likely to deal the No. 5 pick between now and Thursday night, sources say, is the handful of players they've brought in who are expected to be drafted in the middle of the first round. Sources say two of those players in particular -- North Carolina's John Henson and St. John's Moe Harkless -- are high on the Kings' draft board."
Sacramento doesn't need another Top-5 talent. It needs a player that can come in and lead the talent that is already there.
Whether the Kings stay at No. 5 or trade back, the team must pick a player that can help them move forward. Mistakes with past first-round picks have left no room for error.
Washington Wizards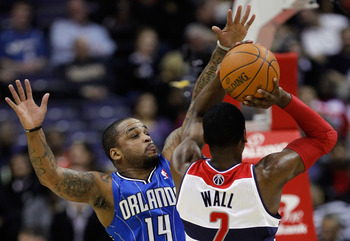 Former top pick John Wall needs some help in Washington.
Rob Carr/Getty Images
John Wall can't make the Washington Wizards a contender on his own.
That much was clear as the team finished with the second worst record in the NBA at 20-46. The mark is actually inflated from a six-game winning streak to end the season against teams like Miami that were more concerned with cruising into the playoffs.
Last year's top draft pick, Jan Vesely, averaged only 4.7 points per game while playing an average of 18.9 minutes. The team needs to do much better than that to climb out of the NBA cellar.
Drafting Michael Kidd-Gilchrist or Thomas Robinson no longer fits for the Wizards after their recent acquisition of Trevor Ariza and Emeka Okafor. Bradley Beal or Harrison Barnes would provide a much more needed perimeter shooter.
Whoever the Wizards take, they better be able to contribute in a significant way. If not, Washington will be drafting another lottery pick next year.
Cleveland Cavaliers
Cleveland will continue to stumble without landing an impact player at the top of this year's draft.
Jonathan Daniel/Getty Images
Cleveland knows from experience how drafting one great player can change a franchise.
Watching that one player, LeBron James, win a championship for another team just makes their recent struggles sting all the more.
Losing LeBron crippled this team just as much as drafting him elevated it. The Cavaliers finished the lockout-shortened season at 21-45, good for third to last in the Eastern Conference and tied for third worst in the NBA.
Cleveland currently sits at No. 4 in the NBA draft but may trade up to No. 2. This would leapfrog them over Washington and into position to take Bradley Beal, who looks to be the perfect shooting guard to pair with young point guard Kyrie Irving.
The move would make a huge splash in the NBA draft. Cleveland needs it to make a similar impact on its own team.
Whether they take Beal or someone else, the Cavaliers need their top pick to quickly rise as a star player.
Toronto Raptors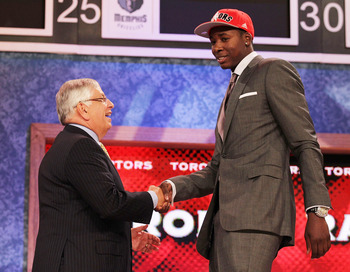 Toronto needs to avoid drafting another bust like Ed Davis.
Al Bello/Getty Images
Despite a 23-43 record, Toronto's season gave encouraging signs for the franchise's future.
The team improved on defense and flashed young talent at multiple positions. Before the Raptors can leap into contention, however, they need to do much better in the first round of the NBA draft.
Toronto drafted Ed Davis in 2010 with the No. 13 pick. He regressed in his sophomore season and no longer shows the promise of a star player. Toronto took Jonas Valančiūnas with its first pick in 2011. He has yet to play a game in the NBA.
The Raptors have pieces already in place to build a better future. Adding an impact player in the first round of 2012 will be a big step towards bringing it all together.
Making another mistake with its first pick, however, will just leave this team looking rather jumbled at the bottom of the standings.
Keep Reading