Should Michael Jordan Care That He's the Laughingstock of the NBA?
June 20, 2012

Streeter Lecka/Getty Images
As a player, there was no one better than Michael Jordan. He not only had the ability, but thick skin that allowed nothing to bother him.
No moment was too big for MJ to overcome, and he didn't care what people thought or said about him.
As an NBA executive, though, things are much different for Jordan, as he has become the laughingstock of the league. While he has the same will to succeed as he did as a player, should Jordan even care that he's gone from the top of the mountain to hitting rock bottom in the span of a decade?
He should, but then that wouldn't be Jordan-like would it?
Part of what made Jordan great as a player is the fact he did things his way, and he had the ability to back it up.
That same ability means nothing as an executive, and between the combination of bad play and poor management decisions, the Charlotte Bobcats have become the NBA's worst franchise.
Does Jordan even realize how bad it is, or does he refuse to believe his own ineptitude has all but ruined this franchise?
Even with the recent hiring of Mike Dunlap as the new head coach.
As SI.com's Sam Amick writes, there's nothing about the Bobcats management team that makes you think they have any clue what they are doing.
Sources who were involved in the search were left chuckling at the discombobulated feel of the whole affair, and the widely held belief was that Jordan reached for the cheapest option as opposed to the best. Dunlap's contract terms are not yet known, but he won't make nearly as much as the higher-profile candidates who were considered.

Money aside, nothing about the way this was done made anyone believe that the Bobcats' brass was a unified bunch. That's mostly an indictment of Jordan and his infamous record as an executive and owner, but there were other reasons to wonder, too.

There is no quick fix for the Bobcats. Their 7-59 record in 2012 is just the beginning of what could be a string of down seasons in Charlotte.
Yet, if he's anything like he was as a player as an executive, then it doesn't bother Jordan a bit.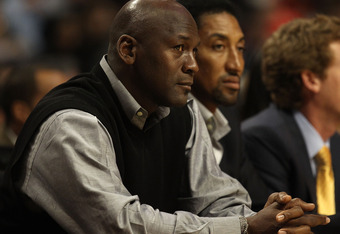 Jonathan Daniel/Getty Images
The only difference is that he can't shoot his way out of this predicament.
While Jordan likely doesn't have a care in the world, he should.
It has to be tough for MJ. He's a man who's known nothing but success his entire life, but that hasn't translated to being an executive. Failure is something Jordan doesn't do, and now that he's experiencing nothing but failure, Jordan likely doesn't know exactly what to do.
There's no doubts that Jordan wants to turn the Bobcats into champions, but first, he needs to take a step back and realize he's become the laughingstock of the entire NBA.
That alone has to sting Jordan. If it doesn't, then he will continue to run this franchise into the ground.
Follow Matt Shetler on Twitter for news, reaction and analysis from around the NBA.