Power Ranking the 15 Nastiest Players in the NBA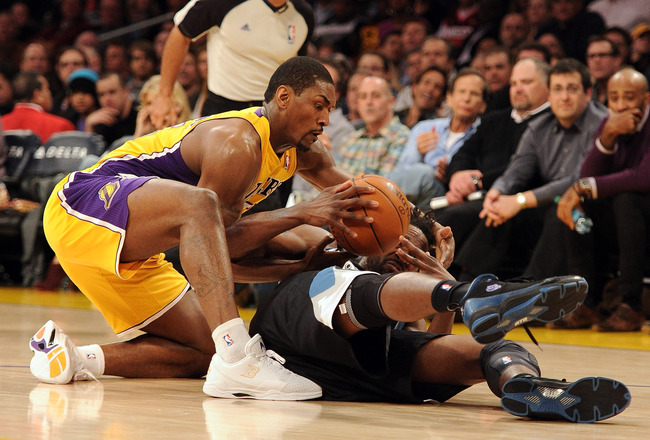 Ron Artest has never been a nice guy on the court.
Harry How/Getty Images
This is an ode to the nasty players. Gone are the days of clotheslining or flat-out cold-cocking opponents. However, this is not to say that the players in the NBA today are a bunch of sissy "nice guys."
Quite the contrary, in fact. These 15 players exemplify some of the nastiest personalities to ever don an NBA jersey. Whether it be through smack talk or physical intimidation, these players use nastiness to their advantage.
Common perception tells us that a nasty player harms others emotionally or physically in order to bend the rules in his favor. All 15 of these men fall into this category and have specific moments that illustrate perfectly why they are the nastiest guys in the league.
So, without further ado, let's get nasty!
15. Delonte West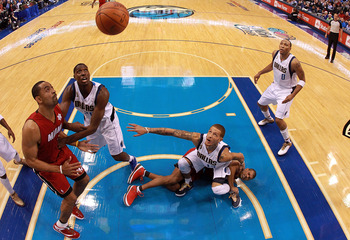 Delonte West has brought his nasty play to numerous NBA teams.
Ronald Martinez/Getty Images
Delonte West has been one of the NBA's more entertaining nasty players the past couple of years. As a result, he has found himself among the league leaders in technical fouls.
One such whistle was blown thanks to this goofy altercation with Gordon Hayward.
14. Josh Smith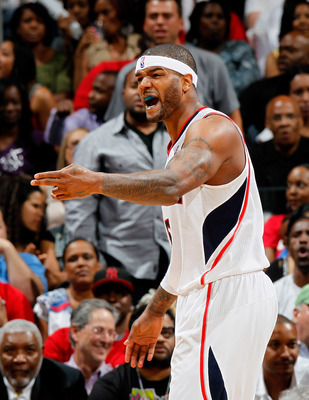 Josh Smith has been nasty to both his own fans and other teams'.
Kevin C. Cox/Getty Images
Josh Smith has been a nasty player to the city of Atlanta for years now. He has consistently spoken about wanting to leave the city and franchise. Atlanta ultimately matched an offer sheet from Memphis that would have ejected him from the city in 2008.
Smith's play has always been of the physical variety, and his size provides him with an easy method of backing up any trash talk.
Smith's nastiness has been felt by many fans. He famously flashed obscene gestures to a Bobcats crowd in the past, earning him a fine.
13. Kenyon Martin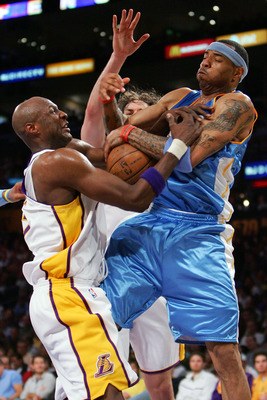 Kenyon Martin has had a reputation for a long time.
Lisa Blumenfeld/Getty Images
Has it been a long time since this graced the cover of Sports Illustrated? Yes, it has. However, Kenyon Martin's reputation still exists and always will.
Martin has been a bad boy for the entirety of his basketball career. He most recently got into altercations with Dallas Mavericks owner Mark Cuban.
It has often been his mouth that creates such a nasty idea of Martin. He has directed profanity-laced tirades at numerous people before (Mark Cuban here).
12. Joakim Noah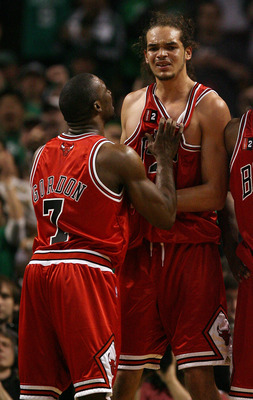 Joakim Noah has had some memorable battles in his career.
Elsa/Getty Images
Joakim Noah likes to talk a lot on the court. This video should explain it all. However, it doesn't end with his mouth most of the time. Noah is as physical a defender as you will find in the NBA. He has had a bunch of intense playoff battles in his young career.
Noah is the resident enforcer in Chicago and doles out his fair share of cheap shots. He has also been in altercations with officials.
This season he was suspended for throwing a ball at an official. He has also let his mouth get the better of him, as he was fined for yelling an anti-homosexual slur at one particular fan.
Noah has let his emotions get the best of him since his college days at Florida. His time in the NBA has been spent solidifying his spot as one of the nastiest players in the game.
11. Ivan Johnson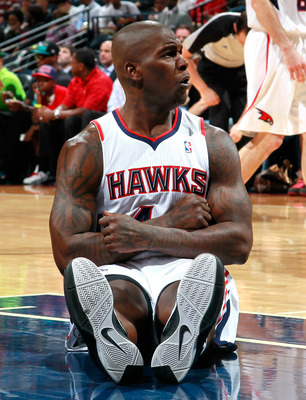 Ivan Johnson has earned a bad reputation in a short time.
Kevin C. Cox/Getty Images
Ivan Johnson is the only player on this list whose nastiness got him banned from a professional basketball league.
In 2010, Johnson was banned from the Korean Basketball League for flipping the bird to the crowd during a championship game.
Though his playing time has been scarce in the NBA, Johnson has been able to show glimpses of potential for the Atlanta Hawks. However, during his time in Atlanta, Johnson has been unable to keep the nasty out.
He once again flashed the same symbol to a crowd in Boston last season.
10. Carmelo Anthony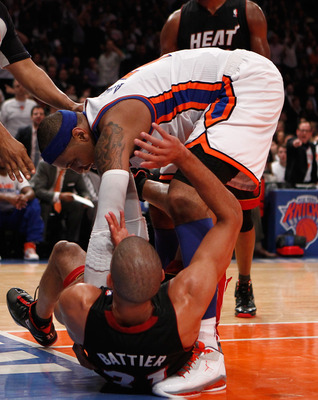 Carmelo Anthony has somewhat of a complex about himself.
Jeff Zelevansky/Getty Images
Carmelo Anthony has had a complex about himself since he entered the NBA in the stacked 2003 draft. He has and forever will be compared to LeBron James, Dwyane Wade, Chris Bosh and the others who became professionals at the same time as him.
This may have contributed to making Anthony the nasty player he is today. Carmelo earned the second-most technical fouls in the NBA last season with 11. He also somehow managed to be whistled for three technical fouls in his five playoff games this spring.
Let us not forget as well Carmelo's best Kermit Washington impersonation, when he threw an unnecessary punch against the New York Knicks.
9. Chris Paul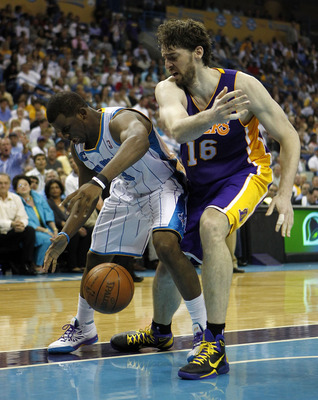 Chris Paul is no stranger to confrontation.
Jeff Zelevansky/Getty Images
No longer will Chris Paul get away with his unrecognized nasty play. The Los Angeles Clippers point guard has been an under-the-radar nasty player for his entire career.
He is consistently in fierce competition with other elite point guards in the league. As a result, his temper has flared on numerous occasions.
This is illustrated by his technical foul totals on the season and postseason. He registered seven during the 2011-2012 season and added four more in the playoffs. That puts him among the league leaders in technical fouls.
Paul has memorably feuded with Nate Robinson and Pau Gasol during his time in the NBA.
8. DeMarcus Cousins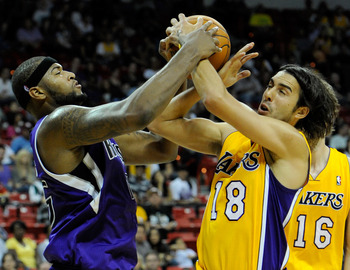 DeMarcus Cousins has quickly developed quite the reputation in the NBA.
Ethan Miller/Getty Images
At just 21 years of age, DeMarcus Cousins has already found himself on a list with the nastiest players in the NBA. Though it is all conjecture at this point, in just his second season in the NBA, Cousins may have already gotten a coach fired.
His relationship with Sacramento's Paul Westphal was consistently on edge. Cousins was sent home by the head coach during the 2011 season. Their relationship had to factor into Westphal being relieved of his duties this offseason.
On top of his poisonous relationship with his leader, Cousins tied for the league lead in technical fouls this past year. He registered 12 after being whistled for 14 as a rookie.
Cousins' reputation as a bully in college has not disappeared in the pros. He remains one of the NBA's nastier players.
7. Stephen Jackson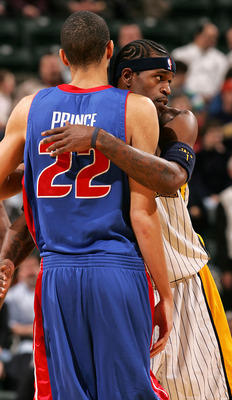 Stephen Jackson, one year after the brawl at Auburn Hills.
Jonathan Daniel/Getty Images
Back in 2004, it was Stephen Jackson who joined Ron Artest in the stands and engaged in physical combat with fans.
At the time, this solidified Jackson's reputation as a nasty player. He personified the thug culture that was rampant in the NBA. He was involved a club incident and has been in trouble with the law throughout his formative NBA years.
Jackson has spent the latter half of his career rehabbing his image. However, some events stick with a player forever. Like Artest, Jackson will forever be identified with that brawl in Detroit. That one decision to climb into the crowd and throw a punch earns him a spot on this list that is undeniable.
6. Rajon Rondo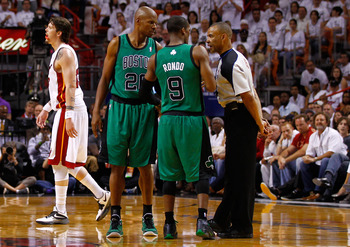 Rajon Rondo has had numerous run-ins with referees.
Mike Ehrmann/Getty Images
It is hard to tell what it is that makes Rajon Rondo tick. As much as people think they know about the mercurial point guard, what they don't know dwarfs that.
Rondo is simultaneously brilliant and frustrating. He is the most unpredictable star in the NBA. He can leave you breathless one play, then follow it up by shoving a referee the next. This is the part of Rondo that we are focusing on, the nasty.
Rondo seems to have a personal vendetta out against every other point guard in the league who is mentioned among the elite. This has led to altercations with players like Chris Paul.
Rondo doesn't keep his nastiness contained to fellow players. He is an equal opportunist when it comes to doling out nasty. This past season, Rondo faced suspensions for getting into mix-ups with referees on two occasions (one against Detroit in the regular season and one against Atlanta in the playoffs). The most recent occurrence happened when he chest-bumped the back of an official.
5. Kobe Bryant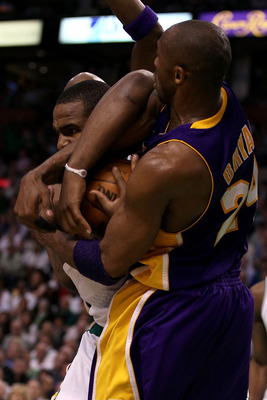 Kobe was the best in the game for a long time, and the nastiest.
Elsa/Getty Images
At this point in his career, the list of NBA stars who Kobe Bryant has not gotten into an altercation with seems shorter than the list of stars he has battled.
In his youth, Bryant was a smack-talking high-flyer. These days, he is still a smack-talking player. His game may have changed slightly over the years, but who Bryant is on the inside never will.
Bryant has been in fights with the best players in the NBA over the past decade. He has clashed with Ron Artest, Ray Allen, Allen Iverson and others. One memorable smack-talking session led to a brawl with Reggie Miller.
The video stream of Kobe's altercations with other players would be endless. In Sports Illustrated's polling of NBA players, Bryant was voted the second-biggest trash-talker in the league behind Kevin Garnett.
4. Kendrick Perkins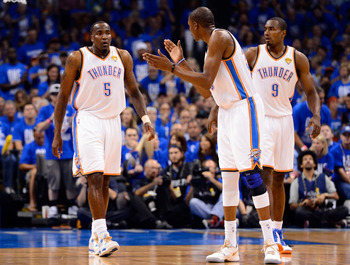 Kendrick Perkins does not smile.
Ronald Martinez/Getty Images
Kendrick Perkins has developed a reputation as a player who literally does not smile. Trying to find a picture of Perkins without his signature scowl is akin to finding a needle in a haystack.
Perkins developed under the tutelage of Kevin Garnett in Boston. This is where a large portion of his nasty began. Perkins was the Celtics' resident enforcer. He was a huge body who would take the contact and physical play from the opposing team's big men and punish them in return.
After trying to play offense against Perkins, many centers are unable to play to their potential on the defensive end. Oklahoma City's center also tied for the league lead in technical fouls during the regular season with 12. He added three more in the playoffs.
Perkins has had numerous altercations with some of the game's top players. Earlier this season, while dunking he stuck his mammoth foot into the face of Dwyane Wade. He has also had memorable tussles with Dirk Nowitzki and LaMarcus Aldridge.
3. Reggie Evans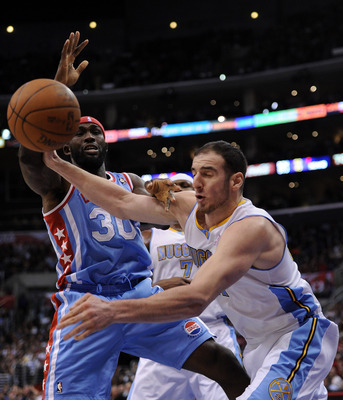 Reggie Evans is one of the dirtiest players in the NBA.
Harry How/Getty Images
Recently, Sports Illustrated polled a variety of NBA players and asked who they saw as the dirtiest player in the league. The answer came back a resounding victory for Reggie Evans.
Evans, who plays for the Los Angeles Clippers, has always had a reputation as a mean player. His style involves hustle and defensive presence. He has also developed a reputation for cheap plays like grabbing Chris Kaman where no man should ever be grabbed.
2. Kevin Garnett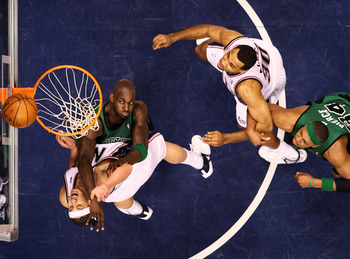 Kevin Garnett's defense has earned him a nasty reputation.
Al Bello/Getty Images
Kevin Garnett plays the type of defense that would get you beaten up at the local park. However, he has the size and game to back it up. Oh, and he sure knows it.
Garnett is one of the game's best-known trash-talkers and uses it to his advantage at every turn. He is able to get into opponent's heads remarkably well and isn't afraid to engage physically either.
Referring to Garnett, the term "fake tough guy" has been tossed around a lot this season. I could not disagree more. In today's NBA, you can be tough, but only to an extent. That extent is on the defensive side of the ball. There is no other player who could do what KG does defensively this late in their career.
Garnett is routinely called one of the dirtiest players in the league. And as instant replay shows us, that is true. Often opposing players will be the recipient of an ankle kick, moving screen or even an open-palm slap when facing up with the future Hall of Famer.
1. Metta World Peace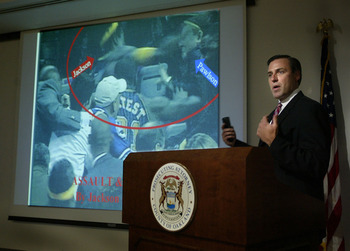 Ron Artest became synonymous with nasty play in 2004.
Tom Pidgeon/Getty Images
To a casual observer, it would seem strange to have a man named Metta World Peace topping a list of the nastiest players in the NBA. However, it is common knowledge among fans that the man formerly known as Ron Artest is as nasty as they come.
Artest, as he was known at the time, was the most harshly penalized participant in the brawl that took place in Detroit in 2004. As a member of the Indiana Pacers, Artest entered the crowd in response to being hit by a flying drink. He engaged in physical violence with fans at the arena and for that was suspended for 86 games.
World Peace has not hung up his nasty sneakers since the brawl. He was suspended once again at the end of last season for throwing an elbow into the head of James Harden. This cost him seven games.
In a Sports Illustrated poll of NBA players, World Peace was named the second-dirtiest player in the league.
Keep Reading