Why Miami Heat's LeBron James Won't Ever Get Proper Respect Without NBA Ring
June 8, 2012

Jim Rogash/Getty Images
I wonder if Charles Barkley, John Stockton, Karl Malone, Elgin Baylor and Dominique Wilkins go through life feeling unfulfilled and unsatisfied without having an NBA championship ring on their finger.
Can they sleep at night? Do they even attempt to sleep? How could they when they have millions upon millions of eyes watching them at all times—cruel, unforgiving eyes that are attached to faces with foaming mouths chomping at the bit, salivating to point out the obvious—that they are "ringless." Legendary performance or not, everything they achieve before the NBA Finals doesn't matter because they either don't have a ring or can't step up.
Charles Barkley's MVP? Meh. John Stockton leading the NBA in assists by almost 4,000? That's nice. Karl Malone scoring enough points to become the second-leading scorer in NBA history? Peachy. Elgin Baylor averaging 38 points per game? Whatever. Dominique Wilkins' scoring ability? Snore.
After all, this game is all about rings and winning, right? So who cares about the careers of those players since they never achieved the ultimate professional-sports goal of winning a championship. Disregard the MVPs, the All-Star games, the All-Defensive Teams, the All-NBA Teams and the stats because none of those players have a ring.
Is this how we're supposed to appreciate sports? By judging every minuscule statistic, inspecting every last percentage and attempting to weed out a possible conspiracy? That's not sports. It feels as if nobody is appreciating the game anymore because we're too busy degrading and disregarding legendary players and performances because of their bare fingers.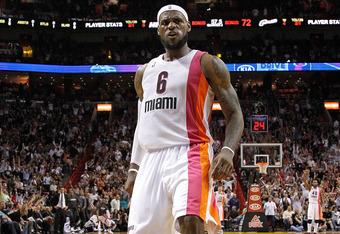 Mike Ehrmann/Getty Images
In case you were wondering, winning is a team accomplishment. Barkley, Stockton, Malone, Baylor and Wilkins were all fantastic players, but the burden of never winning a title shouldn't fall upon them nor should it fall upon LeBron James, who should be eligible for a restraining order against some of these obsessed critics who have nothing to say about James other than he's "ringless."
That doesn't seem fair, especially for someone who's played nine years in the league and is only 27 years old. Basketball is constantly preached as being a team game, yet why are we always attempting to find a single individual to blame for an entire playoff series being lost? That's completely missing the purpose of the game of basketball in general.
You win as a team and you lose as a team. LeBron James didn't lose the Finals last year; the Heat lost as a team behind Erik Spoelstra's failure to make proper adjustments, injuries to Mike Miller and Udonis Haslem and the ineffectiveness of Mike Bibby. Even Dwyane Wade, who averaged a series-leading 27 points per game, is at fault for miscues made throughout each game.
LeBron's the leader and should take the brunt of the blame, yes, but that is no reason to say that the fact the Heat lost is solely because of him. That's unfair to him and his team because they all deserve a portion of the blame for losing a series they should have won. Don't forget, the Heat made no adjustments against Dallas' zone nor did they play exceptional defense, either.
We remember the series against Dallas, but we're so quick to push aside those series against Boston and Chicago. Remember? The series where LeBron did this and this and that. But none of it matters because LeBron didn't accomplish the ultimate goal of winning an NBA title? Should we completely disregard the regular and postseason, too?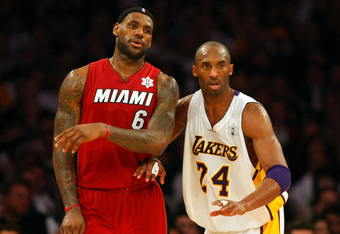 Victor Decolongon/Getty Images
That doesn't seem like a fun way to watch basketball. I don't watch basketball just as a job, but as a form of entertainment. There's something about watching extremely tall people putting basketballs into metal cylinders that really lights a fire under me. All I know is that I'm giving respect to the players that are performing their best and making the plays that get me out of my seat.
I'm not waiting until the NBA Finals to dole out respect. Why bother watching the first 82 games and then those drawn-out conference playoffs when everything rides on the NBA Finals, right? After all, this game is all about winning. Individual achievements are cool, but it's that championship ring that really puts the icing on the cake.
That's something I can agree with. Individual awards mean nothing to players without the team accomplishments. LeBron James, himself, even went as far as saying that he would "trade his three MVPs for one ring." That's a humbling statement from someone that's usually described as a "crybaby" and "egotistical," but it makes sense because James is a team player who only wants the best for himself and his teammates.
It was obvious how much James cares for himself and his image after that Game 6 against Boston. In arguably the biggest game of his career, James recorded 45 points, 15 rebounds and five assists in one of the NBA's most hostile environments. James' effort led the Miami Heat to a 98-79 victory and shifts the series back to Miami.
The only way Boston wins the series is if they win a second game in Miami. After watching Game 6, it doesn't seem like that's happening, so we'll most likely get another shot at seeing LeBron James in the Finals. If he does make it, it would be his third overall and his second year in a row.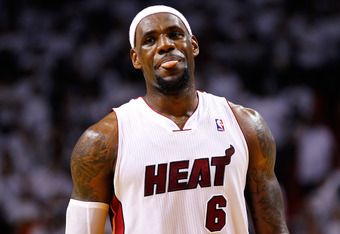 Mike Ehrmann/Getty Images
God help us if he doesn't win. Seriously, everybody should be rooting for this guy to win just so we can stop with the inane arguments that go nowhere. Because in every argument involving LeBron—you can throw out all the stats and MVPs you want—it will always be countered with, "But he doesn't have a ring."
It's sad that it has come to that, but it's true. James will never get the proper respect he deserves until he wins a ring. And even then, there will be critics who will talk about him needing help, abandoning Cleveland, not being better than Michael Jordan or Kobe Bryant or not winning six titles in that one year. The criticism will never die.
Therefore, James will never get respect. There will always be doubters and critics. Just like now, when there are critics of Bryant after five championships, there will always be a select few that will never give the respect that James deserves. Why, you ask? I can't speak on their behalf.
All I can say is that they are living a sad existence. An existence where they're putting LeBron James under a microscope and criticizing everything he does. How he can't always make big shots or consistently hit free throws; how he makes risky passes and doesn't have the best jump shot; even how the officiating and David Stern are in his favor, even though it has resulted in zero titles thus far.
It doesn't make sense now and it won't make sense after LeBron wins his title, so don't expect much to change. Of course, you will have some doubters change their minds. There legitimately are people who will give James due respect once he wins a ring. Still, there are others whose opinions will never waver, no matter what James does. 
Respect is biased. While it should be given out to the people who deserve it, it's usually reserved for the people who are fans of that player or whoever attempts to limit the player the fans are against. It's the reason why Paul Pierce is lauded for hitting a game-winner in Game 5 despite shooting 6-of-18 and why LeBron James will still be criticized despite having the game of his life in Game 6.
Sports aren't supposed to be this complicated. It shouldn't all be about percentages and numbers. It should be about watching the world's top competitors giving every fiber of their physical and mental being to achieve a specific goal for their satisfaction and our entertainment. But all this talk of LeBron and the NBA Finals is completely taking us away from it.
Why can't we appreciate what we have in front of us? What's wrong with showing respect to a player with three MVPs, eight All-Star game appearances, six All-NBA First Teams, four All-Defensive First Teams, a scoring title and career averages of 27.6 PPG, 7.2 RPG and 6.9 APG? You're not supposed to criticize that; you should be attempting to keep your jaw off the ground and pinching yourself to make sure you're not dreaming.
I want to know the point where LeBron was supposed to win a title. It wasn't in any of the years he played with Cleveland, for a fact. Not with the team that had Larry Hughes, not with the team that had Mo Williams and not with the team with the 34-year-old Antawn Jamison and 37-year-old Shaquille O'Neal.
Last year with Miami? It probably should have ended with a title for LeBron, but it didn't, so move on. Every athlete is allowed to have a miscue at some point in their career. Look at Magic Johnson; do you guys think he was ever able to recover from choking away the 1984 NBA Finals?
James will win a title. Sorry, but it's going to happen. He's too good of a player, and the team he's on will only get better. Injuries, a lack of adjustments and a lack of experience together played a role in the first title run, but it's in the past. This second title run may end differently if Miami can win more games at home and then get a healthy Chris Bosh in time for the NBA Finals.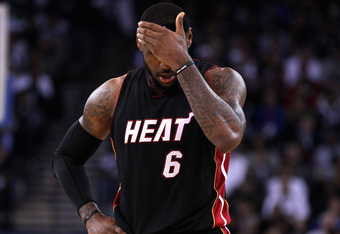 Ezra Shaw/Getty Images
And what happens if LeBron doesn't win it this year? Do we forget the third MVP? The 34 points and 11 boards he's currently averaging against Boston? The incredible resilience he has shown since the team lost Bosh? The overall improvement in his post game? Do we disregard all of this and just criticize him for not winning a title?
Sadly, that is exactly what will happen, and I won't be around for any of it because I'd rather laud over the accomplishments of a future Hall of Famer rather than revel in his failures. It's just become so much easier to hate, complain and point out the negatives than to just sit back, watch the game and appreciate what is presented for us.
James will win a ring, and he won't garner nearly the respect he deserves because there will still be thousands upon thousands of armchair analysts that still think he needs a few more titles to be recognized as great.
As far as I'm concerned, LeBron just needs to play for himself and not care about what all these naysayers and critics say because they will always be there.
That's the problem with sports fans. Anybody can become one, and the majority of them really don't know what it takes to win a title and can't grasp the concept of this being a team game.