Los Angeles Lakers: The Defense for Coach Mike Brown
May 24, 2012
Jeff Gross/Getty Images
For a five-time NBA champion like Kobe Bryant, anything other than a championship ring at the end of the season is considered a failure.
As well it should be.
For the second consecutive year, the Los Angeles Lakers were bounced from the NBA playoffs in the second round after enjoying back-to-back titles the previous two years.
In professional sports, head coaches are very often times made the scapegoats for underachieving teams. The fact of the matter is that it's much easier to replace a head coach than it is to replace players, especially superstar players.
When Mike Brown was hired as the head coach of the Los Angeles Lakers, he may have been stepping into one of the most prestigious head coaching jobs in the National Basketball Association, but also certainly one of the most difficult ones as well.
Brown achieved success as an NBA assistant coach under Gregg Popovich and the San Antonio Spurs and was with them during their 2002-03 championship run.
Brown's first stint as an NBA head coach came with the Cleveland Cavaliers where he coached the league's premier young star at the time, LeBron James. 
James and Brown achieved moderate success with one another including an appearance in the NBA Finals and another in the Eastern Conference finals.
James of course saw his star rise and Brown was named the head coach of the Eastern Conference All-Stars in 2009 and took home NBA Coach of the Year honors that year as well.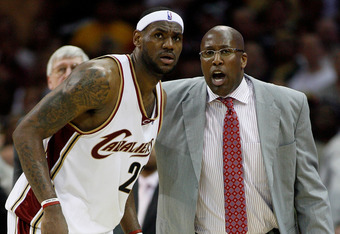 Gregory Shamus/Getty Images
However, after a disappointing 2009-10 season in which the Cavs failed to advance past the second round of the playoffs, Brown was fired and James subsequently left.
Brown took a year off from coaching but then was hired by the Los Angeles Lakers in May 2011 to succeed the recently retired Phil Jackson.
Phil Jackson is a NBA coaching legend, having won an incomparable 11 NBA championships including five as the Lakers head coach.
Needless to say, being Phil Jackson's successor comes with tremendous expectations.
Like Jackson, Brown has been blessed and also burdened with coaching two different legendary superstars.  Jackson had Michael Jordan and Kobe Bryant and Brown has coached LeBron James and of course, Bryant.
Brown is not Phil Jackson. 
No one is. 
Brown however, has brought his own style of coaching to the Los Angeles Lakers.  He did not try to emulate Jackson's famous triangle offense.  Instead, he wanted to come in and turn the Lakers into a defensive team.
While being eliminated from the playoffs in the second round of the playoffs for the fourth time in Brown's head coaching career was not what he or the Lakers had hoped for, the onus and blame cannot be placed solely on Brown's shoulders.
The season got off to a rocky start after the Lakers had appeared to acquire the services of superstar point guard Chris Paul in exchange for four-time All-Star Pau Gasol and 2011's Sixth Man of the Year, Lamar Odom only to see this deal negated by Commissioner David Stern for his infamous "basketball reasons."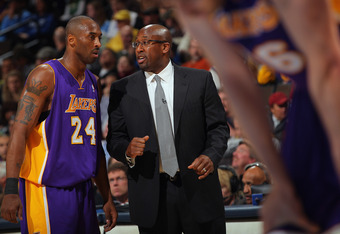 Doug Pensinger/Getty Images
Despite the deal being reneged, this would be the end of Odom as a Laker, as he was later traded to Dallas and proved to be very ineffective there.
Gasol also did not produce his best season and speculation is that the reported trade affected him mentally throughout the year.  Word is now that he is done as a Laker and will likely be traded before the start of next season.
The Lakers also lost veteran presence and leadership when they traded away aging point guard Derek Fisher and acquired Ramon Sessions in a move that was thought to make the team quicker and younger.
While the 37-year-old Fisher is certainly not the player he once was, he, like Kobe Bryant, is a five-time NBA champion and his leadership was certainly missed down the stretch.
Mitch Kupchak is a very good general manager and was the architect behind the Lakers' last two championships by acquiring Pau Gasol from Memphis.
Nonetheless, Kupchak has a lot of work to do this summer.  Kobe Bryant is unquestionably still the face of the Los Angeles Lakers and the onus is on Kupchak to provide Bryant with the supporting cast to propel the Lakers back into title contention.
Sessions, while quicker and younger than Fisher, was no match for the Thunder's Russell Westbrook and was frequently outplayed by Denver's Ty Lawson in the previous series as well. 
The question also remains as to what the Lakers should do about their big men.  Odom is gone.  Gasol is likely gone, but who will be obtained for his services?
Andrew Bynum, who has been plagued with injuries throughout his career, had a breakout season under Brown and earned his first trip to the NBA All-Star Game.  In fact, Bynum has gotten himself into talks of being among the game's best centers along with Magic star Dwight Howard.
However, Bynum has shown immaturity at times by taking ill-advised three-point shots, skipping meetings with management and not joining the team in huddles during timeouts.
Does Bynum's talent and upside overshadow his temperament and inconsistency?
Brown's critics will point to the end of the Lakers season and peg it as a disappointment. 
However, the Lakers did not go any further in the playoffs than they did last year when they were swept by Dallas and they had Phil Jackson at the helm and Lamar Odom at the time.
Mike Brown has two more years on his current contract with a team option for a third.  He deserves the chance to further implement his system with Kobe Bryant and company and prove that he can get the Lakers to the elite status that the franchise is accustomed to.
To quote controversial Lakers forward Metta World Peace, "Mike wasn't out there guarding Kevin [Durant]. That was me. Mike didn't miss three point shot. I missed it. Mike didn't come in out of shape...Wait he did come in out of shape. Mike is a fat a...." (h/t latimes.com)
Ok, except for the last part, Peace absolved his coach of blame and put the onus on himself and the players.  Ultimately, that's who it will always come down to: the players.
Mitch Kupchak: Your move.