Boston Celtics Should Look to Deal Aging Paul Pierce in the Offseason
May 16, 2012

Elsa/Getty Images
Paul Pierce is one of the greatest players to ever wear the green and white for the Boston Celtics, but it's conceivable that his time with the team could be nearing an end.
Pierce will be 35 years old when the Celtics tip off the 2012-13 NBA season, and he is slated to earn approximately $32 million through 2014.
While Boston still has an amnesty clause in its back pocket for future use, that's not the route the team would prefer to go at this stage of Pierce's career. Although Pierce is undoubtedly aging and his monstrous salary will limit the market, there are still teams that will be interested in him should the Celtics decide to explore their options.
Before anyone boldly states that there is "no chance" the Celtics deal Pierce, it's important to remember that general manager Danny Ainge was kicking around that exact thought at the trade deadline.
From noted Celtics fan and basketball writer Bill Simmons of Grantland.com:
Remember when New Jersey's bid for Dwight Howard fell through, then they panicked and swapped a top-three protected 2012 pick to Portland for Gerald Wallace...Not reported at the time: New Jersey could have landed Pierce for that same pick, only they chose Wallace because he was a full five years younger.
As we have seen previously, Ainge isn't afraid to make a bold move. If he thinks he can make a deal that will improve the Celtics, he will do it. We saw that with the unpopular Kendrick Perkins trade, and we saw it when Ainge rolled the dice on both Jermaine O'Neal and Shaquille O'Neal in free agency.
Should Ainge and the Boston front office be looking at Pierce's market value again in the offseason? That's a no-brainer.
To be clear, exploring the trade market does not mean making a deal. It simply means Ainge should be looking for what type of return he can get for his aging star while Pierce still has trade value. If Ainge has an offer on the table that will improve the future of his team, he has an obligation to thoroughly explore that scenario.
The thought of seeing Pierce in a uniform that doesn't read "Celtics" across the chest is certainly strange, but Ainge doesn't work for Pierce—he works for the Boston Celtics organization.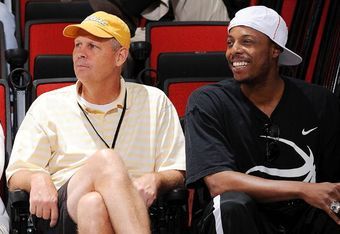 Pierce's 44.3 percent shooting from the field during the regular season was his worst since the 2006-07 campaign. His 36.6-percent clip from behind the arc was his worst since 2005-06, and although his numbers aren't in serious decline, the drop from previous seasons is worth noting.
He's still a productive player at this stage in his career, but how much longer will the Celtics be able to float his name in trade offers without getting spurned by potential suitors?
With harsher penalties for teams that exceed the luxury tax under the new collective bargaining agreement, Pierce's bloated salary detracts from his value as a basketball player.
The idea of trading Pierce to another team isn't going to sit well with fans who have followed his career since being drafted out of Kansas, but if a deal presents itself with the opportunity to improve the future outlook of the team, why should Ainge continue to wait?
Prior to the Celtics' rebirth this season, many were calling for Ainge to blow it up. The popular consensus was that Boston wasn't going to contend for a title with the aging core of Pierce, Kevin Garnett and Ray Allen.
These days, fans are singing a different tune in Beantown.
If the Celtics truly have aspirations of building around Rajon Rondo, this is a roster that has to undergo construction. Rondo is at his best when he has players who can run up and down the floor with him, and if he's going to be the focal point of the club, Ainge has to surround him with the proper talent.
Ainge previously expressed that Rondo will be the future of the team in an interview with WEEI (via AOL's Sporting News):
"He's our best player, he's the most important part of our future," Ainge told Boston radio station WEEI. "There's no way we're actively trying to trade Rondo. That makes no sense, no logical sense."
Rondo would thrive with a younger player on the wing in place of Pierce, and if Ainge is really going to commit to the point guard as the core of the team's rebuilding process, he has to do it the right way.
Trading Pierce isn't the only way to improve the team, but it's a move that could really help Boston's chances of sustaining long-term success. 
While it may be an unpopular idea to Celtics fans, trading Pierce is a scenario well worth contemplating.