2012 Olympics: Team USA Basketball Making a Mistake by Not Adding to Roster
April 27, 2012

Jamie Squire/Getty Images
With Dwight Howard officially sidelined for the 2012 Summer Olympics with a back injury, and the Los Angeles Lakers' Andrew Bynum already saying thanks but no thanks to Team USA, there's suddenly a dearth of big men for USA Basketball chairman Jerry Colangelo and his crew to choose from this summer.
This didn't stop Colangelo from coming out Wednesday saying that no new players would be added to the 20-man preliminary roster announced this past January. This, despite the fact that there's only four true big men left on that 20-man roster: Kevin Love, Tyson Chandler, Chris Bosh and Blake Griffin.
In no uncertain terms, this decision could come back to cost Team USA the gold medal this summer.
LaMarcus Aldridge, one of the 20 players on the preliminary roster, will be out for the Olympics due to hip surgery, and Lamar Odom, another one of the 20 finalists, won't be considered after a disastrous season with the Dallas Mavericks.
As Grantland's Bill Simmons recently pointed out, Team USA, in all likelihood, will match up in the gold medal game this summer against Spain, a team with both Gasol brothers, Pau and Marc, and Serge Ibaka holding down the paint. There's no way Team USA can march into that battle with a shortage of bigs.
Chandler, having anchored the once-flimsy New York Knicks' defense all year, should be a lock for this summer's team, considering what he's done this year and for the 2011 NBA champion Dallas Mavericks. Love, the NBA's best rebounder and a shockingly accurate three-point shooter, should also make the squad, without question.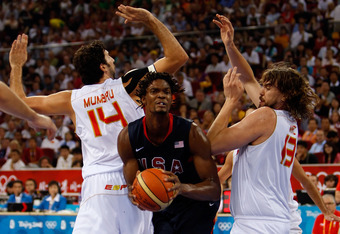 Streeter Lecka/Getty Images
But after those two, it's slim pickings for Team USA.
Bosh played on the 2008 Olympic gold medal-winning team, averaging just over nine points and six rebounds in around 17 minutes per game; but that performance came before his unholy alliance with LeBron James and Dwyane Wade down in Miami. If he's getting routinely eclipsed by the two of them on a nightly basis, how's he going to fare on a team full of superstars? (Hint: He had seven points and two rebounds in 20 minutes at this year's All-Star Game.)
Griffin, despite his ghastly 52 percent free-throw shooting, has quickly developed into an NBA superstar, one of only three players to average 20 points and 10 rebounds a game this season. However, that free-throw shooting makes him a liability at the end of games, and he was a sub-40 percent shooter outside of the restricted area this year, according to NBA StatsCube.
Kevin Durant and LeBron James, the two favorites for the MVP Award this season, could very well see some time at power forward to make up for Team USA's lack of true bigs. Carmelo Anthony, who dominated for Team USA in the 2008 Games, should see time at the four as well. After all, international basketball tends to cater towards stretch-fours in the first place, and those three present players all kinds of matchup problems.
Still, who does it hurt to add one or two more bigs to the preliminary roster? Why not invite some talented, promising big men to training camp this summer?
Here are a few candidates Colangelo and company could choose from:
1. Greg Monroe: This second-year center for the Detroit Pistons would be my choice, if they'd add anyone. According to Sports Illustrated, "Monroe has led his team in scoring and rebounding 16 times this season; the five guys who have done that more are All-Stars."
Monroe ranks 11th in the NBA with 9.7 rebounds per game, and ranks 16th in terms of rebounds per 48 minutes. He jumped from averages of 9.4 points and 7.5 rebounds his rookie year to 15.5 points, 9.7 rebounds and 2.3 assists per contest this year, in only four more minutes per game.
Of Detroit's 25 wins this year, Monroe accounted for approximately 11.7 of them, according to ESPN's John Hollinger (good for 12th in the league). He also ranked 16th in Hollinger's PER metric this season, despite being the focal point of most opponents' defensive gameplans.
Blake Griffin's an underrated passer in his own right, but Monroe makes up for Griffin's passing ability, while also shooting a solid 74 percent from the line. That's what makes him a better choice than Griffin for Team USA in 2012.
2. DeMarcus Cousins: Many of the same rookie-to-sophomore praises you can lay on Monroe also apply to this Sacramento Kings big man, who's quickly developed into a legitimate nightly 20-10 threat.
Cousins ranked in the top 25 in scoring this year, finished sixth in rebounding with 10.9 boards a game, and ranked third in rebounds per 48 minutes (a ridiculous 17.2). He also provides a physicality that Monroe lacks, coming in at a hefty 6-foot-11, 270 pounds.
Until he goes a few seasons without lashing out, questions about Cousins' maturity will likely follow him around, and they'd potentially be a major obstacle for Team USA management this summer. How much faith would they put in senior player leaders like Kobe Bryant or James to keep a younger player like Cousins under control?
That question will likely determine Cousins' fate with Team USA this summer, as he's still a possibility for  the select team invited to training camp to practice against the Olympic squad.
3. Anthony Davis: As Simmons pointed out in his column, Davis, the presumed No. 1 pick in the 2012 NBA draft actually makes perfect sense for a late Team USA addition. (Simmons, a Boston diehard, also campaigned for Kevin Garnett.)
Davis just put his full value on display during this past season at the University of Kentucky, helping John Calipari win his first NCAA championship while sweeping the national player of the year awards. His eye-popping 4.6 blocks a game speak to his ability to impact a game defensively, and he averaged 14.3 points and 10 rebounds a game despite often being the fourth offensive option on his team.
On the other hand, the kid couldn't buy a bucket against Kansas in the NCAA national championship, finishing 1-of-10 with a grand total of six points. Oh, wait, he also had 16 rebounds, five assists, six steals and three blocks. That's right.
Point being, as Simmons said: "He's the ultimate teammate, someone who can affect basketball games without taking a single shot."
Both he and Cousins are already competing for a invite to the select team, according to ESPN.
But why not consider adding either of them, Monroe, or another unnamed big to Team USA's training camp roster this summer? What's the harm?
Is it worth potentially losing a gold medal?