Ranking the NBA's 25 Best Players Right Now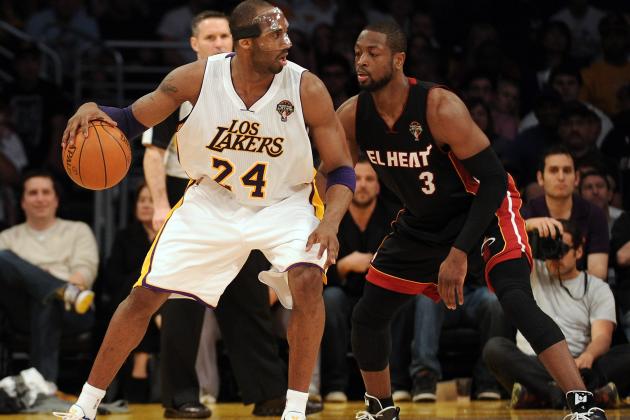 Harry How/Getty Images
Two of the league's best, but where do they rank?
Politics, Team Edward versus Team Jacob and the best players in the NBA are probably the most debated topics over the past few years in America.
The latter, however, is the only one that is a fluid debate. At the start of season, Blake Griffin would have been in a lot of people's top 10. Now, absolutely not.
During the height of Linsanity, New York Knicks point guard Jeremy Lin was probably in the top five. A new coach and an injury have seen him slide out of the discussion altogether.
The playoffs are on the horizon and it is the perfect time to revisit the greatest debate in the NBA.
With apologizes to Derrick Rose, Chris Bosh and a handful of others, here are the top 25 players in the NBA right now.
Begin Slideshow

»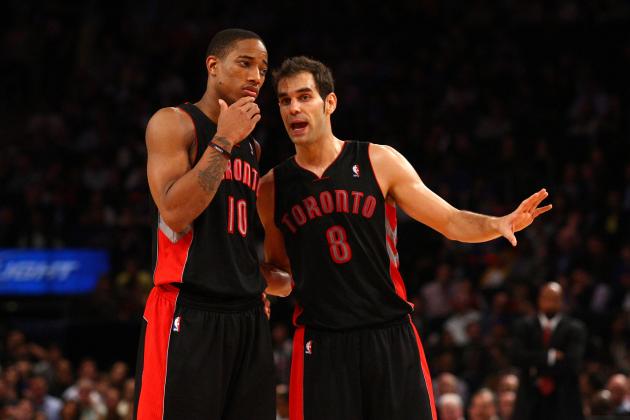 Chris Chambers/Getty Images
Jose Calderon an afterthought in Toronto
Jose Calderon is criminally underrated.
Playing on an awful Toronto Raptors team has not helped, but he has quietly been playing at a high level for years.
He currently boasts the best assist-to-turnover ratio in the league. In fact, the only player even close to him in that category is Chris Paul.
Calderon shoots a decent percentage, is one of the best from the free-throw line and is a true floor general.
The only knock on him would be his suspect defense. That is unlikely to improve anytime soon, but Calderon would be a massive point guard upgrade for most teams in the league.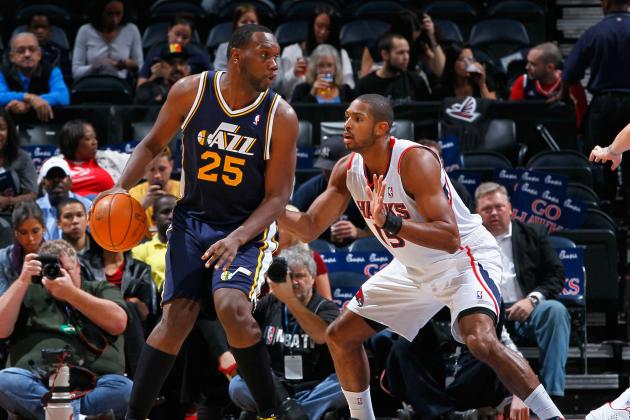 Kevin C. Cox/Getty Images
Al Jefferson has been superb for Utah this season
Utah's frontcourt of Al Jefferson and Paul Millsap are the only reason they are still in the playoff hunt.
The pair have singlehandedly carried a team very thin on talent. Jefferson gets the nod here because he can be a little more dynamic on the defensive end.
Jefferson had become a bit of a forgotten man playing in the wilderness that is Minnesota and Utah, but he has come into this season motivated and reestablished himself as one of the best centers in the league.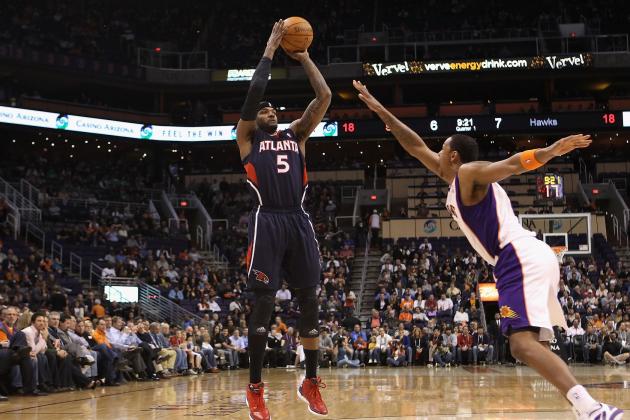 Christian Petersen/Getty Images
Josh Smith likes his jump shots
Josh Smith is one of the most heavily criticized players in the league.
His love of taking ill-advised jump shots and insistence on chucking up junk from beyond the arc is well noted, but no player is as versatile as Smith.
He is averaging nearly a nearly a double-double this season and continues to terrorize teams on the defensive end.
There is no denying Smith can be lazy at times, but there are not 25 players in the league better than him at the moment.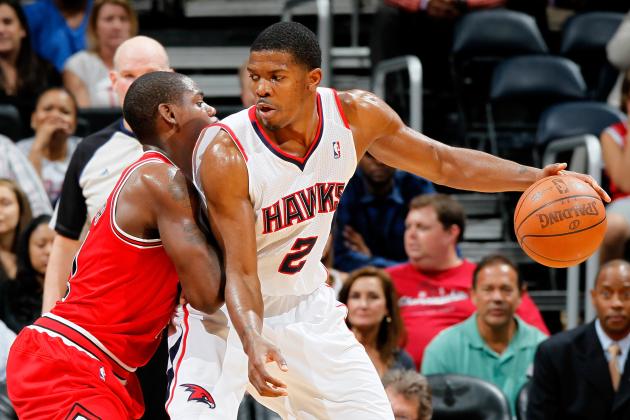 Kevin C. Cox/Getty Images
Joe Johnson is still one of the best scorers in the league
Smith's teammate Joe Johnson lands one spot higher at No. 22. Johnson has constantly been one of the NBA's most consistent scorers.
There is nothing that really stands out about Johnson. His scoring average and shooting percentages are good, but not great.
Johnson's career is starting to match that of Mitch Richmond. Both are solid overall players playing on average teams throughout most of their careers.
Johnson still has a lot to do if he is to match Richmond's body of work, but there is no reason to expect Johnson to drastically decline anytime soon.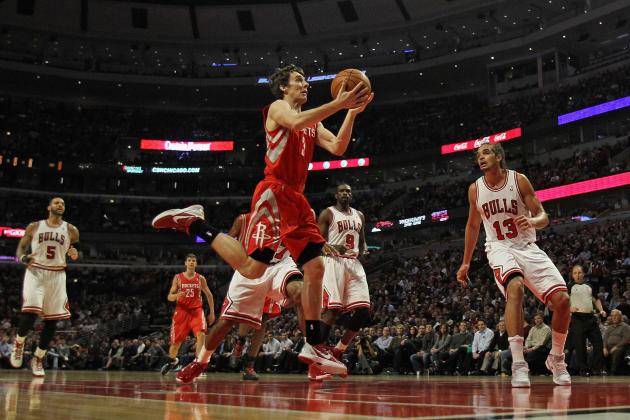 Jonathan Daniel/Getty Images
Goran Dragic has performed well in Kyle Lowry's absence
Goran Dragic has stepped up every time Kyle Lowry has been out this season and showed glimpses of brilliance.
His play is one the reasons Houston has been able to maintain a playoff push—even with the injuries to Lowry and Kevin Martin leaving the Rockets' backcourt thin.
Right now, he is one of the top point guards in the league. Of course, with Lowry back in the picture, it is likely Dragic will soon find himself off of this list, unless Kevin McHale can find a way to play both.
It is hard to imagine Dragic not being a starting point guard somewhere next season. In 19 starts this season, he is averaging 18 points and nearly nine assists.
The three turnovers a game is a bit worrying, but that is the only concern about Dragic's game.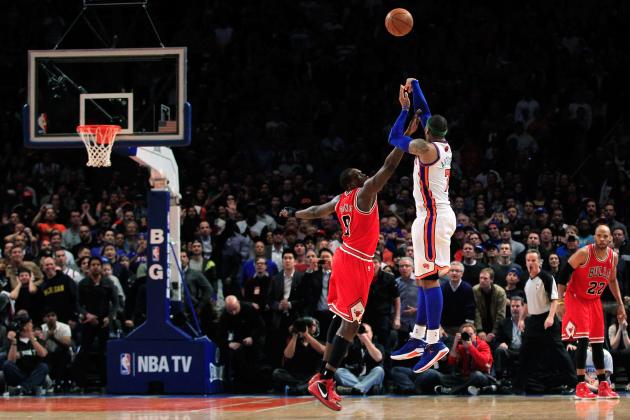 Chris Trotman/Getty Images
Anthony has not been the same player since joining the Knicks last season
Carmelo Anthony, simply stated, is not any better than the 20th-best player in the NBA right now.
He doesn't play defense, is a ball stopper on offense and his game basically dictates how the offense is run.
Two good performances against the Bulls does not negate the fact he is mostly reputation at this point of his career.
His shooting percentages of 41 percent from the floor and 31 percent from downtown are shocking. Anthony's body of work over the past two seasons is not much better.
Until he gets his act together, he does not deserve to be ranked any higher.
DeMarcus Cousins has been a devastating presence since the Sacramento Kings fired Paul Westphal at the start of the season.
He can be a bit inconsistent, but seems motivated on both ends of the floor on most nights.
He is averaging 17 points and 11 rebounds plus a block and steal and at 21 years old, Kings fans hope he will continue to improve.
He is a handful to deal with right now and looks to be trending upward.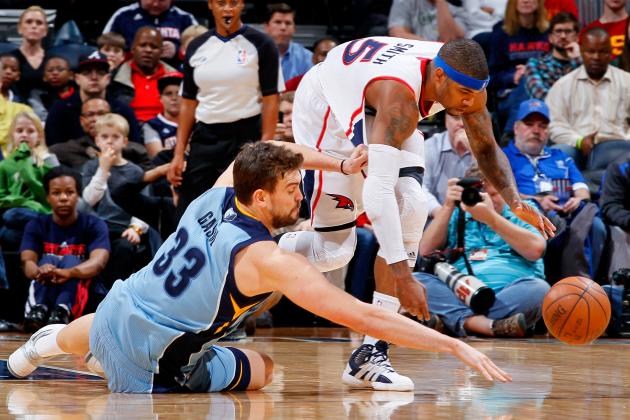 Kevin C. Cox/Getty Images
Marc Gasol still second best in the family
Marc Gasol is not quite at the level of his brother, but that gap is the narrowest it has ever been.
The younger Gasol is not refined as Pau, but he is certainly the tougher of the two. He is averaging almost two blocks a game and is a better defender than his brother.
His game continues to improve offensively and he has been able to pick up the slack for Memphis with Zach Randolph injured.
He would probably be a lot higher if he ever bothered to get himself into decent shape.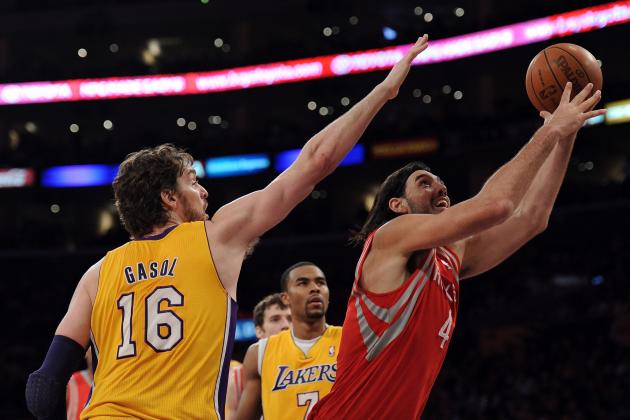 Harry How/Getty Images
Pau Gasol has endured an up-and-down season with L.A.
Pau Gasol's play has obviously been impacted by the trade rumors surrounding him this season.
He is still one of the best in the league, even if he has had a bad habit of being posterized several times recently.
Most of Gasol's stats are down from his career averages this season except for his rebounding numbers. His 17.3 points per game are the lowest of his career, but with the rise of Andrew Bynum down low, his scoring chances have been more limited.
Gasol has started playing better since the trading deadline passed and will probably continue to improve as the season comes to an end.
His performance in the playoffs, however, is another story altogether.
Normally, the best players in the league do not airball two consecutive free throws. In fact, not even the worst 12-year olds manage that feat.
Yet, Blake Griffin did. That alone is reason enough to exclude him from the list. Spectacular dunks do not hide the fact Griffin is an one-dimensional player.
If basketball was all about dunking, than everyone would be lacing up their Air Miner shoes and getting ready for some And 1 Mixtape basketball.
Griffin has shown no real improvement this season and his No. 16 rank reflects this. There was a clamor at the start of the year to put him in the top 10, but that seems ludicrous now.
He is good, but needs to start improving his game if he is going to get to the next level.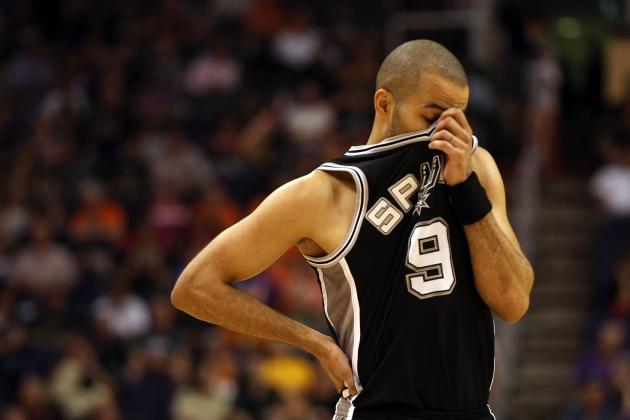 Christian Petersen/Getty Images
Tony Parker has once again put together a solid season
Tony Parker has taken over from Tim Duncan as leader of the San Antonio Spurs.
His play this season has been key, as the Spurs look to finish the season first in the Western Conference.
His scoring and assist numbers are up, but more importantly, so is his ability to run the floor. Without Parker, San Antonio would be the most immobile team in the league.
Parker is one of the league's more unheralded players, but he is playing at a level that cannot be ignored.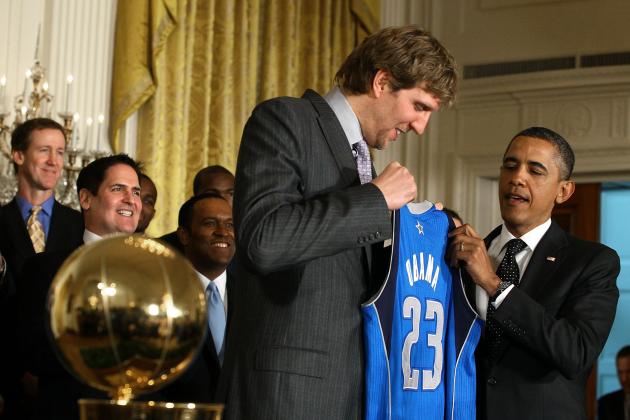 Mark Wilson/Getty Images
Dirk celebrates with Obama, but has the title hurt his ranking?
Dirk Nowitzki seems to have fallen a bit since winning the title last June.
Currently, he is still one of the better players in the league, but not in the top 10, where he normally would be.
His numbers are down across the board and his fitness has been called into question. It has been obvious something is off with the German's game.
Nowitzki is not playing that poorly, but right now, he is the 14th best in the NBA.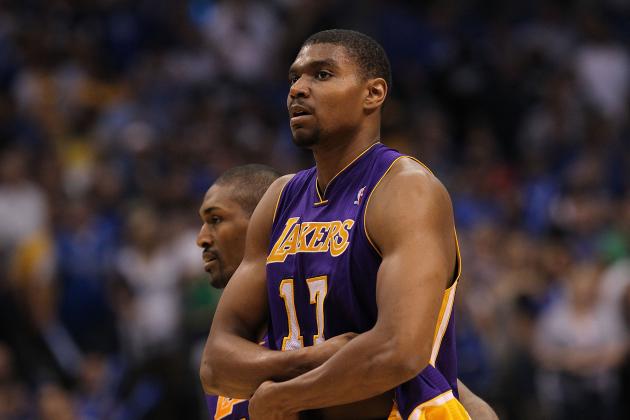 Ronald Martinez/Getty Images
Andrew Bynum has developed into one the league's best players
Andrew Bynum's continued development has seen him rise to being one of the best big men in the league.
He is having a career year and the Lakers have good reason to want to keep a hold of him. He has surpassed Pau Gasol with his play this season.
The problem with Bynum's game is mostly with his attitude. The better Bynum gets, the more immature he seems to get.
He is too much of liability right now to do something stupid. He has the potential to be a top-10 player, but only when he gets his head on straight.
The knock on Russell Westbrook is that he shoots too much and should defer to Durant more often.
These may be true, but it should not take away from how good Westbrook is. He is one of the most electrifying players in the NBA.
He is also playing very well right now. Westbrook may have the odd off-night, but he has also become more consistent after the Thunder's early-season struggles.
Westbrook, when he wants, can do it all. It is only matter of time before he cracks the top 10.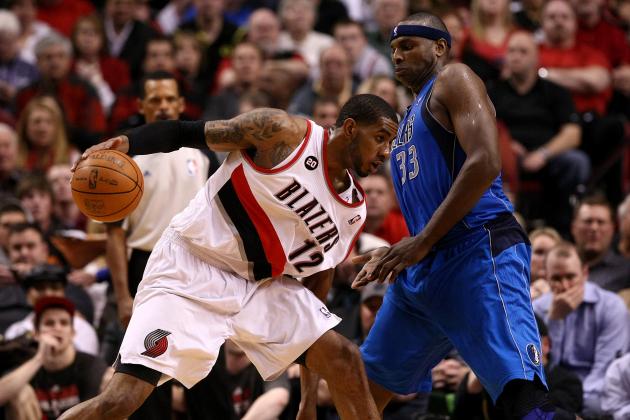 Jonathan Ferrey/Getty Images
LaMarcus Aldridge is Portland's last hope.
LaMarcus Aldridge has gone from the Trail Blazers' third option to the cusp of superstardom in the last two seasons.
No one foresaw Greg Oden and Brandon Roy's injury problems being so serious, but it has allowed Aldridge to bloom into one of the league's best power forwards.
He fully deserved his place in the All-Star Game and will continue improve.
Aldridge has been incredibly efficient this season and is the only positive on a Portland team that finds itself rebuilding once again.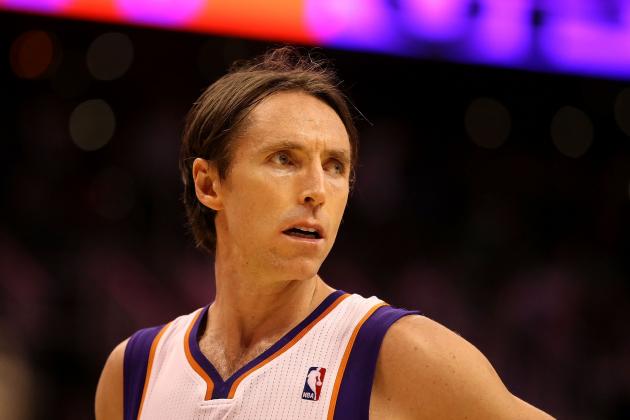 Christian Petersen/Getty Images
Steve Nash is still one of the best at 38.
Steve Nash will finish his career as one of the greatest point guards of all time. It doesn't look like the Canadian will have to quit anytime soon.
He has carried a weak Suns to team into the playoff race and there are few players better than him, even at 38.
Nash has always been one of the best passers in the league, but his shooting percentages are what make him stand out.
He is shooting 54 percent from the field this year and has hovered around the 50 percent mark since joining Phoenix.
Right now, Nash has few peers in the league—even if he is the list's elder statesman.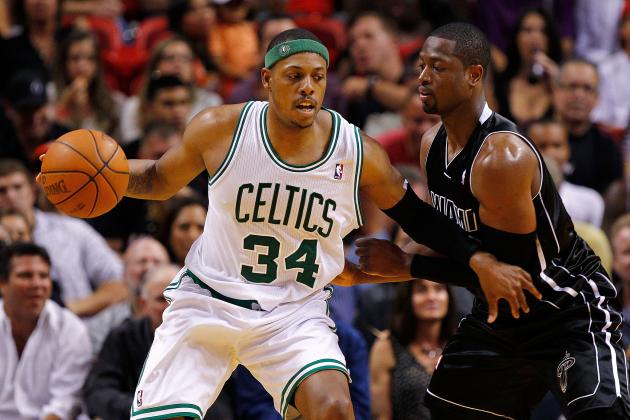 Mike Ehrmann/Getty Images
Paul Pierce has helped the Celtics turn the season around
It comes as no surprise that the Celtics resurgence coincides with Paul Pierce having a revival of his own.
He has looked refreshed in recent weeks after an indifferent start to the season and an 2010-11 season that was far from his best.
It is hard to see Pierce keeping up his level of play much longer, but right now he fully deserves to be No. 9 on this list.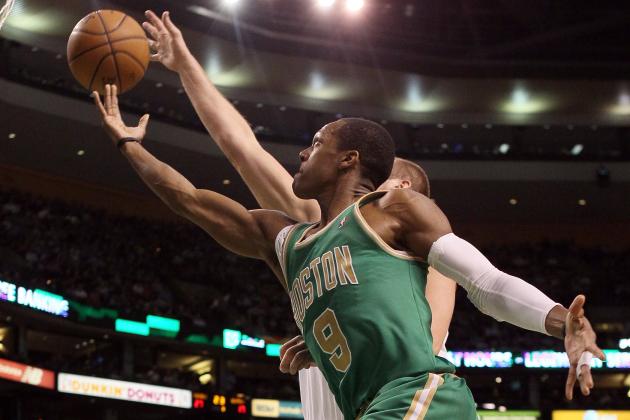 Elsa/Getty Images
Rajon Rondo's weaknesses prevent him from be ranked higher
Rajon Rondo is a player who knows how to play to his strengths.
His shot is shaky at best and he is Shaq-esque from the charity stripe, but he is also a triple-double waiting to happen.
Rondo's talents mirror that of Jason Kidd from his first few seasons in the league. He is an inconsistent scorer and can still play out of control from time to time, but he is so good right now that it does not really matter.
The Kentucky product has been the Celtics' best player this season despite the headaches he has caused the Celtics off the court.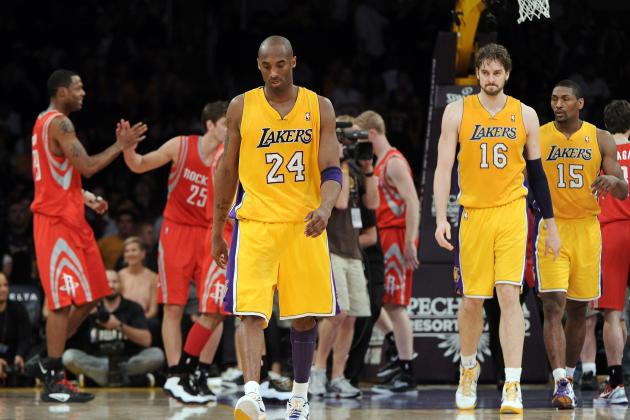 Harry How/Getty Images
Kobe Bryant has managed to play through pain all season.
No one really knows the extent of Kobe Bryant's injuries, but they have not prevented him from being one of the 10 best players in the league.
At this stage of his career, Bryant lacks the explosiveness he once had, but his game has become more nuanced.
Bryant can still find ways to score and is one of the best closers in the league. Unfortunately, No. 7 is probably as high as Bryant can hope to find himself at this point in his career.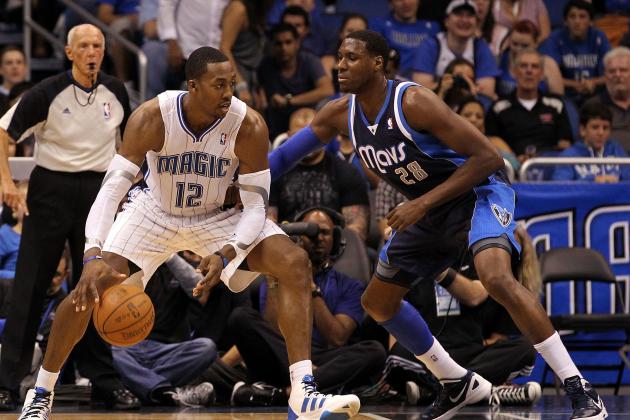 Sam Greenwood/Getty Images
Dwight Howard's future in Orlando still remains uncertain
When Dwight Howard wants to be, he is the most dominant interior player in the NBA.
Right now, he is a head case. Oftentimes he looks disinterested and fails to assert himself despite wanting to be the man. Shooting below 50 percent from the free-throw line does little to dispel these notions.
He is still the best rebounder in the league and is a peerless defender. However, that is not enough to get him the top five.
Howard has a problem with something or somebody and is not playing at the level he should be.
Dwyane Wade is still one of the best players in the NBA, but currently something is a bit off. Talent-wise, Wade is easily the third-best player in the league.
Right now, though, he is struggling. Placing him any higher would be based on prior accomplishments.
It is hard to put Wade above anyone else on this list.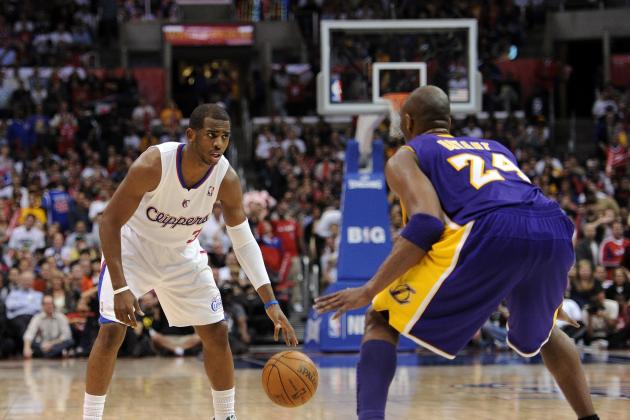 Harry How/Getty Images
Chris Paul is the best point guard in the league
Chris Paul could play with four broomsticks and he would still find a way to rack up assists. There is no better point guard in the league.
He is averaging nearly 20 points and nine assists a game and has the second-best assist-to-turnover ratio in the NBA this season.
The only knock on Paul would be that he does not take over games in the same way that Kobe, LeBron or Kevin Durant do, but that is not really his game.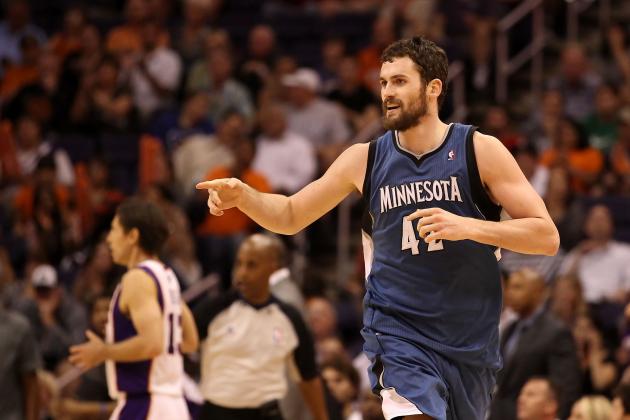 Christian Petersen/Getty Images
Kevin Love has become one of the best players in the NBA
Kevin Love is a guaranteed double-double every night. He has already notched 48 this season.
He will not win the MVP this season, but he should be considered for the award. He is that good right now.
Love is not as good defensively as Dwight Howard, but he is a more complete offensive player. The UCLA man is also the best pure rebounder in the league.
Putting Love this high will probably cause considerable dissent, but this list is about the best players in the league right now.
And right now, he is the third-best player in the NBA.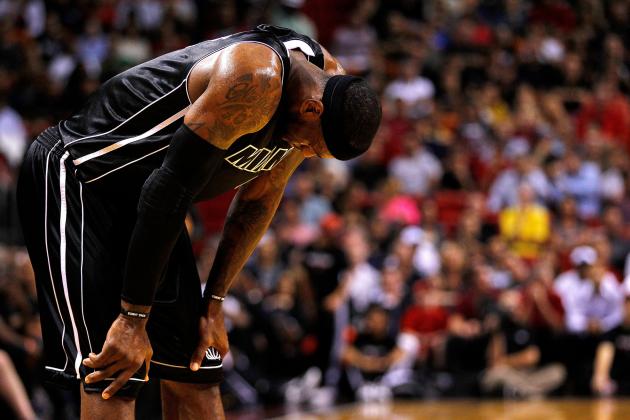 Mike Ehrmann/Getty Images
LeBron James finds himself at No. 2 in this list.
LeBron James is a Hall of Fame player having one of the most complete seasons in history. There is little more that needs to be said.
Kevin Durant is the best player in the NBA right now.
He is not as the complete player LeBron James is, but he does not have to be. Durant just shows up and dominates games.
He has done so for the past year. From Chespeake Energy Arena to Rucker Park and all courts in between, Durant is a force that cannot be stopped.