3 Reasons LeBron James Is Kobe Bryant's Biggest Rival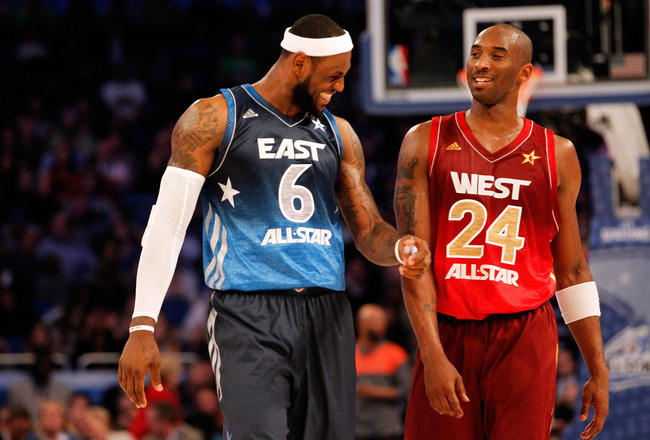 Ronald Martinez/Getty Images
Few basketball players in history have garnered more attention than LeBron James and Kobe Bryant.
The two are magnificent on the court and constantly a topic of debate amongst all NBA fans.
Although the pair have been the most popular and polarizing figures in the NBA for quite some time, Bryant suggested this week after a win over Sacramento that he never had a rival to push him to succeed.
Bryant went on to say he was solely motivated by championships.
LeBron should take this as a not-so-pleasant swipe. Whether Bryant admits it or not, he does have one rival lurking in the shadows.
Here are the three reasons James is indeed Kobe's biggest and only rival.
Star Power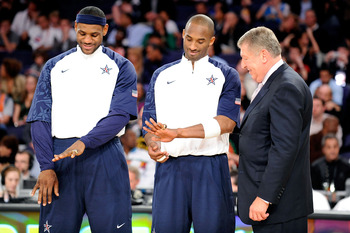 Kevork Djansezian/Getty Images
When Michael Jordan retired from the NBA in 1998, a kid by the name of Kobe Bryant stood in wait for the throne.
The comparisons of Bryant and Jordan seemed endless, and by the time His Airness returned from retirement in 2001, the league was in the hand of Bryant's Los Angeles Lakers.
By the time 2003 rolled around, Bryant already had three championship titles.
2003 was also the same year the Cleveland Cavaliers drafted the young man dubbed the "Chosen One," LeBron James.
No other prep athlete in the history of the NBA came into the league with as much hype as James, including Kobe Bryant. Kobe was no doubt the biggest star in the NBA until James showed up.
Bryant was also reportedly jealous of the seven-year, $90 million contract James signed with Nike fresh out of high school. Bryant would settle for a five-year, $45 million deal from Nike later that year.
James has continued to be the only other player in the last nine years who is just as popular as Kobe. Some would even argue James is the biggest star in the NBA.
Whether Kobe admits it or not, people have been comparing him and James for years now, the sign of a true rivalry.
Head-to-Head Matchups
Streeter Lecka/Getty Images
LeBron James has won 11 of 16 head-to-head matchups against Kobe Bryant.
Kobe should personally call Danny Ainge, Paul Pierce, Kevin Garnett, Ray Allen, Dwight Howard and Jameer Nelson to thank them for his two championship titles in the 2009 and 2010 seasons.
The Boston Celtics and Orlando Magic did the hard work by eliminating LeBron James' Cleveland Cavaliers in the Eastern Conference Playoffs both years, disallowing them the opportunity to face Bryant and the Lakers.
There is no doubt James would have multiple titles had he made it to the Finals against Kobe's Lakers.
LeBron just has Kobe's number. James embarrassed Kobe multiple times over the past few seasons, including the laughers that were their Christmas Day matchups.
James' record against Kobe since taking his talents to South Beach: 5-0.
Statistics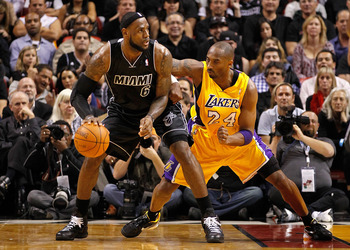 Mike Ehrmann/Getty Images
When it comes to statistical information in the NBA over the last seven years, only two players separate themselves from the pack.
You guessed it, LeBron James and Kobe Bryant.
Their arsenal includes:
NBA MVP: James (2), Bryant (1)
All-NBA First Team: James (5), Bryant (6)
All-Star Selections: James (7), Bryant (7)
PPG during span: James (28.7), Bryant (28.9)
Bryant gets the edge in the most important category, RINGS!
Rings: Bryant has two, while LeBron has not five, not six, not seven, but zero!
Nevertheless, James and Bryant's numbers mirror one another in spooky fashion.
Bryant has to concede James may not be on his level, but he is not far behind.
Follow me @ www.twitter.com/jaysmithsports
Keep Reading