Rajon Rondo vs. Stephen Curry: The Statistical Case for Who Is Better
March 1, 2012

Trade talk has finally begun to heat up in the NBA ahead of the March 15th deadline now that teams can finally begin to shop their free-agent signings from the abbreviated offseason.
And with that has come the bandying-about of names that have been so often discussed in recent months, including Rajon Rondo and Stephen Curry.
On the one hand, the Boston Celtics seem all too eager to move Rondo after GM Danny Ainge tried his darndest to swap him for Chris Paul before the start of the 2011-12 campaign. On the other, the Golden State Warriors appear more inclined to keep Curry and move Monta Ellis, his backcourt teammate, though according to ESPN's Chris Broussard, the C's and the Warriors have discussed swapping Rondo for Curry.
It's a strange juxtaposition, to be sure. After all, Rondo is a three-time All-Star and a three-time All-Defensive performer who's been battle tested in the playoffs in each of the last four years (winning a championship in 2008), while Curry, in just his third NBA season, has never been to the playoffs and has struggled with foot and ankle injuries.
Yet, take a look at where they stand statistically this season, and the case for Rondo over Curry doesn't become quite so lopsided.
The Basics
First things first, let's lay out the basic stats, side by side:
| | | | | | | | | | |
| --- | --- | --- | --- | --- | --- | --- | --- | --- | --- |
|   | Games | Mins | Points | Rebs | Assists | TO | Stl | FG% | 3-Pt% |
| Rondo | 24 | 36.7 | 14.2 | 5.0 | 9.6 | 3.8 | 1.5 | 47.7 | 23.5 |
| Curry | 22 | 30.6 | 15.7 | 3.5 | 6.0 | 2.7 | 1.7 | 48.1 | 45.0 |
So what do the raw numbers tell us? Aside from the fact that both have missed significant time due to injury and that Rondo's logged more minutes, the basic lines indicate that Rondo is more of a "pure" point guard, while Curry is a bit more of a scoring combo guard. Rondo logs more assists (and more turnovers) while Curry, a capable distributor in his own right (six dimes per game), is more inclined to put the ball in the basket.
And rightfully so; who wouldn't want Curry scoring more when he's hitting 45 percent of his threes?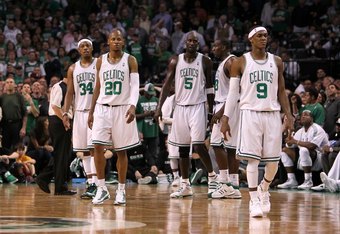 Jim Rogash/Getty Images
Again, we're talking about two players with very different roles on their respective teams. Rondo spends most of his time and energy as the young fella orchestrating a C's offense full of old dudes (i.e. Paul Pierce, Ray Allen and Kevin Garnett). It's his job to make sure that the older guys get the ball in their preferred spots in half-court sets, leaving him room to get his own when those guys aren't on the floor and/or when fast-break opportunities arise.
As for Curry, his job is to do a little bit of everything (but mostly scoring) while playing alongside Monta Ellis in Golden State's uptempo system. Sure, Warriors coach Mark Jackson wants Curry to find his teammates, but he was also wants him to be a threat from deep, thereby opening up the floor for Ellis to operate in the mid range and for David Lee to contribute in the paint.
Statistically speaking, it also helps Curry's case that the Warriors average 96.2 possessions per game (10th in the NBA) while Rondo's C's register a mere 92.6 (27th). That might not seem like much on the surface, but watch Rondo run his one-man fastbreak, and you'll see a guy who'd be putting up monster numbers for a younger team like Golden State.
Digging Deeper
For the most part, the advanced stats (courtesy of the NBA.com Stats Cube, ESPN.com and basketball-reference.com) paint a similar picture of Rondo the Renaissance Man and Curry the Scoring Machine: 
| | | | | | | | | | | |
| --- | --- | --- | --- | --- | --- | --- | --- | --- | --- | --- |
|   | Usage | Reb% | Ast% | Assist Ratio | TO Ratio | eFG% | TS% | PER | NetRtg | WS/48 |
| Rondo | 22.5 | 8.0 | 44.2 | 35.5 | 13.83 | 48.4 | 51.5 | 18.28 | 3.7 | .126 |
| Curry | 23.2 | 6.5 | 30.7 | 27.4 | 12.33 | 57.5 | 59.9 | 21.72 | 3.8 | .157 |
You'll see that Rondo and Curry use up roughly the same percentage of their team's plays while they're on the floor (22.5 percent for Rondo, 23.2 percent for Curry) but that they utilize the ball differently. Rondo far outpaces Curry in terms of the percentage of his team's field goals that he assists on while on the floor (44.2 to 30.7), and he racks up just over eight more assists per 100 possessions than does Curry (35.5 to 27.4).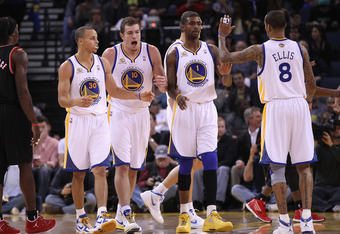 Ezra Shaw/Getty Images
To Curry's credit, he turns the ball over slightly less per 100 possessions (12.33 to 13.83) and obliterates Rondo in effective field-goal percentage. This accounts for the additional value of the three-point shot (57.5 to 48.4) and true shooting percentage, which is is influenced by free-throw shooting (59.9 to 51.5)).
Together, these numbers make Curry a significantly more efficient player than Rondo, according to John Hollinger's Player Efficiency Rating.
On a team-wide scale, while Rondo and Curry yield similar point differentials per 100 possessions (3.7 for Rondo, 3.8 for Curry), Curry (believe it or not) gets the nod in the most important category—win shares. That is, Curry contributes more to his team's wins per 48 minutes (.157) than does Rondo to his (.126). Furthermore, while Curry's win shares per 48 minutes have steadily increased since he entered the league in 2009, Rondo has seen his fall off considerably, from a high of .179 in 2008-09 to his current rating, which is nearly identical to his WS/48 from last season.
It would appear as though Curry, at 23 years old, is still on the upswing (as any young star should be), while Rondo is approaching his prime on something of a backslide.
The Verdict?
From a purely statistical standpoint, it's understandable why the Warriors would refuse to swap Curry for Rondo. He's younger than Rondo, more efficient than Rondo and more offensively versatile than Rondo.
That being said, there's no denying the factors that don't show up explicitly in the stat sheet, specifically Curry's health and Rondo's attitude. Curry's chronic foot and ankle problems—of which he's had four this season and eight in his pro career—should concern any and every front office in the league.
Rondo hasn't exactly been a picture of perfect health during his NBA career, either, though none of his issues have been chronic to the point where there might've been whispers about shutting him down for weeks or months at a time. With Rondo, the problems are more mental, pertaining to his fickle nature and his perceived "uncoachability."
Put Rondo in a comfortable situation, though, and he'll flourish while fighting his way through all manner of aches and pains.
So, if you threw all of the factors into a pot—stats, health, experience, coachability—and stirred it around for a while, who'd produce the better basketball stew, so to speak?
For my money, I'd have to go with Rondo, as his experience in high-pressure situations and reliability from a physical standpoint help to make up whatever statistical ground lies between him and Curry.
But it's close, closer than you might otherwise think. Stay tuned as the trade deadline approaches.