NBA Power Rankings: Grading Every Team, Post-All-Star Game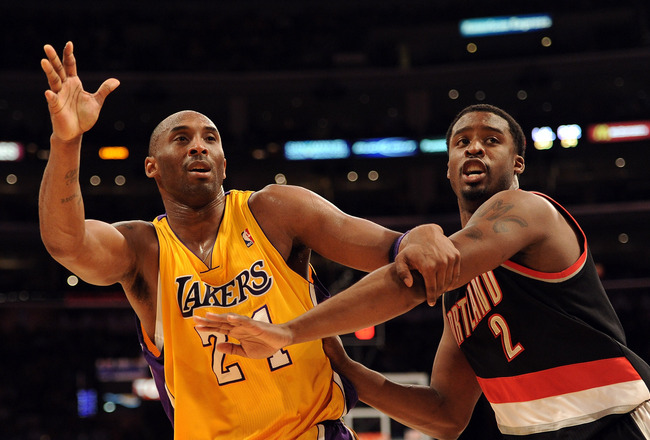 Harry How/Getty Images
The NBA All-Star Break has just about concluded, and it's time for the league to get back to business as usual. For some teams, that isn't good news.
With the second half of the season upon us, this is the time where the truly elite teams will rise, and the pretenders will fall.
The Miami Heat and Oklahoma City Thunder will look to continue their reign of dominance, while teams like the Los Angeles Lakers and New York Knicks will attempt to find a place amongst the Association's top teams.
And as for squads like the Charlotte Bobcats and Washington Wizards, they'll just hope to make it through the rest of the season without completely imploding.
30. Charlotte Bobcats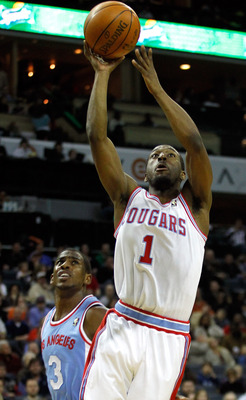 Streeter Lecka/Getty Images
Record: 4-28
Grade: F
The Bobcats ended a 16-game losing streak on Michael Jordan's 49th birthday against the Raptors.
That right there will be their greatest achievement of the season. Charlotte gets blown out on a regular basis, and even with a healthy squad, their abilities are inferior to every other teams'.
Somewhat ironically, it's been a long season for the Bobcats. And unfortunately for Charlotte, it's not over yet.
29. Washington Wizards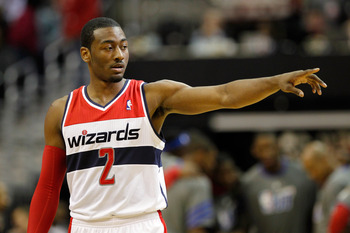 Rob Carr/Getty Images
Record: 7-26
Grade: F
If it wasn't for John Wall, this team wouldn't generate any sort of interest from its fanbase, yet even his presence cannot prevent pessimism from running rampant throughout Washington.
The Wizards are losers of four straight and own the NBA's second-worst record. Enough said.
Washington is in need of a roster overhaul, to salvage not only what's left of this season, but any hope they have for the future.
28. Toronto Raptors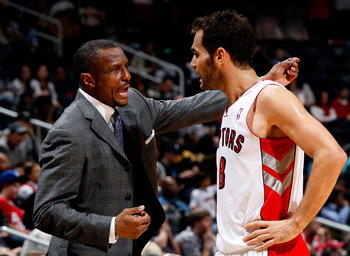 Kevin C. Cox/Getty Images
Record: 10-25
Grade: D
The Raptors played a flurry of competitive games against formidable opponents before falling to the lowly Bobcats. At home.
For that, Toronto is fortunate it hasn't fallen lower.
Jose Calderon has been superb, but the lack of an inside presence has killed the Raptors, who anxiously await the return of Andrea Bargnani as they attempt to right the growing list of wrongs before season's end.
27. Sacramento Kings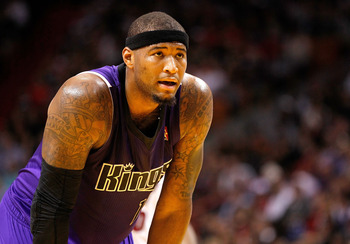 Mike Ehrmann/Getty Images
Record: 11-22
Grade: D
DeMarcus Cousins was an All-Star snub, and that's the extent of Sacramento's excuses this season.
Despite playing a relatively competitive game against the Heat, the Kings have been underachieving, to say the least.
After starting the season off hot with a win over the Lakers, Sacramento has not played up to the level that the talent on their roster suggests it can.
And that reality doesn't appear to be behind them.
26: New Orleans Hornets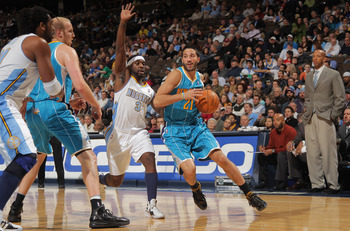 Doug Pensinger/Getty Images
Record: 8-25
Grade: C-
Given the lack of healthy talent on the roster, New Orleans should boast a much worse record than it does. Yet somehow, they are winners of four of their last six.
The Hornets' impressive run has included victories on the road against the Knicks and Bucks, and they even played tight against the Thunder.
New Orleans has been playing stellar ball on the road as of late. If they can keep it up and find ways to steal wins at home, they may find themselves outside the bottom five.
25. New Jersey Nets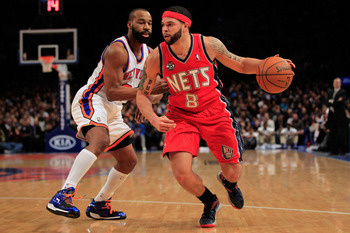 Chris Trotman/Getty Images
Record: 10-25
Grade: C-
Deron Williams silenced Madison Square Garden by nailing eight three-pointers, but the Nets' triumph was short-lived, as they followed up that performance by getting blown out by the Magic at home.
Brook Lopez is back, but he's got a while before he plays off the rust. Someone aside from Kris Humphries must step up to help Williams.
With so many injuries and question marks to consider, New Jersey has its work cut out if it wishes to convince Williams to stay.
24. Milwaukee Bucks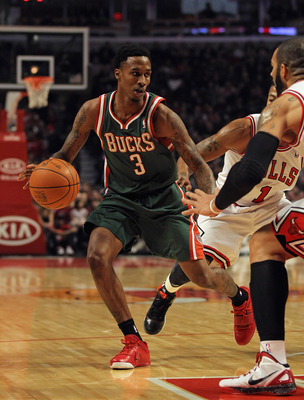 Jonathan Daniel/Getty Images
Record: 13-20
Grade: C
The Bucks began the season as one of the league's best home teams, but have since lost six straight on their own turf.
Injuries to big men Drew Gooden and Andrew Bogut have hurt them inside and on the boards, but they have left a number of winnable games slip away from them.
Milwaukee has lost six of seven, and while Gooden's return is on the horizon, Bogut isn't even close. The Bucks' best shot at returning to mediocrity is dealing Stephen Jackson for a competent outside presence.
23. Detroit Pistons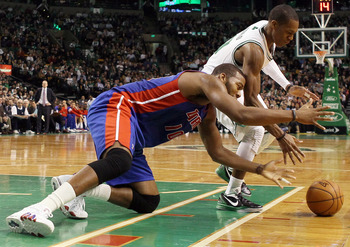 Elsa/Getty Images
Record: 11-24
Grade: C
It wasn't long ago that the Pistons presented an easy victory for its opponents, but in only a short time, Detroit has gotten healthy and played competitively.
Detroit won three straight before dropping two road games against the Cavaliers and Raptors, and have proven to be the Celtics' kryptonite. Greg Monroe, an All-Star snub, is not far away from superstardom.
As long the Pistons stay healthy, they will keep building on their team chemistry and perhaps play the role of spoiler down the stretch.
22. Phoenix Suns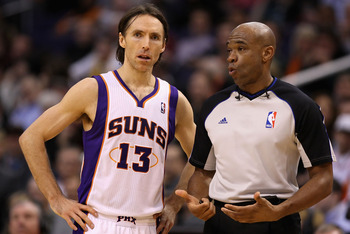 Christian Petersen/Getty Images
Record: 14-20
Grade: C+
You have to give credit to Steve Nash, who at 38, has managed to make the Suns a threat to beat any given team on any given night.
Phoenix rattled off a mini two-game win streak before falling to the Warriors in a hard-fought battle.
The postseason seems out reach, but as long as Nash is at the helm, the Suns will remain a team that cannot be overlooked.
21. Cleveland Cavaliers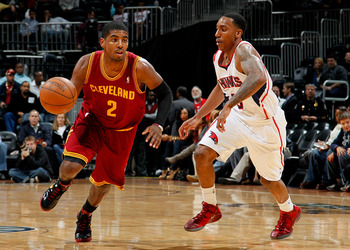 Kevin C. Cox/Getty Images
Record: 13-18
Grade: C
Antawn Jamison looks rejuvenated and Kyrie Irving, with his newly-obtained Rising Stars Challenge MVP, will continue to tear it up.
Cleveland has given itself in outside chance of sneaking into the playoffs, which is more than most expected of this unconventional mix of players.
Irving, like Steve Nash, has made his team a threat to win on any given night. That said, consistency is an issue, as they too have let an excessive number of games get away from them.
20. Utah Jazz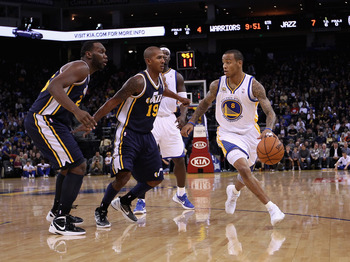 Ezra Shaw/Getty Images
Record: 15-17
Grade: C-
What happened to the Jazz? They fell back down to earth, that's what.
Utah has played over its head for the majority of the season, but has returned to reality, dropping 10 of 13.
The Jazz are victims of their own early and unexpected success. Expectations rose and they have failed to meet them. If their losing ways continue, look for them to blow it up before the March 15 trade deadline.
19. Golden State Warriors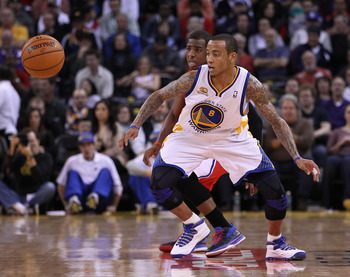 Ezra Shaw/Getty Images
Record: 13-17
Grade: C
The Warriors have quietly put together a small stretch of success, winning five of their last eight, including an impressive victory at home over the Clippers.
Monta Ellis continues to thrive amidst criticism, while Stephen Curry has yet to regain his composure.
At four games under .500, Golden State has more than enough time to turn things around, but history suggests that these perennial underachievers are one losing streak away from falling out of playoff contention completely.
18. Atlanta Hawks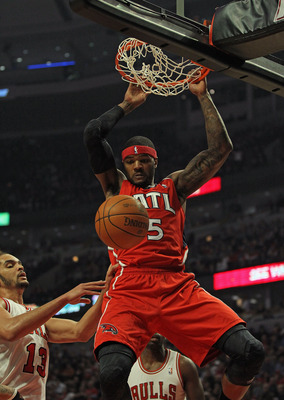 Jonathan Daniel/Getty Images
Record: 20-14
Grade: C
After beginning the season as one of the biggest surprises in the league, Atlanta has fizzled, losing nine of its last 13 games.
Were the Hawks playing over their heads up until recently? We must give them the benefit of the doubt for now, but once Joe Johnson returns to the lineup, all bets are off.
Atlanta would benefit from the added presence of a capable big men, like Chris Kaman, to anchor the low post until Al Horford's return. Barring a significant move, the team seems destined for a mediocre finish.
17. Minnesota Timberwolves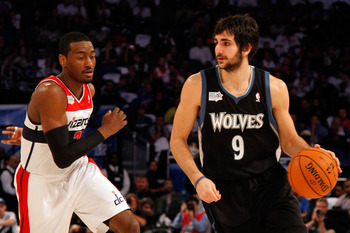 Mike Ehrmann/Getty Images
Record: 17-17
Grade: B-
The Timberwolves are an enigma wrapped up in yet another enigma.
After losing four straight, Minnesota has won four of its last five, including victories over the Rockets and 76ers.
Just when the Timberwolves seem poised to fade out of the playoff picture, Kevin Love and company put together a streak in which they looked borderline unbeatable.
If Minnesota can find a way to avoid extensive losing streaks while continuing their mini stretches of success, they have a pretty good chance at staying above .500 for good.
16. Portland Trail Blazers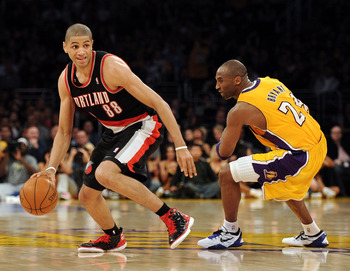 Harry How/Getty Images
Record: 18-16
Grade: C
The Warriors often get pointed to as the Western Conference's poster child for underachieving, but they have some company in the Blazers.
Recently, Portland has been the benefactor of shallow lineups on the part of the opposition, winning easily over the Hawks and Spurs. That said, even in LaMarcus Aldridge's absence, their loss to the Wizards is cause for major concern.
Both Jamal Crawford and Raymond Felton have spent some time in the doghouse, Aldridge's health is a question mark and the Blazers are kicking themselves for not extending Nicolas Batum.
Will Portland get its act together? That's a question no one has the answer to.
15. Boston Celtics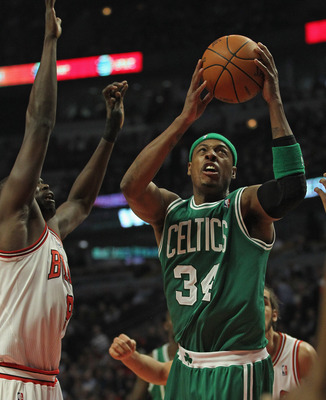 Jonathan Daniel/Getty Images
Record: 15-17
Grade: B-
The Celtics have lost five in a row, including two to the Pistons, and seem to have no clear direction.
Boston has long forgotten winning nine out of 10, and Danny Ainge is now officially left with the decision of whether or not to blow the roster up.
Rajon Rondo's two-game suspension hurt the Celtics just before the All-Star break, but they had lost three in a row prior to his absence.
If the Celtics don't rattle off three straight victories out of the second-half gate (at Cleveland, vs Milwaukee, vs New Jersey), then expect some major changes to be on the horizon.
14. Denver Nuggets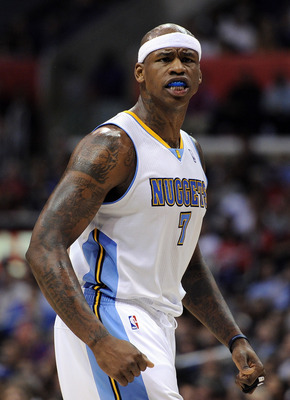 Harry How/Getty Images
Record: 18-17
Grade: B-
The injury bug has hit the Nuggets hard.
Denver sorely misses the days when it had Danilo Gallinari, Ty Lawson, Rudy Fernandez and Nene on the court at the same time.
The Nuggets have managed to steal a victory every now and again to keep their heads above .500, but without a full lineup, they will only continue to slip in the rankings.
13. New York Knicks
Mike Ehrmann/Getty Images
Record: 17-18
Grade: B
Linsanity has met Melodrama, and it has not been for the better.
Despite an impressive win at home over the reigning champion Mavericks, losses to the lowly Nets and Hornets are troubling.
Carmelo Anthony returned to a blizzard of questions, many of which he believed were unwarranted, but he has failed to move the ball effectively as promised, often returning to isolation.
Jeremy Lin's struggles against the Heat were a blessing in disguise, as he needed to fall from grace to truly learn the game, but the schedule doesn't get any easier from here on out.
Seven of the next 10 games come against opponents who are above .500—a stretch that will serve as a measuring stick for where this supposedly deep squad stands.
12. Memphis Grizzlies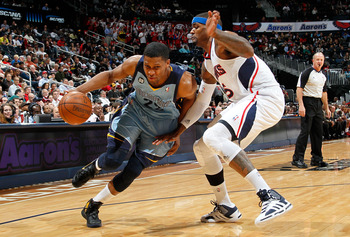 Kevin C. Cox/Getty Images
Record: 19-15
Grade: B
Memphis is a winner in seven of its last 10 and are slowly silencing the critics, who designated them as a pretender early on.
Zach Randolph is expected to return in early March, giving the Grizzlies some much-needed depth in the low post. With him back in the lineup, suddenly, Marreese Speights becomes a blessing in disguise off the bench.
After a game against the Mavericks, Memphis has four straight games against opponents below .500, a block perfect for a winning streak.
If Rudy Gay and company can win the games they're supposed to until Randolph returns, they'll find themselves in position to make another deep postseason run.
11. Houston Rockets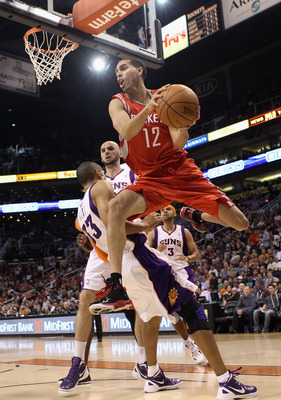 Christian Petersen/Getty Images
Record: 20-14
Grade: B+
No one expected much from the relatively young and inexperienced Rockets, but they entered the All-Star break on a three-game winning streaking, and winners of four of their last five.
Houston has exhibited on different occasions its willingness to compete with the league's best, including a recent victory at home over the Thunder.
The Rockets currently hold the West's sixth seed. Barring a major setback, they will continue to exceed expectations and claw their way into the postseason.
10. Philadelphia 76ers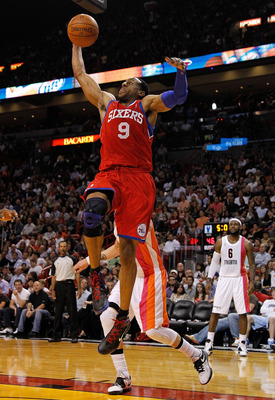 Mike Ehrmann/Getty Images
Record: 20-14
Grade: B
Over the past week, the 76ers grade is easily an "F," but even amidst their five-game losing streak, they remain six games over .500.
Philadelphia's recent losing streak comes at the hands of five potential or guaranteed playoff teams, which is cause for major concern. Andre Iguodala and company have been a surprise thus far, but their lack of a dominant inside presence has hurt them against the better low-post scoring teams.
The 76ers open up the second half of the season against a surging Pistons squad, a game they sorely need to win, as they face Kevin Durant's Thunder immediately after.
If Philadelphia slips up against Detroit, there is a strong possibility that this five-game losing streak stretches into seven or more.
9. Orlando Magic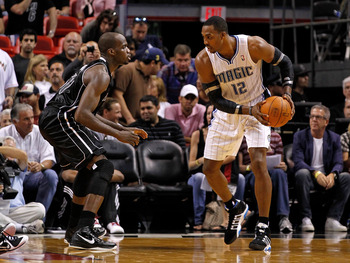 Mike Ehrmann/Getty Images
Record: 22-13
Grade: B
While Orlando's loss against the Hawks could be attributed to fatigue as the result of a back-to-back, it has become clear the team lacks a complete effort on a nightly basis.
The Magic, at times, look like they could give teams like Miami a run for their money, but then they follow up such performances by falling behind by 17 at the half to an Atlanta team missing its leading scorer.
Dwight Howard's status is definitely a factor in their hot and cold tendencies, but at the end of the day, this team cannot continue to bounce back and forth between dominance and incompetence.
8. Los Angeles Lakers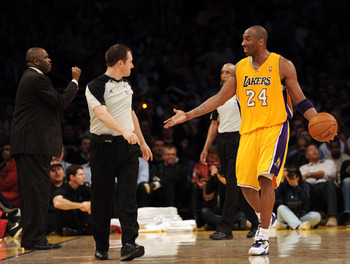 Harry How/Getty Images
Record: 20-14
Grade: B
Aside from a five-game winning streak back in January, the Lakers have been unable to put together a significant stretch of victories.
Los Angeles' players-only meeting seems to have gotten the team's priorities in order, but blowouts at the hands of the Suns are not yet erased from memory.
After downing both the Blazers and the Mavericks, the Lakers faced the very best on the road against the Thunder. Los Angeles lost by 15 and was unable to keep pace with the young and explosive Oklahoma City squad down the stretch.
Kobe Bryant and company have looked significantly better over the past eight games or so—aside from the Phoenix slip-up—but it's abundantly clear that as currently constructed, they don't have a championship run in their future.
7. Dallas Mavericks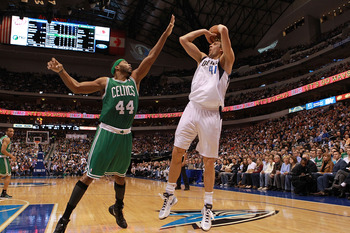 Ronald Martinez/Getty Images
Record: 21-13
Grade: B+
Before dropping two of their last three, the reigning champions embarked on an impressive six-game winning streak that included victories over the Clippers, 76ers and Blazers.
Dirk Nowitzki continues to be a scoring machine, but the aging core Dallas has surrounded him with is liable to be stagnant on any given night.
Early on, many were questioning whether or not the Mavericks even had what it took to return to the playoffs. Clearly, they do.
As far as defending their title, though, that's a different story.
6. Indiana Pacers
Record: 21-12
Grade: B+
After dropping five straight games, the Pacers finished off the first half of the season on a four-game winning streak.
While Indiana's recent contests have been played against teams in turmoil, they took care of business and won the games they were supposed to, which is more than can be said for some of the league's other top teams.
The Pacers don't jump out on paper, but their roster is one of the most balanced in the NBA. Paul George and Roy Hibbert are stars in the making and Danny Granger, while having an off year from the field, continues to buckle down when it matters.
Indiana has their work cut out for them against teams like the Bulls and the Heat, but don't count them out of the Eastern Conference championship picture just yet.
5. Los Angeles Clippers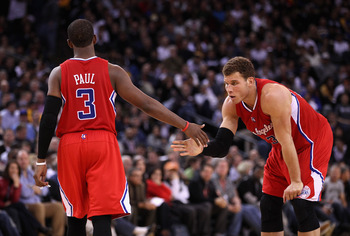 Ezra Shaw/Getty Images
Record: 20-11
Grade: B+
As much as some hate to admit it, the Clippers have handled the first 31 games of their new era of relevancy pretty well.
Chris Paul and Blake Griffin clearly need some additional time to develop chemistry, but Los Angeles has found ways to win games despite this, which is what matters most.
The Clippers dropped two straight against the Spurs and Warriors before closing out the first half with a not-so-easy win over the battered Nuggets.
Los Angeles' record is impressive, but the grace period is nearing its end. If the Clippers wish to contend for a title this year, they can ill afford losses to teams like the Cavaliers and Warriors. They must play much more efficiently on the road.
4. San Antonio Spurs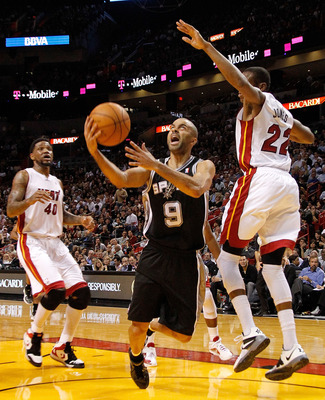 Mike Ehrmann/Getty Images
Record: 24-10
Grade: A
The Spurs cannot play any better than they have up until this point and are fresh off an 11-game win streak.
Their only loss in February came on the road against the Blazers, a game in which they were without Manu Ginobili and opted to rest both Tim Duncan and Tony Parker.
Second to only the Thunder, the Spurs' 13-1 home record is the best in the league. They come out of the All-Star break to face the Bulls at home, where a win could easily shake up the current power rankings.
The Spurs are old. They are injured. And some of them are tired.
But they don't care, as experience continues to prevail in San Antonio.
3. Chicago Bulls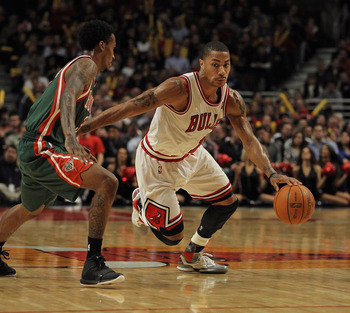 Jonathan Daniel/Getty Images
Record: 27-8
Grade: A-
The Bulls managed to make do without Derrick Rose, but there's a reason he is the reigning MVP champ—Chicago is hardly a contender without him.
Chicago is 9-3 thus far in the month of February, and their margin of victory remains the highest in the league.
The Bulls' biggest concern at this point is how they match up against the Heat. Aside from the point guard and center positions, Miami has the clear edge in every other department.
That being said, the Rose-led Bulls cannot be overlooked. With their point guard on the floor, they look absolutely unstoppable and run one of the most fluid offenses in the league.
And given the hand they've been dealt this season, they could not be in a much better position than they are now.
2. Oklahoma City Thunder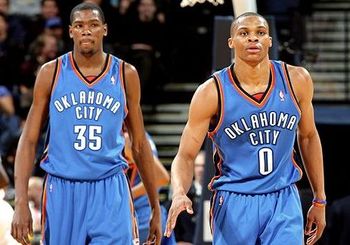 Record: 27-7
Grade: A
The Thunder are tied with the Heat for the best record in the NBA, and at 15-1, they own the league's best home record.
Oklahoma City has proven to be one of the deepest teams in the league. Their stockpiled youth renders them unaffected by the harrowing schedule.
The Thunder have rattled off five straight wins, all at home, and have put their disappointing road loss to the Rockets behind them.
Given where they are now, there is now doubt that Kevin Durant and company are viable title contenders.
1. Miami Heat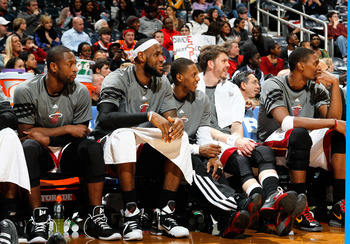 Kevin C. Cox/Getty Images
Record: 27-7
Grade: A
The Heat own the NBA's longest current winning streak, having taken eight straight. They are also tied for the league's best record with the Thunder.
LeBron James and Dwyane Wade have established perhaps the best chemistry there is in the league, while Chris Bosh continues to score on a consistent basis. The Heat's supporting players have all exceeded expectations as well.
Miami boasts the most athletic team in the Association. Prior to the All-Star break, they looked absolutely unstoppable—all eight victories on their winning streak have come by 12 or more points.
It's still early to crown the Heat NBA champions, but at the rate they're going, it won't take much longer.
Keep Reading