NBA Rising Stars Challenge 2012: Video Highlights, Twitter Reaction and Grades
February 25, 2012

Mike Ehrmann/Getty Images
Team Chuck beat Team Shaq, 146-133, in the 2012 Rising Stars Challenge on Friday night as NBA All-Star Weekend began in Orlando.
As expected, the game featured little defense, but some of basketball's brightest young stars did their part in giving the fans and those watching at home some amazing highlights.
The star of the game was Cleveland Cavaliers rookie point guard Kyrie Irving, who won the MVP award with a game-high 34 points.
Tweets of the Night
Rookie point guard Ricky Rubio was spectacular in the Rising Stars Challenge, and Dime Magazine made an interesting comparison.
Ricky Rubio is playing/passing like a 2000 Rookie Challenge version of Jason Williams out there

— Dime Magazine (@DimeMag) February 25, 2012
A fake Bill Walton account tweeted about Kenny Smith's "get buckets" phrase, which the TNT analyst did overuse a bit.
If Kenny Smith says "get buckets" one more time, I'm going to start praying he gets replaced...by Doris Burke.

— The Bill Walton Trip (@NotBillWalton) February 25, 2012
To no one's surprise, New York Knicks star point guard Jeremy Lin received the loudest ovation from the crowd in Orlando.
Jeremy Lin gets loudest ovation of anyone. Blake Griffin a close second

— Jason Lloyd (@JasonLloydABJ) February 25, 2012
I think many of us can agree with this tweet from Pro Basketball Talk's Kurt Helin.
There's better defense in my pickup games at the gym than there is in the Rising Stars game.

— Kurt Helin (@basketballtalk) February 25, 2012
Must-See Highlight
Very few players in NBA history have had the athleticism to pull off a dunk like this, but Blake Griffin makes it look easy with his superhuman-like leaping ability.
Grades for Notable Team Chuck Players
Kyrie Irving, Cleveland Cavaliers: A+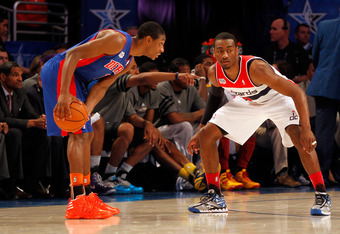 Mike Ehrmann/Getty Images
The former Duke star is the likely Rookie of the Year candidate, and he showed why with 34 points to lead all scorers in the Rising Stars Challenge.
Kyrie Irving dominated the game with some exquisite passing and flashy offensive moves. He shot an amazing 12-of-13 from the field and hit all eight of his three-point attempts.
Evan Turner, Philadelphia 76ers: B+
Sophomore forward Evan Turner from the 76ers played very well for Team Chuck in this game and showed the all-around talent that made him the No. 2 overall pick in the 2010 NBA Draft. Turner finished with 16 points, 10 rebounds and seven assists. With his tremendous athleticism, Turner put on a great show for the fans with some explosive dunks and exciting fast-break basketball.
Paul George, Indiana Pacers: A-
The Pacers' sophomore forward was one of Team Chuck's best players in the Rising Stars game, with 21 points in 23 minutes. Fans were treated to a preview of the athleticism that George will use in Saturday's Slam Dunk Contest. George shot 9-of-16 from the field and was certainly an MVP candidate.
Grades for Notable Team Shaq Players
Blake Griffin, Los Angeles Clippers: A-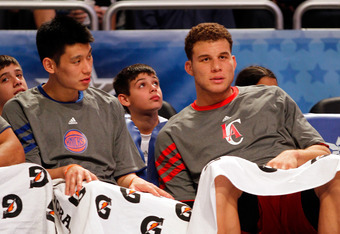 Mike Ehrmann/Getty Images
The Los Angeles Clippers' superstar power forward did not have the best stats on his team, but he gave the fans some amazing highlights, including some highlight-reel dunks. Griffin finished with 10 points, but he made the price of admission well worth it for every fan in the building Friday night. In a game like this, it's all about excitement, and Griffin provided plenty.
Ricky Rubio, Minnesota Timberwolves: A
The Spanish point guard was phenomenal in the Rising Stars game and threw some perfect alley-oop passes to teammates such as Blake Griffin. Rubio also had some very impressive dribble moves and ball fakes that would have been effective in a real game against real defense. He finished with 12 points and seven assists.
Jeremy Lin, New York Knicks: B-
To be fair to Jeremy Lin, he only played about nine minutes in this game, but he wasn't too impressive in his time on the court. He did have a fantastic pass to Blake Griffin for an alley-oop, but wasn't that much of a factor. The Knicks have played quite a few games recently, so I'm sure Lin didn't mind getting some nice rest. Lin finished with two points.
Deciding Factor: Team Chuck's Three-point and Free-Throw Shooting
Team Chuck beat Team Shaq in the Rising Stars game primarily because of their success from the three-point line and dominance at the foul line. Team Chuck shot 55 percent from beyond the arc, compared to Team Shaq's 27 percent.
Team Chuck made more free throws (15) than Team Shaq even attempted (six).
Game MVP: Kyrie Irving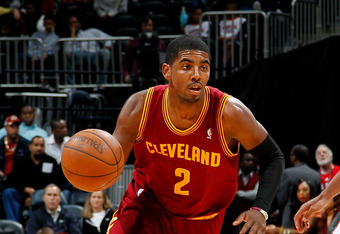 Kevin C. Cox/Getty Images
Cleveland Cavaliers rookie Kyrie Irving won the Rising Stars Challenge MVP, and he's also my own pick for the award. He led all scorers with 34 points and added seven assists and two steals for Team Chuck in a 140-122 win. Irving was on fire from long range, hitting all eight three-point shot attempts. With his offensive outburst and impressive playmaking, there was no question that Irving would be the MVP.
What's Next?
NBA All-Star Weekend continues on Saturday night at 8:00 p.m. ET on TNT with the Shooting Stars Competition, Slam Dunk Contest, Three-Point Shootout and Skills Challenge.