NBA Trade Rumors: Chris Kaman Awaits as the Hornets Seek a Trade
January 30, 2012

Christian Petersen/Getty Images
In the NBA it is very rare that a quality post player would end up on the trade market.  New Orleans Hornets center Chris Kaman will not be confused with the Orlando Magic's Dwight Howard, but Kaman would be a legitimate addition to any team looking to add size.
One team in particular, the Milwaukee Bucks, should be interested after learning that their starting center Andrew Bogut will miss six to eight weeks with a broken ankle. The Bucks were already a small team even with Bogut, and can use a player of Kaman's size.
Currently sitting in the eighth playoff spot, Milwaukee can solidify their position in the tightly-packed Eastern Conference as only three games separate the sixth through twelfth-ranked teams.
Another team that should show interest is the Atlanta Hawks, who lost their All-Star Al Horford for the season to a  torn pectoral muscle. With the Hawks looking to remain in the race for a more favorable playoff seed, Chris Kaman can serve as a solid temporary replacement for Horford.
Kaman's addition to Atlanta would finally be able to play a more traditional lineup.
For several seasons the Hawks have started Al Horford at center despite being generously listed at 6'10".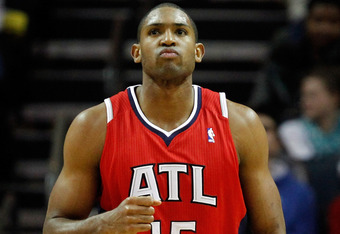 Streeter Lecka/Getty Images
Any team that trades for Chris Kaman would be getting a former All-Star who has struggled to stay healthy since his lone All-Star Game appearance in 2010.
When healthy, Kaman is one of the top 10 centers in the NBA who possess the size of a natural post player. Career averages include 11.8 points, 8.3 rebounds and 1.4 blocks per game. As recently as the '09-10 season, Kaman averaged a career-high18.5 points and 9.3 rebounds per game. His best season as a pro came during his '07-08 campaign when he had double-double numbers throughout the year.
His hamstring injuries must be behind him for Kaman to have an impact with any team.
The question will be what can the New Orleans Hornets get for him? The rescinded Chris Paul to the Los Angeles Lakers trade should serve as a reminder for any potential suitors that NBA commissioner David Stern can veto any New Orleans trade as long as the NBA owns the Hornets.
Add to that his $14 million contract (albeit for the remainder of the season), which will serve as a hindrance in any trade scenario.
The best thing to do for the Hornets is to gauge the market for Kaman before they eventually waive him.
We shall wait and see.