NBA Rumors: Dwight Howard Reportedly Adds LA Clippers to Wish List
January 16, 2012

Mike Ehrmann/Getty Images
Dwight Howard now reportedly has two LA teams on his wish list. The Clippers have joined the Lakers as a desired Hollywood-area location for the impending free agent and game's best center. 
Chris Sheridan of SheridanHoops.com reported that the website "learned" that Howard has added the Clippers to the list of teams he would like to be traded to. He goes onto state that a source offered this insight into Howard's thinking:
He's been watching them a lot. He's intrigued by the Clippers.
In case you are wondering if your eyes just deceived you, here is Sheridan's tweet: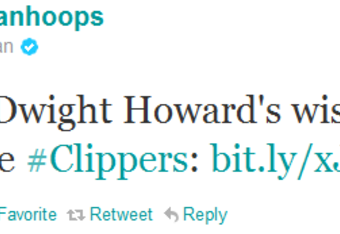 If this report is true, Howard's list now includes the Lakers, Nets and Mavericks. 
What it Means
This means that the Magic are now in an even better position to get a boatload of talent in return for Dwight. The more teams bidding for his services the better, and the addition of the Clippers just raised the stakes. 
Nowhere will these stakes be higher than they are in the Land O' Lakes. The Lakers cannot be too thrilled with the prospect of losing out on Howard and Paul to the team they share a building with. 
If the Lakers were hesitant to trade Andrew Bynum and Pau Gasol before, they may be more likely to pull the trigger on this trade now. 
The other factor here is that the Clippers are in a good salary-cap situation to make a play for Howard if he is not traded. This will increase the pressure on the Mavericks and Nets who were both looking for ways to get in a position to make a free-agent bid on the big man. 
What's Next
Obviously, the Magic and the Clippers would have to work out a trade to make this happen, and it remains to be seen if this is something the Clippers would be able to do after trading for Chris Paul.
There are two likely candidates in a trade, and they are center DeAndre Jordan and guard Mo Williams. But it is hard to believe the Magic would view this as their preferred trade. Jordan is a solid young center, but he is not as promising as either Bynum or Brook Lopez of the Nets. 
And at 29 years old, Mo Williams isn't going to excite the Magic, who already have a strikingly similar player in Jameer Nelson. 
Of course, the Magic will absolutely want everyone else to believe they love this trade package as they leverage it to get a better deal from one of the other players. And that is something they need to do. 
This news only serves to further hammer home the reality that Dwight Howard is unlikely to stay in Orlando.