NBA Power Rankings: Surprising Young Teams Highlight Week 1's Full Rankings
December 30, 2011
Ronald Martinez/Getty Images
The first week of the abbreviated NBA season played out exactly as I expected.  Young teams benefited from an offseason veteran teams apparently spent eating, napping and doing everything besides play basketball.
Dirk Nowitzki, Ron—er, Metta World Peace, Bill Walker and Boris Diaw are some of the biggest culprits.
It's like the 1970s all over again.
NBA fans shouldn't be surprised at the lackluster showings by some of the NBA's most hallowed franchises.  Without a training camp spent getting in shape, the Celtics and Mavericks have looked completely overwhelmed in the first three games.
Don't expect either team to right the ship until February.
Although Week 1 isn't over quite yet, there are plenty of complicated data available to craft a precise power rankings.
Here's the first edition and a closer look at some of the young teams that just might surprise all season long.
1. Miami Heat: All that talk about LeBron James working on his "post game" with Hakeem Olajuwon has actually been evident on the court.  King James is no longer terrified to play with his back to the basket, and his mindset has completely changed.  The Heat are a big man away from being a nearly unbeatable team, especially in this year's NBA.
2. Chicago Bulls: The Derrick Rose haters need to sit down.  D-Rose is taking a patient approach to the game this season, which should save his legs for the stretch run.  Rip Hamilton hasn't played well yet, but he remains an enormous upgrade at shooting guard.
3. Oklahoma City Thunder: There's been some early-season drama in OKC, with Russell Westbrook and Kevin Durant getting into it on the bench.  At 4-0 with wins over the Magic, Grizzlies and Spurs, a little friction doesn't seem to be a bad thing.  The Thunder need more consistent play in the paint and less pouting from their all-world point guard.  Is asking Thabo Sefolosha to shoot the ball really a good idea?  C'mon, man.
4. San Antonio Senior Citizens: Blowout loss to the Houston Rockets aside, the Spurs are the only geriatric NBA team that looks good early in the season.  With Tim Duncan literally on his last legs, Richard Jefferson will need exceed expectations all season long.
5. Portland Trail Blazers: When he isn't flying into the stands injuring himself, Gerald Wallace is simply a joy for hoops fans to watch.  Crash has the Blazers off to a 3-0 start and looking like true contenders.  This might be the season where Nate McMillan gets credit for being one of the NBA's best coaches.
6. Atlanta Hawks: With one of the NBA's most menacing frontcourts, Atlanta will be in the mix all year long.  Meanwhile, Joe Johnson is making more money than LeBron James and still not earning any of it.
7. Denver Nuggets: No Carmelo Anthony, no problem.  The Nuggs fared well in life after 'Melo last year, and 2011-12 figures to be Ty Lawson's coming out party.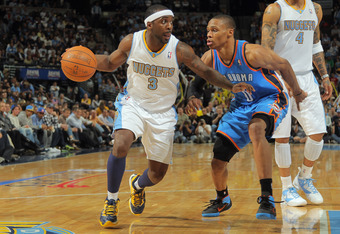 Doug Pensinger/Getty Images
8. Indiana Pacers: Thanks to horrible personnel moves and disgruntled stars in the Eastern Conference, the Pacers have a legitimate chance to snag the fifth seed this season.  Young Paul George is a superstar in the making, while Danny Granger and Darren Collison provide scoring and stability.  A pathetic Central Division will spell 40 wins for Indy this year.
9. LA Lob City: Chris Paul is a maestro capable of masking flaws, but he will need to channel Magic Johnson to help the Clippers make some real noise come playoff time.  For now, the Clip Joint is a top-10 team.  Adding depth on the frontline and a solid swingman to play alongside Caron Butler is a must.
10. Orlando Magic: If Dwight Howard decides to apply himself, Orlando will be in the mix all year long despite a flawed roster.  Don't bet on that happening.
11. Memphis Grizzlies: Getting Mike Conley's ankle healthy should be Memphis' top priority.  With no depth at PG, the Grizz won't fare well until he returns.
12. LA Metta World in Pieces: The Lakers have assembled a rag-tag bunch of role players who don't believe in lifting weights.  Not exactly a recipe for success in the modern NBA.  If the Lake Show can eke out around 40 wins, Kobe Bryant will earn his second MVP award.
13. Houston Rockets: Aside from Luis Scola, the Rockets have a relatively young corps.  With youth and depth, all Houston needs is a true leader.  Enter Kyle Lowry, who has been brilliant in two games.  Expect the powerful PG to lead his team to the playoffs.
14. Boston Celtics: Old, bad and horrible to watch, these are your 2011-12 Boston Celtics.  Still, Boston is a top-four team in the Eastern Conference with Paul Pierce in the lineup.  Until that happens, Rajon Rondo will have to put the team on his bony shoulders.
15. Golden State Warriors: Hand down, man down. Mark Jackson's Warriors are 2-1 despite not yet finding the range from the perimeter.  If that happens, Golden State could be a playoff team.  Speedy guard Ish Smith is the X-factor and will hold things down with Stephen Curry's ankles ailing.
16. The New York Mess: Amar'e Stoudemire sprained his ankle in Thursday's loss to the Lakers and finished with two rebounds in 32 minutes.  No, he didn't shrink or lose his athletic ability.  His lack of contribution defensively and on the glass puts the Knicks' problems in a nutshell: no toughness, no commitment to defense and no chance at being contenders in the East.  Apply yourself, Amar'e.
17. Milwaukee Bucks: One of the more interesting subplots in the NBA is how Stephen Jackson and coach Scott Skiles will avoid punching each other in the head.  I give it about 20 games before Captain Jack loses his mind and Skiles fires back.
18. Philadelphia 76ers: Another year, another chance for Philly fans to watch Andre Iguodala miss ill-advised step-back jumpers.
19. Dallas Mavericks: Mark Cuban probably knew his Mavs would be bad, but this bad?  Dallas is doing the smart thing—biding time with aging veterans before targeting superstars this summer.  Landing Deron Williams and Dwight Howard would make a wasted season worth it.  Rest assured, this will be a wasted season.
20. Sacramento Jimmers: Tyreke Evans and Marcus Thornton could really be something special, and Jimmer Fredette adds some scoring off the bench.  If DeMarcus Cousins keeps playing hard, the Kings could crack the top 20.
21. Utah Blues: Devin Harris and Al Jefferson have All-Star talent and absolutely no consistency.  The Jazz are playing for the future, and both players don't figure to stick in Salt Lake as the rebuilding process continues.
22. New Jersey Nets: Deron Williams needs to stop moping and play like a man making millions.  If he does, the Nets should be a .500 team once Brook Lopez returns.
23. Charlotte Bobcats: Will Michael Jordan spend more on Yvette Prieto's engagement ring than on the team's payroll?  Sadly, that might be the most interest storyline in Charlotte this year.  Gerald Henderson is finally ballin', but the Bobcats have flaws up and down the roster.
24. New Orleans Amtraks: No ownership, no direction and no chance to compete.  Don't expect the 2-0 Hornets to run the table this season, but finding a stable owner is far more important than wins and losses.
25. Washington Wizards: The talent is there, but the chemistry isn't and might never be.  John Wall needs to carry the Wiz Kids, and he isn't quite ready.  Let the rebuilding continue.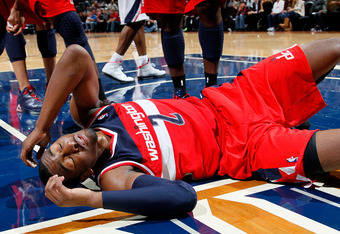 Kevin C. Cox/Getty Images
26. Minnesota Timberwolves: The T-Wolves haven't won a game in about 10 months, but that's bound to change if Kevin Love keeps putting up numbers.  Then again, maybe not.
27. Cleveland Cavaliers: Kyrie Irving, Tristan Thompson and the young Cavaliers are in for a long season.  The future seems a least a little bright.
28. Phoenix Suns: On behalf of all NBA fans, I'd like to demand Steve Nash is traded so he can finish his NBA career with dignity.  The Suns have no identity and no chance.
29. Toronto Raptors: Rebuilding mode, now and probably forever.  Amen.
30. Detroit Misfits: Another year, another bevy of guards who can't play the point.  And, of course, more money paid to loafs Ben Gordon and Charlie Villanueva.  Joe Dumars has set the Pistons franchise back 10 years.
Check back next Friday for my Week 2 NBA Power Rankings.  And for your NBA fix, check out Bleacher Report's NBA Page.