Chris Paul to Clippers: Blake Griffin-Paul Tandem Will Be Best in the NBA
February 20, 2017
Chris Graythen/Getty Images
The NBA experienced a lightning jolt as former New Orleans Hornets point guard Chris Paul was traded to the Los Angeles Clippers and will be teaming up with superstar power forward Blake Griffin.
Pairing Paul and Griffin together will result in the NBA's best tandem.
The Clippers had to give up guard Eric Gordon, forward Al-Farouq Aminu, center Chris Kaman and an unprotected 2012 first-round draft choice to receive the 26-year-old Paul. However, the trade was worth it for the Clippers, who receive a four-time All-Star and former Rookie of the Year in Paul.
Paul is often considered the best point guard in the league, even ahead of Oklahoma City's Russell Westbrook and the Chicago Bulls' Derrick Rose. He is an expert ball-handler who knows how to create space for him off the dribble.
The Wake Forest product is also a deadly scorer, averaging 18.7 points per game during his career while draining 47.1 percent of his shots.
Paul knows where his teammates are always at on the floor, resulting in his high assist rates. He has a career average of 9.9 dishes a game, which includes four assists for every turnover.
The 6'0", 175-pound Paul is also a top-notch defender who was voted to the NBA All-Defensive First Team in 2009 and the second team twice.
While being a great facilitator of the game, Paul will be teamed up with the reigning Rookie of the Year in Griffin. A super-talented power forward, Griffin blew away his opposition with his dominant post play as he made 77.2 percent of his shots around the rim.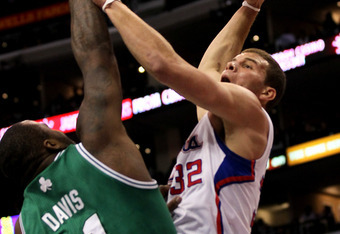 Stephen Dunn/Getty Images
The 6'10", 251-pound Griffin pounded home 22.5 points and 12.1 rebounds last year while shooting over 50 percent from the field.
The Oklahoma product has only one direction his career is going towards, and that is up.
Coupling Griffin with the savvy Paul is a match made in heaven, which will produce the NBA's top duo because of their youth and athleticism.
Other duos of note include the Miami Heat's Dwyane Wade (almost 30) and LeBron James (almost 27) and the Oklahoma City Thunder's Russell Westbrook and Kevin Durant (both 23).
If you would combine the statistical averages per game last, this is how they would look:
Paul/Griffin: 38.4 points/16.2 rebounds/13.6 assists/48.9 percent shooting (2,304 shots)
Wade/James: 52.2 points/11.6 rebounds/11.6 assists/50.5 percent shooting (2,869 shots)
Durant/Westbrook: 49.6 points/10.9 rebounds/10.9 assists/45.3 percent shooting (2,928 shots)
These numbers give you a bit of an idea, but a bit skewed. Both Paul and Griffin did not have the luxury to play with another bona fide star or even together like Wade/James and Durant/Westbrook did.
Griffin and Paul were the first offensive options of the Clippers and Hornets, respectively, as both teams lacked depth while the Heat and Thunder were title contenders with deep rosters last year.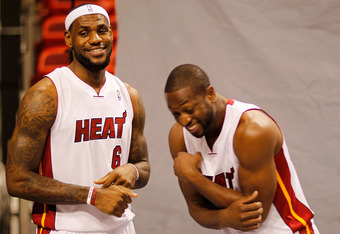 Mike Ehrmann/Getty Images
Another consideration for Paul and Griffin's lower scoring is that Griffin was a rookie coming off a serious injury while Paul also was slowed down by a nagging knee injury.
Griffin will have more experience this year and will learn from his mistakes, leading to a higher scoring rate. Plus, Paul is healthy now and will benefit from playing with a monster inside the post.
Having a year together should significantly increase both Paul and Griffin's offensive stats. Paul will perfect a high-low game with Griffin, resulting in more thunderous slams.
The pick-and-roll is another area these two could excel at, as Paul is a master at that player. He is a good slasher and will draw defenses towards him. Paul would then find Griffin for a short jumper or a driving dunk.
The opposite on the pick-and-roll could work too, as Griffin is a good passer for his size with 3.8 assists last year. He could pass inside-out to Paul, who could either bury a jumper or pass to another open teammate.
Besides scoring, Paul and Griffin are comparable defensively. Paul is a lockdown defender who can give other guards fits. He steals at a high rate, registering 2.4 picks a game throughout his career.
As for Griffin, he is at best an average defender, but he still has room to improve. He is only 22-plus and learning how to play the post in the NBA. If he discovers how to use is prodigious reach to his full potential, he could become a top shot-blocker who also forces opponents to take many contested shots.
Both Durant and Westbrook are not the best defenders. Durant needs to work on his perimeter defense more and Westbrook needs to put in more effort overall on that end of the court.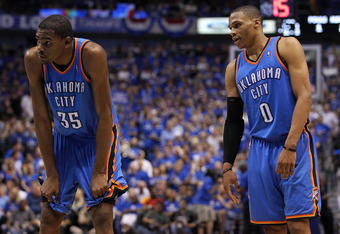 Ronald Martinez/Getty Images
James and Wade are dominating defenders, but both players have logged ridiculous minutes on the floor last year and might have difficulty maintaining that level of intensity in future years.
Paul and Griffin will prove to the entire NBA that they are the best duo by making the Clippers legitimate title contenders. With the solid additions of Chauncey Billups and Caron Butler along with Mo Williams and Eric Bledsoe, the Clippers are an extremely deep team from point guard through power forward.
Their one weakness would be at center without Kaman, but having a solid core with Paul and Griffin lighting up the court should propel the Clippers to a deep playoff run.
Winning the Pacific Division is in reach for the Clippers. Both the Golden State Warriors and Phoenix Suns are down. The Sacramento Kings are an up-and-coming team, but they lack experience.
The Clippers' arch rival, the Los Angeles Lakers, haven't improved this offseason by not upgrading the point guard position while trading Lamar Odom to the Dallas Mavericks. 
NBA superstar Kobe Bryant is 33 and aging fast, so both Paul and Griffin have an ample chance of stealing the city spotlight from The Black Mamba.
Paul and Griffin are definitely two top-15 players in the NBA, and the two freakish athletes playing together result in the two becoming the NBA's best tandem.
Bob Bajek is a writing intern at Bleacher Report. He is also a freelance reporter and can be followed at Patch.com and Twitter.