Chris Paul to Lakers: Los Angeles Moves Closer to Locking Up Next NBA Dynasty
December 9, 2011
Jeff Zelevansky/Getty Images
The Los Angeles Lakers don't just win titles—they build NBA dynasties, which they proved once again on Thursday by acquiring Chris Paul from the New Orleans Hornets.
According to Adrian Wojnarowski of Yahoo! Sports, the Lakers will send Pau Gasol to the Houston Rockets and Lamar Odom to the Hornets to bring CP3 to LA. The Rockets will then send Kevin Martin, Goran Dragic and Luis Scola to the Big Easy.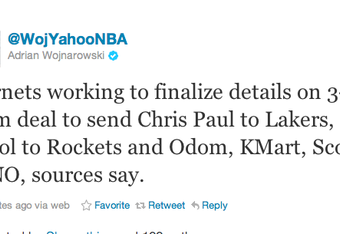 That leaves the Purple and Gold with the best backcourt in the NBA, between Kobe Bryant and Paul, along with the opportunity to flip Andrew Bynum to the Orlando Magic for Dwight Howard at some point.
Either way, the Lakers have a nucleus in place that's capable of contending for championships right now and for years to come. The point guard position had long been a black hole in LA, with Derek Fisher struggling to defend and put pressure on opposing lead guards.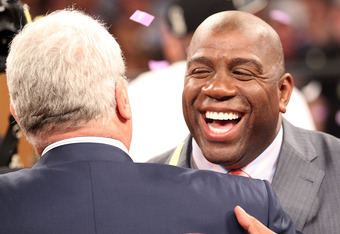 Ronald Martinez/Getty Images
That didn't matter quite as much in Phil Jackson's triangle offense, though defense was still an issue.
Now, LA has the sort of superstar point guard capable of putting pressure on the opposition on the perimeter that the team hasn't had since Magic Johnson last donned a Lakers uniform.
Paul's presence also figures to make Kobe's life dramatically easier. No longer will Bryant need to carry the load of the Lakers offense when things stall—something he can't do as often or as easily at 33, with 15 NBA seasons having worn and torn his achy knees. With CP3 handling the ball, Kobe will be free to float around the perimeter and drop down into the post, drawing fewer double- and triple-teams than in the past.
Paul should also be a boon to Bynum's burgeoning career, assuming the Lakers don't flip him to Orlando first. For the first time since 2007, Bynum will come into training camp having had a full season (and then some) to get in shape and work on his game, without having to worry about recovering from some sort of surgery. Hopefully, he budgeted some of his additional free time during the lockout to work on his poor attitude, which showed itself in an ugly way when he slammed Dallas' J.J. Barea to the floor in Game 4 of the 2011 Western Conference finals.
Bynum will serve a five-game suspension to start the season as a result.
Once Bynum returns, though, he'll have the benefit of playing with a point guard who can get him the ball over the top for easy alley-oops and down on the block for quick post-ups.
Then again, Dwight Howard is still looming in Orlando and could join his buddy CP3 in purple and gold before long.
Of course, there is still plenty of downside to bringing CP3 to LA. Paul's had knee and ankle issues in the past, so there is some reason for concern about his health over the long haul.
More pressing, though, is the Lakers' current conundrum up front. With Gasol and Odom gone and Bynum suspended for the first five games of the season, LA will presumably have to fill that gaping hole in the paint with the likes of Derrick Caracter and Metta World Peace.
And it's not like Joakim Noah, Carlos Boozer and Taj Gibson, whom the Lakers will see when they face the Bulls on Christmas Day, can't punish that lack of size.
Granted, Derrick Rose will now have a much tougher time terrorizing the Lakers backcourt than he did last season.
And, let's not forget, this deal is as much about the future as it is about the present. In Paul, the Lakers now have a legitimate, young star just entering his prime (he'll be 27 in May) around whom to build once Kobe's illustrious career comes to an end.
The transition will be rough at first, but once the Lakers get all of their moving parts (including Mike Brown) properly situated, the Buss family can get around to planning the next victory parade down Figueroa Street.