NBA Lockout: Players' Grassroots Twitter Campaign Too Little, Too Late
October 10, 2011
Patrick McDermott/Getty Images
If the NBA's players and owners are unable to agree to a new labor deal on Monday, the league is going to start cancelling regular season games.
Wait, check that. When the players and owners are unable to agree to a new deal, the league will start cancelling regular season games. There's really no point in hoping that something is actually going to get done.
But the players seem to have their hopes up. This morning, Los Angeles Lakers point guard and NBPA president Derek Fisher got the ball rolling on a grassroots Twitter campaign that is focused around a very simple message: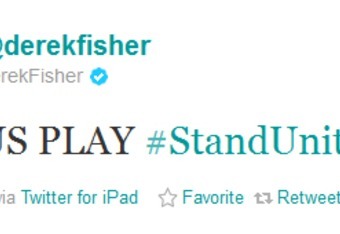 That message and the accompanying hashtag have since been reiterated by numerous NBA players, including Dwyane Wade, LeBron James, Kevin Durant and Chris Paul. If nothing else, this qualifies as a show of solidarity.
Finally.
In case you haven't been following the timeline of the NBA lockout, which is excusable given the level of disinterest among the national sports media, all you really need to be aware of is that the negotiations are well beyond the 11th hour at this point. The league went into lockout mode at the stroke of midnight on July 1st, and seemingly nothing happened for several weeks.
In fact, it almost seems like the players and owners didn't really get down to brass tacks until last week. Their meetings resulted in a lot of bad noise that came from separate news conferences, and that's when the threat to cancel regular season games on Monday came out.
Meanwhile, the start of the regular season is just three weeks away.
To put that in perspective, you can think back to the NFL lockout. It lasted forever, but it was lifted with enough time to allow for free agency, some training camp, the preseason and of course, the entire regular season.
At this point, indications are that the NBA is going to be lucky to check any of these things off the list. Even if a deal does get done today, the scramble to get things squared away before the start of the season is going to be a mad scene.
So needless to say, it's a little alarming that it took until today for the players to come together as one in hopes of earning a little public support. This is something they should have done weeks ago.
Could it work? Maybe. But this recent tweet from CNBC's Darren Rovell makes me think otherwise: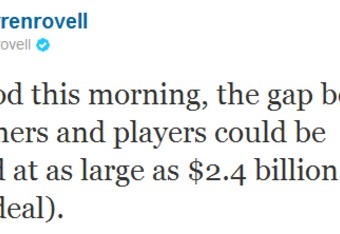 That's a pretty big gap to bridge in one day. As such, maybe the NBA's players should start using a new hashtag on Twitter:
#letsallgotoEurope