NBA Lockout: The 2011 NBA Season Is in Jeopardy, Does Anyone Care?
October 4, 2011
Ezra Shaw/Getty Images
Apparently, the NBA season should be underway.
As is the case with other NBA franchises, my hometown Denver Nuggets should be playing preseason basketball games right now and working toward their season opener in the first week of November.  Instead, they lost a few players who chose not to wait and see what happens on the mainland—they took their talents to Europe and Asia. 
Nevertheless, as we enter into the month of October, something strange has occurred.  In watching an edition of SportsCenter, it was reported that the NBA had already cancelled a bevy of preseason games, due to a lockout that has been ongoing since the prior CBA expired on July 1. 
I stopped and thought to myself, "Really, the NBA is in a lockout?  The season is in jeopardy?"  In stating this, I am not trying to be flippant.  Okay, maybe I am trying to be flippant, but the premise is still the same. 
Is anyone paying attention to the NBA lockout? 
More importantly, does anyone really care? 
In posing this question, I am being slightly facetious.  I do recognize that somewhere in L.A. or Salt Lake City, or maybe even Oklahoma City, there is a fan that does not have an NFL team to root for and the NBA is their pride and joy. 
Yet, am I the only one who has noticed the glaring inconsistencies with the level of coverage devoted to the NBA lockout in comparison to the NFL lockout of a mere 60 days ago? 
When the NFL lockout was in its stages of uncertainty, people literally waited with bated breath to hear the news of the lockout ending—as if their life literally depended on it.  Twitter accounts and Facebook alike were all synched in with the NFL and its players to get the groundbreaking news on the potential end of the world. 
It was like 2012 a year early.  Thank God crisis was averted. 
Yet, I do not see the same clamoring over what Chris Broussard has to say on the issue. It is almost as if people either do not know, or do not care, that the NBA is going through a lockout.  Unfortunately, for those who do care, this lockout is in dire straits—much more than the lockout endured by the fans of the NFL. 
Why Don't People Care?
For starters, haven't we been here before…recently? 
Can the public—more specifically the fans— really withstand another lockout of overpaid professional sports athletes while our country is on the brink of a recession and enveloped in economic uncertainty?  Our educators in this country make less than $40k a year entry-level, and we are supposed to feel even a smidgen of anything other than animosity for a league that lets 18-year-old boys earn $5 million a year straight out of high school? 
Oh wait, I forgot.  You have to "attend" class at a university for a year and then you can go to the NBA and make $5 million a year. 
I'm glad I got that straightened out. 
Unfortunately, there are people in our country with Master's Degrees that cannot find work.  Could that be a mitigating factor as to why the fanfare is nowhere in the proximity as it was to the NFL's version?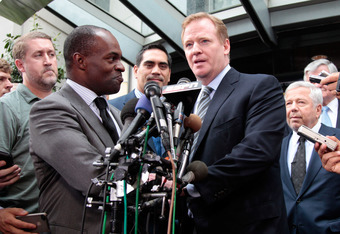 Rob Carr/Getty Images
Before I am chastised for my soapbox rant about the real polemic in this country, and castigated for being anti-sports, it is worth noting that I mention these issues solely as a means of leading into the real argument for why no one cares about the lockout. 
But First, A Nostalgic Moment
Truth be told, I really do love basketball.  As a kid my father and I used to go to McNichols Sports Arena (well before the Pepsi Center was created) and watch our Denver Nuggets play.  I grew up watching the likes of Alex English and Dan Issel, along with icons in Nuggets lore such as Fat Lever, Bill Hanzlik, and Mike Evans. 
In attending these games with my dad, I also got to see Magic's L.A. Showtime, the tenacity and determined will of Larry Bird, the flawless execution of Jordan, and the smooth play of players like Dominique Wilkins and Isiah Thomas. 
I very much enjoyed those times with my dad.  It is funny how when you are a little kid, you never think about the moment.  How rare and special it is.  As life happens, you have your own kids and hope that they look at you the same way you looked at your father.  If that is indeed the case, I am going to appear to be a pretty awesome father!  
Nostalgia aside, it is undeniable that the NBA was a different sport back then.  The thought of an 18-year-old kid—save maybe Moses Malone or Chocolate Thunder and later Shawn Kemp—entering into the NBA as a first round lottery pick would have been outlandish.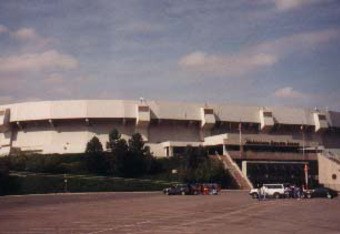 It almost appears as though it was a privilege to play the game and get paid back then.  Now, it is all business, and it somehow became a right for these kids to play in the NBA. 
I am not quite sure where this transition happened.  But I believe if one begins to look at when the NBA began allowing kids to come straight from high school you can find a solid correlation. 
All I know is I miss the old NBA.  The league where superstars really were superstars.  Not because they said they were going to win "three, four, five championships…", but because they actually went out and let their play speak for them—without excuses.  When it did not happen, instead of blaming others, or dumping your team—a la Carmelo and Lebron—they owned up to it like men and tried again the next season. 
This concept is impossible in today's NBA.  This is why my feelings toward it have changed, and why others may have too. 
Basketball Today is a Joke
There I said it. 
As much as it pains me to say this, the current version of the NBA is a glorified pick-up game. Very rarely are any plays called—on either end—and it all is predicated upon one-on-one clear-outs and fast breaks.  I saw more teamwork the 105th time I watched White Men Can't Jump then I do when I watch a pro-basketball game.   
I will acquiesce in one manner and say there are a few teams like the Celtics and last season's champion in Dallas who did attempt to incorporate some type of team play.  I know there are others, but those two come to mind.  However, anyone who watched Chicago in last year's playoffs knows that I am not far off in my assertion.  For Knicks fans, their team struggled because they couldn't figure out how to play as a team.
Seems more logical that they could not figure out who needed more dap, touches, and points. 
The current version of the NBA is not your daddy's basketball anymore.  It may not even be your basketball anymore. 
It is instead a league of prima donna's who are insolent, petulant, and highly overpaid. 
Don't believe me? 
Well then, let's take a look.
Money Shown…Money Paid
According to Bill Simmons, there are currently 22 players who are scheduled to make more than $15 million this season.  Moreover, most of these players are to be expected.  Kobe Bryant, Lebron James, Dwight Howard, Tim Duncan, Chris Paul, D-Wade, and Dirk are all scheduled to break $15 million—some well over $20 million. 
One could concede to the fact that the better players—the best players—should be paid top dollar for their talents. 
But here is the caveat. 
Rashard Lewis ($19.7 million), Gilbert Arenas ($18.5 million), and Joe Johnson ($20.5 million) are on that list too.  I am starting to see a problem here.  Much in the same way one should see a problem with Elton Brand making $17.1 million this year. 
Or maybe it is Emeka Okafor's 6-year, $72 million contract, Hedo Turkoglu's 4-year, $44 million deal, or possibly even the 5-year, $50 million signing of Ben Gordon. 
Nope.  Upon further examination, it has to be the egregious nature of the $28 million over 4 years deal given to Travis Outlaw and the $13.2 million that Golden State will be paying David Lee over the next 6 years. 
And who can forget the bane of Knicks fans everywhere—Eddy Curry? 
Maybe this is why the lockout—that no one really cares about—has the league at a standstill. 
At the Risk of being Hypocritical
It is acknowledged that the stringent rhetoric to which I am describing today's NBA could easily be applied to any professional sport.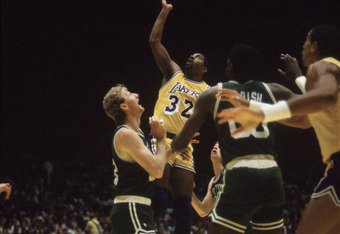 Mike Powell/Getty Images
Everyone is just trying to get paid—which is noble. 
Nevertheless, the NBA is not as popular as it once was; and Bird and Magic aren't walking through that door. 
One could argue that out of the top four sports, the NBA is third.  Lebron James did everything he could to improve ratings and gain followers when he made himself out to be the villain.  Likewise, Dirk did everything he could when he slayed said villain. 
The NBA is coming off their best year in, well, years.  It is suicide to risk going into the fall without a season.  The NFL could hold the public hostage because it is the NFL.  More people are probably playing fantasy football right now then the NBA will bring in attendance wise this year (clearly not true realistically, but used for hyperbole and effect).   
The lockout could end tomorrow—but would anyone notice? 
There are talks they may play only half a season and start it in January or February.  Sadly, by then, it will be too late. 
We will already start examining the potential March Madness brackets. 
 Daniel writes for TheFanManifesto. He can be followed on twitter @bogie711.  The entire FanMan team can be followed on twitter at @TheFanManifesto.