NY Knicks: Can Rookie Iman Shumpert Make His Presence Felt Right Away?
August 11, 2011
Streeter Lecka/Getty Images
Iman Shumpert will make an immediate impact in New York.   And while his impact won't be Landry Fields-like, it will have a lasting effect into the postseason.
There are a number of reasons for Iman's instant input, but the main one is the reason he was drafted: backup an aging and increasingly injury prone Chauncey Billups.
Billups' knockout from last year's playoffs in Game 1 was devastating.  Even before Amar'e Stoudemire tweaked his back prior to Game 2, most Knicks fans knew that just without Chauncey, beating the Celtics and surely the Heat would be more than challenging [read: no way].  As it happened the Knicks went nowhere, swept in four in Round 1.
Even a recovered STAT and on-fire Carmelo Anthony in Games 3 and 4 could not pull out a win.
Can't win squat without that solid point guard.
Billups has played at least 70 games the past 11 years in a row—and 140 total playoff games.  That's very consistent, but there are chinks in the armor.
Not long after he donned the Blue and Orange, he was hurt, and missed seven regular season games (one-quarter of the remaining games after the big trade) with separate left and right thigh bruises.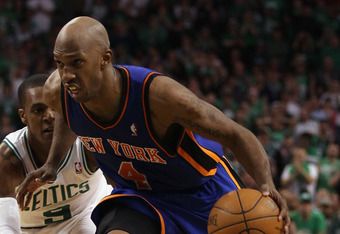 Elsa/Getty Images
Then, of course, the left knee giving out in Game 1.  That's a lot of injury in a short amount of time, and at the worst time in the season for such things.
Meanwhile, Toney Douglas, Billups' backup and occasional starter, just had surgery on the labrum (shoulder) of his shooting arm; it was torn.  He's sidelined for three to four months.
Compounding matters, Mike D'Antoni's fast-paced offense leans heavily on the point guard position.  From Steve Nash in Phoenix to Chris Duhon, Raymond Felton and Billups in New York, D'Antoni's guards pile up minutes.
Obviously the Knicks need fresh legs (and arms) at the point.
Iman Shumpert adds straight up depth at the No. 1.  He'll also free up Toney Douglas, who sports the occasional hot hand, to play the No. 2.  Douglas can shoot—don't forget his nine three-pointers in one game and his respectable percentages (43 from floor, 38 from downtown).
That doubly rests Chauncey Billups and Landry Fields (who absolutely fell dead down the stretch and into the playoffs in 2011) throughout the 2011-12 season, saving their minutes, and zip, for April and hopefully May and June.
History shows, too, that the Knicks, and D'Antoni, are not shy about tossing their draft picks straight into the fire.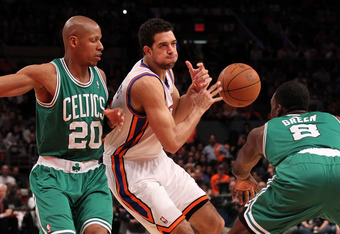 Nick Laham/Getty Images
Renaldo Balkman, New York's first-round pick in 2006, popped off a thousand minutes that year.  In 2007, Knick-pick Wilson Chandler made it to 700.
In 2008, with D'Antoni taking the reins, the Knicks drafted Danilo Gallinari who went for 400 minutes, and then Toney Douglas in 2009, who clocked 1,000.  All this culminates in Landry Fields, last year's second second-round pick who was on the court for over 2,500 minutes and was a starter from day one.
Shumpert won't be a starter. But I see his rookie contribution falling somewhere between Gallinari's and Douglas'.  It could be more if he improves his jump shot and the Knicks gain confidence in the seemingly mature-for-his-age frosh (check this interview: Part I and Part II).
The occasional day off for Billups and Fields – totally advised based on the end of 2010-11 – will help earn Shumpert a handful of starts on top.  Again, if the jump shot improves, you will even see the 6'5" 220 lb. Shumpert playing some No. 2.
But is Iman Shumpert, a relative unknown, ready for the NBA?  The average pro fan probably never heard of him until just before the draft when Iman began making waves up the charts.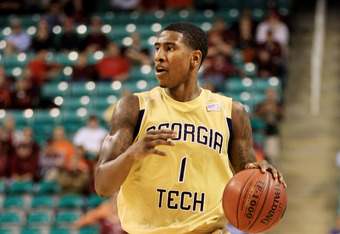 Streeter Lecka/Getty Images
Yes and no.
On one hand you hear that he "stole the show at the combine, looking like clearly the most physically gifted player in this entire draft class." (draftexpress.com).  Whoa.  And you hear that Shumpert is "extremely athletic [with] explosive leaping ability… Very fast in the open-court, able to pull down a rebound and go coast-to-coast in a matter of seconds."  Ooh, D'Antoni likes that last part.
But on the other hand, you hear that he "lacks stability/discipline on the court" and "has a great deal of room to improve offensively on the whole."  (nbadraft.net). That sounds bad, but really could go for any rookie.  This is an important time and season for Shumpert to continue to work and improve on his game.
Problem is, there's this lockout.  The lockout, unfortunately, is going to hamper Shumpert's progress.  The longer it goes, the longer the point guard is not working with the team, getting used to the system and learning from Fields and Anthony and STAT (all of whom tweeted their willingness to mentor right after the draft).
But Shumpert's got a trump card.
Defense.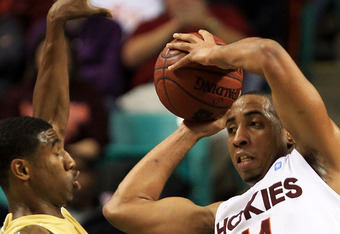 Streeter Lecka/Getty Images
On a team where that's a dirty word, Shumpert will find some extra minutes doing some dirty work, absolutely.  Yeah, Iman work on that shot on the side, but right now we need you to catch up to the opposition's offense, create some turnovers, rebound and just plain old get in the way one-on-one.
He can do all that very well, and already has (at least on the collegiate level).  His final season stats at Georgia Tech included just under six rebounds per game and three steals per game.  He led the ACC in steals. He "[denies] penetration and has the physical tools to defend multiple positions in the NBA" (draftexpress.com).
These are major, major assets for the Knicks.  Even the slightest bit of improvement on defense can take New York to another level, and Shumpert will particularly be making his presence known on that side of the ball.
"Definitely, you need to play defense," he said. "Those other guys are veteran guys. They're scoring the ball; the way they're scoring the ball, sometimes you can't score the ball and play defense all the time. But I'm the young guy with the legs, so I've come to play some defense." (nytimes.com)
But if defense is so important, why did the Knicks leave Chris Singleton, for one example, on the board? He was immediately snatched up at No. 18 by the Washington Wizards.
"Walsh could have chosen a top rebounder (Kenneth Faried) or the draft's most versatile defender (Chris Singleton), but he said Shumpert was the best choice, given the need for backcourt help. Singleton, a 6-8 small forward, would have had trouble finding playing time behind Anthony, and he is not suited to play shooting guard, Walsh said." (nytimes.com)
"Shooting guard."  Have to love the versatility of this draftee.
D'Antoni is a big fan, too.  You may have heard this over-the-top quote from the coach: "He has the athletic ability to guard a Derrick Rose or a Dwyane Wade or a LeBron James" (ESPNNewYork.com)
So, Iman Shumpert has the skills to make an impression—a little on O and more on D—and Knicks management believes in him and his ability to contribute right away on both sides of the ball, but is he ready, ready?  What's he been up to in terms of preparation?
This is where the lockout really affects things.  Shumpert's, and other rookies', "development path" will be stunted.   They'll miss out on the summer league and not have access to facilities or official team workouts.
But Shumpert's been working out "every day," and has just landed in Florida to begin training at IMG.  The plan is Stoudemire and other Knicks will join him in September for an unofficial camp of sorts.  That will help.
And what about Shumpert's mental preparation?  Can he handle New York, the NBA, the spotlight?  Check his tweets the day after the draft for the attitude:
"A big thanks for all the support! S/O to everyone welcoming me to the Knicks!!! I'm bak in that orange and blue!!!"
"Just landed in NEW YORK!!!!!!!!!!!!!!"
And just a couple days ago,
"I'm going to need them to figure this out...I can't take the lockout much longer."
Me too, Iman.  Me too.