Rajon Rondo Can Lead the Boston Celtics Once the Big Three's NBA Era Ends
August 9, 2011
Elsa/Getty Images
Before getting into the reasons I believe in Rajon Rondo's ability to lead this team in the future, I will admit that yes, Rondo can not shoot outside shots, free throws and can not lead a team in scoring with his current ability.
However, he is one of the best point guards in the league, and I believe he will step up to all of the criticism and challenges people have put before him to keep the Boston Celtics relevant after the Big Three era comes to an end. 
There has been a lot of talk lately about Rondo being unable to be the star player of the Celtics. There has even been talks that we should possibly trade him for the likes of Chris Paul or Russell Westbrook.
As much as I would love for Paul to dominate the Boston Garden wearing green, this trade seems unrealistic. The Hornets would be much more likely to trade for a Westbrook or another point guard who possesses the ability to score and is someone they can rebuild a team around. I also think the upgrade Paul would currently give us would not be as great as the potential of a rebuilt team around our current All-Star point guard.
Rondo averaged 10.6 points, 11.2 assists, 4.4 rebounds and 2.3 steals per game last season, while having his worst shooting percentages of the last three seasons (47.5% FG and 56.8% FT).
Let's start with the strong stats first. His 11.2 assists per game landed him second in the league. Although he is dishing these assists to three future Hall of Famers, he does provide them the ball in the best spots, allowing them to have open shots. Some of his assists this year seemed to be impossible, as he made even the ailing Shaquille O'Neal appear young again. 
It is clear Rondo needs little work on his passing game, except for the occasional wild pass that his teammates aren't ready for, resulting in a turnover. If he can keep this stat line the same as he works to improve the other areas of his game then he will easily be increasing his value.
Now compared to Paul, Rondo was outscored by 5.3 PPG and lost the battle from the three-point line (mostly because Rondo can't and won't take three-point shots). However Rondo out-assisted, out-rebounded and recorded nearly as many steals (2.25 for Rondo vs. 2.35 for Paul).
Rondo showed this year that he can be nearly as effective on defense as the point guard most consider is on another level. If he can improve his steals a little this year then he could match Paul in steals for the entire season.
Rondo posts a very respectable 4.4 rebounds per game, which not only helps defensively to stop second-chance shots, but allows Rondo to push the ball down the court faster—if he had a younger and quicker core to run this style of offense. With a younger core group of players around him, Rondo would be able to use his speed to his advantage, allowing the Celtics to keep up with the younger teams like the Miami Heat.
He proved this year that he is a great contributor to his team. Given the opportunity, he can occasionally grab the reins and lead the team in scoring as well. He absolutely needs to work on his free throw shooting and his mid-range jumper in order to be a dominating force in this league. 
Lining himself up with a great shooting coach will allow him to increase his effectiveness from the court and give him the edge he needs to be taken seriously on offense. With some work, Rondo will be enough of a threat to force teams to cover him closely to deny him a wide open shot, which will further allow his ability to pass to an open player by spreading the court.
I do believe that once Rondo's elbow is back up to speed he will work on these things, and hopefully he will at least have the type of season he had in 2008-2009 (50.5% FG and 64.2% FT)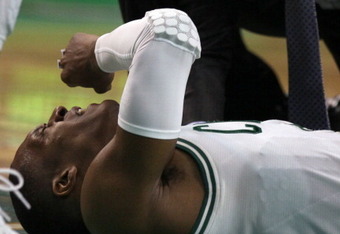 Elsa/Getty Images
Once Paul Pierce, Ray Allen and Kevin Garnett decide to step down from leading the Celtics, Rondo will need to take control of the team and lead them in the years to come. Without his ability to score, he will not be able to carry a team on his own.
But one other star could be enough to allow him to keep the scoring flowing through his teammates while he builds his PPG by driving more often to the rim. The younger core will allow for more fast breaks, allowing Rondo to utilize his passing and skills at the rim. A group that depends on him as the veteran could be the pressure he needs to break out and be the leader the Celtics need.
There was one moment this season when I was sold on Rondo being a Boston Celtic for the rest of his career, and my belief that he could lead a team grew in security. There is an intangible characteristic that a player must possess to lead a team greatly, and that is heart. A player with courage and heart can inspire a team and bring them from near destruction to victory.
When Rondo went down against Miami and I saw his elbow dislocate under his weight, I knew the season was over for the Celtics.
But as Rondo walked back on to the court a few minutes later, I saw the true strength of Boston's underrated point guard. I realized that even though the season was lost, the future was bright for the Celtics. He showed that he would do anything for his team, including playing with one arm in immense pain.
With that, I knew Rondo would lead this team after the Big Three retire. Although he may need some help from another star player, Rondo will be the heart of the Boston Celtics for the next era and will help the Celtics earn another championship in the future.