NBA Lockout: 5 Reasons the Houston Rockets Should Hope There's a Season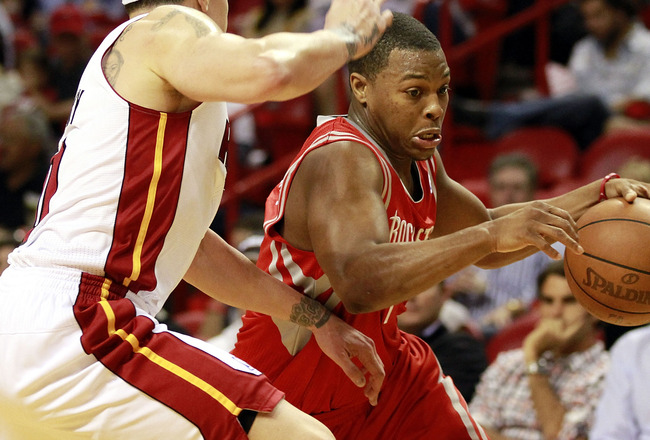 Marc Serota/Getty Images
The end of the 2010-11 season gave Red Nation a number of reasons to look forward to next season. Unfortunately the lockout may prevent one from occurring.
The Rockets posted a 17-8 record after the All-Star break, a stretch that saw wins over title contenders such as the Boston Celtics and San Antonio Spurs, and road victories over the Portland Trail Blazers and New Orleans Hornets.
Nearly all of their roster is under contract for next season, so the goal should be to rejoin the playoff pack. However, if the Rockets can carry the momentum of their finishing kick into the start of 2011-12, they would be on pace to win around 55 games.
Do they have the look of a 55-win team? Probably not, but a free-agent signing here and a minor tweak there, and suddenly the possibilities are endless.
For now, let's look at five reasons why Rockets fans should hope an NBA season tips off in 2011.
Kevin Martin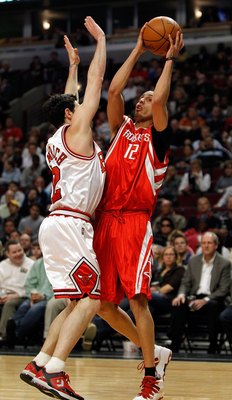 Jonathan Daniel/Getty Images
Martin is the closest thing the Rockets have to a superstar. You could do worse.
He may not be one of the top 10 or 15 best players in the NBA, but he is one of the league's best scorers, and for those that don't know basketball, that's kind of a big deal. Martin is ninth in the league in scoring at 23.4 points per game and he can get them in a variety of ways.
Despite his slight frame, Martin is a great finisher in traffic, and when he doesn't finish, he usually draws a foul. He's second in the league in free-throws made and third in three-pointers made, shooting 89 and 39 percent from the respective lines.
It's very important that each player is aware of his role on the team and Martin and his teammates fully understand his. He is the scorer. Need a bucket? Get the ball to K-Mart.
His defense is questionable and his playmaking ability is substandard for someone with his scoring prowess, but the same can be said for Carmelo Anthony and Kevin Durant, and aren't they considered superstars?
Martin has never received the credit he deserves, but the Rockets are happy to have him, as few players fit their offensive philosophy as well as the Western Carolina product.
His star status may be questioned amongst league scouts and analysts, but no one within the Rockets organization questions his importance to their success.
Plethora of Young Talent
Bob Levey/Getty Images
Luis Scola is the only player on the active roster that is 30 or older. What that says is this team is full of players either in the midst of their prime or that have yet to reach it.
If this group stays together it has a very high ceiling, but in a strange way, the prospect of a few departing is what makes the team so intriguing.
The Rockets don't have a superstar talent unless you are a part of the minority that believes Kevin Martin is indeed a superstar. Do Morey and owner Les Alexander love guys like Martin, Kyle Lowry, Chase Budinger, Courtney Lee and Patrick Patterson? Of course they do. Would they gladly agree to trade a few of them to get a Chris Paul-type player? In the blink of an eye.
Each of these players have not only talent and upside, but more importantly, they take up little cap space, making them easy to include in a possible blockbuster.
Morey has done a great job of managing the Rockets salary cap situation by not giving out or taking on ridiculous contracts. Thus their abundance of young and improving talent can either continue to help the franchise on the court or on the market.
Full Season with Post-Deadline Core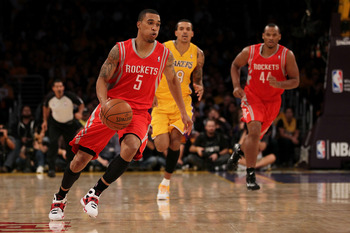 Jeff Gross/Getty Images
Again, after the All-Star break the Rockets were one of the league's best at 17-8.
The offense, which ranked third in the NBA in scoring, was a well-oiled machine, and even the defense improved.
Trading Aaron Brooks and Shane Battier helped define roles and cement a rotation, something former coach Rick Adelman couldn't do in the first three months due to an overcrowded perimeter.
Martin is the scorer. Lowry is the orchestrator. Budinger is the shooter. Hayes is the glass-eater and shutdown defender. Scola is the post presence and spot-up shooter.
Patterson, Lee, Hill, and Goran Dragic fill in as needed. Add rookies Marcus Morris and Donatas Motiejunas to that and the Rockets will have great depth.
Ample Salary Cap Space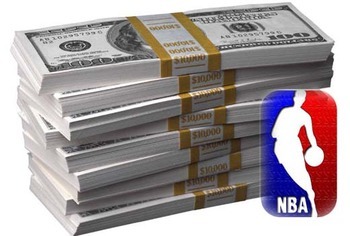 It came one year late, but the Rockets will be among the league leaders in salary cap space whenever free agency resumes.
Just how much they will have is to be determined by the terms of the new collective bargaining agreement, but regardless, general manager Daryl Morey will have more than enough to make some significant additions.
Yao Ming's $18 million salary came off the books in July, and Chuck Hayes is the only player due for a payday, one that won't be anything outrageous. From the looks of it, Houston will be committed to only about $48 million in player salaries, so if the new cap figures are in the same ballpark as 2010-11, the Rockets should have around $12 million to work with.
As far as unrestricted free agents go, there isn't a LeBron James, Dwayne Wade or Amar'e Stoudemire to be had this summer, but Marc Gasol, David West and players of that caliber will be available.
For the first time in years, the Rockets are in position to be serious players on the free-agent market.
Daryl Morey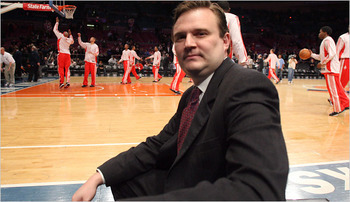 Yes Rockets fans, your No. 1 reason for future hope frequently wears a suit and tie while working the phones.
I'm referring to General Manager Daryl Morey.
In most cases this would be a bad thing, but here is one spot where Houston is head and shoulders above its competition. Morey is great at everything from evaluating talent to managing the salary cap.
He has found diamonds in the rough in the draft with the aforementioned selections of Brooks, Budinger and Patterson. He's turned water into wine in trades, like dealing a severely damaged Tracy McGrady for Kevin Martin and two first-round picks, and in the Ron Artest heist that cost him only Donte Greene.
Whatever you think the Rockets need, whatever star player you believe they should acquire, Morey gives them the best chance at making it happen. If I'm Les Alexander, I wouldn't want anyone but him handling my hard-earned money.
Morey inherited the McGrady-Yao Rockets and a less than stellar salary cap situation. After four years at the helm, he has stabilized the cap and built a solid team without ever compromising the future.
He has set himself up accordingly to make a big splash, and you get the feeling that hook, line and sinker is just around the bend.
Keep Reading

Houston Rockets: Like this team?