Atlanta Hawks: Josh Smith, Joe Johnson and the All-Time 12-Man Roster
Doug Benc/Getty Images

If the Atlanta Hawks had to assemble a 12-man roster drawn from all players in the franchise's history, who would be on the squad?
A little while ago, I attempted to tackle this question, along with the same one for the other 29 current NBA franchises. You can check out the results here if you're curious: NBA Power Rankings: Ranking Each and Every Team's All-Time 12-Man Lineup.
But, to tackle such a huge project, I had to establish a few ground rules. Players weren't eligible to join more than one team and that one team had to be whichever one they spent the most seasons on, regardless of where the most successful portion of their career was. The rule was intended to create an objective analysis rather than a subjective one.
Well now, this is a bit different. The only way to truly analyze an all-time team is to look at it subjectively.
For the purposes of this team, players had to play for at least three seasons with the Hawks, unless of course they hadn't yet played three seasons in the league. Also, only the player's stats with the Hawks were counted. I don't really care at all that Moses Malone was an all-time great here because his greatness didn't come while he was wearing an Atlanta jersey.
So with that in mind, read on for the Atlanta Hawks all-time 12-man roster.
Adam Fromal is a Featured Columnist at Bleacher Report and a syndicated writer. Follow him on Twitter:@Fromal09.
Begin Slideshow

»
Jonathan Daniel/Getty Images

The all-time leading scorer in men's Division I college basketball history first became a member of the Atlanta Hawks when he was selected third overall by the team in the 1970 NBA draft. It was a somewhat controversial pick because the Hawks already had a scoring guard named Lou Hudson on the team and Pete Maravich's style didn't seem to fit well with center Walt Bellamy's.
However, Pistol Pete overcame those obstacles, as well as some resentment from his teammates due to his large $1.9 million contract, to make the NBA All-Rookie Team while averaging 23.2 points, 3.7 rebounds and 4.2 assists per game. He even managed to help increase Hudson's scoring average.
Maravich struggled a bit during his second season, which ended with a second-straight first-round loss in the playoffs, but he regained his mojo in his third year, averaging 26.1 points, 4.4 rebounds and 6.9 assists per game.
The point guard combined with Hudson that year to become the second duo (Jerry West and Elgin Baylor were the first for the Los Angeles Lakers in 1964-1965) to each hit the 2000-point mark in a singe season, a fact that helped him make both his first All-Star Team and the All-NBA Second Team. But once again, Pistol Pete's Hawks fell in the first round of the playoffs.
Maravich's final season in Atlanta saw him put up his most impressive numbers yet: 27.7 points, 4.9 rebounds and 5.2 assists per game. In fact, his scoring was second in the league, falling short of only the Buffalo Braves' Bob McAdoo.
Once more, Maravich made the All-Star team, but this year his Hawks didn't even make it to the playoffs. Ready to make a change, the Hawks management made a trade with the New Orleans Jazz. In return for Maravich's services, the team received Bob Kaufmann, Dean Meminger, a 1974 first-round draft pick, a 1975 first-round draft pick, a 1975 second-round draft pick, a 1976 second-round draft pick and a 1980 third-round draft pick.
When it was all said and done, Maravich averaged 24.3 points, 4.2 rebounds and 5.6 assists per game during his four seasons in Atlanta. The Hall of Famers' scoring average remains third in Hawks history.
Well if Pete Maravich is on this team, it only makes sense to have Lou Hudson. After all, we already know that the Hudson and Maravich duo works well together and knows how to distribute the ball to each other.
The St. Louis Hawks (they wouldn't become the Atlanta Hawks until 1968) first acquired Lou Hudson when they drafted the Minnesota shooting guard and small forward with the fourth overall pick of the 1966 draft. With the silky-smooth jumper that earned him the nickname Sweet Lou, Hudson was a smashing success during his first year, averaging 18.4 points, 5.4 rebounds and 1.2 assists per game en route to a selection to the NBA All-Rookie Team.
His No. 23 jersey has now been retired by the Hawks, who have nothing but appreciation for the guard that spent 11 of his 13 seasons with the team. During that time, he managed to make six All-Star teams and score as many as 26.8 points per game during the 1970-1971 season.
In terms of individual accolades though, Hudson's best season was one year prior. He averaged 25.4 points, 4.7 rebounds and 3.5 assists per game while making the All-NBA Second Team and the All-Star Team.
On September 30, 1977, Hudson was traded to the Los Angeles Lakers for Ollie Johnson. He would spend the final two seasons of his professional career in purple and gold.
As a Hawk for 11 seasons though, Sweet Lou averaged 22.0 points, 4.9 rebounds and 2.9 assists per game. Only Dominique Wilkins and Bob Pettit have scored more points in Hawks' history.
Ken Levine/Getty Images

Widely regarded as one of the greatest basketball players to ever put on a Hawks' uniform, Dominique Wilkins was the one guy you absolutely knew would be in this starting lineup.
The Human Highlight Film was drafted out of the University of Georgia by the Utah Jazz with the No. 3 pick in the 1982 NBA draft, just behind James Worthy and Terry Cummings, but financial problems and Wilkins' hesitance to play in Utah led to a quick trade. Just a few months after the draft, Atlanta sent John Drew, Freeman Williams and some cash for WIlkins.
Wearing the now-retired No. 21 jersey, Wilkins averaged 17.5 points, 5.8 rebounds and 1.6 assists per game during his rookie season, the only one with the Hawks where he failed to hit 20 points per game. Obviously, he was a part of the NBA All-Rookie Team.
His true jump into superstardom came during the 1986-1986 season, which saw him average a league-high 30.3 points per game to go along with his 7.9 rebounds and 2.6 assists per contest. Wilkins was named to both the All-NBA First Team and the All-Star Team, the first of his nine-straigh selections.
The two-time Slam Dunk Champion is also one of only six players to ever average at least 25 points per game for six-straight seasons. The other five are Allen Iverson, Michael Jordan, Karl Malone and Shaquille O'Neal and Jerry West.
Wilkins, who remains one of the greatest in-game dunkers of all time, saw his time in Atlanta end during the 1993-1994 season when he was traded to the Los Angeles Clippers along with a 1994 first-round pick for Danny Manning.
Nique averaged 26.4 points, 6.9 rebounds and 2.6 assists during his 12 years with the team. His scoring average is first in Atlanta history, as are his total points. Wilkins is also second in steals, seventh in assists and fourth in rebounds on the all-time leaderboard for the Hawks.
It's been quite a while since Bob Pettit has played basketball professionally, seeing as he was inducted into the Naismith Memorial Basketball Hall of Fame all the way back in 1970. But don't let Dutch's lack of recent relevancy detract from his greatness.
After an absolutely incredible career for the LSU Tigers, one that included All-American nominations and multiple titles, Pettit was drafted by the St. Louis Hawks with the second overall pick of the 1954 NBA draft.
Although many expected him to struggle with the transition from the college game to the professional game, Pettit made it look easy. He averaged 20.4 points, 13.8 rebounds and 3.2 assists per game and was named the NBA Rookie of the Year for his efforts.
The next season, the big man averaged 25.7 points per game, making him the league scoring champion, and 16.2 rebounds per game, the highest such mark in the NBA. There was no doubt at all that Pettit had the best numbers in the league and he was accordingly named the NBA MVP, the first time anybody had won that award in basketball history.
Pettit's career highlight though came in 1958 when he led the Hawks to an NBA Championship over Bill Russell and the Boston Celtics. He even scored 50 points, then an all-time playoff high, in the decisive Game 6.
He became the all-time single-season scoring leader after the 1958-1959 season by averaging 29.2 points per game and winning his second NBA MVP. The next year he became the fifth player to ever average over 20 rebounds per game throughout a season. One year later he averaged a career-high 31.1 points per game.
When he retired in 1965, still a member of the now Atlanta-based Hawks, Petit was the second-leading rebounder of all-time and the first player to ever reach the 20,000-point milestone. In fact, he is one of only two retired players to ever score more than 20 points per game in every season of their career. The other, Alex Groza, played only two seasons though. And for those of you that are curious, Michael Jordan scored exactly 20.0 points per game during his final year in the Association, so he is tantalizingly close to that "more" requirement.
Pettit played 11 seasons with the Hawks and made 11 All-Star Teams. He was named to the All-NBA First Team 10 times and the Second-Team once.
In my opinion, he is the greatest Hawk of all time.
Otto Greule Jr/Getty Images

Dikembe Mutombo Mpolondo Mukamba Jean-Jacques Wamutombo is known by the first two parts of his name for a reason. Can you imagine announcers trying to scream "AND THAT'S MUTOMBO MPOLODO MUKAMBA JEAN-JACQUES WAMUTOMBO WITH THE CRUCIAL BLOCK!!!" By the time they finished, the next play would be over.
The 7'2" shot-blocking center first became a member of the Atlanta Hawks when he signed on with the team as a free agent in 1996. Mutombo would only spend five seasons patrolling Atlanta's painted area, but he made that time count.
His first two seasons with the Hawks were virtually identical. Mutombo averaged 13.3 points, 11.6 rebounds and 3.3 blocks per game during the 1996-1997 season and was named the NBA Defensive Player of the Year. He won the award again the next year after averaging 13.4 points, 11.4 rebounds and 3.4 blocks per game. Incredibly, those were just two of the four times he was honored with that title.
With the trademark finger waggle, Mutombo averaged 11.9 points, 12.6 rebounds and 3.2 blocks per game during his five stellar seasons in Atlanta. His time there ended when he and Roshown McLeod were traded to the Philadelphia 76ers during the middle of the 2001 season for Toni Kukoc, Nazr Mohammed, Theo Ratliff and Pepe Sanchez.
Mutombo is one of those players that was still great despite the fact that he couldn't score as proficiently as the other members of this team.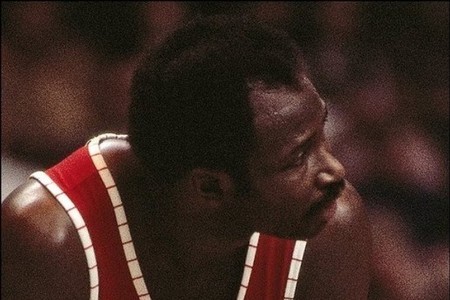 A member of the 20,000-point club, although probably the worst player in it, Walt Bellamy was a great player throughout his career, highlighted by a stellar rookie season and an induction into the Hall of Fame in 1993.
Although his rookie season doesn't count for the purposes of this team because it came with the Chicago Packers in 1961-1962, I can't just not talk about it. It's that good.
Bells managed to average 31.6 points and 19.6 rebounds per game, both numbers that he would never again match in his career. In fact, only Wilt Chamberlain has ever averaged more points per game during a rookie season and only Chamberlain and BIll Russell have topped the rebounding mark for rookies.
The 6'11" center came to the Atlanta Hawks near the end of his career when the Detroit Pistons traded him to the Hawks for John Arthurs. He then spent four seasons with the Hawks before he was drafted from the Hawks to the New Orleans Jazz in the 1974 expansion draft.
While with Atlanta, Bellamy averaged 15.6 points, 12.2 rebounds and 2.8 assists per game. While those are great numbers, they are still nowhere near the stats he was putting up for teams he had played for earlier in his career, namely the Chicago Packers, Chicago Zephyrs, Baltimore Bullets, New York Knicks and Detroit Pistons.
Even though he spent only four seasons with the team, Bellamy was still productive enough to currently rank 12th on the Hawks' all-time list of rebounders.
Matthew Stockman/Getty Images

Mookie Blaylock spent the first three years of his career with the New Jersey Nets and the final three with the Golden State Warriors. But in between those bookends, Blaylock spent the rest of his NBA journey with the Atlanta Hawks.
The talented point guard with a great name first (his real name was Daron) became a member of the Atlanta squad when the Hawks traded away Rumeal Robinson to the Nets in order to receive both Blaylock and Roy Hinson, who wasn't too bad himself but never played in the NBA again after the trade.
A great defensive player who thrived on the fast break, Blaylock got off to a fantastic start with his new team, averaging 13.4 points and 8.4 assists per game in year one with the Hawks then 13.8 points and a career-high 9.7 assists per game during year two.
Speaking of his defensive prowess though, Blaylock led the league in steals during both the 1996-1997 season and the ensuing 1997-1978 campaign, making him one of only five players to ever lead the NBA in steals in back-to-back seasons. The other four are Allen Iverson, Magic Johnson, Chris Paul and Alvin Robertson.
The single-season record holder in three-pointers made by a Hawk is also the franchise leader in three-pointers made, three-pointers attempted and steals. He trails only Doc Rivers when it comes to career assists.
Blaylock made the All-Star Team in 1994, two All-Defensive First Teams and four All-Defensive Second Teams with the Hawks. In New Jersey and Golden State, he had no such accolades.
The point guard averaged 14.9 points, 4.6 rebounds and 7.3 assists per game during his time in Atlanta and will always have a special place in the hearts of Hawks fans.
After a stellar two-year career for the Gardner-Webb Bulldogs, John Drew was drafted by the Atlanta Hawks in the second round of the 1974 NBA draft with the 25th pick.
A member of the All-Rookie First Team, Drew averaged 18.5 points and 10.7 rebounds during his inaugural season at the professional level. He even managed to lead the entire league in offensive rebounding despite playing shooting guard and small forward.
Drew lasted in Atlanta for eight seasons, making two All-Star teams and 21.2 points, 7.5 rebounds and 1.6 assists per game. At the end of those eight years, Drew had amassed enough points to currently rank fifth in Hawks history in points scored.
Perhaps his biggest contribution to the Atlanta franchise though came on September 2, 1982 when he and Freeman Williams were traded to the Utah Jazz for Dominique Wilkins.
Unfortunately though, Drew's addiction to cocaine started to finally hamper his NBA career when he moved to Utah. Drew missed multiple games because he was in rehab and was eventually the first player to be banned for life due to substance abuse violations.
Although it has absolutely nothing to do with his time in Atlanta, Cliff Hagan's pre-NBA journey is too interesting to not discuss here.
Hagan played for Adolph Rupp and the Kentucky Wildcats during his college years, the highlight of which came in 1951 when Hagan, then a sophomore, helped the Wildcats win the NCAA Championship over Kansas State. But then all hell broke loose.
During the fall of his senior season, three Kentucky players were found guilty of point-shaving over the last four years and the Wildcats basketball team was suspended for that year. The Kentucky trio of Hagan, Frank Ramsey and Lou Tsioropolous graduated and was drafted by the Boston Celtics, all separately of course. Ramsey was selected in the first round, Hagan in the third and Tsioropolous in the seventh.
But, the trio still had one year of eligibility left at the collegiate level so they came back and ran off 25-straight wins en route to an undefeated season and a No. 1 ranking. In the process Hagan scored 51 points in a game, a record that would stand in the Kentucky books until 1970. When the postseason rolled around though, NCAA rules said that the trio would be ineligible, so Kentucky was forced to decline a bid to the NCAA Tournament and maintain its perfect record.
His journey to the NBA wasn't complete yet. Hagan served at Andrews Air Force Base for two years before he was traded along with Ed Macauley to the St. Louis Hawks for none other than Bill Russell.
Just two years into his NBA career, Hagan and Bob Pettit helped lead the Hawks to a title over Russell and the Boston Celtics. It was just one of the five Western Conference Titles that the pair would help the Hawks win.
Now a Hall of Famer after he was inducted in 1978, Hagan averaged 18.0 points, 6.9 rebound and 3.0 assists per game during his 10 seasons in the NBA, all with the Hawks. He made two All-NBA Second Teams and was named to the All-Star Team five times.
Kevin C. Cox/Getty Images

A very familiar face to Hawks fans, Joe Johnson entered the league in 2001 when the Boston Celtics deemed him worthy of the 10th pick of the NBA draft. After one season though, Johnson was traded along with Randy Brown, Milt Palacio and a 2002 first-round draft pick to the Phoenix Suns for Tony Delk and Rodney Rodgers.
After a little over three years in the desert, Johnson became a restricted free agent and eventually came to the Hawks on a sign-and-trade deal that brought Boris Diaw, a 2006 first-round draft pick and a 2008 first-round draft pick to the Suns. Johnson still remains a member of the Hawks.
It was with this team that Johnson established himself as a superstar in the league, thanks to his incredible shooting ability and ball-handling skills that can only be described as fantastic for a 6'7" shooting guard who also dabbles at the small forward position.
Johnson's scoring average continued to climb, as it had during ever season of his career, until it peaked at 25 points per game during the 2006-2007 campaign. Thanks to those points, as well as his 4.2 rebounds and 4.4 assists per game, Johnson made his first All-Star Team. Since then, he's been a fixture on the squad and is currently at five appearances in a row.
As Johnson has stayed with the team, the Hawks have managed to blossom from a bottom-feeder in the Eastern Conference to a perennial playoff squad. But, after he signed a maximum contract in free agency during the summer of 2010, it appears as though Atlanta won't be winning a title until his albatross-like contract expires.
During the portion of his career spent in Atlanta, Johnson is averaging 21.2 points, 4.3 rebounds and 5.4 assists per game. He is currently eighth on the Hawks all-time points leaderboard and fifth in assists.
Doug Benc/Getty Images

One of the most infuriating players in the history of the Atlanta Hawks, Josh Smith has always had all the talent in the world, but he's continuously failed to put it all together, insisting on shooting mid-to-long-range jump shots instead of utilizing his ridiculous athleticism in the paint.
Still though, he's an incredible player and already deserves a spot on this roster despite the fact that he may be on his way out of Atlanta as early as when the lockout ends.
Smith, known as J-Smoove to his fans, was drafted with the No. 17 pick of the 2004 NBA draft when the Hawks selected him directly out of high school powerhouse Oak Hill Academy. After averaging 9.7 points, 6.2 rebounds and 1.9 blocks per game in addition to winning the Slam Dunk Contest, Smith was named a member of the All-Rookie Second Team.
Statistically, he improved during each of his first four seasons in the league, moving his numbers up as the Hawks enjoyed more and more success. The 2006-2007 season saw Smith put up the best numbers of his career, ones that he has pretty much plateaued at to the current day: 17.2 points, 8.2 rebounds, 3.4 assists, 1.5 steals and 2.8 blocks per game.
As you can tell from the numbers, Smith is one of the league's premier stat-stuffers although his efforts usually wind up with him falling just short of an All-Star Team selection, an accolade that has eluded him to the present day.
The most impressive accomplishment of his still-young career has been becoming the youngest player in NBA history to reach the 1,000-block milestone, a feat he achieved at just 24 years old.
For his career, J-Smoove is averaging 14.6 points, 7.7 rebounds, 3.0 assists, 1.3 steals and 2.2 blocks per game. His franchise ranks in those categories (totals, not per game averages) are already 12th, 11th, 15th, sixth and second, respectively.
Joining John Wooden and Bill Sharman as one of only three men to be inducted to the Naismith Memorial Basketball Hall of Fame as both a player (in 1989) and a coach (in 1998), Lenny Wilkens began his professional career when the St. Louis Hawks drafted him with the sixth overall pick of the 1960 NBA draft.
Wilkens, fresh off a stellar collegiate career for the Providence Friars, made an immediate impact with his new team, averaging 11.7 points, 4.5 rebounds and 2.8 assists per game while primarily playing from both the point guard and shooting guard positions.
It was not until his fourth season though that Wilkens would make his first of nine All-Star Teams, five of which came during his time with the Hawks.
Wilkens kept getting better and better as he amassed more and more knowledge of the game, something that would help him later on in life when he was coaching. He peaked for the Hawks during his final season with the team in 1967-1968, the final year before they relocated from St. Louis to Atlanta. That season, Wilkens averaged 20.0 points, 5.3 rebounds and 8.3 assists per game.
In a new city the next year, the Hawks decided to make some changes though and traded Wilkens to the Seattle SuperSonics for Mahdi Abdul-Rahman. While the new point guard was pretty good for the Hawks, he was nowhere near as good as Wilkens, who only continued to improve in his new home.
During his eight seasons with the Hawks, Wilkens averaged an impressive 15.5 points, 4.9 rebounds and 5.5 assists per game. He currently ranks 11th in franchise history when it comes to scoring and fourth when it comes to assists.
Wilkens, as you may have surmised by now, went on to be a successful coach, starting as a player-coach in 1969 for the SuperSonics. He became a full-time coach when he retired from playing at the conclusion of the 1974-1975 season.
The point guard rejoined the Hawks in this new role in 1993 and coached the team until the turn of the century. In those seven seasons, Wilkens coached the Hawks to six playoff appearances while amassing 310 wins in 542 games.
Jonathan Daniel/Getty Images

Zelmo Beaty
The 6'9" center from Prairie View A&M spent the first seven years of his career (1962-1969) with the St. Louis Hawks and averaged 17.4 points, 11.2 rebounds and 1.5 assists per game while making two All-Star teams before departing for the ABA's Utah Stars.
Bill Bridges
Appearing in all three of his career All-Star games during his nine-season tenure with the St. Louis/Atlanta Hawks from 1962-1971, Bill Bridges was a 6'6" frontcourt stalwart who averaged 12.7 points, 12.7 rebounds and 2.9 assists per game with the team.
Al Horford
With only four seasons under his belt since he was drafted out of the University of Florida in 2007, Al Horford has already made the last two All-Star squads and established himself as one of the better big men in the NBA. He's only averaging 12.8 points, 9.6 rebounds and 2.4 assists per game thus far, but those numbers are trending upwards as he takes on a bigger and bigger role with the team.
Moses Malone
One of the greatest players in the history of the sport, Moses Malone missed out on the 12-man roster because he only played for the Atlanta Hawks for three seasons from 1988-1991 and he was 33 when he first joined the team. Despite the fact that his best days were clearly behind him, Malone still managed to average 16.5 points, 10.0 rebounds and 1.3 assists per game while making the final All-Star team of his legendary career.
Dan Roundfield
Known primarily for his rebounding prowess and defensive abilities, Dr. Rounds signed with the Atlanta Hawks as a free agent in 1978 and played for the team until he was traded to the Detroit Pistons in 1984. In Atlanta, he made three All-Star teams and three All-NBA Defensive First Teams while averaging 17.6 points and 10.7 rebounds per game. He was the first player left off the team and would likely have made it had he not spent only six seasons in Atlanta.
Steve Smith
Now a popular announcer for the Atlanta Hawks, Steve Smith played for the team during the prime of his career from 1995-1999, and despite the fact that he played for six teams during his 14 seasons in the NBA, he is remembered as a Hawk. Smith, a very talented shooting guard, averaged 18.6 points, 3.8 rebounds and 3.6 assists per game with the team and made one All-Star team.
Kevin Willis
The 7'0" center enjoyed two stints with the Atlanta Hawks, one from 1984-1994 and another from 2004-2005, when he was the oldest player in the NBA. A team captain along with Dominique Wilkins during the late 1980s and early 1990s when the Hawks were a perennial playoff team, Willis made his only All-Star team in 1992 and averaged 14.1 points and 9.7 rebounds per game. He is sixth on the franchise leaderboard for scoring and third for rebounding.
Alberto E. Rodriguez/Getty Images

Point Guard: Pete Maravich
Shooting Guard: Lou Hudson
Small Forward: Dominique Wilkins
Power Forward: Bob Petit
Center: Dikembe Mutombo
Bench: Welt Bellamy, Mookie Blaylock, John Drew, Cliff Hagan, Joe Johnson, Josh Smith, Lenny Wilkens
Adam Fromal is a Featured Columnist at Bleacher Report and a syndicated writer. Follow him on Twitter:@Fromal09.
Elsa/Getty Images

(This will be updates as I continue to publish the all-time rosters)