NBA Lockout: How Stars Heading Overseas Could Be Key for NBPA
July 8, 2011
Warren Little/Getty Images
From LeBron's Decision to Deron's Dilemma...The more things change, the more they stay the same.
On the one-year anniversary of LeBron James' announcement that he was joining the Miami Heat, NBPA officials and NBA players, agents and media personalities are busy discussing another man's decision.
News broke on July 7, 2011 that Deron Williams has agreed to a one-year deal to play professional basketball for Besiktas, a professional team in Turkey. Although Deron is under contract with the New Jersey Nets, he is free to seek employment elsewhere during the NBA lockout.
It is, however, important to know that Deron's agreement and subsequent clearance to play for Besiktas is subject to his obtaining a Letter of Clearance from FIBA—basketball's international governing body. FIBA regulates the transfer of basketball players across countries and would never clear a player currently under contract with an NBA club. That is, of course, unless the player were locked out and his contract with the international team was contingent upon the lockout being in effect.
So, Nets fans, fear not—you are not losing Deron Williams. Not yet, anyway. The moment the lockout ends, his contract with Besiktas will terminate and he will have to report back to New Jersey. Contingent contracts are perfectly legal and in this instance, the only way Deron will get clearance from FIBA.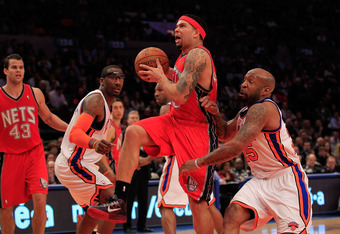 Chris Trotman/Getty Images
Regardless, many see Deron's exodus to Turkey as a small victory for the NBA's players. Traditionally, in labor disputes, employers prevail because they usually are wealthier than their employees. A work stoppage—whether it be an employee-imposed strike, or an employer-imposed lockout—usually boils down to a game of high-stakes chicken in which both sides sacrifice their short-term economic prosperity for their long-term goals.
As it relates to the 2011 NBA lockout, the owners believe that they can afford to go without basketball more than the players. And it makes perfect sense.
Unless, of course, the players begin defecting to Europe.
For the first time, an in-his-prime, All-NBA talent is going abroad. But in the grand scheme of things, does this bode well for the NBPA?
Not necessarily.
Deron's deal in Turkey won't create leverage for the NBPA. At this point, it shouldn't even be considered a victory for the players. At best, all we know is that a European club team that had trouble paying former NBA player Lonny Baxter is willing to pay Williams about 30 percent of what he would make this season playing for the New Jersey Nets.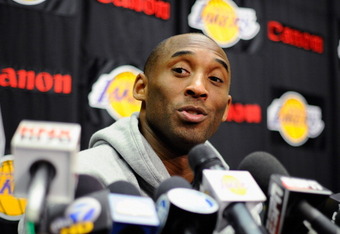 Kevork Djansezian/Getty Images
What we also know is that teams like Besiktas are unlikely to go after marginal NBA talent. After failed experiments in Josh Childress, Allen Iverson and fruitless tenures by youngsters like Brandon Jennings and Jeremy Tyler, foreign clubs will almost surely gamble on difference-makers.
So sure, they'll sign guys like Deron Williams and Kobe Bryant. For the right price. But, with all due respect, players that aren't difference-makers on their own—players such as Keyon Dooling, Maurice Evans, and Roger Mason—are likely to be sitting at home for the duration of the lockout.
And those aforementioned three all happen to be members of the NBPA's Executive Committee.
Although the public views the NBA's players as a single class of "basketball players," make no mistake—there are castes within the craft. The Kobes, LeBrons and, yes, the Derons: They are the elite. They are the "Max Guys." They are the bourgeoisie.
But they are also the minority.
And you know what else? They just so happen to be the ones that are least impacted by the lockout.
So, while the lockout might be about the long-term earning power of the superstars of tomorrow, it is certainly about the present for the NBA's lower class of players. And that lower class just so happens to represent the substantial portion of the union.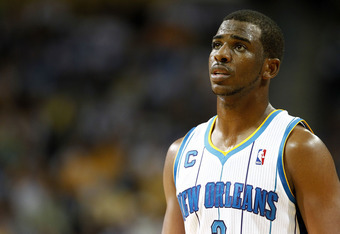 Jeff Zelevansky/Getty Images
For evidence, look no further than the fact that for the 2010-2011 season, Chris Paul, one of the NBPA's Vice Presidents, was paid $15.2 million by the New Orleans Hornets. By himself, he made more than the rest of the NBPA's Executive Committee, combined.
In 2010-2011, in total, Derek Fisher ($3.7 million), Keyon Dooling ($2.0 million), James Jones ($1.1 million), Matt Barnes ($1.8 million), Maurice Evans ($2.5 million), Roger Mason ($1.4 million), Theo Ratliff ($1.4 million) and Etan Thomas ($1.2 million) made $15.1 million.
Still not convinced? If you dig a little deeper, you'd find out that for the 2011-2012 season—although it might not happen—the 30 NBA teams have a total of $1.6 billion in salary committed to only 329 players. Of that $1.6 billion, approximately $510 million will be paid to the league's 30 highest-paid players.
So, the top 30 highest-paid players in the league are taking about 32 percent of total player compensation. Certainly, that percentage will decrease—though not substantially—as the lion's share of the remaining 121 roster spots are accounted for and big-money free agents like Nene and David West are signed.
But still, the fact that approximately 400 players will be splitting about 70 percent of revenue epitomizes income inequality.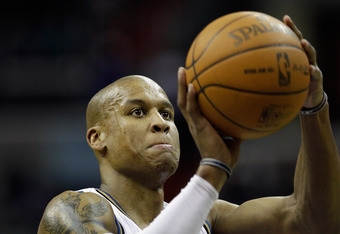 Rob Carr/Getty Images
If you were one of the 70 percent of players, how would you feel if Kobe Bryant, Deron Williams and the like went abroad and made millions while you were out of work? Would you be more or less inclined to concede on key components of a deal? At the end of the day, every player wants to play, but the lower-paid players need to play.
There's a huge difference.
So, watching the "have mores" get more wouldn't be a good thing.
In fact, that's the very essence of the NBA's current work stoppage. The owners, collectively, are the "have mores," while the players are the "haves."
But within the collective class of players, there are castes. Want to see some Lord of the Flies action?
Just wait for Kobe to sign a $10 million deal to play in Europe next year.
This whole thing is about posturing, so don't listen to any union rep. This is politics, of course they'll say the right things. But behind closed doors, some players continuing earning a living while others are out of work?
That'll splinter a union faster than a Mariano Rivera cutter.
You should all know, superstars will be taken care of. They will always be the highest-paid players.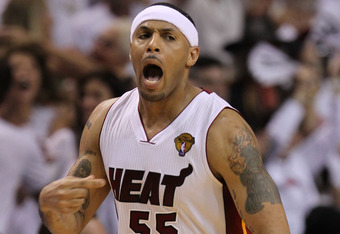 Ronald Martinez/Getty Images
But players like Chuck Hayes, Eddie House and Roger Mason? And even guys like Ron Artest and Jamal Crawford...they're the ones that are more likely to feel the pinch in their pocketbooks. Everyone has mortgages, car notes, families and financial obligations.
So while superstars sticking it to the arrogant owners of the NBA by playing overseas might put some pressure on the NBA's owners, it's likely to put just as much pressure on the player who is actually making money.
"Why should you get paid and make money, as a union member, while we're out of work?"
Back on June 24th, in one of their final meetings with the NBA's representatives before the lockout began, a group of about 50 NBA players showed up to the bargaining session with T-shirts that had "STAND" written across their chests. It was a show of unity and solidarity.
But the ultimate display of solidarity would be an act of befuddling selflessness.
So go ahead, Deron, go make your money.
And then, put your money where your mouth is.
More specifically, put your European money where your union's mouth is.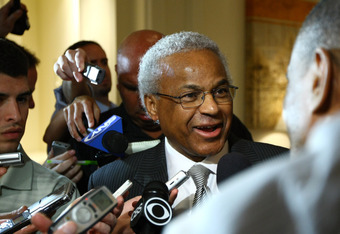 Neilson Barnard/Getty Images
Donate the substantial share of your salary to the NBPA's lockout fund. The money can be used for the benefit of all NBA players and truly create leverage for the NBPA. He'd be revered by his fellow players, and respected by the NBA's owners. Such an act would actually help the union's cause, but more importantly, show the owners that the players are truly unified. The superstars protecting the rank and file.
Unity. Solidarity.
Then, and only then, is going overseas a good idea. And then, and only then, will any sort of defection create leverage for the NBPA.
Yes, it might sound crazy.
Basically, I am pitching socialism amongst a demographic that is believed to be some of the most selfish and egotistical people in society. Professional athletes.
But at least it doesn't sound any crazier than saying that good things can come from an in-his-prime, All-NBA talent going overseas, playing for 30 percent of his NBA market value, risking injury and possibly blowing a maximum contract once a new CBA is in place.
Surely, by playing in Turkey, Deron Williams can win a battle.
But by giving most of his salary to the union, he can help them win a war.
Moke Hamilton is a Juris Doctor candidate at Hofstra Law School. Follow him on Twitter (@mokehamilton) for the latest on the NBA lockout, as well as mindless banter on all things NBA.