Why Orlando Magic Will Not Be in 2012 NBA Finals Contention
July 8, 2011
Kevin C. Cox/Getty Images
As far as we know, at least during the lockout, Dwight Howard is still a member of the Orlando Magic. I figured we should treat him as such. While not dismissing the fact that he will likely be traded or will takes his talents elsewhere in 2012's free agency, we must still evaluate Howard as a member of the Orlando franchise.
Even though it would be a lot easier for him to take to Twitter reassuring his fans of his loyalty to the Magic, do not expect it. That ship sailed between Howard's mentioning the mediocrity of his teammates and commenting on LeBron James' fading hairline. Still, for now, Howard is still sporting the blue, black and white.
Does his return whenever the season resurges give the Orlando Magic a chance at finals contention? Sadly, the answer is no. Wasn't Howard a part of the Magic team when they fell in six games to the Atlanta Hawks? Wasn't Howard a part of Orlando's franchise when they were blown out by the Miami Heat towards the beginning of the season?
The tale of tragedy dates far beyond a single season and while Howard is a game-changer, he cannot function with the pieces settled in around him. Gilbert Arenas, Hedo Turkoglu and even JJ Redick are not really living up to their end of the contract.
It should be understood that these things happen. Men fade in and out of this game every night and that will never change. It is a major concern that a single teammate can play past exhaustion and his men can stand around watching in awe.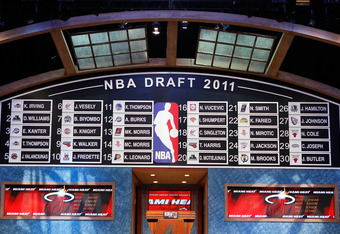 Mike Stobe/Getty Images
The two rookies just added to the roster will give a little hope as to what the future will look like, but they will not have an instantaneous positive impact on the star they have been aligned with. Although, DeAndre Liggins and Justin Harper may keep Howard in the cards for a little longer, it will take more than a couple of fresh faces and a new attitude to shift the tables in Orlando's favor.
Otis Smith, before he was unable to have contact with any player on his squad, told the Orlando Sentinel that he wanted Gilbert Arenas to slow down his offseason workout pace:
"The thing I have to fight with him on a daily basis is the the (sic) guys who are basketball players, that love to play basketball, like to play basketball all the time, year-round. And he's one of those guys," Smith said. "He's a gym rat. That's counter-productive for him. He actually has to play little to no basketball up until September and then he can pick up a ball and start shooting. Guys who are that skilled get those things back."
It worries me a bit that Smith is so confident in Arenas' ability to just pick up where the season left off. I am not sure what bothers me most. Is it the fact that Smith does not want Arenas to work day in and out on his craft? Or is it that picking up where the season left off is so far behind Orlando's competition that it would be more of a detriment than a privilege?
Arenas is on the right side of 30, but still, his talents are diminishing. At times in the season where I felt like he would emerge as someone that Howard could depend on, Arenas disappointed more times than not. He is inconsistent which was shown immensely throughout Orlando's short stint in the first round of the Eastern Conference playoffs.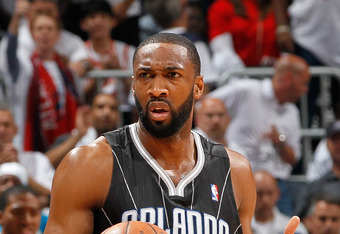 Kevin C. Cox/Getty Images
Six points. Two points. Absent. Twenty points. Nine points. Another six points.
The words that his teammates provide as to how he could potentially help take Orlando to the next level are regarded, but not as highly as they may have hoped. Actions speak way louder and Arenas has been operating on mute.
While Arenas has his own demons, personal and professional, to battle, Harper and Liggins are going to be tossed into a ring of fire. Stan Van Gundy has no other option.
The organization cannot risk signing a bunch of players with possibly no time to mesh with the rest of the teammates. Even if Orlando does decide to go after a free agent when the lockout is over, these two men will still be counted on in place of some of the talent lining the Magic's pine.
Justin Harper's improvement over the last several years as a Richmond Spiders basketball player is one of the greatest stories of change I have seen in this year's draft. Excluding any personal matters, Harper pushed himself beyond his means to become his team's leader as a senior and improved upon all aspects of his game.
His shot selection is better, his decision-making skills are better, he gets his teammates involved more and he has cleaned his jumper form up a bit since his freshman season.
Although all of these things are true, Harper is not ready to be a standing piece in an established franchise like Orlando. I say that the Magic are established because even though they sit at the top of the Eastern Conference in "barely the standard" rankings, they have a solid position. Harper must first bear the brunt of the lockout that will impose time constraints on his ability to learn Orlando's offense from personnel. Liggins must deal with these exact same bearings.
Liggins will hit the ground running. His determination and will to succeed when he is depended upon will guide him just as it did as a college athlete in Kentucky. His clutch defense will go praised, which gives him a higher ceiling to fall from.
I have a small inkling in my mind that Liggins will start the half-season strong and finish off a little weaker than some might hope. It is nothing that fans have not seen in rookies ever since the league was established. The longer the wait, the larger the anticipation and younger players do not deal so well as the pressure mounts for and against them.
The younger players will have to bare scrutiny while some older players just need to get a clue. One of those men is former Duke shooter, JJ Redick. Yeah, I know. You love the guy. Well, I used to love Redick too until he disappeared in every moment that counted.
The only thing truly memorable about his performances last season was a game where his teammates ridiculed him for falling at the feet of Kirk Hinrich. Not once, but twice.
It was hilarious in the moment, but then when I evaluated the situation it seemed a bit ridiculous.
When have we ever seen Redick so embarrassed?
Redick has improved since last year as far as statistics are concerned, however, his meaning to this team has faltered and flattened. He is growing into less of an asset for Orlando. Looking for a shooter, anyone?
On every team, you have a big man. Behind that big man you have a little man that always makes sure the big man is as productive as possible on any given night. The little man may capitalize off of screens the big man sets and makes his defense look more exceptional.
The little guy may even snap up a few lobs for the big man to put down in a monstrous manner. What that little man does not do, is put up crazy numbers in the postseason and then show everyone why a younger, more swift point guard is necessary.
Orlando is extraordinarily loyal to Jameer Nelson and they should be. He has done a lot for the team and before this season, I never doubted his ability to assist Dwight Howard towards a win at the highest level this league has to offer. However, putting Nelson up against the more elite and athletic guards of the NBA like Derrick Rose and Russell Westbrook shows what he is lacking.
The combination between the two must be broken up for much to be made of Howard's stay in Orlando Magic territory.
Coach Stan Van Gundy is a re-occurring problem in the league as the coach who never truly makes it. He coached Miami until the end of the 2005. He left, they won. He is the standing problem but he is not the only problem. Orlando has a lot of moves to make before they can adequately prepare themselves for the likes of the men that sit at the top.
Howard was born ready. The problem being that his teammates never have been.
Follow Klaibourne on Twitter: @nyhlaabee