NBA Draft 2012: Harrison Barnes and the Top 6 Players With All-Star Potential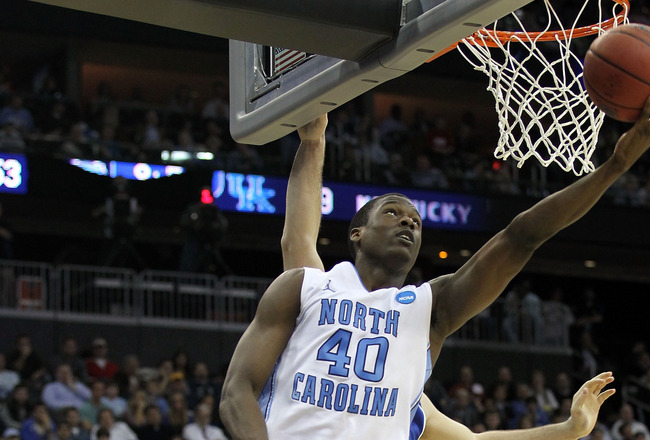 Nick Laham/Getty Images
Because of the NBA lockout, many people are wondering how next year's draft is going to go down.
Many believe it will be based on the records of this year, without a lottery, meaning Minnesota's pick (owned by the Los Angeles Clippers) would be first overall, then the Cavaliers and so on and so forth.
Many mock drafts are starting to pop up for next year's draft.
Being someone who follows each year's draft class very closely, looking for the next Kobe or the next Shaq, I've really been able to judge potential of players very easily.
And by potential, I mean star potential.
This year's draft is thought to be the strongest since the 2003 draft, which included LeBron James, Dwyane Wade, Carmelo Anthony and Chris Bosh.
The reason many people compare next year's draft to that of 2003 is because of the loads of players with star potential. Many of the best players from the 2011 draft pulled their names out and opted to stay in college, adding even more star power to the class.
Here are the top seven players with star potential from the 2012 draft.
Quincy Miller
Quincy Miller is a really capable player. And I mean All-Star capable.
He is an explosive player with a really quick first step that catches many people sleeping. He uses his quickness combined with his outstanding hops to get to the rim and finish at the rim. He's also very crafty on his way to the rim, to say the least.
He also has a really effective jump shot out to inside the arc, meaning defenders can't back off of him.
He can attack you in different ways, meaning he's a nightmare to guard.
Defensively, he has all the tools to be a stud as well. He's tall for the SF position, standing at 6'9". Many think of him as a tweener, but there is no way they will play someone with his kind of perimeter skill set down in the post as a PF.
Also, he has one key trait that most don't have. He has basketball swagger. He walks the walk and talks the talk.
He will be the first one to tell you that he is unstoppable. Just watch the beginning of the video and you'll see. He is confident with just a little cockiness, just enough where he's not demanding 30 shots a game.
He will most likely be a force in the NBA.
Ande Drummond
What happens when you put together a player with Amar'e Stoudemire's explosiveness on offense, the shot-blocking prowess of Dwight Howard, good post skills for an 18-year-old and a jump shot effective out to around the free-throw line?

What you get is possibly the most dominating big man since Shaq.
Andre Drummond can decide to enter this year's draft, as he has finished all his high school credits and will turn 19 before the draft begins. This mean's he would skip college and go directly to the pros, something that hasn't happened in a few years.
Drummond is just a completely all around big man, and he has the potential to become the best big man in the entire league.
He has no real weakness except for the fact that some people are questioning his work ethic. Let's put it like this, even if he doesn't improve at all when he enters the league, he will probably be able to start at the PF/C positions for the rest of his career for almost every team.
Yup, he's that good.
Harrison Barnes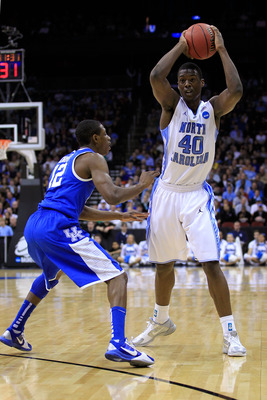 Chris Trotman/Getty Images
Harrison Barnes is one of the top players in the country.
He is an uncanny scorer with good shooting range and the ability to finish at the rim. He is very athletic, and it helps him in the open court and on his way to the basket.
He is a solid defender as well, being able to lock up opposing players.
He has very few weaknesses on the court, except for maybe his ball-handling, which he is showing that he is working hard on improving by the time the next college season rolls around.
Many believe he has the potential to go number one overall, and in the future, he will probably become a legitimate scoring threat at the next level and combined with his all around game, will most likely become an All-Star within his first five years as a pro.
Anthony Davis
Anthony Davis is another player competing for the top spot in this next year's draft.
Davis is an extremely unique player, which is one of the reasons he is getting so much attention. This time last year, Davis was only 6'2" and playing as a guard. Now, he is easily 6'10" and still growing.
What does this mean for his game? He is a tall and long PF with the skills of a guard.
He can take his man off the dribble and is extremely athletic for his height. He also has a good jump shot and has a keen instinct for drawing contact.
Davis is also an efficient shot blocker due to his length and athleticism, and though he was already a good rebounder as a guard, his gowth spurt has made him an absolute beast on the boards.
Don't expect him to fall past the fifth overall, and do not be surprised if he's an All-Star in a couple years.
Austin Rivers
We all know his name by now. He is the most popular player in the 2012 NBA draft. His father is the coach for the Celtics team that won a title a couple years ago.
He is widely thought of as the best scorer from this class, which is why he gets so much media attention.
Who could I be talking about? Why, none other than sharpshooter and scoring phenom Austin Rivers.
Rivers is a combo guard, being able to play both guard positions due to his ball handling skills, his accurate jump shot and his height.
He is also a deceptively athletic player, and he will perform high light worthy dunks if he is given the chance. The deceptive athleticism also helps him as many are caught off guard by his explosive first step.
As a defender, he's not the best, but he gets the job done.
Only thing he has against him is that he is going to be playing for Duke, and the only NBA star who came out of Duke, Grant Hill, was injured a few years into his professional career and became nothing more than an experienced role player and defender.
Let's just hope Rivers breaks the chain of Duke stars who can't make it in the pros.
Perry Jones
This one is purely based off of this kid's amazing potential. It's not often that we see 6'11" small forwards with the leaping ability he has.
For his height, Jones has out of this world ball handling skills, as you wouldn't expect someone his height to display that type of control and composure with the ball.
Offensively, his game is built for the perimeter in the NBA, but if there is one place I think Jones will shine, it is on the defensive side of the ball.
I believe he has the potential to become the most versatile defender of all time. Yes, you read that right, of all time.
He can lockdown opposing guards with his speed, length, and athleticism.
Forwards will find it hard to get to the rim against a 6'11" beast with those kinds of arms. Should they be able to get a shot off, I wouldn't be surprised to see shots getting swatted away left and right.
Centers will have a hard time dealing with his quickness and jumping ability. Should he add a couple pounds to his frame, he will be a lockdown defender in the post as well.
The sky truly is the limit for this kid.
James McAdoo
McAdoo is my personal favortie player from this class, if you exclude Drummond since he may not declare and opt to go to college.
James really reminds me a lot of a more muscular and better post scoring version of Kevin Durant.
He can shoot the mid range shot with ease, and it is one of his strengths. He has range out to the three-point line but can be inconsistent from there like Durant.
They are both also tall SF's with greath length and quickness, attributed to amazing athleticism. Both can play above the rim and produce rim-rattlers at any given moment.
If McAdoo can live up to this comparison, he is in for one succesfull career in the pros.
Honorable Mention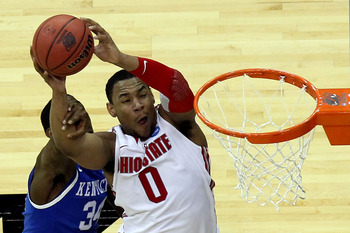 Nick Laham/Getty Images
Jared Sullinger
Under sized for the PF position, and not athletic enough to play the SF. Needs to lose weight and add a little bounce to his step before he can be elite. Other than that, he is pretty dominant down low but may drop off a little against NBA talent.
Marquis Teague
Has all the skills in place, but needs to become a little faster and fine tune his jumpshot a little more. Great passer though and can make a living off getting his team the ball.
Brad Beal
Extremely tenacious scorer, though he is a bit undersized. Has all the tools to be a well rounded shooting guard in this league, but ultimately, his size will probably keep him from reaching the All-Star level.
Keep Reading