NBA Offseason: 5 Players Who Could Be Traded Within the Next Year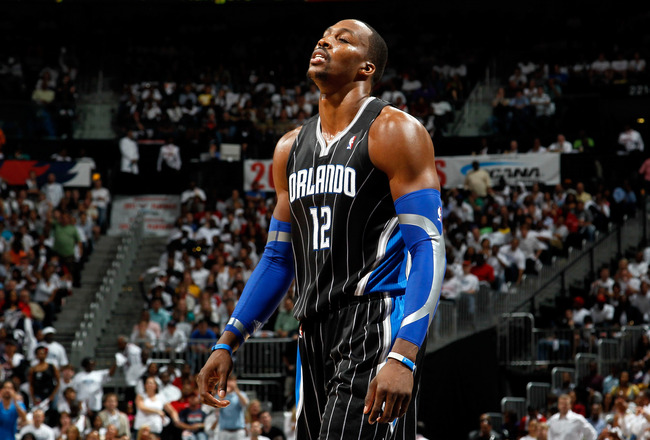 Kevin C. Cox/Getty Images
With the NBA officially locked out, we now get to speculate what teams will do once a labor agreement is reached. Rumors have been swirling for quite some time, and the 2012 free agent class, headlined by Dwight Howard, Chris Paul and Deron Williams, is now within reach.
Up and coming teams such as the Thunder, Bulls and Heat seem to be ready to permanently dethrone the Lakers and Celtics for the next few years. With that in mind, teams will be shuffling to either rebuild or join the top class.
Here are 5 elite players who could be traded within the near future, and where they may land.
Andre Iguodala, 76ers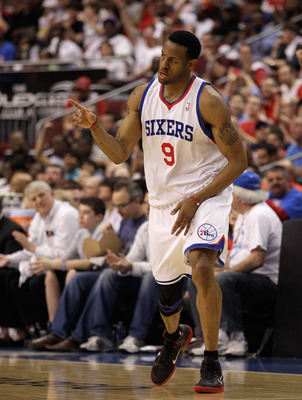 Rob Carr/Getty Images
"Iggy" certainly had much more value a few years ago, but is still a very good two-way player. His numbers have declined as of late as the 76ers have gotten better, thus depending on him less.
That being said, there are still teams who could use his perimeter defense in a league filled with superstar wing players(Kobe, LeBron, Wade, Melo, Durant, etc.)
The Warriors were rumored to have interest in Iggy, who could fit in well with the offensive-minded Steph Curry and David Lee. If traded for Monta Ellis, as rumored, a lineup of Curry, Iguodala, Wright, Lee and Udoh would at least bring some hope to the Golden State fans.
Lamar Odom, Lakers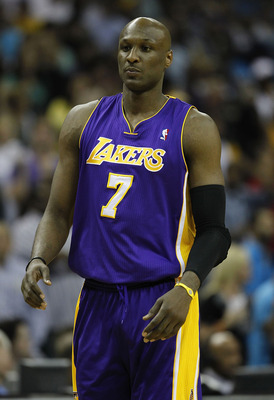 Jeff Zelevansky/Getty Images
Sorry, Khloe. You might have to leave LA.
After the collapse to the Mavs, some people believe the Lakers will blow up their roster drastically. I don't think that's the right move, nor what they will do. However, they do need to do something.
Point guard would appear to be the biggest need, as Derek Fisher isn't getting any younger. With Gasol, Bynum and Odom, the Lakers could afford trading one of their elite big men and still have a very strong front line. And there are plenty of teams who could use any of the three.
It has been reported that the Lakers were discussing a deal with the 76ers that would mainly involve Odom and Iguodala. It's also been thought that a package highlighted by Odom and Andrew Bynum might be enough to pry Dwight Howard from the Magic. It's unclear if either of these deals are likely. It's also likely that Odom and his super celebrity partner Khloe Kardashian would not be willing to leave Los Angeles.
Steve Nash, Suns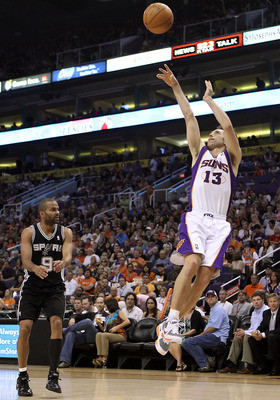 Christian Petersen/Getty Images
The Suns aren't going anywhere in the near future, and Steve Nash is in the twilight of his career. I think everyone would love to seem him compete for a title one last time, but does he even want to leave Phoenix? If he does, the Suns owe it to Nash to trade him to a contender. Please, just don't dump him to a team like Minnesota.
He is still a very good player and could certainly help a lot of teams. A trade to the Knicks would be terrifying for the rest of the East, but it's questionable whether the Knicks have enough assets to acquire him.
A Rajon Rondo for Steve Nash swap is unlikely, but certainly interesting. That all depends on whether the Suns believe Rondo is a franchise player, and whether the Celtics think Nash would be an upgrade over Rondo for a year. But don't hold your breath.
Chris Paul, Hornets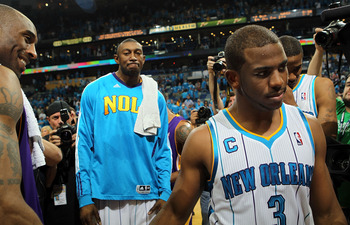 Ronald Martinez/Getty Images
If David West leaves town as a free agent and the Hornets don't make a splash to improve, expect CP3 to be moved. It is very possible that the Hornets will deal him midseason so that they don't lose him and get nothing in return.
CP3 is still an elite point guard, and certainly proved it in the first round against the Lakers.
Again, CP3 on the Knicks scares me, as a Celtics fan. They might not have the trade assets, but would be a favorite to sign him as a free agent.
Bringing Paul to Orlando to team up with Dwight Howard might be enough to keep them both there for the next few years. That being said, we don't know what the financial landscape of the NBA will be, thus putting that possibility in question.
Could anyone see him in a Laker uniform?
Dwight Howard, Magic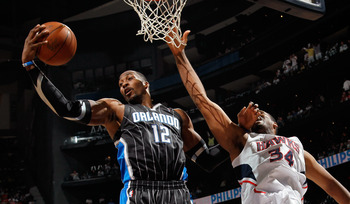 Kevin C. Cox/Getty Images
Dwight Howard, without a doubt, is the biggest target on this list. He is the best center to play in the league since Shaq in his prime, and nobody currently in the league brings the kind of defensive presence that he does. Heck, he turned a starting lineup with Jameer Nelson, Jason Richardson, Hedo Turkoglu and Brandon Bass into the fourth best defensive team in the league.
He may want to stay in Orlando, but he may also want to go to a team where he can't be constantly double and triple teamed. The current Magic roster minus Howard would absolutely be in the cellar of the standings.
The question is; will the Magic trade him to receive value in return, or play out the season and try to sign him in the offseason?
A package featuring Andrew Bynum is appealing, but might not be enough.
The Warriors have been rumored to have interest, but that is unlikely that will get done.
The Boston Celtics will give it a shot if he is available as a free agent.
The Knicks could give it a run in free agency as well, but might not be able to afford him with Melo and Stoudemire also on the books.
Dwight Howard is the big prize here, and his decision will have a huge impact on the league for years to come.
Follow me on Twitter @JrMarkyMark
Keep Reading