L.A. Lakers: Shannon Brown Opts out of Contract, Sees a Storm Forming in L.A.
July 1, 2011
Chris Graythen/Getty Images
The L.A. Lakers may have to wait a little longer than planned to redeem themselves in the 2011-12 season. The NBA lockout is officially underway, and the hope that I had for any conclusion to the madness was swept away when Billy Hunter spoke to the press.
"It's been extremely cordial. It's almost like we were singing 'Kumbaya' at the end," union director Billy Hunter said after three hours of talks -- a portion of which were set aside for lunch -- ended with the owners deciding to impose a lockout beginning at 12:01 a.m. ET Friday. "I couldn't believe that. We were all shaking hands and saying 'We'll see you in a couple of weeks, have a good Fourth of July weekend.'"
The awkward silence after those comments were made gives an insight to everyone else's mindset leading into this summer's lockout. Smiling in public is not going to convince anyone that these talks will remain amicable. There is also no amount of polite gesturing that will convince the public that the L.A. Lakers do not have a real problem on their hands.
The lockout is the least of their troubles at this point. Laker fans may not want to admit that their franchise is in dire need of redirection but looking from the outside in, it seems that it is just what the Dr. J ordered.
Kobe Bryant is on the outs with the organization for not consulting him in regards to hiring Mike Brown as the new head coach. As minor as reports are referring to this bout between Bryant and the office, Kobe has still remained quiet on the subject of new leadership.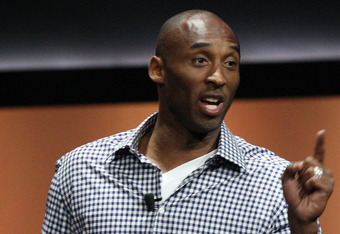 David McNew/Getty Images
This is not a sign of amnesty.
It shows just how bothered he truly was with the suits keeping such a huge decision from him. The aftereffects it could provide the Lakers is unforeseen; however, if Bryant's silence extends, we could see the continued downward shift in a West Coast dynasty. The head coach is supposed to have the ear of the most influential player on the roster and without Bryant's go-ahead, coach Mike Brown and assistant John Kuester could have a real problem on their hands.
Are the league's pickings so slim that Brown found no way out but to resort to hiring Detroit Pistons' ex-head coach John Kuester? 
Not too familiar with Kuester's efforts in Detroit?
Richard Hamilton was benched for five-plus games, his players laughed hysterically when he was thrown out of a game and there was rumored to be a boycott of some sort that left at least three members of the team benched.
Hamilton's disagreement with Kuester strikes a chord the most because it showed the complete lack of communication Kuester was capable of with his own players. There are moments where the assistant coach must mediate conflict more than the head coach. If the assistant is incapable of doing so, where does that lead a franchise in the stages of reemergence? Fortunately for Kuester's ongoing career, Brown speaks highly of his will to communicate.
"Having previously worked together in Cleveland, I know what assets he will bring to the team. His ability to effectively communicate with the players while teaching them valuable skills on both ends of the court is a quality that I respect and value. I look forward to working with him again." 
Brown smiles like a kid in a candy store when speaking of the Lakers franchise. He even has planned out which pieces of candy he is going to eat first and which ones he is going to save for later. Eventually, the excitement wears off. Not too long from now, Brown will experience the sugar rush that is followed by a hard crash back to reality.
That hard crash is going to come at the hands of horrible offseason judgments and the lack of communication that he praises his assistant for.
Besides, Kuester and Brown's involvement in a possible spiral out of control for L.A.'s big brother team, Derek Fisher and Bryant's relationship may also become a bit strained next season. Fisher has always been Bryant's go-to guy. No matter how deterred Fisher has become from his guard role in the franchise, Bryant has seemed to uphold the faith in his teammate until the end of time.
How long will that confidence and companionship last?
Fisher and Bryant's friendship has always been important to the franchise. Fisher was able to reel Bryant back in at times it seemed as if he was flying off of the edge and Bryant was willing to coax Fisher back into Lakers' grasp last offseason.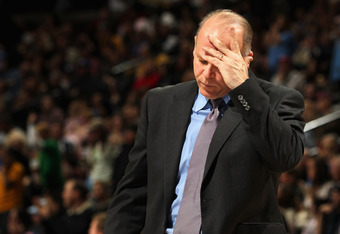 Doug Pensinger/Getty Images
All of these things have rested on what they were able to do as a unit, but while their ranges of talent are on either ends of the spectrum, consistently growing in distance, the companions may find themselves fishing for reasons to remain linked.
Bryant's will to win outweighs most of the other components in his life. His killer instinct is what makes him such an asset to the Lakers. However, rallying for Fisher's return goes in the opposite direction. Mike Brown's use of Fisher may lessen and watching how Bryant deals with the impact of winning mixed with Fisher's diminishing value will be interesting.
Pau Gasol's future with the franchise is growing bleaker by the trade rumor. If he is not headed to Orlando for Dwight Howard, then he is on his way to the bottom of the Western Conference.
Gasol's disappearance in this year's playoffs triples LeBron James' fourth-quarter mishaps in the Finals. James may have faced the monkey on his back on a bigger stage, but at least in other areas of the playoffs he was of use. Gasol was embarrassing to the cause the Lakers had fought so hard to conquer after the All-Star break and the train wreck lasted for miles.
Personal or professional issues aside, athletes get paid to block everything but the game out when they are on the hardwood.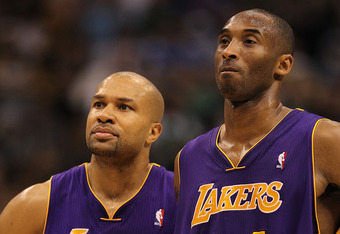 Ronald Martinez/Getty Images
Gasol thought about everything but the basket.
He is L.A.'s most attractive trade option with enough left in the tank to make a difference, but lacks the heart to play beside Bryant—at least, that is what fans are beginning to think. The white swan exposed himself to the world and has a lot of people questioning whether or not the Gasol that mattered was in purple and gold or Memphis Midnight Blue.
Shannon Brown, who officially opted out of his contract and became a free agent yesterday, has the ability to handle himself as a shooting guard in the league. His spotty shot selection needs to be addressed, but what he lacks in court intelligence he makes up for with pure athletic ability. Brown can finish with the league's finest, through contact, and even impressed his starting counterpart out of his seat a few times. Not only is he ready to play a bigger role on another team, but he can tell how ill-fated the organization is before it can truly recover.
Brown is not wasting his time any longer. He wants what is coming to him in the form of a bigger paycheck and mention.
The Lakers are making a comeback. Just not with both Mike Brown and Kobe Bryant leading the charge.
Klaibourne On Twitter: @nyhlaabee