NBA Trade Rumors: Why Shannon Brown for Steve Nash Is a Must
June 28, 2011
Christian Petersen/Getty Images
Playing for an organization that has 16 championships in its history is both a plus and a minus. On the positive side of things, you get to be part of a winning tradition, while doing it all in a pair of flip flops in the California sun.
On the negative, you are expected to win every year, and if you don't, there is a chance you could be the punching bag for a populous of well over 9.8 million.
Currently,the sunny times in Laker land have succumbed to the brown breeze of smoggy dissatisfaction. After a four game ousting to the Dallas Mavs, a witch hunt in Los Angeles has officially begun: one asking for the head of any player not named Kobe Bryant.
This near-sighted hysteria from management and fans has bought into the concepts of an exodus doing away with the current mix of Kobe, Pau, Bynum, Odom, Artest and Fisher.
What they are ultimately lacking is a true identity, as could be seen by their defensively lackluster showing in the playoffs. They are void of a point guard able to guard the elite play-makers alongside 1st team defender Kobe Bryant.
Current starter Derek Fisher is a pale reflection of what he once was. After struggling with his defensive assignments on Chris Paul, J.J Barrea, Jason Terry and Jason Kidd, the 36-year-old looked to be on his way out. That usual Fisher swag we have grown accustomed to, looked more like a flopping fish out of water. He looked scared, and less like the veteran known for knocking down clutch threes.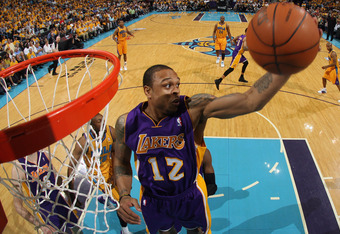 Chris Graythen/Getty Images
All good things must come to an end and Fisher is definitely at the end.
His inconsistencies forced the Lakers to lean far too heavily on Steve Blake and Shannon Brown. Blake is a role player who was never meant to play the kind of minutes he was forced to play in the playoffs, while Brown was clearly way out of his comfort zone. The miss-timed failings of Fisher disrupted the Lakers depth and ousted a guy at the helm of five Laker titles since 2000. There is no doubt this destroyed Laker chemistry and corrupted their team camaraderie.
Shannon Brown is the spark in the second unit alongside Lamar Odom who is meant to score in the earlier part of the second quarter while Kobe sits. Though Brown has shown flashes of starters substance, the 25-year-old guard is still green. A year of maturation that saw the rabbit like leaper average 8.7 points on 34.9 percent three point shooting, was a season still miles away from a player able to eat up serious minutes. 
Kobe is still the lead act while Brown is just the sub-promoter.
The bench-bunny's orchestra of crowd pleasing dunks inspires the older veterans around him while acting as the entertainment for the Laker fan base. His role is extremely vital to the Hollyweird plurality— which mixes a way of winning in with a high octane entertainment. 
Without Shannon Brown, semi-stars like Andrew Bynum, Lamar Odom and Pau Gasol ponder life in a different NBA city. They dream of being the "man," far from an L.A scene governed by the relentless Black Mamba-- a player willing to steam roll his own teammates for the sake of winning a title.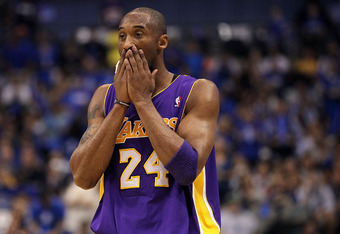 Ronald Martinez/Getty Images
At least with Brown, they get a few hoots and hollers; a few mind blowing alley-oop dunks to ease the tension.
Despite losing a step or two, the Mamba's unflappable work ethic is the greatest component when discussing a quick Laker return. His 25.3 points per game proved the five-time champion still plays at a top- five level, and that with the right pieces around him, he could play another two to four good years. Because of his waning timeline the Lakers ownership is in need of making moves and making moves now.
On Saturday, amidst the Dwight Howard buzz, Mitch Kupchak told reporters Shannon Brown is considering opting out of his contract. He is following the footsteps of Jordan Farmar, who last off-season signed with the Nets to try and get a starting job.
The rumor regarding Brown re-heated the Monta Ellis trade talks. No doubt the Warriors are shopping their speedy tweener to the Lakers, a team who can offer a gamut of trade chips. The trade would add a punch on the offensive side of the ball to help ease tension off of Kobe Bryant, and could lengthen their bench with Monta eating up huge minutes.
But I just don't like this option.
Ellis is a me-first scorer who would confuse Mike Brown's block post sets with an insatiable need to drive. He could create drama with Bryant who has never liked sharing the spotlight, and though extremely talented, the 6'3" combo-guad lacks the strength on the defensive side of the ball to guard elite point guards.
Though his 24.1 points per game are attractive, the rail-thin tweener is not the answer to a team in need of a veteran- star- playmaker. The Lakers are in dire straights for another option able to rally the troops and get all the players involved. They need a seasoned vet like Bryant who will call people out on their extracurricular (Khloe?) activities, and a player who can find the brittle Bryant open on the perimeter for stand-still jump-shots.
These are the reasons why the Lakers should ignore the Ellis deal and continue shopping Shannon Brown elsewhere.
A severe hand injury Brown sustained in the second half of 2011 questions the solidity of his health. His desire to opt out of his contract questions his long term faithfulness, and at 25, his  low-level 2.3 million dollars remaining on his contract, make him a perfect buy low trade high candidate for a rebuilding team. 
If Brown:
1) Does not pan out on his new team, they can allow him to walk in the Summer of 2013.
2) If he does pan out but decides he would like to play elsewhere, his new team can use him as a sell-high bargaining chip.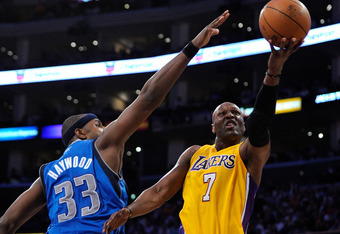 Kevork Djansezian/Getty Images
3) He pans out and the new team just got an all-star to build around in exchange for a player fading into the sunset of his career.
I believe these three truths are the reason a deal involving the Suns 37-year-old Steve Nash is not far-fetched. Nash—like a fine wine getting better with age—is not in the kind of place to play for a rebuilding franchise. The Suns offer nothing that would warrant the retention of the Canadian born star with only two to three seasons left in his famed career.
With a fast-paced perimeter oriented game in Phoenix, Brown would be able to assert himself on the offensive side of the ball. His pairing with Aaron Brooks would not only cause a miss match speed wise for any opponent, but would allow Alvin Gentry to see if Brown is starter material. With a high volume of shots from the three point range, Brown for the first time in his career would be one of the focal points on a team. This would act as test to see whether or not the 25- year- old guard out of Michigan st. is a worthy option to lock up for top dollars.
It is the prudent real estate agents who know when to cash-out. They know when the magic moment is that would maximize the exponential nature of their monetary investments.  If they wager right, they cut-out well avoiding a price fall, or a complete collapse (think Bucks with Mike Redd).
I argue the Suns are at that investment precipice, as are the Lakers. Both teams have players on the verge of losing their value or going into age-old foreclosure.
Though both organizations are in entirely different places, a swap of Shannon Brown and Lamar Odom for Nash, Robin Lopez and cash considerations, would free the Lakers from two growing headaches and give them the dime dropper necessary to focus their team in the right direction. Nash is the kind of player Kobe would like playing with because he would run the team in an unselfish manner. Both future hall of famers would work symbiotically--Kobe helping Nash win one, while Nash helps to further boast Kobe's already impressive resume.
For Brown, his moment of truth would arrive. It is now or never.
For every Laker fan currently struggling with the concept of Kobe finishing his career in the basement, a small signal of hope would cast its rays from the horizon.
For the great stars are meant to dangle in the blackened knitting of night as fiery supernovas. Not burned out embers crumbling to the monotonous hum of the dead.