2011 NBA Draft Grades: Which Teams Had Best Draft?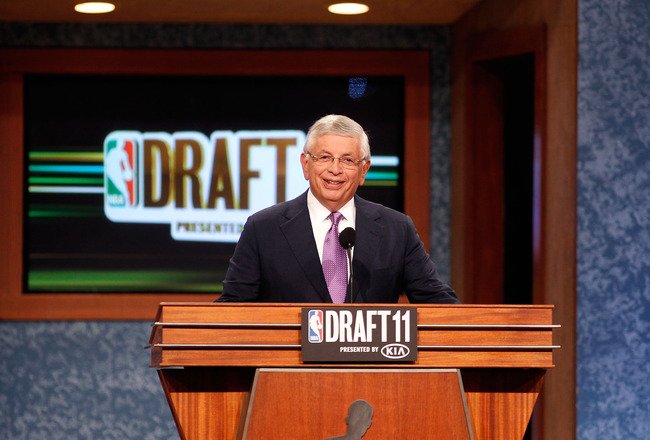 Mike Stobe/Getty Images
What a fantastically creepy smile from David Stern there, right? And he had reason to wear it as he was mercilessly booed upon showing that face (the one in the picture) on stage in Newark, New Jersey last night.
Stern took it in stride, butchered names here and there and read from his note cards all the same.
It was an eventful night at the 2011 NBA draft despite there being a considerable lack of top-end talent, and a few big name veterans are playing in new cities while rookies fill their respective holes.
The first two picks didn't offer any surprises, not really, but by No. 4 things had already started to get out of hand.
At night's end we saw three teams without any new rookies while a number of teams added three, and in some cases four, youngsters to their squad.
I'm not sure if there is a single player in this draft that will swing a franchise in a truly positive direction, but we'll still grade out each team's performance anyway.
Here is a look at how last night's draft played and what it means for the NBA - whenever it resumes play.
Charlotte and Sacramento Lead the Best of the Best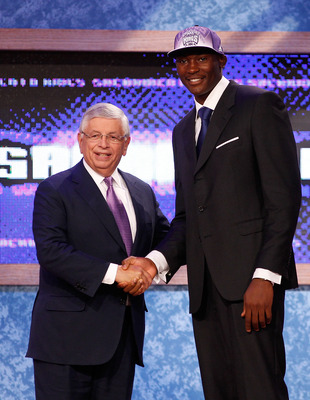 Mike Stobe/Getty Images
Charlotte Bobcats: A
Bismack "The Business" Biyombo, a.k.a "B-Smack", is a project but if he ever develops any semblance of offense in his game he could be a monster. As for Kemba Walker, the most notorious killer (mentality) in NBA history just got the best this draft has to offer. For once MJ got a draft right.
Sacramento Kings: A
The Kings moved down three spots, added John Salmons in the process and got their man Jimmer. Also landed vital role players in Tyler Honeycutt and Isaiah Thomas in the second round.
Cleveland Cavaliers: A-
The Cavs made the smart decision on Kyrie Irving and then shocked us with Tristan Thompson. I love the pick but now the Cavs have a log jam down at power forward.
Detroit Pistons: A-
Madness took hold around them but they held tight and took the BPA: Brandon Knight. They can figure the rest out later and also landed Kyle Singler and Vernon Macklin.
Utah Jazz: A-
Two top 12 picks yield the best center (prospect) in the draft, Enes Kanter, and a blossoming, young guard Alec Burks. Can't argue it.
Washington Wizards: A-
Added two dynamic athletes in Jan Vesely and Chris Singleton (thanks Knicks) with two top 18 picks. Shelvin Mack is bonus backup guard and the Wizards are looking better already without even wearing their new uniforms yet.
Perennial Powers Boston, Dallas and San Antonio Lead Second Tier Draft Winners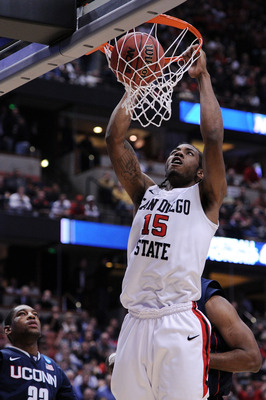 Harry How/Getty Images
Boston Celtics: B+
C's landed two Purdue upper class-men that will be role players in shamrock Green and White.
Dallas Mavericks: B+
Traded away a bona fide scorer in Jordan Hamilton but landed Rudy Fernandez. The problem with Rudy is he is a shooter who can't really shoot, but Dallas gets young veteran who will play for them.
San Antonio Spurs: B+
Traded away George Hill, got one of the steals of the draft in Kawhi Leonard and landed a big-time European shooter in Davis Bertans. What more do you Spurs fans want?
Golden State Warriors: B+
Warriors took the safest player on the board - Klay Thompson - and also landed a future stud in Jeremy Tyler. Charles Jenkins will be fire off the bench.
Milwaukee Bucks: B
Bucks landed the most undervalued player in the draft, Tobias Harris, after moving down nine spots in three-team trade.
Minnesota Timberwolves: B
David Kahn took Derrick Williams, but now the question is where he will play. Added another point guard though. What?
Denver, Houston and Miami Lead "B" Rated Draft Classes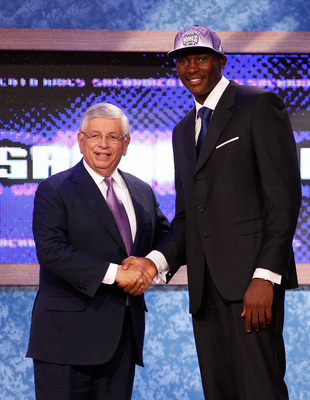 Mike Stobe/Getty Images
Denver Nuggets: B
Solid gets in Kenneth Faried and Jordan Hamilton. If Wilson Chandler isn't retained they'll have his replacement waiting in Hamilton.
Houston Rockets: B
Rockets took three different big men with completely different personalities. Marcus Morris is a great pick up, we'll see when Donatas Motiejunas comes over and Chandler Parsons is a shot in the dark, but the potential is there.
Memphis Grizzlies: B
One mid-second round pick turned into Josh Selby. Great value but he's a boom or bust guy; worth the risk though.
Miami Heat: B
Hopped into the first round for Norris Cole after Reggie Jackson came off the board. Decent play in case Mario Chalmers goes elsewhere.
New Jersey Nets: B
Marshon Brooks will score the basketball and Jordan Williams, if he can stay in shape for five minutes, will battle underneath with Lopez.
Oklahoma City Thunder: B
Solid player in Reggie Jackson but he'll find no court time behind Russell Westbrook and Eric Maynor.
Lakers, Pacers and Magic Top "OK" Drafts Before Drop off Hits
Kevin C. Cox/Getty Images
Indiana Pacers: B-
Pacers traded their way out of the draft; landed George Hill and that'll do just fine.
Los Angeles Lakers: B-
LA got more involved than I anticipated but also got the best pure point guard in the draft in Darius Morris.
Orlando Magic B-
Justin Harper is a great fit off the bench and can shoot lights out. Liggins was worth a shot that late in the draft as well.
Chicago Bulls C+
Jimmy Butler will be solid off the bench but Mirotic, while a great value, may never come over the pond to play hoops.
Phoenix Suns C+
Favorite quote from last night, "The Suns always getting that other brother." Markieff Morris is more athletic than brother Marcus though.
Portland Trail Blazers C+
Reached for Nolan Smith, but landing Raymond Felton for Andre Miller is a great play considering he can move the game a bit faster than an old man with a cane.
New York Knicks "Shockingly" Turn in Worst Draft of the Night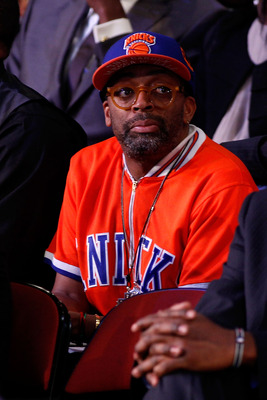 Mike Stobe/Getty Images
Atlanta Hawks: C-
Hawks did nothing worth writing about.
Los Angeles Clippers: C-
Clips added two Georgia Bulldog teammates in hopes that one of them can play.
New Orleans Hornets: C-
Were left out of the draft to begin with and saw their pick become Tobias Harris.
Philadelphia 76ers: C-
Added necessary, Nikola Vucevic, size but it might not have been worth it.
Toronto Raptors: D
Raps took a risky gamble on Jonas Valanciunas. When he shows up is anyone's guess at this point.
New York Knicks: F
Gosh, I'm not going to get crazy but the Knicks opted to take a 6'6" guard that can only do one thing and left arguably the best defender in the entire draft, Chris Singleton, on the board.
Not only was Singleton a better prospect than Iman Shumpert, but he did everything the Knicks needed in this draft.
Oh, and they added an overweight, undersized center in the second round. Going places.
As Carmelo Anthony tweeted after the first round pick last night, "Goodnight. I'm out."
Keep Reading