How the New York Knicks Could Learn a Thing or Two from the Miami Heat's Season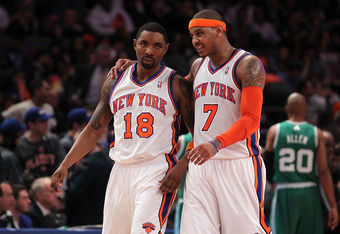 Nick Laham/Getty Images
Perhaps all the NBA needed was just this. Maybe the Heat choking is all it will take for David Stern, and every owner out there to realize, that hey, superstars don't automatically equal a championship.
Maybe the way the Heat lost—you know, with their biggest superstar nicknamed the "King" falling flush in the fourth quarter—is all it will take for other teams to realize that public image isn't everything.
But it's likely none of that happens.
After nearly 10 years of criticism and neglect from true NBA fans, you'd think Stern would have learned by now, or at least listened. If the history of sport even matters anymore, it's true that most leagues learn from their mistakes, normally.
When the NFL became its own worst enemy—back when concussions were problem numero uno and before all of this lockout drivel—Roger Goodell brought in a rule to change it, even if it transformed the game into a hail storm of yellow flags.
But Stern doesn't seem to understand that, or even care in the slightest. The NBA is a money-driven league, with basketball as a side dish, and if you don't have millions of dollars stashed away, you're going to wind up besides the point. Or someplace very bad.
The New York Knicks used to be that way, until they caught on to Stern's monopoly game and decided to play along. Okay, so the Knicks have splurged a little in the past 10 years. But it hasn't been quite as monumental, or as defining as what we saw this time last year from Heat owner Micky Arison.
Of course, that same statement was 100 percent valid until February. The Knicks seemed to have a good thing going to bring in the new year, and although it wasn't the kind of excitement that would warrant a smirk from Spike Lee on the bench, it was something to build on, or at the very least, look forward to just like every other season come and gone.
Then the Knicks realized that they were going nowhere, though. They ran out of legs against teams like the Lakers. They ran out of options against diverse teams like the Spurs. And they probably ran out of luck against the Kings on Jan. 14.
So the Knicks did what any desperate team would do in modern day professional basketball—they reached for a player that only the truly wealthy, and the fairweather fan can appreciate. They signed Carmelo Anthony.
From then on, the Knicks began to work on a stable of players in the style Boston first initiated in 2008. That was a good move, up until the Knicks figured out that defense is kind of important. Then things got ugly in the playoffs, and the Knicks arrived at an easy-read, black-and-white "dead end" sign.
That dead end came as a result of the Knicks easily led ways. Owner James Dolan bought into the superstar phenomenon that so often separates the winners and the losers from the headlines during the summer months, and he did so in the easiest way possible—by disadvantaging another team (the Nuggets) and seemingly helping his own roster at the same time, with the added help of the dollar bill of course.
Ronald Martinez/Getty Images
But the difference between what Boston did in 2008, and what the Knicks pursued in February, is that the Celtics went about it in a stylish, and seemingly acceptable way. Kevin Garnett's two hands were naked, and probably going to stay blank in Minnesota. Ray Allen was the same, even though he may have wound up elsewhere anyway, considering Seattle's disbandment.
Yet, really, the Knicks are more like the pre-Shaquille O'Neal era Heat. New York has their superstar, finally, just like the Heat had a baby-faced Dwyane Wade.
Mike D'Antoni also has other, less discussed pieces, in the form of Amare Stoudemire and Chauncey Billups, in comparison to the Heat's Udonis Haslem and Antoine Walker.
When Carmelo originally signed with the Knicks, Stoudemire talked about his desire to structure the Knicks for success.
He told reporters, "Our goal when I signed with New York was to build a championship team and that's where we're headed,"
What the Knicks need to learn from the Heat, though, is that they can't rush it, because that's when mistakes happen. Everyone in the NBA circle has gotten a good whiff of the "Chris Paul to New York" discussion sometime in the past year—a theory that was supposedly thought of at Carmelo Anthony's wedding—and obviously, it's an enticing offer for the Knicks to consider within the next 12 months.
Since then, the Knicks' chances of winning a championship seems to be somewhere on the cusp of a guarantee and a certainty.
In February, Las Vegas Sports Consultants lowered the Knicks possible winning odds from 20:1 to 15:1, and keep in mind, that's before they were swept by the Celtics in the first round of the playoffs.
But all of this doesn't mean that the Knicks shouldn't strive to be great. Their fans know that they are a stone's throw away from the finals, and with the Heat cutting the bottom out of the industry and making the NBA an unfair playing field already, the Knicks may as well go ahead and play roulette in free agency while they can afford it.
"They're better with Carmelo, because he's a terrific player, but they're not one of the four best teams in the East," Charles Barkley said earlier in the year. "They're not a contender right now. Everything hinges on what point guard they can get—whether it's Chris Paul or Deron Williams—in the next couple years."
Let's face it: Everyone hates losing. And that's an understatement for a city that hasn't seen an NBA title since 1973—and a Mets team that so tediously throws seasons away, followed by the Yankees and Giants typical success.
Barkley is right, though. "Hinges" is also the right word to use, too. Rushing and splurging on Paul will happen, but this Knicks team needs to develop and "gel" for those cliché lovers among us. Signing Paul doesn't answer New York's defensive needs either.
If the Heat's temporarily sunken battleship acts as an example (and it does), it should offer a prompt warning that a rush for the best of the best and a disregard for the game of basketball and its ethics entirely, is a strict no-no.
Listening, are teams like the Oklahoma City Thunder, Golden State Warriors and the 76ers. The Knicks, well, we wait and see.
This article is
What is the duplicate article?
Why is this article offensive?
Where is this article plagiarized from?
Why is this article poorly edited?

New York Knicks: Like this team?