NBA Power Rankings: 45 Most Jaw-Dropping Plays of the 2010-11 Season (Video)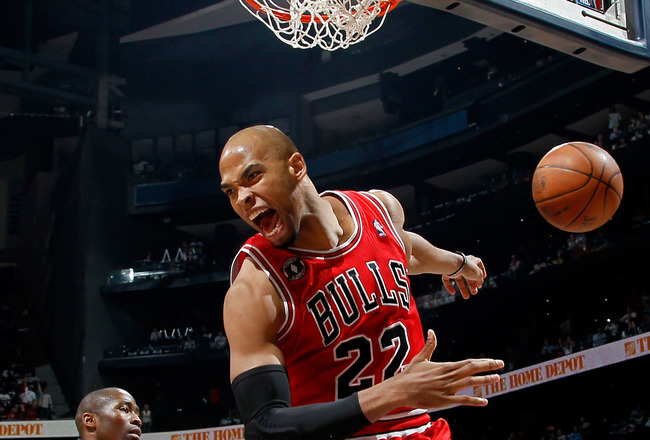 Kevin C. Cox/Getty Images
The NBA has just concluded a tremendous 2010-11 season, and with the end of the year comes a plethora of "top" lists.
I will be bringing you the most amazing moments, the ones that end up on SportsCenter time after time.
Here are your 45 most jaw-dropping plays from the year that was in the association.
Thanks for reading!
Welcome to the NBA, Wesley Johnson
This is a pretty solid dunk, sure.
It's even more remarkable when you consider the fact that it took place during the first game of his rookie season.
Later, Beno Udrih
DeAndre Jordan essentially tips his cap and says "have a good one" to Beno Udrih here.
John Wall's First Buzzer Beater
The hustle, determination and finesse were awesome on this play.
John Wall's rookie season is a sign of great things to come.
Manu Ginobili Breaks Down the Clips
I'm not a huge Manu Ginobili fan by any means, but this was just absolutely awesome.
Kevin Durant's Follow Through
Kevin Durant sure shows he has playoff poise here.
After all, where were all the Nuggets down low anyway?
Ibaka Destroys Chandler with the Block
This blocks make me want to stand up and shout.
I feel a little bit, though, for Wilson Chandler. I mean, the guy lost his dignity there.
Rajon Rondo's Coast-to-Coast Buzzer-Beater
I agree with the commentator.
Where exactly did that come from?
Russell Westbrook Posterizes the Rockets
Looks like it's not all Kevin Durant in Oklahoma City these days.
But hey, of course he's the first one there congratulating him.
Amar'e's "Could've Been" Buzzer-Beater
Even though it didn't count, it was still an amazing shot, especially when you consider Amar'e Stoudemire's career clip from beyond the arc is a whopping 24 percent.
JaVale McGee Gets a Block...or Is It a Steal?
Literally I have had the chills the entire time I have been composing this slideshow.
JaVale McGee's block here only furthered that, and although I hate showing negative sides of a Marquette Golden Eagle, this was just too darn good to pass up.
Oh well, it's not like Wesley hasn't been in the slide show yet, either.
Jordan Crawford Displays His Talents
It's not just the block, the spin move, or the pass that lands Jordan Crawford on this list; it's the combination of all three coming together to form a beautiful sequence.
Mike Dunleavy's Game-Winning Tip-In
Nice work by Mike Dunleavy here.
That is efficient play in the clutch if I've ever seen it.
DeMar DeRozan Takes His Talents to the Hole
"Wow" is the only word that comes to mind after watching this dunk.
Notice how he forced a bunch of the crowd to stand up after the slam.
JaVale McGee's Dunk
I know, I know. It's a dunk contest clip!
But seriously, this was by far the best dunk in this year's event.
Eric Gordon over James Anderson
Whoa, whoa, whoa, hold the presses! Is this a Los Angeles Clipper dunk that doesn't feature Blake Griffin?
Indeed it is, but you should still check it out anyways.
Jason Terry's Series-Changing Three
It might not have been the flashiest play of all-time, but this was the play that changed the scope of the NBA Finals.
James Harden Throws Down on J.J. Hickson
Not only did their lead increase from 29-13 to 31-13, but James Harden absolutely lit up J.J. Hickson in the process.
I'd say this play served as a lingering reminder of the 2010-11 season for the Cavs pre-June 12th.
Hakim Warrick: The Sledgehammer
As nominated by a YouTube commentor on the video, I think Hakim Warrick's new nickname should be "Sledgehammer."
I mean, just look at this dunk!
Lamar Odom No-Look to Pau Gasol
When watching this a second time, my jaw almost dropped.
That should say something about the quality of this pass.
Andrew Bogut's Game-Winning Tip
What a great play by Andrew Bogut and the Bucks.
It's also got to be up there on the list of the most climactic finishes of this season.
LeBron Tosses the Pigskin (er, I Mean, Basketball) to Wade for the Oop
The NBA Finals brought us a plethora of jaw droppers, and this Game 4 alley-oop is a shining example of the excitement that was brought about by the six-game series.
D-Wade Returns the Favor to the King
This time it's the other way around.
Nicolas Batum Makes It Look Easy
A game-winner similar to Dunleavy's, Nicolas Batum makes a swift move to the hoop before being tossed the rock at the perfect place during the perfect time.
And the Trail Blazers win.
Marion to Chandler
The thing that is amazing about this alley-oop lies within the fact that it doesn't even look like Tyson Chandler could see the ball coming to him.
What great instincts he has.
LeBron Does It Again with His Hands
Another day, another phenomenal pass by LeBron James.
That's all I can say here.
Amar'e's 360 Finish
Who knew Amar'e Stoudemire could move like that?
My jaw sure didn't.
Emeka Okafor Sends It to Extras
Just like his 2004 draft stock, Emeka Okafor sank this crucial bank shot to send it into overtime.
On a positive note, the former UConn Husky is a good NBA player I guess.
How much more awkward must I make this?
Dwyane Wade Does It Again
"Flash" with another highlight; nothing new here.
Chris Paul's Great Pass to Aaron Gray
What an amazing pass by Chris Paul.
There should be an emphasis on the word "amazing."
Derrick Rose Blocks Then Amazes
If you ever needed to inquire about the definition of hustle, watch this video.
Derrick Rose just absolutely tosses around the Pacers on this play, one that occurred during the first round of the playoffs.
LeBron James' No-Look Pass
What an amazing sequence here by LeBron James.
And then to finish it off by looking the completely different direction.
He truly is a spectacular passer.
Dwyane Wade to LeBron James for Six
How amazing was this full-court pass?
Wow. What precision by Dwyane Wade. He might as very well be the Miami Dolphins' quarterback.
Derrick Rose, Block Artist
Oh wait, I lied.
This one defines hustle!
Amazing hustle, amazing extension, and amazing all-around.
J.J. Hickson Invites Blake Griffin to His Block Party
J.J. Hickson effectively earns himself a spot on the list by refraining Blake Griffin, who was trying to do the same thing.
Seriously though, what a play!
Nick Young's 360 Layup
True in form, Nick Young's wizardry is more evident than ever in this video.
I mean, how many times could we ever pull that off in our lifetimes'?
My odds of performing the impossible: 10,000-to-1.
Kevin Durant Goes Strong Once Again
Kevin Durant proved his worth this postseason, and this was truly a play that made mouths all around gape alike.
LeBron and Wade Continue Their Bromance
This one was perhaps the most-watched off the season from this countdown.
Not only did it define Miami's superstar identity, it also gave new meaning to the term "alley-oop."
Wilson Chandler's Reverse
What a great dunk by Wilson Chandler, one of the NBA's most underrated players.
If he keeps that up he'll get that recognition soon enough.
Derrick Rose Makes Everyone Feel Inadequate...Again
First you think "Wow, nice play!"
Then you realize Derrick Rose threw the pass between his legs and declare it amazing and salivate on the spot.
Philadelphia, We Have a Problem
This play is, simply put, vintage Kobe Bryant.
He takes off from the floor and absolutely obliterates Andres Nocioni. The poor guy's face will be in poster stands near you this summer.
Blake Griffin Amazes Again
Just another day in the office for Mr. Blake Griffin.
In other news, Danilo Galinari took his talents to Denver out of sheer embarrassment.
Are You Kidding Me?
The title should say it all. I am speechless.
But hey, nothing like another Blake v. Knicks case won by the former!
Tyreke Evans' Amazing Buzzer Beater
Just like the NBA's slogan, amazing happened here.
Tyreke Evans calmly sinks the half-courter and Arco Arena goes absolutely nuts.
J.R. Smith to the Rescue!
Well, J.R. Smith has done it again.
That jaw-dropper had Smith flying through the air! I can't get enough of this play.
Taj Gibson's One-Handed Putback
This was one of the craziest dunks I have ever seen.
Even I, one of the most awkward people you will ever meet, was slapping the floor out of complete admiration.
It was easily the most jaw-dropping play of the season.
Keep Reading