L.A. Lakers: Jim Buss Is Dolan All over Again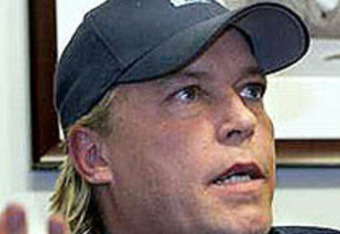 What has this world come to? The Lakers get swept by none other than the "weak-minded" Dallas Mavericks, Coach Phil Jackson retires, Dr. Buss hands over the Lakers to his son Jim like it's a Happy Meal, and Mike Brown is once again coaching a team he probably can't control.
What's next, Scottie Pippen saying that LeBron James is the best to ever play?
This last month has been a nightmare in the making—the startling part is, Kobe didn't even know it was coming, alongside every other person who is involved with the Lakers organization.
"The hiring of Mike Brown is the beginning of the end of one of the greatest teams in NBA history, the Los Angeles Lakers," says Todd Jacobs of Yahoo.
This, indeed, is a marking of a sad period in Laker history and it all starts and ends with Jim Buss, now heavily involved with the Lakers. He is a James Dolan (New York Knicks owner) in the making and for his welcoming present, Buss sadly gets one of the most respected organizations in sports history (Lakers).
Now usually there is a bright end at the end of a dark tunnel, but let's just say the tunnel collapsed because there is no avoiding the dark period that is about to come.
You may not know it, but Buss has been involved in decisions before, including the decision to hire Rudy Tomjanovich—the single worst coach hiring in Laker history—lasting only 41 games before resigning. Buss was also the main reason for the departure of Jerry West, something the Lakers organization must regret everyday, especially on days such as these.
Will Jim Buss Ruin the Lakers?
Buss doesn't seem to care/know much about the NBA and it has shown in his previous and present decisions.
But something that won't rest easy with the Lakers, is the fact that the hiring of Coach Brown went somewhat under the radar. On the May 25 edition of The Dan Patrick Show, Mitch Kupchak, the Lakers General Manager, showed up and admitted that Jim Buss had not informed Bryant of the Mike Brown hiring before or after it had happened. You only get three strikes in life, maybe even less in Lakerland, and Buss got one for not telling the one player you need to build a relationship with.
If Bryant isn't happy with Buss, things will not go well for the Lakers in these coming years—things will get ugly and it will no doubt be a new page in the Laker history books—something that no one wanted to write about, but nonetheless it will happen.
It's sad that one man can do so much damage with only a couple of decisions. The Lakers were the last team expected to be turned into a toy, but it looks like it's happening as we speak—so before you throw out the things like Dwight Howard and championship runs, just take a look at the new owner.
This article is
What is the duplicate article?
Why is this article offensive?
Where is this article plagiarized from?
Why is this article poorly edited?

Los Angeles Lakers: Like this team?