NBA Trade Rumors: Andre Iguodala and One Player Each Team Might Move This Summer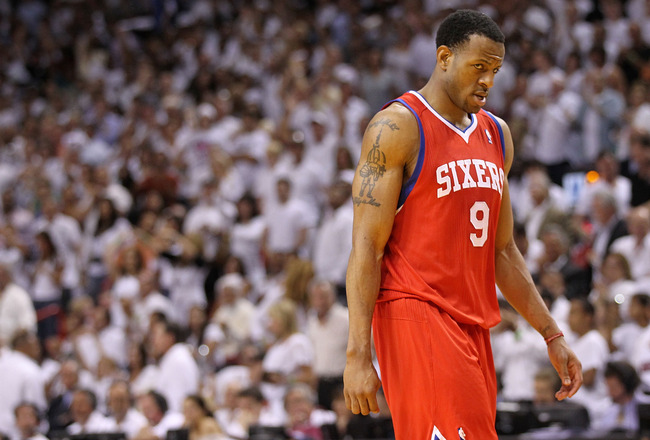 Mike Ehrmann/Getty Images
As the 2011 NBA Playoffs continue to wage on, many people can't help but think about the trade scenarios in the offseason.
With superstars uniting in all different places, almost anything can happen in the NBA these days. How many people truly thought they'd see either of the current trios in Boston or Miami playing together? The traditional days of one-superstar teams are over.
Some like it and some don't, but with no salary cap, there's no stopping it. Although the offseason doesn't pack quite the punch of the trade deadline in February, there's still buzz surrounding players on all the teams. Big names are hypothetically shopped around, even if they're in the middle of a huge, seven-year deal.
Here's one player each team might send to another city this summer, listed alphabetically by team.
Atlanta Hawks, Marvin Williams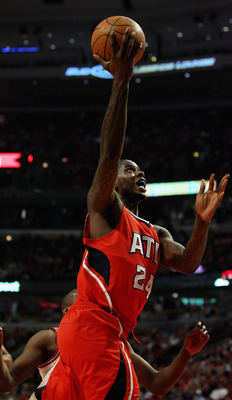 Jonathan Daniel/Getty Images
Marvin Williams was the second pick of the 2005 NBA Draft, taken right before point guards Deron Williams and Chris Paul.
Since then, the Atlanta Hawks haven't been able to find a true point guard that can run the offense. Because of that, the Hawks have continually bowed out of the playoffs much before they would have liked.
Hoopsworld.com had this to say about Williams in December:
"Let's be clear, Williams is the Hawks' first choice to move in a deal if they could find a taker for his salary that yielded some frontcourt talent in return. The team shopped the sixth year forward during the summer but didn't find the right package they were willing to pull the trigger for."
Whether or not that has changed is up in the air, but Williams is the most likely player the Hawks would part with. He has the potential to be involved in a deal that has a significant return for Atlanta.
Boston Celtics, Ray Allen
Mike Ehrmann/Getty Images
According to the Boston Herald's Mark Murphy, Ray Allen may be a name on the trade market. Murphy had this to say:
"He loves his situation, and his family has developed strong ties in Boston. Yet, just as Ainge explored Allen's trade options two seasons ago, he could revisit those channels this summer. Allen's value is undisputed. He remains one of the fittest athletes in the NBA."
Allen's lethal shooting ability has ESPN.com talking Chicago as a possible suitor:
"The Bulls will likely be looking to upgrade at shooting guard this summer, and Allen's ties to Bulls head coach Tom Thibodeau from their days together in Boston are there."
Allen would be hard to pry from the Boston Celtics, but it's not impossible.
Charlotte Bobcats, Shaun Livingston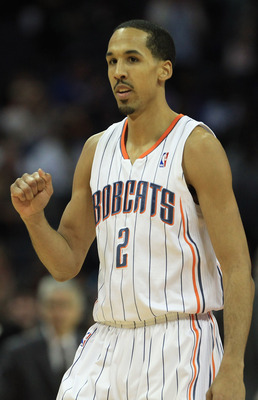 Streeter Lecka/Getty Images
A promising young career was derailed by a severe knee injury on court for Shaun Livingston.
Now Livingston has a reserve role for the Charlotte Bobcats. D.J. Augustin is getting about 34 minutes per game at point guard, which doesn't leave much time for Livingston. Livingston is still only 25 years old, which means he could turn his career around.
However, he's the type of player that could be moved around in various deals. There's not a ton of buzz surrounding the Bobcats since they traded Gerald Wallace, but they might make some minor moves.
Chicago Bulls, Taj Gibson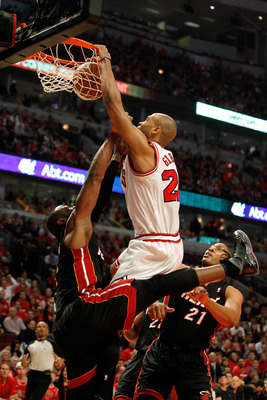 Gregory Shamus/Getty Images
Has there ever been a better time to trade Taj Gibson?
He caught the eyes of every NBA fan during Game 1 of the Eastern Conference Finals when he threw down two ridiculous dunks to help Chicago to victory. However, Gibson hadn't really done anything spectacular up to that point.
It's quite possible that he was overachieving.
If the Bulls want to sell high, they could deal Gibson this summer and try to land the shooting guard they've been searching for.
Cleveland Cavaliers, Ramon Sessions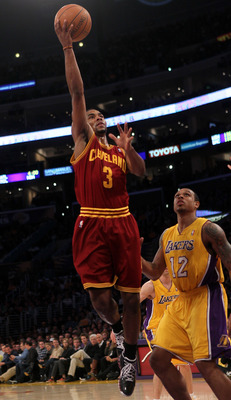 Stephen Dunn/Getty Images
The Cleveland Cavaliers could be dealing more than just one player this offseason.
Right now, the Cavs hold the rights to the No. 1 and No. 4 selections in the 2011 NBA Draft. With a point guard probably being one of the choices, the Cavs will likely deal Ramon Sessions this summer. They already have Baron Davis, and it'll be harder to move Davis' hefty salary.
The Cavs could take part in many deals, but Sessions seems to be the most likely to be moved. He holds decent value after averaging 13.3 points and 5.2 assists in just over 26 minutes per contest this year.
Dallas Mavericks, Shawn Marion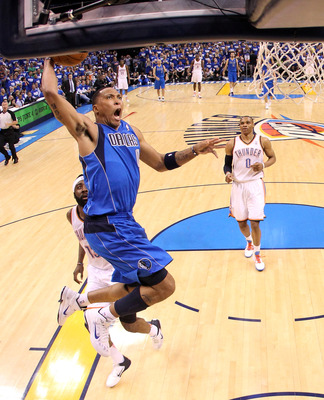 Ronald Martinez/Getty Images
The Dallas Mavericks are yet another team that won't be looking to make too much noise this summer.
Their season will end in the Western Conference Finals—at the absolute worst. Currently, the Mavericks hold a 2-1 lead on the Oklahoma City Thunder and are the favorites to advance to the NBA Finals. However, they have an overflow of small forwards.
An injury to Caron Butler forced the Mavs to go out and add Peja Stojakovic. With Shawn Marion also in the mix, the Mavs have more than they need at the position. The player they'd most likely want to trade—and would actually get something back for—is Marion.
Butler was part of a team that started 24-7 with a 12-game winning streak. He seemed to be the best fit at small forward for the Mavericks, so he'll be back in the starting lineup next season.
Denver Nuggets, Raymond Felton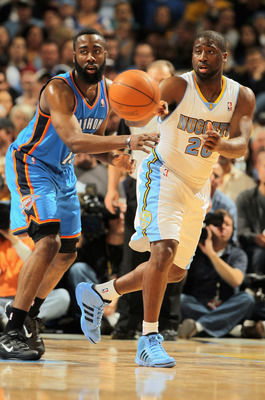 Doug Pensinger/Getty Images
As soon as Raymond Felton was moved to Denver, trade rumors circulated about him being moved immediately. The Nuggets were apparently all about Ty Lawson and his future as the team's playmaker.
Felton was having a breakout year in New York and would be a great addition to almost any team. However, I'd assume he wants a starting position somewhere. He could be a huge addition to the Los Angeles Lakers, which are in dire need of a point guard.
The Nuggets have a very different roster from the beginning of the season, so it'll be interesting to see what they do before next season kicks off.
Detroit Pistons, Richard Hamilton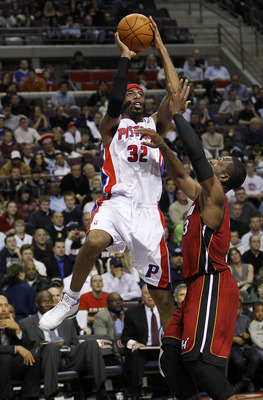 Gregory Shamus/Getty Images
The Detroit Pistons would love to get rid of Richard Hamilton's gaudy contract.
However, convincing another team to buy into his over $12 million contract will be tough to do. In order to do so, the Pistons will have to throw in some young talent and draft picks. Also, the buyer will have to believe that "Rip" still has some good years left in him.
Rodney Stuckey would be here if he wasn't a restricted free agent. I'm not sure the Pistons will make any deals, but Hamilton is the No. 1 player they'd like to send packing.
Golden State Warriors, Monta Ellis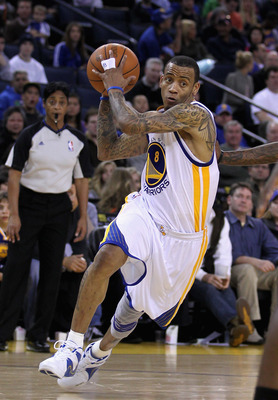 Ezra Shaw/Getty Images
Monta Ellis could be one of the best players on the trading block.
Whether or not the Golden State Warriors would give him up is still in question, but it's been said that the Warriors prefer Stephen Curry to Ellis. Ellis is not a willing passer, and he's one of the laziest defenders in the entire league.
If any team needs a pure scorer, they could definitely target Ellis.
Houston Rockets, Courtney Lee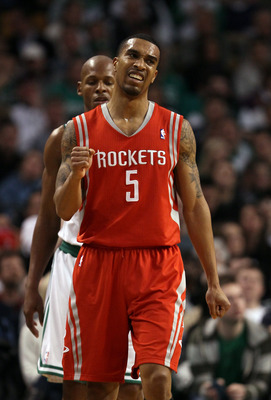 Elsa/Getty Images
Courtney Lee was all over the rumor mills at the NBA trade deadline in February of this year.
His name could still very well be on the trade blocks this offseason. When the Houston Rockets were trying to send Lee elsewhere, they were looking for a big man in return. However, Yao Ming should be back in action by next fall. The Rockets may still look for some extra help down low.
It's hard for the Rockets to trust Yao to make a full return, so why not ship out Lee and make sure they're prepared for yet another Yao injury.
Indiana Pacers, Brandon Rush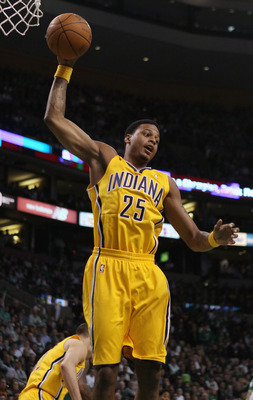 Elsa/Getty Images
The Indiana Pacers picked up the option on Brandon Rush.
It was a surprise to many because Rush saw his role fade during the season. He made over $2 million in 2010-11 and is expected to bring in almost $3 million next season. Bob Kravitz of the Indianapolis Star had some input on the subject:
"Rush? Somebody has to explain why they picked up his option. My sense is he'll be dealt this summer."
The Indiana Pacers have plenty of cap room, so they might send Rush to another city to clear up some more space. The Pacers need to be careful with each move they make because this is an important time in the NBA.
Los Angeles Clippers, Chris Kaman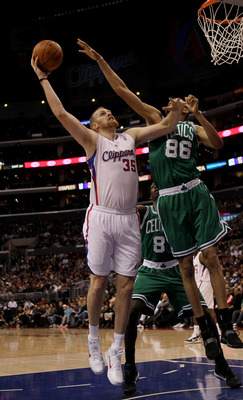 Stephen Dunn/Getty Images
No matter how good Chris Kaman does, it always seem like his name is on the trading block.
Kaman has been a low-end double-double guy for a while now and has been a Clipper for his entire career. It still never seems like he's guaranteed to be on the squad in the next season.
This year, Kaman suffered an injury, and DeAndre Jordan excelled in his absence. Jordan was a second-year player out of Texas A&M, and he averaged over seven rebounds in just over 25 minutes of play.
Kaman is probably immune to the rumors at this point.
However, he's set to make over $12 million next season. That's a significant amount of money for Kaman's services.
Los Angeles Lakers, Andrew Bynum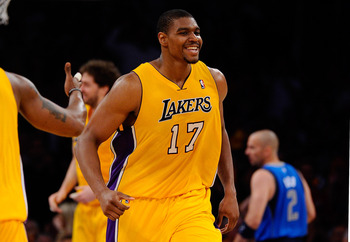 Kevork Djansezian/Getty Images
There's no denying the fact that Andrew Bynum is the least likely big-name player on the Los Angeles Lakers that might not be suiting up for them next year.
Bynum has been the main subject in many trade scenarios that send Dwight Howard to LA. Bynum truly emerged this season as a threat at both ends of the floor. His rebounding and shot-blocking ability are his best assets, but Bynum has a rapidly progressing offensive game.
It's not certain whether or not the Lakers will want to part with Bynum, but having Howard on the other side of the deal will surely make them consider.
Memphis Grizzlies, O.J. Mayo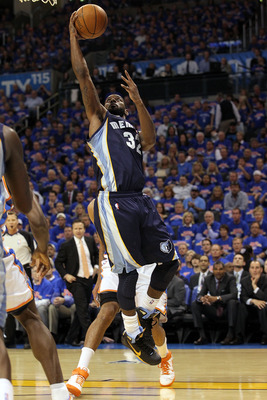 Ronald Martinez/Getty Images
O.J. Mayo was moved at the trade deadline, but the deal was revoked because it was mere minutes too late.
Owner Michael Heisley had this to say about the possibility of trading Mayo:
"I was the one guy who didn't think we should trade O.J. before. The reason we finally made the trade, in defense of Chris (Wallace), is that we had a lot more players at the guard position and not as many at the bigger positions."
If the Grizzlies pulled the trigger on moving Mayo once, they'd do it again.
Miami Heat, Mike Miller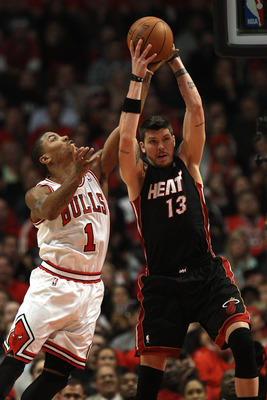 Jonathan Daniel/Getty Images
Mike Miller was a waste of money for the Miami Heat.
Miller has been a non-factor in the NBA playoffs, and his poor three-point shooting is causing the Heat to keep him off the floor as much as possible. For someone that was brought in to do one thing, Miller has been an absolute disappointment to the Heat.
If the Heat can find Miller a new home, they may be able to snag a decent center to log some minutes next season.
Milwaukee Bucks, Brandon Jennings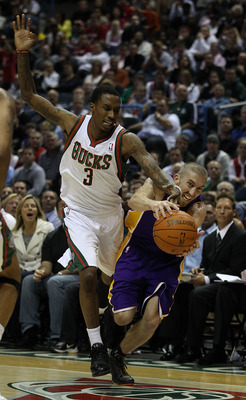 Jonathan Daniel/Getty Images
This one may be a little far-fetched, but it's rumored that the Milwaukee Bucks may be entertaining offers for their young star. According to Mary Schmitt Boyer of The Plain Dealer, Brandon Jennings isn't guaranteed to be a Milwaukee Buck next year:
"The Milwaukee Bucks reportedly would be open to listening to offers for guard Brandon Jennings."
Jennings didn't have quite as impressive a sophomore campaign as people expected, but he still put up over 16 points a game for a low-scoring team. Questions about Jennings' poor shot selection have been heard, but there's no denying his ability to score.
Jennings is the type of player that can have an immediate impact on a new team, maybe as a sixth man like Jamal Crawford.
Minnesota Timberwolves, Jonny Flynn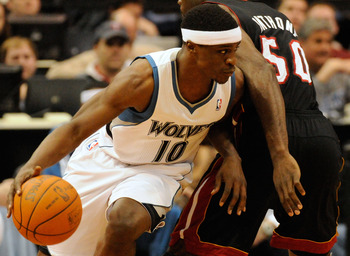 Hannah Foslien/Getty Images
The Minnesota Timberwolves look as if they're going to get Ricky Rubio to finally come to the NBA. According to to Yannis Koutroupis of hoopsworld.com, Rubio's decision should be finalized in the next few weeks, and that will likely be the end of Jonny Flynn's career in Minnesota:
"If Rubio does indeed sign as expected, point guard Jonny Flynn's days in Minnesota are numbered. Sources also indicated to HOOPSWORLD that Flynn is almost sure to be traded in that case with the Toronto Raptors being one of the most probable destinations."
Flynn hasn't been as good as people expected in his two years in the league after his time at Syracuse. Flynn is said to be too small; however, he can still succeed in the NBA if he's put in the right system.
The Wolves are committed to Rubio, and that means happy trails to Flynn.
New Jersey Nets, Brook Lopez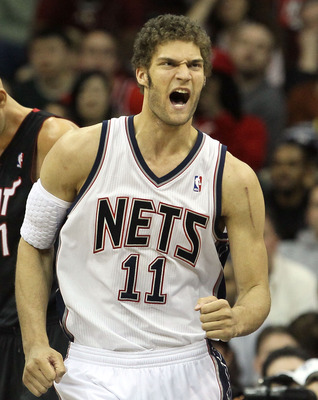 Jim McIsaac/Getty Images
Just like Andrew Bynum, Brook Lopez is finding himself in the middle of all kinds of trade scenarios involving Dwight Howard.
Lopez would be sent to Orlando as part of a deal that brings Howard in to join forces with newly-acquired point guard Deron Williams. This would be a move the Nets would pursue if they were fearful of losing Williams.
Lopez had a breakout season in 2010-11 and has expressed his desire to stay in New Jersey and play alongside Williams.
Unfortunately for Lopez, it's not up to him.
New Orleans Hornets, Chris Paul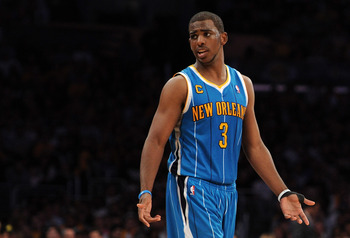 Harry How/Getty Images
This is the summer of fear for two teams, one of those teams being the New Orleans Hornets.
The Hornets will be in constant fear of losing superstar Chris Paul to free agency instead of getting something in return. Possible destinations for CP3 either through trading or free agency most famously include Los Angeles and New York.
The Lakers don't lose gracefully and will do almost anything to try and get back to the top of the league. The Knicks are stacking stars in New York, and Paul would be a huge addition to the party.
The Hornets will seriously contemplate dealing Paul this summer, because there's nothing worse in the NBA than watching your best player walk out the door without getting anything in return.
New York Knicks, Chauncey Billups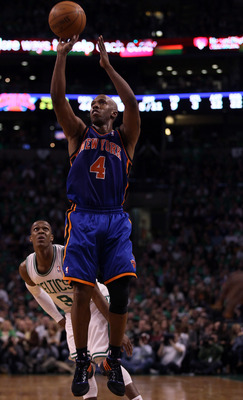 Elsa/Getty Images
The New York Knicks have zero problems with Chauncey Billups.
However, Billups will be making over $14 million next season, and he's getting up there in the age department. The Knicks would love to use Billups as the centerpiece in a trade to get Chris Paul. If it's not Paul, then the Knicks will just want a good, young point guard to build with.
I'm not saying the Knicks will surely trade Billups, but his name will be offered up in a few scenarios.
Oklahoma City Thunder, Nate Robinson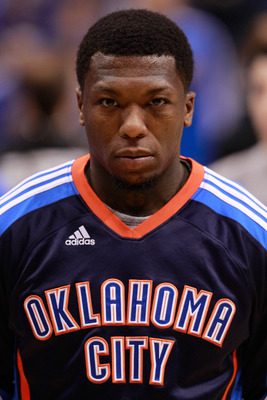 Tom Pennington/Getty Images
The Oklahoma City Thunder don't need to make any moves this offseason.
Nate Robinson hasn't been in any trade rumors, but he seems to get involved in every trade lately, so why not one more? Robinson is the third-string point guard in Oklahoma City, so it wouldn't be that surprising to see him moved.
I wouldn't be surprised if the Thunder just sat back and let offers come to them this summer, rather than making moves of their own.
Orlando Magic, Dwight Howard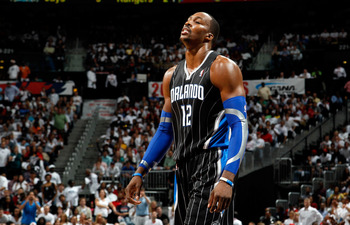 Kevin C. Cox/Getty Images
The Orlando Magic are the other team that will live in fear this offseason.
If you haven't heard yet, Dwight Howard is definitely on the trading block due to his distaste with his situation in Orlando. Howard wants to win championships, and the Magic haven't given him the supporting cast that he wants.
With all of the mergers happening elsewhere, Howard wants some of the action. He'll be a free agent after next season, so the Magic want to make sure he doesn't just walk out on them.
Entertaining offers for the most dominant big man in the game should be very familiar to the Magic.
Philadelphia 76ers, Andre Iguodala
Marc Serota/Getty Images
Andre Iguodala is one of the more talked-about players this summer. He's set to make $13.5 million next season, and he's not producing the numbers the Philadelphia 76ers expected him to when he inked this long-term contract.
For this one, I'll allow Kate Fagan of the Philadelphia Inquirer to do the talking:
"Iguodala has not asked Sixers management for a trade, but the team will be looking to trade him this summer. What (coach Doug) Collins doesn't need is a borderline star answering questions vaguely about his desire to play for Collins' team. It's too much navigation at this stage of the building process, and Collins is too genuine to ignore Iguodala's half-statements and innuendo."
Iguodala could very well be on the move, but I wouldn't say it's as certain as Fagan makes it sound.
Phoenix Suns, Steve Nash
Christian Petersen/Getty Images
The Phoenix Suns are one of the more interesting teams in all of basketball. Not many people are sure where the Suns are going to go from here.
Steve Nash is still the centerpiece of the franchise, but his years are very limited. It could definitely be speculated that losing Nash would be the end of the Suns current style of play. However, rumors about Nash leaving Phoenix have seemed to die down since the February trade deadline passed.
Depending on the direction of the franchise, Nash may still be on the move.
The only way to know what the Suns are going to do next is to have a sit-down the team owner.
Portland Trail Blazers, Wesley Matthews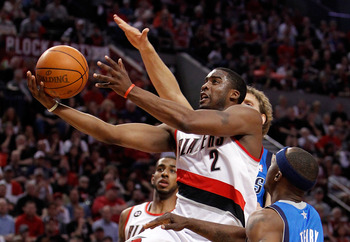 Jonathan Ferrey/Getty Images
Talk about selling a player while they are a hot commodity, and someone is bound to bring up Wesley Matthews.
In only his second year in the league, Matthews was a serious contributor for the Portland Trail Blazers in relief of the injured Brandon Roy. However, he is still the second option in Portland at shooting guard, and the Blazers could get solid players for Matthews in a trade.
The Blazers gave the Dallas Mavericks a serious run for their money right before the Mavs swept the two-time defending champions. Simply put, the Blazers have a team that could potentially make a huge step next season.
Sacramento Kings, Beno Udrih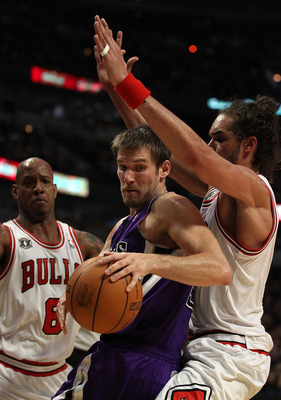 Jonathan Daniel/Getty Images
The Sacramento Kings main concern is the location of the team.
In terms of their roster, the Kings don't have too much to brag about. If I were a member of the front office, I would find a way to get Marcus Thornton and Tyreke Evans starting in the backcourt together. That would be at the expense of Beno Udrih, who could be traded in this scenario.
The Kings have more important things to deal with right now than player trades, but this is one they could possibly ponder. Also, they could potentially use Udrih as part of a bigger trade to land a star of the league.
Honestly, the Kings could do a number of things this season, but rumors haven't really been potent in Sacramento.
San Antonio Spurs, Richard Jefferson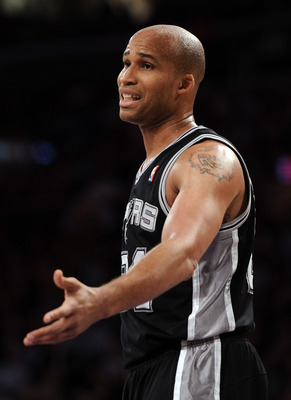 Harry How/Getty Images
Richard Jefferson has been an enormous disappointment in San Antonio.
The Spurs were clicking during the regular season, but Jefferson was never really the player that the Spurs thought they had added. In the playoffs, Jefferson was basically useless. The Spurs were eliminated in the first round, and Jefferson was never able to put up a true fight. In fact, Jefferson only scored 10 points in the final four games of the series.
Many San Antonio fans would back this idea up, but it's by no means a sure thing. If one big player were to leave this summer, however, it would most likely be Jefferson. Jefferson is due to make almost $10 million in the 2011-12 season.
Toronto Raptors, Amir or James Johnson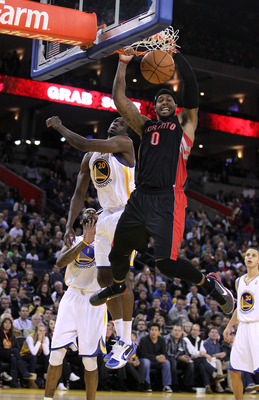 Ezra Shaw/Getty Images
The Toronto Raptors have the No. 5 pick in the upcoming draft. Many people speculate the Raptors will be taking an international forward, but I believe the Raptors will take San Diego State's Kawhi Leonard.
If that's the case, the Raptors can send one of their forwards packing. Either Amir or James Johnson could be on the move this summer should the Raptors take Leonard. Neither player makes all that much money, but it's a complete matter of preference for Toronto.
The Raptors are more focused on the draft than anything, as their selection will play a pivotal role in their moves for the rest of the offseason.
Utah Jazz: Devin Harris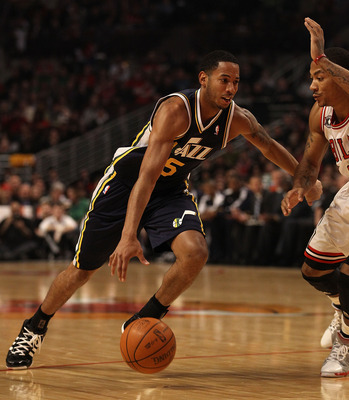 Jonathan Daniel/Getty Images
I'm fairly certain the Utah Jazz will be selecting a new franchise point guard with the No. 3 pick in the draft.
That makes the future of Devin Harris a very unsure one. They could keep him on to serve as a mentor to whomever they select, but they could just as easily deal him for some immediate help. The Jazz have two picks in the lottery this year, so they will be like the Raptors in allowing the draft to play a big role in their offseason moves.
Other than Harris, the Jazz don't really have that many players I could see them moving. The rest of the team seems pretty fit to stay, with Mehmet Okur being the only other player I wouldn't be surprised to see dealt.
Washington Wizards, Rashard Lewis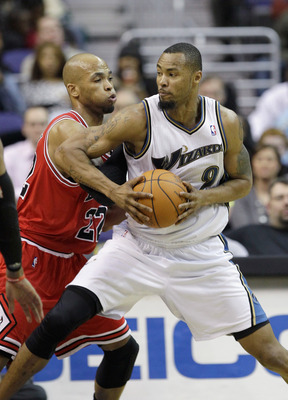 Rob Carr/Getty Images
Did you know that Rashard Lewis was the second-highest paid player in the NBA in 2010-11?
It would take a dream trade scenario for the Washington Wizards to rid themselves of Lewis' disgustingly large contract.
With eight free agents currently on their roster, it's tough to even speculate who will be with the Wizards next season.
So, here's a dream trade for the Wizards.
Unfortunately, for dreams to work in a trade machine, it takes sacrifices. In this case, the sacrifice is JaVale McGee.
Keep Reading