2011 NBA Draft Lottery: 25 Bold Predictions for the Top 25 Prospects and Picks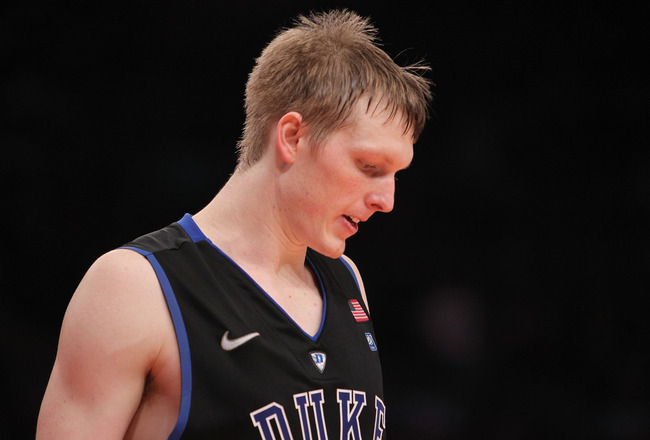 Nick Laham/Getty Images
Since there are just four teams left in this year's playoff race, I think it's safe to assume that the thing on most team's minds is the offseason.
There is a lot to do during the five-month period: draft a solid player or two, deal with offseason deals and free agency and make coaching moves if necessary.
Today I'll be focusing on bold predictions regarding the top 25 selections.
Who's going to be a star? Who will be infamous for being the next bust?
All this and more is enclosed within the following 25 slides.
25. O.J. Mayo Will Be Among the Players Who Are Dealt on Draft Day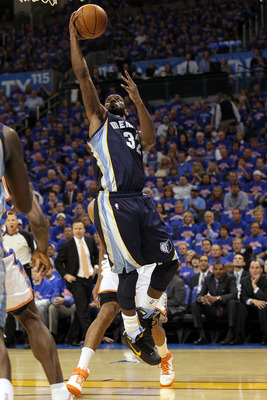 Ronald Martinez/Getty Images
It has been well-documented that the Indiana Pacers and Chicago Bulls want a shooting guard like O.J. Mayo.
In fact, the Pacers actually had a deal proposed and accepted at the trade deadline for the USC product, albeit after 3:00, but that's not the point. The point is that both Indiana and Chicago are chasing him, and there's hardly any chance he'll be a Memphis Grizzly next season. Whether it be for picks, there's a chance he could be dealt on draft day.
It'll be the end of an ugly three-year marriage.
Other shooting guards who could follow suit are Jamal Crawford and J.R. Smith (especially J.R.).
24. There Will Be a Few Superstars in This Year's Draft Class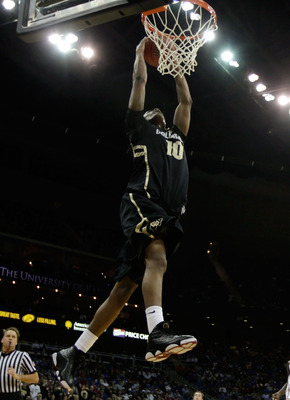 Jamie Squire/Getty Images
Despite the popular opinion, I believe this year's draft has a superstar or two under its belt.
One of them could be, in my humble opinion, Colorado's Alec Burks.
A 6'6" shooting guard, Burks' game is prepared for the NBA lifestyle like almost no other prospect in the draft. He is athletic, he can shoot, he can handle the ball and his speed is as solid as they come.
You heard it here first: Alec Burks has superstar potential.
23. The Last Eight Picks of the First Round Will Be Less Than Meaningful
Kevork Djansezian/Getty Images
In a draft class where there isn't exactly top-flight talent at any position outside perhaps point guard, the last eight picks of the first round will bring forth little to no anxiety, and just about all of them could end up being traded. Only time will tell as the playoffs and offseason progress.
In spite of a picture, this might be the part of the draft where Kyle Singler or JaJuan Johnson are selected, though. However, there won't be any steals during this portion of the draft.
22. Trey Thompkins Will Turn out to Be an Excellent Pick for the Nuggets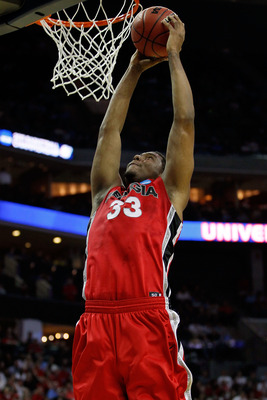 Kevin C. Cox/Getty Images
Trey Thompkins, a Georgia junior, is slipping down most mock drafts, but why?
I mean, he's one of the better post players available, and to top it off he can shoot, rebound and mesh with just about anyone in the post.
It'll be a match made in heaven for the Nuggets, who might see themselves getting rid of incumbents Kenyon Martin (33) and Al Harrington (31) sometime in the near future in exchange for youth.
21. Portland Draws the Second Half of the Morris Duo...Bad Mistake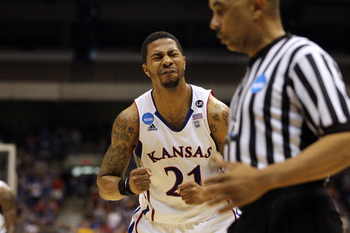 Ronald Martinez/Getty Images
Markieff Morris is a great all-around prospect, make no mistake about it, but is an awful fit in Portland.
How often will the Blazers need him, honestly?
LaMarcus Aldridge does the majority of the dirty work down low, and even the 37-year-old Marcus Camby might be aboard the Portland train for a few more years. Morris just isn't worth the selection.
They'd be better off trading his rights than selecting him at all, but if they do it, it won't be a match made in heaven.
20. It's a Foregone Conclusion That Chris Singleton Will Be Heading to Minnesota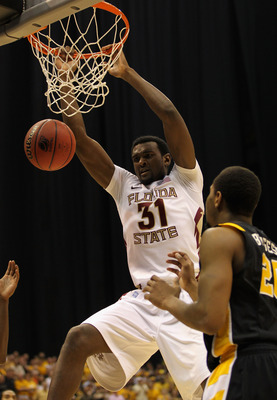 Jamie Squire/Getty Images
I myself have discussed Chris Singleton heading to the Land of 10,000 Lakes and why it would be a great selection for the Minnesota Timberwolves.
He's big, he's a great leader and he was the best defender in all of college basketball last season.
The only thing missing from the T'Wolves' frontcourt (one that consists of Michael Beasley, Anthony Randolph and Kevin Love) is defensive intensity, and Singleton would without a doubt boost them in that aspect.
19. Tobias Harris Heads to Charlotte...Bust!
Kevin C. Cox/Getty Images
Tobias Harris seems like a good fit for the Bobcats at first glance; he has size, versatility and no fear around the basket. But in all honesty, those are the things that will doom him.
They already have a few versatile players at the position, most notably Tyrus Thomas. Thomas and Harris are very much alike, and this will eventually lead to Harris' quick departure, a move that will help him realize his full potential elsewhere.
18. The Wizards Add Another Wing Player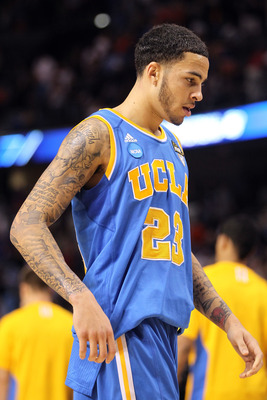 Mike Ehrmann/Getty Images
Tyler Honeycutt, the UCLA product, seems destined for a great NBA career, if only he could add about 25 pounds to his frame.
His draft stock has improved ever since he declared, and when the Wizards notice he isn't gone by their second pick, he'll be taken promptly by them.
17. The Bummed out Knicks Take the Rebounding Phenom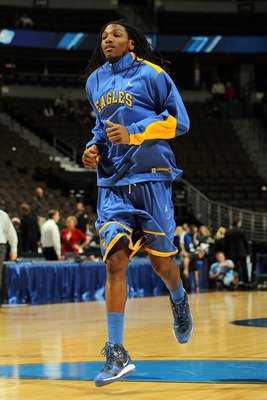 Doug Pensinger/Getty Images
The New York Knicks are in need of a defense-orientated center. Unfortunately, the only guy that fits the bill entirely (Bismack Biyombo) has already been taken, so the Knickerbockers pick the Morehead State wonder that is Kenneth Faried. He is a good defensive player that certainly rebounds extraordinarily, so he's as close as you can get.
Faried will be a good fit in the Big Apple, mainly because his rebounding will definitely help the frontcourt, namely Amar'e Stoudemire, who isn't exactly Wilt Chamberlain when it comes to crashing the boards.
Faried, who averaged nearly 15 rebounds per game last season, is going to fit in just fine if selected by the Knicks.
16. The Desperate Sixers Make One of the Best Picks in the Draft in Biyombo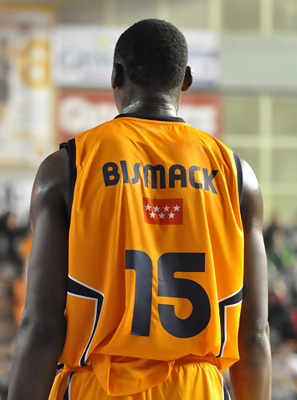 Bismack Biyombo is the draft's most unknown prospect.
The Philadelphia 76ers, in need of a solid center, desperately select the 6'9" Biyombo, not knowing what the future might hold and perhaps ignoring all doubters.
He is an incredible defensive force in the paint, and since they already have three scorers in Andre Iguodala, Evan Turner and Jrue Holiday, it turns out to be a phenomenal selection.
15. The Indiana Pacers Desperately Select a SG, but It's Not the One They Wanted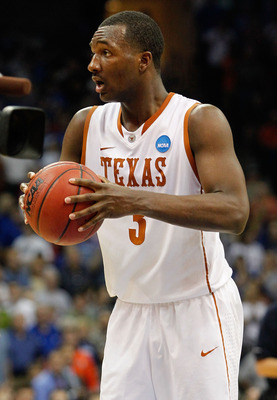 Tom Pennington/Getty Images
When Jordan Hamilton of Texas is available with the 15th pick overall, the Indiana Pacers foolishly select him, not fully knowing if he could be their man or not.
Unfortunately for them, someone else will grab ahold of Jamal Crawford, J.R. Smith and O.J. Mayo, and they will find themselves with an unproved and perhaps unready to start guy like Hamilton.
This isn't knocking Hamilton; I'm sure he'll be a fine player. He's just not ready to start and play 30 minutes from day one.
14. The Houston Rockets Pick the First Half of the Morris Duo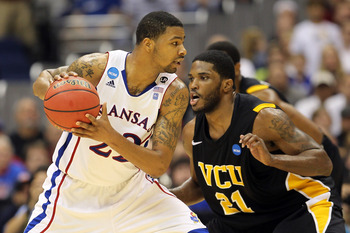 Jamie Squire/Getty Images
At 6'9" and weighing in at 218 pounds, Marcus Morris has good size for an NBA small forward.
The better half of the Morris twins, Marcus might find his talents best displayed in Houston, where a three is needed after the midseason departure of Shane Battier.
He can shoot lights out, and his pretty jump shot might be a viable threat for the Rockets as early as next season.
13. The Phoenix Suns Will Address Their Biggest Need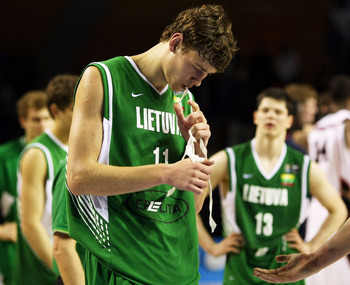 Hannah Johnston/Getty Images
If you're a Phoenix Suns fan, I don't need to tell you the biggest need of the team—you already know it.
Robin Lopez clearly isn't cutting it as a starting center, and the draft might be the place to find his replacement.
Donatas Motiejunas, who will be the second Lithuanian selected in the first round, has great footwork for a guy his size, and his passing skills are above that of a center's.
He could be the guy Phoenix has been waiting for.
12. The Jazz Take the Biggest Gamble of the Draft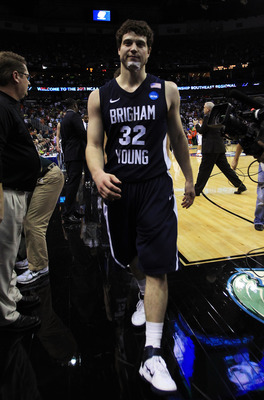 Streeter Lecka/Getty Images
Jimmer Fredette has no doubt been a topic of interest among NBA Draft junkies.
Fredette brings a lot to the table—a sky-high basketball IQ, a love for the game that is almost unmatched and a scoring ability that was better than J.J. Redick's at the same level.
I believe that Jimmer can be a star in the NBA if he learns to take on a better defensive role, and the Jazz might provide the perfect intense training and coaching to do so.
The state that has loved Jimmer over the last four years will become his permanent home once the draft is all said and done.
11. The Golden State Warriors Select a Potential Stud in Kawhi Leonard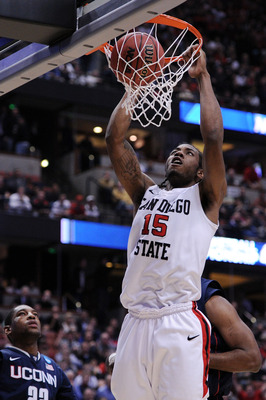 Harry How/Getty Images
The Golden State Warriors currently start Dorrell Wright at small forward.
Not that there is anything wrong about starting Wright, but the fact is that he is a very one-dimensional player.
Kawhi Leonard, a San Diego State product, has a much more complex and dense game than Wright, who sometimes is left in the dust and confused defensively. Leonard, although not a defensive specialist himself, gives a good effort on both ends of the floor and could be a big contributor on the Warriors' roster as early as next season.
10. The Milwaukee Bucks Will Finally Ditch Michael Redd for a Younger Upgrade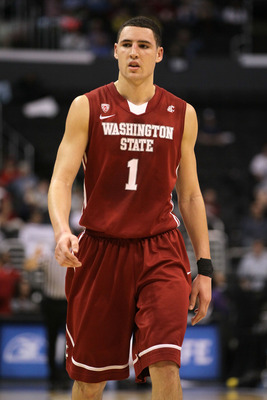 Jeff Gross/Getty Images
Michael Redd has been with the Milwaukee Bucks for 11 seasons now, but he has only played 61 games over his last three years with the team.
A good replacement can be found in the 6'6" shooting guard that is Klay Thompson. The Washington State product has a good jump shot, and his game will translate well into the professional level.
Milwaukee's biggest need is a perimeter player, and they might strike gold with the 10th overall pick in Thompson.
9. The Bobcats, in Hopes of Landing a Star in 2012, Select a Complimentary PG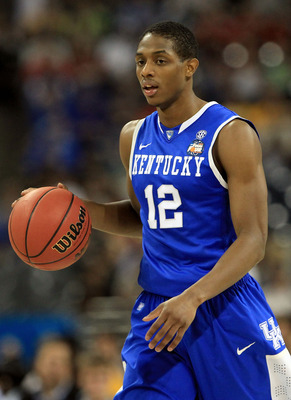 Streeter Lecka/Getty Images
The Charlotte Bobcats were a hot topic for free agency about a month ago. It was at that point that both Chris Paul and Dwight Howard had made public comments about heading to North Carolina to play for Michael Jordan's team.
If the team wants to acquire Chris Paul, they may need to give up a star of their own and an intriguing prospect. Enter the latter in Brandon Knight.
He might not be a Bobcat for long, but he's worth the selection for now.
8. The Cavaliers Lose out on Irving but Get Walker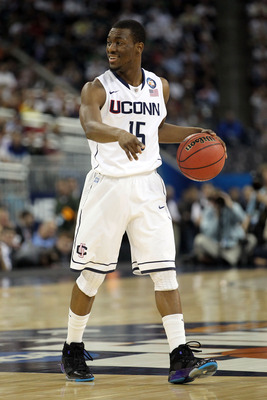 Ronald Martinez/Getty Images
If the ping-pong balls roll the way they are projected, the Cavaliers might not have a chance to win the Kyrie Irving Sweepstakes.
If they don't, why not take a chance on Kemba Walker?
Here's a guy who, if he can improve upon his decision-making, can be something very special in this league, and Cleveland might want a guy like him.
7. The Pistons, Lacking Everything, Will Make a Small Step Towards Their Future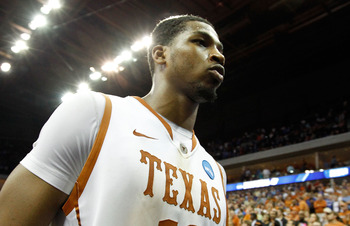 Tom Pennington/Getty Images
If I had to choose one franchise that I believe should start over entirely, I would no doubt pick the Detroit Pistons.
After controversy and disappointment defined their unfulfilled 2010-11 season, they will be looking for a good pick in June, and they won't be holding back as this draft could mean the most of any team to them.
Tristan Thompson of Texas is an intriguing prospect, and if he's available, I think Detroit won't hold back.
The Pistons could get lucky, however, and etch themselves a top-five selection, but that's highly unlikely.
6. The Utah Jazz Will Select Their Next Franchise Player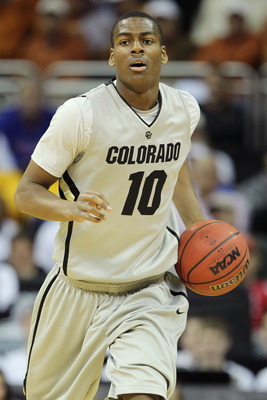 Jamie Squire/Getty Images
No offense to C.J. Miles, but I believe that Alec Burks will come straight into Salt Lake City and take on the starting shooting guard role with ease next season.
Maybe I'm a little high on Burks, but I truly believe he's a star in the making. He's a solid offensive player, from his dead-on shooting to his incredible finesse.
His basketball IQ and his love for the game will push him over the threshold, and he will soon become a household name for NBA fans.
5. The Kings Will Find Favor in the Top Czech Prospect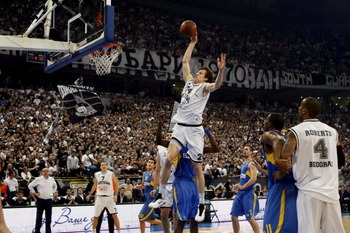 The Sacramento Kings have a plethora of young, talented players. So why not add one more in Jan Vesely?
If all goes as planned in the draft lottery and the Kings are the fifth overall pick, Vesely would be a great selection for the California club.
He has tremendous size for a small forward, standing 6'11" and weighing 240 pounds, and would fit in nicely with the Kings.
4. Now That Terrence Jones Is Staying at UK, the Wizards Will Go Big or Go Home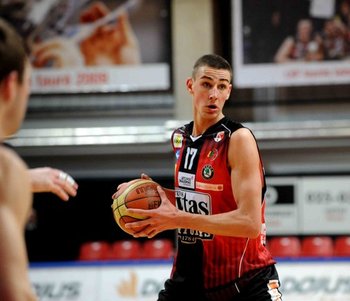 I'm fairly certain that Terrence Jones would've had himself a great opportunity to start alongside John Wall and Nick Young in our nation's capital, but unfortunately for them, he is taking his talents back to Lexington for another season with the Kentucky Wildcats.
So who will be the Wizards' selection?
Jonas Valanciunas, a 6'11, 240-pound force from Lithuania who is very worthy of this pick. I think he's kind of an upgraded version of a guy like Nenad Krstic.
3. In Need of a C, Toronto Must Decide Between Enes Kanter and Jonas Valanciunas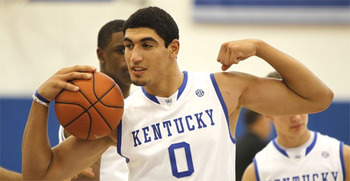 Assuming that the Toronto Raptors grab a hold of the third pick like they are projected to do so, they must realize they are in firm need of a real center. Andrea Bargnani is like a shooting guard in a center's body.
So who do they pick?
Both Enes Kanter and Jonas Vanaciunas should be available, and it's obvious at this point that Kanter is the better overall player. His potential is through the roof, and he has the skills necessary to compete at the next level.
2. Cleveland Will Be Pushing Hard for Derrick Williams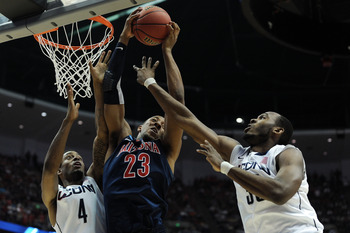 Harry How/Getty Images
Derrick Williams is as NBA ready and athletic as they come, and there are going to be several teams courting his services as the draft nears.
Alonzo Gee, who averaged seven points and four rebounds per game for the Cavs this season, is not exactly the cream of the crop when it comes to small forwards.
Williams would be a tremendous upgrade at the three spot, and if the Cavaliers draw second in the lottery, he should be their guy.
1. If the T'Wolves Don't Get the First Pick, Expect Them to Trade Down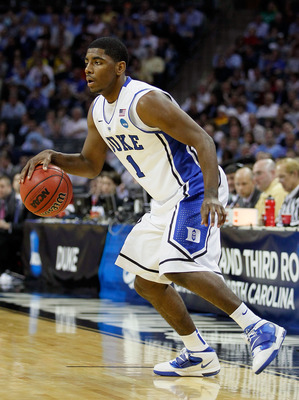 Kevin C. Cox/Getty Images
The Minnesota Timberwolves are in desperate need of a point guard, and they will take it in any form this summer.
If the team receives the first pick in the draft lottery come Tuesday, expect them to scoop up Kyrie Irving. Otherwise, it could be Ricky Rubio coming overseas finally.
Whatever happens with the lottery could be huge for the Wolves, and if they don't get the first pick, I can see them trading down and perhaps receiving players in a trade instead.
After all, they don't need a guy like Derrick Williams.
Keep Reading