LeBron James, Dwyane Wade & Chris Bosh: A New Perception of the Miami Heat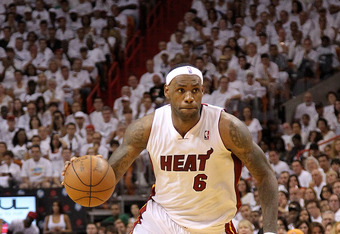 LeBron James
Mike Ehrmann/Getty Images
It all started with the now infamous phrase, "I'm taking my talents to South Beach."
When LeBron James uttered those seven little words during "The Decision 2010," he immediately shook the NBA universe more than any player had since Michael Jordan announced he was breaking up the Bulls dynasty to pick up a baseball bat.
In the minds of many, he went from a young phenom who gave his home state and the chronically underdog city of Cleveland a shot at glory, to public enemy No 1. The coverage of the city's outcry looked like something from a third world revolution. The streets surrounding Cleveland's Quicken Loans Arena quickly filled with an angry mob burning their once cherished No. 23 jerseys, while angry chants echoed through the city. It seemed that the NBA's golden boy had become one of its most tarnished faces in a matter of seconds.
James, one of the world's most recognizable and endorsed athletes, had made a bold move. When he left the Cavs he also left behind a fanbase that had watched him grow into one of the most dynamic athletes in professional sports history.
By the time LeBron was in eighth grade, his talents had already made him a local celebrity in Ohio. When he got to high school, diehard basketball fans all over the world knew he was destined for greatness. When the NBA 's draft lottery gave the Cav's the opportunity to claim him, it seemed like the first few lines of a fairy tale were being written.
His story, coupled with his extraordinary talent, was the type of thing that marketing departments dream of. For companies that bought into the King James brand, the moment he left the Cavs to team up with Dwyane Wade and Chris Bosh in Miami, those dreams quickly turned into nightmares.
Mike Ehrmann/Getty Images
LeBron signed with the Heat with one goal in mind: to win championships.
Under normal circumstances this would be an admirable goal for any athlete, especially for one whose future legacy was constantly being questioned due to his lack of rings. However, the media, and as a result the general public, quickly decided that this wasn't the case. It seemed like almost every "expert" analyst, armchair athlete and regular sports bar patron thought that LeBron was a traitor to his old team. His Q-score (a marketing metric used to measure the public perception of a celebrity) fell like a rock.
Everywhere you looked someone had something terrible to say about LeBron James, and he was no longer the face people wanted to see selling them products. In the months leading up to his decision, Nike had his signature brand of shoes all over the television, and you could find him in ads for everything from Vitamin Water to McDonald's cheeseburgers. He even had a full feature documentary about his high school years hit theaters all across the U.S.
Once he announced his signing with Miami, and the public's backlash ensued, it seemed like he had all but disappeared from the advertisement world, at least until the season started.
Once the Heat took the court it was obvious they were going to be a tough team.
They started the year off with a few rough losses, but that was to be expected. As they dealt with injuries to key role players, and with the growing pains of playing together for the first time, there we're some inevitable bumps in the road. As the year went on, and they found their momentum, they quickly started to look like a team that had the potential to win a championship. Soon, the public seemed to slowly forget about their new-found hatred of LeBron James and the Heat.
Mike Ehrmann/Getty Images
The media, and advertisers, soon followed suit. Dwyane Wade, the team's captain who had already won one ring with Miami in 2006, never saw much of a public backlash, as he had been with Miami his entire career. His toughness on the floor, flashy off-the-court style and stellar performances in the clutch had always made him a media and marketing favorite.
Chris Bosh, the former face of the Toronto Raptors and perennial All-Star, was never considered very likable by most outside of his home city. As the team had meshed, and the playoffs approached, they soon began to form a new and much different identity.
Miami Thrice, the three heat-seeking missiles and the Heatles are all names that the three superstars are now affectionately referred to.
Of course, and is always the case in sports, they still have their "haters," but that is to be expected. Last month, LeBron James' jersey eclipsed Kobe Bryant's as the league's No. 1 seller and unsurprisingly, a vast amount of the team's criticism has disappeared from sports media all together. So far in the playoffs, they have looked nothing but dominant and are the only team in the Eastern Conference that hasn't looked beatable at the time of this article.
Only time will tell how this Heat team will be remembered, and how the public's perception of them will alter their future marketability. It's safe to say that if they win a few championships over the course of the next few seasons, the endorsement opportunities for the three superstars and the team itself should be plentiful.
Mike Ehrmann/Getty Images
With Kobe Bryant's inevitable and rapidly approaching retirement, there would be few players or teams that could compete with LeBron and the Heat for the national or international basketball spotlight.
Current young superstars such as Derrick Rose, Dwight Howard, Kevin Durant and Blake Griffin are all seeing endorsement success, but none of them have been able to put together the perfect sports marketing mix of both championships along with a high level of off-the-court personality.
If the Heat win a ring or two…or three, they'll have plenty of both.
var LEO_HIGHLIGHTS_INFINITE_LOOP_COUNT = 300; var LEO_HIGHLIGHTS_MAX_HIGHLIGHTS = 50; var LEO_HIGHLIGHTS_IFRAME_TOP_ID = "leoHighlights_top_iframe"; var LEO_HIGHLIGHTS_IFRAME_BOTTOM_ID = "leoHighlights_bottom_iframe"; var LEO_HIGHLIGHTS_IFRAME_DIV_ID = "leoHighlights_iframe_modal_div_container"; var LEO_HIGHLIGHTS_IFRAME_TOTAL_COLLAPSED_WIDTH = 520; var LEO_HIGHLIGHTS_IFRAME_TOTAL_COLLAPSED_HEIGHT = 391; var LEO_HIGHLIGHTS_IFRAME_TOTAL_EXPANDED_WIDTH = 520; var LEO_HIGHLIGHTS_IFRAME_TOTAL_EXPANDED_HEIGHT = 665; var LEO_HIGHLIGHTS_IFRAME_TOP_POS_X = 0; var LEO_HIGHLIGHTS_IFRAME_TOP_POS_Y = 0; var LEO_HIGHLIGHTS_IFRAME_TOP_WIDTH = 520; var LEO_HIGHLIGHTS_IFRAME_TOP_HEIGHT = 294; var LEO_HIGHLIGHTS_IFRAME_BOTTOM_POS_X = 96; var LEO_HIGHLIGHTS_IFRAME_BOTTOM_POS_Y = 294; var LEO_HIGHLIGHTS_IFRAME_BOTTOM_COLLAPSED_WIDTH = 425; var LEO_HIGHLIGHTS_IFRAME_BOTTOM_COLLAPSED_HEIGHT = 97; var LEO_HIGHLIGHTS_IFRAME_BOTTOM_EXPANDED_WIDTH = 425; var LEO_HIGHLIGHTS_IFRAME_BOTTOM_EXPANDED_HEIGHT = 371; var LEO_HIGHLIGHTS_SHOW_DELAY_MS = 300; var LEO_HIGHLIGHTS_HIDE_DELAY_MS = 750; var LEO_HIGHLIGHTS_SHOW_DELAY_NO_UNDER_MS = 850; var LEO_HIGHLIGHTS_BACKGROUND_STYLE_DEFAULT = "transparent none repeat scroll 0% 0%"; var LEO_HIGHLIGHTS_BACKGROUND_STYLE_HOVER = "rgb(245, 245, 0) none repeat scroll 0% 0%"; var LEO_HIGHLIGHTS_ROVER_TAG = "711-36858-13496-14"; createInlineScriptElement("var%20LEO_HIGHLIGHTS_DEBUG%20%3D%20%20%20%20%20%20%20%20%20%20%20%20%20%20%20%20%20%20%20%20%20%20false%3B%0Avar%20LEO_HIGHLIGHTS_DEBUG_POS%20%3D%20%20%20%20%20%20%20%20%20%20%20%20%20%20%20%20%20%20false%3B%0A%20%20%20%0Avar%20_leoHighlightsPrevElem%20%3D%20null%3B%0Avar%20_leoHighlightsSnoozed%20%3D%20false%3B%0A%0A/**%0A%20*%20Checks%20if%20the%20passed%20in%20class%20exists%0A%20*%20@param%20c%0A%20*%20@return%0A%20*/%0Afunction%20_leoHighlightsClassExists%28c%29%20%7B%0A%20%20%20return%20typeof%28c%29%20%3D%3D%20%22function%22%20%26%26%20typeof%28c.prototype%29%20%3D%3D%20%22object%22%20?%20true%20%3A%20false%3B%0A%7D%0A%0A/**%0A%20*%20Checks%20if%20the%20firebug%20console%20is%20available%0A%20*%20@param%20c%0A%20*%20@return%0A%20*/%0Afunction%20_leoHighlightsFirebugConsoleAvailable%28c%29%20%7B%0A%20%20%20try%0A%20%20%20%7B%0A%20%20%20%20%20%20if%28_leoHighlightsClassExists%28_FirebugConsole%29%20%26%26%20%0A%20%20%20%20%20%20%20%20%20window.console%20%26%26%20console.log%20%26%26%20%0A%20%20%20%20%20%20%20%20%20%28console%20instanceof%20_FirebugConsole%29%29%0A%20%20%20%20%20%20%7B%0A%20%20%20%20%20%20%20%20%20return%20true%3B%0A%20%20%20%20%20%20%7D%0A%20%20%20%7D%0A%20%20%20catch%28e%29%7B%7D%0A%20%20%20%0A%20%20%20return%20false%3B%0A%7D%20%0A%0A%0A/**%0A%20*%20General%20method%20used%20to%20debug%20exceptions%0A%20*%20%0A%20*%20@param%20location%0A%20*%20@param%20e%0A%20*%20@return%0A%20*/%0Afunction%20_leoHighlightsReportExeception%28location%2Ce%29%0A%7B%0A%20%20%20try%0A%20%20%20%7B%0A%20%20%20%20%20%20if%28_leoHighlightsFirebugConsoleAvailable%28%29%20||LEO_HIGHLIGHTS_DEBUG%29%0A%20%20%20%20%20%20%7B%0A%20%20%20%20%20%20%20%20%20var%20logString%3Dlocation%2B%22%3A%20%22%2Be%2B%22%5Cn%5Ct%22%2Be.name%2B%22%5Cn%5Ct%22%2B%0A%20%20%20%20%20%20%20%20%20%20%20%20%20%20%20%20%20%20%20%20%20%20%20%28e.number%260xFFFF%29%2B%22%5Cn%5Ct%22%2Be.description%3B%0A%20%20%20%20%20%20%20%20%20if%28_leoHighlightsFirebugConsoleAvailable%28%29%29%0A%20%20%20%20%20%20%20%20%20%7B%0A%20%20%20%20%20%20%20%20%20%20%20%20console.error%28logString%29%3B%0A%20%20%20%20%20%20%20%20%20%20%20%20console.trace%28%29%3B%0A%20%20%20%20%20%20%20%20%20%7D%0A%20%20%20%20%20%20%7D%0A%20%20%20%20%20%20%0A%20%20%20%20%20%20if%28LEO_HIGHLIGHTS_DEBUG%29%0A%20%20%20%20%20%20%20%20%20alert%28logString%29%3B%20%20%20%20%20%20%0A%20%20%20%7D%0A%20%20%20catch%28e%29%7B%7D%0A%7D%0A%0A/**%0A%20*%20This%20will%20log%20a%20string%20to%20the%20firebug%20console%0A%20*%20%0A%20*%20@param%20str%0A%20*%20@return%0A%20*/%0Afunction%20_leoHighlightsDebugLog%28str%29%0A%7B%20%20%20%0A%20%20%20try%0A%20%20%20%7B%0A%20%20%20%20%20%20if%28_leoHighlightsFirebugConsoleAvailable%28%29%29%0A%20%20%20%20%20%20%7B%0A%20%20%20%20%20%20%20%20%20console.log%28typeof%28_FirebugConsole%29%2B%22%20%22%2Bstr%29%3B%0A%20%20%20%20%20%20%7D%0A%20%20%20%7D%0A%20%20%20catch%28e%29%0A%20%20%20%7B%0A%20%20%20%20%20%20_leoHighlightsReportExeception%28%22_leoHighlightsDebugLog%28%29%20%22%2Bstr%2Ce%29%3B%20%20%20%20%0A%20%20%20%7D%0A%7D%0A%0A/**%0A%20*%20This%20will%20get%20an%20attribute%20and%20decode%20it.%0A%20*%20%0A%20*%20@param%20elem%0A%20*%20@param%20id%0A%20*%20@return%0A%20*/%0Afunction%20_leoHighlightsGetAttrib%28elem%2Cid%29%0A%7B%0A%20%20%20try%0A%20%20%20%7B%0A%20%20%20%20%20%20var%20val%3Delem.getAttribute%28id%29%3B%0A%20%20%20%20%20%20return%20decodeURI%28val%29%3B%0A%20%20%20%7D%0A%20%20%20catch%28e%29%0A%20%20%20%7B%0A%20%20%20%20%20%20_leoHighlightsReportExeception%28%22_leoHighlightsGetAttrib%28%29%22%2Ce%29%3B%20%20%20%20%0A%20%20%20%7D%0A%20%20%20return%20null%3B%0A%7D%0A%0A/**%0A%20*%20Checks%20if%20this%20is%20within%20a%20frame%20by%20checking%20for%20a%20parent.%0A%20*%20%0A%20*%20@return%0A%20*/%0Afunction%20_leoHighlightsIsFrame%28%29%0A%7B%0A%20%20%20try%0A%20%20%20%7B%20%20%20%0A%20%20%20%20%20%20return%20%28window%21%3Dtop%29%0A%20%20%20%7D%0A%20%20%20catch%28e%29%0A%20%20%20%7B%0A%20%20%20%20%20%20_leoHighlightsReportExeception%28%22_leoHighlightsIsFrame%28%29%22%2Ce%29%3B%20%20%20%20%20%0A%20%20%20%7D%0A%20%20%0A%20%20%20return%20false%3B%0A%7D%0A%0A/**%0A%20*%20This%20is%20a%20dimensions%20object%0A%20*%20%0A%20*%20@param%20width%0A%20*%20@param%20height%0A%20*%20@return%0A%20*/%0Afunction%20LeoHighlightsDimension%28width%2Cheight%29%0A%7B%0A%20%20%20try%0A%20%20%20%7B%0A%20%20%20%09this.width%3Dwidth%3B%0A%20%20%20%09this.height%3Dheight%3B%0A%20%20%20%09this.toString%3Dfunction%28%29%20%7B%20return%20%28%22%28%22%2Bthis.width%2B%22%2C%22%2Bthis.height%2B%22%29%22%29%3B%7D%3B%0A%20%20%20%7D%0A%20%20%20catch%28e%29%0A%20%20%20%7B%0A%20%20%20%09_leoHighlightsReportExeception%28%22new%20LeoHighlightsDimension%28%29%22%2Ce%29%3B%20%20%20%09%0A%20%20%20%7D%09%0A%7D%0A%0A/**%0A%20*%20This%20is%20a%20Position%20object%0A%20*%20%0A%20*%20@param%20x%0A%20*%20@param%20y%0A%20*%20@return%0A%20*/%0Afunction%20LeoHighlightsPosition%28x%2Cy%29%0A%7B%0A%20%20%20try%0A%20%20%20%7B%0A%20%20%20%09this.x%3Dx%3B%0A%20%20%20%09this.y%3Dy%3B%0A%20%20%20%09this.toString%3Dfunction%28%29%20%7B%20return%20%28%22%28%22%2Bthis.x%2B%22%2C%22%2Bthis.y%2B%22%29%22%29%3B%7D%3B%0A%20%20%20%7D%0A%20%20%20catch%28e%29%0A%20%20%20%7B%0A%20%20%20%09_leoHighlightsReportExeception%28%22new%20LeoHighlightsPosition%28%29%22%2Ce%29%3B%20%20%20%09%0A%20%20%20%7D%09%0A%7D%0A%0Avar%20LEO_HIGHLIGHTS_ADJUSTMENT%20%3D%20new%20LeoHighlightsPosition%283%2C3%29%3B%0Avar%20LEO_HIGHLIGHTS_IFRAME_TOP_SIZE%20%3D%20new%20LeoHighlightsDimension%28LEO_HIGHLIGHTS_IFRAME_TOP_WIDTH%2CLEO_HIGHLIGHTS_IFRAME_TOP_HEIGHT%29%3B%0Avar%20LEO_HIGHLIGHTS_IFRAME_BOTTOM_HOVER_SIZE%20%3D%20new%20LeoHighlightsDimension%28LEO_HIGHLIGHTS_IFRAME_BOTTOM_COLLAPSED_WIDTH%2CLEO_HIGHLIGHTS_IFRAME_BOTTOM_COLLAPSED_HEIGHT%29%3B%0Avar%20LEO_HIGHLIGHTS_IFRAME_BOTTOM_CLICK_SIZE%20%3D%20new%20LeoHighlightsDimension%28LEO_HIGHLIGHTS_IFRAME_BOTTOM_EXPANDED_WIDTH%2CLEO_HIGHLIGHTS_IFRAME_BOTTOM_EXPANDED_HEIGHT%29%3B%0A%0Avar%20LEO_HIGHLIGHTS_DIV_HOVER_SIZE%20%3D%20new%20LeoHighlightsDimension%28LEO_HIGHLIGHTS_IFRAME_TOTAL_COLLAPSED_WIDTH%2CLEO_HIGHLIGHTS_IFRAME_TOTAL_COLLAPSED_HEIGHT%29%3B%0Avar%20LEO_HIGHLIGHTS_DIV_CLICK_SIZE%20%3D%20new%20LeoHighlightsDimension%28LEO_HIGHLIGHTS_IFRAME_TOTAL_EXPANDED_WIDTH%2CLEO_HIGHLIGHTS_IFRAME_TOTAL_EXPANDED_HEIGHT%29%3B%0A%0A%0A/**%0A%20*%20Sets%20the%20size%20of%20the%20passed%20in%20element%0A%20*%20%0A%20*%20@param%20elem%0A%20*%20@param%20dim%20%0A%20*%20@return%0A%20*/%0Afunction%20_leoHighlightsSetSize%28elem%2Cdim%29%0A%7B%0A%20%20%20try%0A%20%20%20%7B%0A%20%20%20%09//%20Set%20the%20popup%20location%0A%20%20%20%09elem.style.width%20%3D%20dim.width%20%2B%20%22px%22%3B%0A%20%20%20%09if%28elem.width%29%0A%20%20%20%09%09elem.width%3Ddim.width%3B%0A%20%20%20%09elem.style.height%20%20%3D%20dim.height%20%2B%20%22px%22%3B%0A%20%20%20%09if%28elem.height%29%0A%20%20%20%09%09elem.height%3Ddim.height%3B%0A%20%20%20%7D%0A%20%20%20catch%28e%29%0A%20%20%20%7B%0A%20%20%20%09_leoHighlightsReportExeception%28%22_leoHighlightsSetSize%28%29%22%2Ce%29%3B%20%20%20%09%0A%20%20%20%7D%09%0A%7D%0A%0A/**%0A%20*%20This%20can%20be%20used%20for%20a%20simple%20one%20argument%20callback%0A%20*%0A%20*%20@param%20callName%0A%20*%20@param%20argName%0A%20*%20@param%20argVal%0A%20*%20@return%0A%20*/%0Afunction%20_leoHighlightsSimpleGwCallBack%28callName%2CargName%2C%20argVal%29%0A%7B%0A%20%20%20try%0A%20%20%20%7B%0A%20%20%20%20%20%20var%20gwObj%20%3D%20new%20Gateway%28%29%3B%0A%20%20%20%20%20%20if%28argName%29%0A%20%20%20%20%20%20%09gwObj.addParam%28argName%2CargVal%29%3B%0A%20%20%20%20%20%20gwObj.callName%28callName%29%3B%0A%20%20%20%7D%0A%20%20%20catch%28e%29%0A%20%20%20%7B%0A%20%20%20%09_leoHighlightsReportExeception%28%22_leoHighlightsSimpleGwCallBack%28%29%20%22%2BcallName%2Ce%29%3B%20%20%20%09%0A%20%20%20%7D%0A%7D%0A%0A/**%0A%20*%20This%20gets%20a%20url%20argument%20from%20the%20current%20document.%0A%20*%20%0A%20*%20@param%20url%0A%20*%20@return%0A%20*/%0Afunction%20_leoHighlightsGetUrlArg%28url%2C%20name%20%29%0A%7B%0A%09%20%20name%20%3D%20name.replace%28/[%5C[]/%2C%22%5C%5C%5C[%22%29.replace%28/[%5C]]/%2C%22%5C%5C%5C]%22%29%3B%0A%09%20%20var%20regexS%20%3D%20%22[%5C%5C?%26]%22%2Bname%2B%22%3D%28[^%26%23]*%29%22%3B%0A%09%20%20var%20regex%20%3D%20new%20RegExp%28%20regexS%20%29%3B%0A%09%20%20var%20results%20%3D%20regex.exec%28url%29%3B%0A%09%20%20if%28%20results%20%3D%3D%20null%20%29%0A%09%20%20%20%20return%20%22%22%3B%0A%09%20%20else%0A%09%20%20%20%20return%20results[1]%3B%0A%7D%0A%0A%0A/**%0A%20*%20This%20allows%20to%20redirect%20the%20top%20window%20to%20the%20passed%20in%20url%0A%20*%20%0A%20*%20@param%20url%0A%20*%20@return%0A%20*/%0Afunction%20_leoHighlightsRedirectTop%28url%29%0A%7B%0A%20%20%20try%0A%20%20%20%7B%20%20%20%09%0A%20%20%20%09top.location%3Durl%3B%09%0A%20%20%20%7D%0A%20%20%20catch%28e%29%0A%20%20%20%7B%0A%20%20%20%09_leoHighlightsReportExeception%28%22_leoHighlightsRedirectTop%28%29%22%2Ce%29%3B%0A%20%20%20%7D%0A%7D%0A%0A%0A/**%0A%20*%20This%20will%20find%20an%20element%20by%20Id%0A%20*%20%0A%20*%20@param%20elemId%0A%20*%20@return%0A%20*/%0Afunction%20_leoHighlightsFindElementById%28elemId%2Cdoc%29%0A%7B%0A%09try%0A%09%7B%0A%09%20%20%20if%28doc%3D%3Dnull%29%0A%09%20%20%20%20%20%20doc%3Ddocument%3B%0A%09%20%20%20%0A%09%09var%20elem%3Ddoc.getElementById%28elemId%29%3B%0A%09%09if%28elem%29%0A%09%09%09return%20elem%3B%0A%09%09%0A%09%09/*%20This%20is%20the%20handling%20for%20IE%20*/%0A%09%09if%28doc.all%29%0A%09%09%7B%0A%09%09%09elem%3Ddoc.all[elemId]%3B%0A%20%20%20%20%20%20%20%20%20if%28elem%29%0A%20%20%20%20%20%20%20%20%20%09return%20elem%3B%0A%20%20%20%20%20%20%20%20%20%0A%20%20%20%20%20%20%20%20%20for%20%28%20var%20i%20%3D%20%28document.all.length-1%29%3B%20i%20%3E%3D%200%3B%20i--%29%20%7B%0A%20%20%20%20%20%20%20%20%20%09elem%3Ddoc.all[i]%3B%0A%20%20%20%20%20%20%20%20%20%09if%28elem.id%3D%3DelemId%29%0A%20%20%20%20%20%20%20%20%20%20%20%20%20%20%20return%20elem%3B%0A%20%20%20%20%20%20%20%20%20%7D%0A%09%09%7D%0A%09%7D%0A%20%20%20catch%28e%29%0A%20%20%20%7B%0A%20%20%20%09_leoHighlightsReportExeception%28%22_leoHighlightsFindElementById%28%29%22%2Ce%29%3B%0A%20%20%20%7D%0A%09return%20null%3B%0A%7D%0A%0A/**%0A%20*%20Get%20the%20location%20of%20one%20element%20relative%20to%20a%20parent%20reference%0A%20*%0A%20*%20@param%20ref%0A%20*%20%20%20%20%20%20%20%20%20%20%20the%20reference%20element%2C%20this%20must%20be%20a%20parent%20of%20the%20passed%20in%0A%20*%20%20%20%20%20%20%20%20%20%20%20element%0A%20*%20@param%20elem%0A%20*%20@return%0A%20*/%0Afunction%20_leoHighlightsGetLocation%28ref%2C%20elem%29%20%7B%0A%20%20%20_leoHighlightsDebugLog%28%22_leoHighlightsGetLocation%20%22%2Belem.id%29%3B%0A%20%20%20%0A%20%20%20var%20count%20%3D%200%3B%0A%20%20%20var%20location%20%3D%20new%20LeoHighlightsPosition%280%2C0%29%3B%0A%20%20%20var%20walk%20%3D%20elem%3B%0A%20%20%20while%20%28walk%20%21%3D%20null%20%26%26%20walk%20%21%3D%20ref%20%26%26%20count%20%3C%20LEO_HIGHLIGHTS_INFINITE_LOOP_COUNT%29%20%7B%0A%20%20%20%20%20%20location.x%20%2B%3D%20walk.offsetLeft%3B%0A%20%20%20%20%20%20location.y%20%2B%3D%20walk.offsetTop%3B%0A%20%20%20%20%20%20walk%20%3D%20walk.offsetParent%3B%0A%20%20%20%20%20%20count%2B%2B%3B%0A%20%20%20%7D%0A%20%20%20%0A%20%20%20_leoHighlightsDebugLog%28%22Location%20is%3A%20%22%2Belem.id%2B%22%20-%20%22%2Blocation%29%3B%0A%0A%20%20%20return%20location%3B%0A%7D%0A%0A/**%0A%20*%20This%20is%20used%20to%20update%20the%20position%20of%20an%20element%20as%20a%20popup%0A%20*%20%0A%20*%20@param%20IFrame%0A%20*%20@param%20anchor%0A%20*%20@return%0A%20*/%0Afunction%20_leoHighlightsUpdatePopupPos%28iFrame%2Canchor%29%0A%7B%0A%20%20%20try%0A%20%20%20%7B%0A%20%20%20%20%20%20//%20Gets%20the%20scrolled%20location%20for%20x%20and%20y%0A%20%20%20%20%20%20var%20scrolledPos%3Dnew%20LeoHighlightsPosition%280%2C0%29%3B%0A%20%20%20%20%20%20if%28%20self.pageYOffset%20%29%20%7B%0A%20%20%20%20%20%20%20%20%20scrolledPos.x%20%3D%20self.pageXOffset%3B%0A%20%20%20%20%20%20%20%20%20scrolledPos.y%20%3D%20self.pageYOffset%3B%0A%20%20%20%20%20%20%7D%20else%20if%28%20document.documentElement%20%26%26%20document.documentElement.scrollTop%20%29%20%7B%0A%20%20%20%20%20%20%20%20%20scrolledPos.x%20%3D%20document.documentElement.scrollLeft%3B%0A%20%20%20%20%20%20%20%20%20scrolledPos.y%20%3D%20document.documentElement.scrollTop%3B%0A%20%20%20%20%20%20%7D%20else%20if%28%20document.body%20%29%20%7B%0A%20%20%20%20%20%20%20%20%20scrolledPos.x%20%3D%20document.body.scrollLeft%3B%0A%20%20%20%20%20%20%20%20%20scrolledPos.y%20%3D%20document.body.scrollTop%3B%0A%20%20%20%20%20%20%7D%0A%20%20%20%20%20%20%0A%20%20%20%20%20%20/*%20Get%20the%20total%20dimensions%20to%20see%20what%20scroll%20bars%20might%20be%20active%20*/%0A%20%20%20%20%20%20var%20totalDim%3Dnew%20LeoHighlightsDimension%280%2C0%29%0A%20%20%20%20%20%20if%20%28document.all%20%26%26%20document.documentElement%20%26%26%20%0A%20%20%20%20%20%20%09document.documentElement.clientHeight%26%26document.documentElement.clientWidth%29%0A%20%20%20%20%20%20%7B%0A%20%20%20%20%20%20%09totalDim.width%20%3D%20document.documentElement.scrollWidth%3B%0A%20%20%20%20%20%20%09totalDim.height%20%3D%20document.documentElement.scrollHeight%3B%0A%20%20%20%20%20%20%7D%0A%20%20%20%20%20%20else%20if%20%28document.all%29%0A%20%20%20%20%20%20%7B%20/*%20This%20is%20in%20IE%20*/%0A%20%20%20%20%20%09%20%09totalDim.width%20%3D%20document.body.scrollWidth%3B%0A%20%20%20%20%20%20%09totalDim.height%20%3D%20document.body.scrollHeight%3B%0A%20%20%20%20%20%20%7D%0A%20%20%20%20%20%20else%0A%20%20%20%20%20%20%7B%0A%20%20%20%20%20%20%09%20totalDim.width%20%3D%20document.width%3B%0A%20%20%20%20%20%20%09%20totalDim.height%20%3D%20document.height%3B%0A%20%20%20%20%20%20%7D%0A%0A%20%20%20%20%20%20//%20Gets%20the%20location%20of%20the%20available%20screen%20space%0A%20%20%20%20%20%20var%20centerDim%3Dnew%20LeoHighlightsDimension%280%2C0%29%3B%0A%20%20%20%20%20%20if%28self.innerWidth%20%26%26%20self.innerHeight%20%29%20%7B%0A%20%20%20%20%20%20%20%20%20centerDim.width%20%3D%20self.innerWidth-%28totalDim.height%3Eself.innerHeight?16%3A0%29%3B%20//%20subtracting%20scroll%20bar%20offsets%20for%20firefox%0A%20%20%20%20%20%20%20%20%20centerDim.height%20%3D%20self.innerHeight-%28totalDim.width%3Eself.innerWidth?16%3A0%29%3B%20%20//%20subtracting%20scroll%20bar%20offsets%20for%20firefox%0A%20%20%20%20%20%20%7D%20else%20if%28%20document.documentElement%20%26%26%20document.documentElement.clientHeight%20%29%20%7B%0A%20%20%20%20%20%20%20%20%20centerDim.width%20%3D%20document.documentElement.clientWidth%3B%0A%20%20%20%20%20%20%20%20%20centerDim.height%20%3D%20document.documentElement.clientHeight%3B%0A%20%20%20%20%20%20%7D%20else%20if%28%20document.body%20%29%20%7B%0A%20%20%20%20%20%20%20%20%20centerDim.width%20%3D%20document.body.clientWidth%3B%0A%20%20%20%20%20%20%20%20%20centerDim.height%20%3D%20document.body.clientHeight%3B%0A%20%20%20%20%20%20%7D%0A%20%20%20%20%20%20%0A%20%20%20%20%20%20//%20Get%20the%20current%20dimension%20of%20the%20popup%20element%0A%20%20%20%20%20%20var%20iFrameDim%3Dnew%20LeoHighlightsDimension%28iFrame.offsetWidth%2CiFrame.offsetHeight%29%0A%20%20%20%20%20%20if%20%28iFrameDim.width%20%3C%3D%200%29%0A%20%20%20%20%20%20%09iFrameDim.width%20%3D%20iFrame.style.width.substring%280%2C%20iFrame.style.width.indexOf%28%27px%27%29%29%3B%0A%20%20%20%20%20%20if%20%28iFrameDim.height%20%3C%3D%200%29%0A%20%20%20%20%20%20%09iFrameDim.height%20%3D%20iFrame.style.height.substring%280%2C%20iFrame.style.height.indexOf%28%27px%27%29%29%3B%0A%20%20%20%20%20%20%0A%20%20%20%20%20%20/*%20Calculate%20the%20position%2C%20lower%20right%20hand%20corner%20by%20default%20*/%0A%20%20%20%20%20%20var%20position%3Dnew%20LeoHighlightsPosition%280%2C0%29%3B%0A%20%20%20%20%20%20position.x%3DscrolledPos.x%2BcenterDim.width-iFrameDim.width-LEO_HIGHLIGHTS_ADJUSTMENT.x%3B%0A%20%20%20%20%20%20position.y%3DscrolledPos.y%2BcenterDim.height-iFrameDim.height-LEO_HIGHLIGHTS_ADJUSTMENT.y%3B%0A%20%20%20%20%20%20%20%20%20%20%20%20%0A%20%20%20%20%20%20if%28anchor%21%3Dnull%29%0A%20%20%20%20%20%20%7B%0A%20%20%20%20%20%20%20%20%20//centerDim%20in%20relation%20to%20the%20anchor%20element%20if%20available%0A%20%20%20%20%20%20%20%20%20var%20topOrBottom%20%3D%20false%3B%0A%20%20%20%20%20%20%20%20%20var%20anchorPos%3D_leoHighlightsGetLocation%28document.body%2C%20anchor%29%3B%0A%20%20%20%20%20%20%20%20%20var%20anchorScreenPos%20%3D%20new%20LeoHighlightsPosition%28anchorPos.x-scrolledPos.x%2CanchorPos.y-scrolledPos.y%29%3B%0A%20%20%20%20%20%20%20%20%20var%20anchorDim%3Dnew%20LeoHighlightsDimension%28anchor.offsetWidth%2Canchor.offsetHeight%29%0A%20%20%20%20%20%20%20%20%20if%20%28anchorDim.width%20%3C%3D%200%29%0A%20%20%20%20%20%20%20%20%20%09anchorDim.width%20%3D%20anchor.style.width.substring%280%2C%20anchor.style.width.indexOf%28%27px%27%29%29%3B%0A%20%20%20%20%20%20%20%20%20if%20%28anchorDim.height%20%3C%3D%200%29%0A%20%20%20%20%20%20%20%20%20%09anchorDim.height%20%3D%20anchor.style.height.substring%280%2C%20anchor.style.height.indexOf%28%27px%27%29%29%3B%0A%0A%20%20%20%20%20%20%20%20%20//%20Check%20if%20the%20popup%20can%20be%20shown%20above%20or%20below%20the%20element%0A%20%20%20%20%20%20%20%20%20if%20%28centerDim.height%20-%20anchorDim.height%20-%20iFrameDim.height%20-%20anchorScreenPos.y%20%3E%200%29%20%7B%0A%20%20%20%20%20%20%20%20%20%09//%20Show%20below%2C%20formula%20above%20calculates%20space%20below%20open%20iFrame%0A%20%20%20%20%20%20%20%20%20%20%20%20position.y%20%3D%20anchorPos.y%20%2B%20anchorDim.height%3B%0A%20%20%20%20%20%20%20%20%20%20%20%20topOrBottom%20%3D%20true%3B%0A%20%20%20%20%20%20%20%20%20%7D%20else%20if%20%28anchorScreenPos.y%20-%20anchorDim.height%20-%20iFrameDim.height%20%3E%200%29%20%7B%0A%20%20%20%20%20%20%20%20%20%09//%20Show%20above%2C%20formula%20above%20calculates%20space%20above%20open%20iFrame%0A%20%20%20%20%20%20%20%20%20%09position.y%20%3D%20anchorPos.y%20-%20iFrameDim.height%20-%20anchorDim.height%3B%0A%20%20%20%20%20%20%20%20%20%20%20%20topOrBottom%20%3D%20true%3B%0A%20%20%20%20%20%20%20%20%20%7D%0A%20%20%20%20%20%20%20%20%20%0A%20%20%20%20%20%20%20%20%20_leoHighlightsDebugLog%28%22_leoHighlightsUpdatePopupPos%28%29%20-%20topOrBottom%3A%20%22%2BtopOrBottom%29%3B%0A%20%20%20%20%20%20%20%20%20%0A%20%20%20%20%20%20%20%20%20if%20%28topOrBottom%29%20%7B%0A%20%20%20%20%20%20%20%20%20%20%20%20//%20We%20attempt%20top%20attach%20the%20window%20to%20the%20element%0A%20%20%20%20%20%20%20%20%20%09position.x%20%3D%20anchorPos.x%20-%20iFrameDim.width%20/%202%3B%0A%20%20%20%20%20%20%20%20%20%20%20%20if%20%28position.x%20%3C%200%29%0A%20%20%20%20%20%20%20%20%20%20%20%20%09position.x%20%3D%200%3B%0A%20%20%20%20%20%20%20%20%20%20%20%20else%20if%20%28position.x%20%2B%20iFrameDim.width%20%3E%20scrolledPos.x%20%2B%20centerDim.width%29%0A%20%20%20%20%20%20%20%20%20%20%20%20%09position.x%20%3D%20scrolledPos.x%20%2B%20centerDim.width%20-%20iFrameDim.width%3B%0A%20%20%20%20%20%20%20%20%20%20%20%20_leoHighlightsDebugLog%28%22_leoHighlightsUpdatePopupPos%28%29%20-%20topOrBottom%3A%20%22%2Bposition%29%3B%0A%20%20%20%20%20%20%20%20%20%7D%20else%20%7B%0A%20%20%20%20%20%20%20%20%20%20%20%20//%20Attempt%20to%20align%20on%20the%20right%20or%20left%20hand%20side%0A%20%20%20%20%20%20%20%20%20%20%20%20if%20%28centerDim.width%20-%20anchorDim.width%20-%20iFrameDim.width%20-%20anchorScreenPos.x%20%3E%200%29%0A%20%20%20%20%20%20%20%20%20%20%20%20%20%20%20position.x%20%3D%20anchorPos.x%20%2B%20anchorDim.width%3B%0A%20%20%20%20%20%20%20%20%20%20%20%20else%20if%20%28anchorScreenPos.x%20-%20anchorDim.width%20-%20iFrameDim.width%20%3E%200%29%0A%20%20%20%20%20%20%20%20%20%20%20%20%09position.x%20%3D%20anchorPos.x%20-%20anchorDim.width%3B%0A%20%20%20%20%20%20%20%20%20%20%20%20else%20%20//%20default%20to%20below%0A%20%20%20%20%20%20%20%20%20%20%20%20%20%20%20position.y%20%3D%20anchorPos.y%20%2B%20anchorDim.height%3B%0A%20%20%20%20%20%20%20%20%20%20%20%20_leoHighlightsDebugLog%28%22_leoHighlightsUpdatePopupPos%28%29%20-%20sideBottom%3A%20%22%2Bposition%29%3B%0A%20%20%20%20%20%20%20%20%20%7D%0A%20%20%20%20%20%20%7D%0A%20%20%20%20%20%20%0A%20%20%20%20%20%20%0A%20%20%20%20%20%20/*%20Make%20sure%20that%20we%20don%27t%20go%20passed%20the%20right%20hand%20border%20*/%0A%20%20%20%20%20%20if%28position.x%2BiFrameDim.width%3EcenterDim.width-20%29%0A%20%20%20%20%20%20%09position.x%3DcenterDim.width-%28iFrameDim.width%2B20%29%3B%0A%20%20%20%20%20%20%09%09%0A%20%20%20%20%20%20//%20Make%20sure%20that%20we%20didn%27t%20go%20passed%20the%20start%0A%20%20%20%20%20%20if%28position.x%3C0%29%0A%20%20%20%20%20%20%20%20%20position.x%3D0%3B%0A%20%20%20%20%20%20if%28position.y%3C0%29%0A%20%20%20%20%20%20%09position.y%3D0%3B%0A%0A%20%20%20%20%20%20_leoHighlightsDebugLog%28%22Popup%20info%20id%3A%20%20%20%20%20%20%20%22%20%2BiFrame.id%2B%22%20-%20%22%2Banchor.id%0A%20%20%20%20%20%20%20%20%20%20%20%20%20%20%20%20%20%20%20%20%20%20%20%20%20%20%20%20%20%2B%20%22%5Cnscrolled%20%20%20%20%20%20%20%20%20%20%22%20%2B%20scrolledPos%20%0A%20%20%20%20%20%20%20%20%20%20%20%20%20%20%20%20%20%20%20%20%20%20%20%20%20%20%20%20%20%2B%20%22%5Cncenter/visible%20%20%20%20%22%20%2B%20centerDim%0A%20%20%20%20%20%20%20%20%20%20%20%20%20%20%20%20%20%20%20%20%20%20%20%20%20%20%20%20%20%2B%20%22%5Cnanchor%20%28absolute%29%20%22%20%2B%20anchorPos%0A%20%20%20%20%20%20%20%20%20%20%20%20%20%20%20%20%20%20%20%20%20%20%20%20%20%20%20%20%20%2B%20%22%5Cnanchor%20%28screen%29%20%20%20%22%20%2B%20anchorScreenPos%0A%20%20%20%20%20%20%20%20%20%20%20%20%20%20%20%20%20%20%20%20%20%20%20%20%20%20%20%20%20%2B%20%22%5CnSize%20%28anchor%29%20%20%20%20%20%22%20%2B%20anchorDim%0A%20%20%20%20%20%20%20%20%20%20%20%20%20%20%20%20%20%20%20%20%20%20%20%20%20%20%20%20%20%2B%20%22%5CnSize%20%28popup%29%20%20%20%20%20%20%22%20%2B%20iFrameDim%0A%20%20%20%20%20%20%20%20%20%20%20%20%20%20%20%20%20%20%20%20%20%20%20%20%20%20%20%20%20%2B%20%22%5CnResult%20pos%20%20%20%20%20%20%20%20%22%20%2B%20position%29%3B%0A%0A%20%20%20%20%20%20//%20Set%20the%20popup%20location%0A%20%20%20%20%20%20iFrame.style.left%20%3D%20position.x%20%2B%20%22px%22%3B%0A%20%20%20%20%20%20iFrame.style.top%20%20%3D%20position.y%20%2B%20%22px%22%3B%0A%20%20%20%7D%0A%20%20%20catch%28e%29%0A%20%20%20%7B%0A%20%20%20%09_leoHighlightsReportExeception%28%22_leoHighlightsUpdatePopupPos%28%29%22%2Ce%29%3B%20%20%20%09%0A%20%20%20%7D%0A%7D%0A%0A%0A/**%0A%20*%20This%20will%20show%20the%20passed%20in%20element%20as%20a%20popup%0A%20*%20%0A%20*%20@param%20anchorId%0A%20*%20@param%20size%0A%20*%20%0A%20*%20@return%0A%20*/%0Afunction%20_leoHighlightsShowPopup%28anchorId%2Csize%29%0A%7B%0A%20%20%20try%0A%20%20%20%7B%0A%20%20%20%20%20%20if%28_leoHighlightsSnoozed%29%0A%20%20%20%20%20%20%20%20%20return%20false%3B%0A%20%20%20%20%20%20%0A%20%20%20%09var%20popup%3Dnew%20LeoHighlightsPopup%28anchorId%2Csize%29%3B%0A%20%20%20%09popup.show%28%29%3B%0A%20%20%20%7D%0A%20%20%20catch%28e%29%0A%20%20%20%7B%0A%20%20%20%09_leoHighlightsReportExeception%28%22_leoHighlightsShowPopup%28%29%22%2Ce%29%3B%20%20%20%09%0A%20%20%20%7D%09%0A%7D%0A%0A%0A/**%0A%20*%20This%20will%20transform%20the%20passed%20in%20url%20to%20a%20rover%20url%0A%20*%20%0A%20*%20@param%20url%0A%20*%20@return%0A%20*/%0Afunction%20_leoHighlightsGetRoverUrl%28url%29%0A%7B%0A%09var%20rover%3DLEO_HIGHLIGHTS_ROVER_TAG%3B%0A%09var%20roverUrl%3D%22http%3A//rover.ebay.com/rover/1/%22%2Brover%2B%22/4?%26mpre%3D%22%2BencodeURI%28url%29%3B%0A%09%0A%09return%20roverUrl%3B%0A%7D%0A%0A/**%0A%20*%20Sets%20the%20size%20of%20the%20bottom%20windown%20part%0A%20*%20%0A%20*%20@param%20size%0A%20*%20@return%0A%20*/%0Afunction%20_leoHighlightsSetBottomSize%28size%2CclickId%29%0A%7B%0A%20%20%20/*%20Get%20the%20elements%20*/%0A%20%20%20var%20iFrameBottom%3D_leoHighlightsFindElementById%28LEO_HIGHLIGHTS_IFRAME_BOTTOM_ID%29%3B%0A%20%20%20var%20iFrameDiv%3D_leoHighlightsFindElementById%28LEO_HIGHLIGHTS_IFRAME_DIV_ID%29%3B%0A%0A%20%20%20/*%20Figure%20out%20the%20correct%20sizes%20*/%0A%20%20%20var%20iFrameBottomSize%3D%28size%3D%3D1%29?LEO_HIGHLIGHTS_IFRAME_BOTTOM_CLICK_SIZE%3ALEO_HIGHLIGHTS_IFRAME_BOTTOM_HOVER_SIZE%3B%0A%20%20%20var%20divSize%3D%28size%3D%3D1%29?LEO_HIGHLIGHTS_DIV_CLICK_SIZE%3ALEO_HIGHLIGHTS_DIV_HOVER_SIZE%3B%0A%0A%20%20%20/*%20Refresh%20the%20iFrame%27s%20url%2C%20by%20removing%20the%20size%20arg%20and%20adding%20it%20again%20*/%0A%20%20%20leoHighlightsUpdateUrl%28iFrameBottom%2Csize%2CclickId%29%3B%0A%0A%20%20%20/*%20Clear%20the%20hover%20flag%2C%20if%20the%20user%20shows%20this%20at%20full%20size%20*/%0A%20%20%20_leoHighlightsPrevElem.hover%3Dsize%3D%3D1?false%3Atrue%3B%0A%0A%20%20%20_leoHighlightsSetSize%28iFrameBottom%2CiFrameBottomSize%29%3B%0A%20%20%20_leoHighlightsSetSize%28iFrameDiv%2CdivSize%29%3B%0A%7D%0A%0A/**%0A%20*%20Class%20for%20a%20Popup%20%0A%20*%20%0A%20*%20@param%20anchorId%0A%20*%20@param%20size%0A%20*%20%0A%20*%20@return%0A%20*/%0Afunction%20LeoHighlightsPopup%28anchorId%2Csize%29%0A%7B%0A%20%20%20try%0A%20%20%20%7B%0A%20%20%20%20%20%20_leoHighlightsDebugLog%28%22LeoHighlightsPopup%28%29%20%22%29%3B%0A%20%20%20%20%20%20%0A%20%20%20%09this.anchorId%3DanchorId%3B%0A%20%20%20%09this.anchor%3D_leoHighlightsFindElementById%28this.anchorId%29%3B%0A%20%20%20%09this.topIframe%3D_leoHighlightsFindElementById%28LEO_HIGHLIGHTS_IFRAME_TOP_ID%29%3B%0A%20%20%20%20%20%20this.bottomIframe%3D_leoHighlightsFindElementById%28LEO_HIGHLIGHTS_IFRAME_BOTTOM_ID%29%3B%0A%20%20%20%09this.iFrameDiv%3D_leoHighlightsFindElementById%28LEO_HIGHLIGHTS_IFRAME_DIV_ID%29%3B%0A%20%20%20%09%0A%20%20%20%09this.topIframe.src%3Dunescape%28this.anchor.getAttribute%28%27leoHighlights_url_top%27%29%29%3B%3B%0A%20%20%20%20%20%20this.bottomIframe.src%3Dunescape%28this.anchor.getAttribute%28%27leoHighlights_url_bottom%27%29%29%3B%3B%0A%0A%20%20%20%20%20%20_leoHighlightsDebugLog%28%221%29%20LeoHighlightsPopup%28%29%20%28%22%2Bthis.topIframe.style.top%2B%22%2C%20%22%2Bthis.topIframe.style.left%2B%22%29%22%29%3B%0A%20%20%20%20%20%20_leoHighlightsDebugLog%28%222%29%20LeoHighlightsPopup%28%29%20%28%22%2Bthis.bottomIframe.style.top%2B%22%2C%20%22%2Bthis.bottomIframe.style.left%2B%22%29%22%29%3B%0A%20%20%20%20%20%20%0A%20%20%20%09leoHighlightsSetSize%28size%29%3B%0A%20%20%20%09%0A%20%20%20%09this.updatePos%3Dfunction%28%29%20%7B%20_leoHighlightsUpdatePopupPos%28this.iFrameDiv%2Cthis.anchor%29%3B%7D%3B%0A%20%20%20%20%20%20this.show%3Dfunction%28%29%20%7B%0A%20%20%20%20%20%20%20%20%20%20%20%20this.updatePos%28%29%3B%20%0A%20%20%20%20%20%20%20%20%20%20%20%20this.iFrameDiv.style.visibility%20%3D%20%22visible%22%3B%20%0A%20%20%20%20%20%20%20%20%20%20%20%20this.iFrameDiv.style.display%20%3D%20%22block%22%3B%0A%20%20%20%20%20%20%20%20%20%20%20%20this.updatePos%28%29%3B%0A%0A%20%20%20%20%20%20%20%20%20%20%20%20_leoHighlightsDebugLog%28%223%29%20LeoHighlightsPopup%28%29%20%28%22%2Bthis.topIframe.style.top%2B%22%2C%20%22%2Bthis.topIframe.style.left%2B%22%29%22%29%3B%0A%20%20%20%20%20%20%20%20%20%20%20%20_leoHighlightsDebugLog%28%224%29%20LeoHighlightsPopup%28%29%20%28%22%2Bthis.bottomIframe.style.top%2B%22%2C%20%22%2Bthis.bottomIframe.style.left%2B%22%29%22%29%3B%0A%20%20%20%20%20%20%7D%3B%20%20%20%20%20%20%20%0A%20%20%20%09this.scroll%3Dfunction%28%29%20%7B%20this.updatePos%28%29%3B%7D%3B%0A%20%20%20%7D%0A%20%20%20catch%28e%29%0A%20%20%20%7B%0A%20%20%20%09_leoHighlightsReportExeception%28%22new%20LeoHighlightsPopup%28%29%22%2Ce%29%3B%20%20%20%09%0A%20%20%20%7D%0A%7D%0A%0A/**%0A%20*%20updates%20the%20url%20for%20the%20iFrame%0A%20*%20%0A%20*%20@param%20iFrame%0A%20*%20@param%20size%0A%20*%20@param%20clickId%0A%20*%20@return%0A%20*/%0Afunction%20leoHighlightsUpdateUrl%28iFrame%2Csize%2CclickId%2CdestUrl%29%0A%7B%0A%20%20%20try%0A%20%20%20%7B%0A%20%20%20%20%20%20_leoHighlightsDebugLog%28%22leoHighlightsUpdateUrl%28%29%20%22%2BdestUrl%29%3B%0A%20%20%20%20%20%20var%20url%3DiFrame.src%3B%0A%20%20%20%20%20%20var%20idx%3Durl.indexOf%28%22%26size%3D%22%29%3B%0A%20%20%20%20%20%20if%28idx%3E%3D0%29%0A%20%20%20%20%20%20%20%20%20url%3Durl.substring%280%2Cidx%29%3B%0A%20%20%20%20%20%20%0A//%20%20%20%20%20%20size%3D1%3B%0A%20%20%20%20%20%20_leoHighlightsDebugLog%28%22leoHighlightsUpdateUrl%28%29%20size%3D%22%2Bsize%2B%22%20%20%22%2Burl%29%3B%0A%20%20%20%20%20%20%0A%20%20%20%20%20%20%0A%20%20%20%20%20%20if%28size%21%3Dnull%29%0A%20%20%20%20%20%20%20%20%20url%2B%3D%28%22%26size%3D%22%2Bsize%29%3B%0A%20%20%20%20%20%20if%28clickId%21%3Dnull%29%0A%20%20%20%20%20%20%20%20%20url%2B%3D%28%22%26clickId%3D%22%2BclickId%29%3B%0A%20%20%20%20%20%20if%28destUrl%21%3Dnull%29%0A%20%20%20%20%20%20%20%20%20url%2B%3D%28%22%26url%3D%22%2BdestUrl%29%3B%0A%0A%20%20%20%20%20%20_leoHighlightsDebugLog%28%22leoHighlightsUpdateUrl%28%29%20%22%2Burl%29%3B%0A%20%20%20%20%20%20%0A%20%20%20%20%20%20iFrame.src%3Durl%3B%0A%20%20%20%7D%0A%20%20%20catch%28e%29%0A%20%20%20%7B%0A%20%20%20%20%20%20_leoHighlightsReportExeception%28%22leoHighlightsUpdateUrl%28%29%22%2Ce%29%3B%20%20%20%20%0A%20%20%20%7D%0A%7D%0A%0A%0A%0A/**%0A*%0A*%20This%20can%20be%20used%20to%20close%20an%20iframe%0A*%0A*%20@param%20id%0A*%20@return%0A*/%0Afunction%20leoHighlightsSetSize%28size%2CclickId%29%0A%7B%0A%09try%0A%09%7B%0A%09%09/*%20Get%20the%20element%20*/%0A%20%20%09%09var%20iFrameTop%3D_leoHighlightsFindElementById%28LEO_HIGHLIGHTS_IFRAME_TOP_ID%29%3B%0A%0A%20%20%09%09/*%20Figure%20out%20the%20correct%20sizes%20*/%0A%20%20%09%09var%20iFrameTopSize%3DLEO_HIGHLIGHTS_IFRAME_TOP_SIZE%3B%0A%20%20%09%09%0A%20%20%09%09/*%20Refresh%20the%20iFrame%27s%20url%2C%20by%20removing%20the%20size%20arg%20and%20adding%20it%20again%20*/%0A%20%20%09%09leoHighlightsUpdateUrl%28iFrameTop%2Csize%2CclickId%29%3B%0A%20%20%09%09%0A%20%20%09%09_leoHighlightsSetSize%28iFrameTop%2CiFrameTopSize%29%3B%0A%20%20%20%20%20%20_leoHighlightsSetBottomSize%28size%2CclickId%29%3B%0A%20%20%20%20%20%20%0A%20%20%20%20%20%20/*%20Clear%20the%20hover%20flag%2C%20if%20the%20user%20shows%20this%20at%20full%20size%20*/%0A%20%20%20%20%20%20if%28size%3D%3D1%26%26_leoHighlightsPrevElem%29%0A%20%20%20%20%20%20%20%20%20_leoHighlightsPrevElem.hover%3Dfalse%3B%20%20%20%20%20%20%0A%09%7D%0A%09catch%28e%29%0A%09%7B%0A%09%09_leoHighlightsReportExeception%28%22leoHighlightsSetSize%28%29%22%2Ce%29%3B%20%20%20%09%0A%09%7D%0A%7D%0A%0A/**%0A%20*%20Start%20the%20popup%20a%20little%20bit%20delayed.%0A%20*%20Somehow%20IE%20needs%20some%20time%20to%20find%20the%20element%20by%20id.%0A%20*%20%0A%20*%20@param%20anchorId%0A%20*%20@param%20size%0A%20*%20%0A%20*%20@return%0A%20*/%0Afunction%20leoHighlightsShowPopup%28anchorId%2Csize%29%0A%7B%0A%20%20%20try%0A%20%20%20%7B%0A%20%20%20%20%20%20if%28_leoHighlightsSnoozed%29%0A%20%20%20%20%20%20%20%20%20return%20false%3B%0A%20%20%20%20%20%20%0A%20%20%09%09var%20elem%3D_leoHighlightsFindElementById%28anchorId%29%3B%0A%20%20%09%09if%28_leoHighlightsPrevElem%26%26%28_leoHighlightsPrevElem%21%3Delem%29%29%0A%20%20%09%09%09_leoHighlightsPrevElem.shown%3Dfalse%3B%0A%20%20%09%09elem.shown%3Dtrue%3B%0A%09%09_leoHighlightsPrevElem%3Delem%3B%0A%09%09%0A%09%09_leoHighlightsDebugLog%28%22leoHighlightsShowPopup%28%29%20%22%2B_leoHighlightsPrevElem%29%3B%09%09%0A%20%20%20%09%0A%20%20%20%09/*%20FF%20needs%20to%20find%20the%20element%20first%20*/%0A%20%20%20%09_leoHighlightsFindElementById%28anchorId%29%3B%0A%20%20%20%09%0A%20%20%20%09setTimeout%28%22_leoHighlightsShowPopup%28%5C%27%22%2BanchorId%2B%22%5C%27%2C%5C%27%22%2Bsize%2B%22%5C%27%29%3B%22%2C10%29%3B%0A%20%20%20%7D%0A%20%20%20catch%28e%29%0A%20%20%20%7B%0A%20%20%20%09_leoHighlightsReportExeception%28%22leoHighlightsShowPopup%28%29%22%2Ce%29%3B%20%20%20%09%0A%20%20%20%7D%09%0A%7D%0A%0A/**%0A*%0A*%20This%20can%20be%20used%20to%20close%20an%20iframe%0A*%0A*%20@param%20id%0A*%20@return%0A*/%0Afunction%20leoHighlightsHideElem%28id%29%0A%7B%0A%09try%0A%09%7B%0A%09%09/*%20Get%20the%20appropriate%20sizes%20*/%0A%20%20%09%09var%20elem%3D_leoHighlightsFindElementById%28id%29%3B%0A%20%20%09%09if%28elem%29%0A%20%20%09%09%09elem.style.visibility%3D%22hidden%22%3B%0A%20%20%09%09%0A%20%20%09%09/*%20Clear%20the%20page%20for%20the%20next%20run%20through%20*/%0A%20%20%09%09var%20iFrame%3D_leoHighlightsFindElementById%28LEO_HIGHLIGHTS_IFRAME_TOP_ID%29%3B%0A%20%20%09%09if%28iFrame%29%0A%20%20%09%09%09iFrame.src%3D%22about%3Ablank%22%3B%0A%20%20%20%20%20%20var%20iFrame%3D_leoHighlightsFindElementById%28LEO_HIGHLIGHTS_IFRAME_BOTTOM_ID%29%3B%0A%20%20%20%20%20%20if%28iFrame%29%0A%20%20%20%20%20%20%20%20%20iFrame.src%3D%22about%3Ablank%22%3B%0A%20%20%09%09%0A%20%20%09%09%0A%20%20%09%09if%28_leoHighlightsPrevElem%29%0A%20%20%09%09%7B%0A%20%20%09%09%09_leoHighlightsPrevElem.shown%3Dfalse%3B%0A%20%20%09%09%09_leoHighlightsPrevElem%3Dnull%3B%0A%20%20%09%09%7D%0A%09%7D%0A%09catch%28e%29%0A%09%7B%0A%09%09_leoHighlightsReportExeception%28%22leoHighlightsHideElem%28%29%22%2Ce%29%3B%20%20%20%09%0A%09%7D%0A%7D%0A%0A/**%0A*%0A*%20This%20can%20be%20used%20to%20close%20an%20iframe.%0A*%20Since%20the%20iFrame%20is%20reused%20the%20frame%20only%20gets%20hidden%0A*%0A*%20@return%0A*/%0Afunction%20leoHighlightsIFrameClose%28%29%0A%7B%0A%20%20try%0A%20%20%7B%0A%09%20%20_leoHighlightsSimpleGwCallBack%28%22LeoHighlightsHideIFrame%22%29%3B%0A%20%20%7D%0A%20%20catch%28e%29%0A%20%20%7B%0A%09%20%20_leoHighlightsReportExeception%28%22leoHighlightsIFrameClose%28%29%22%2Ce%29%3B%20%20%20%09%0A%20%20%7D%0A%7D%0A%0A/**%0A*%0A*%20This%20is%20used%20to%20snooze%20the%20highlights.%0A*%0A*%20@return%0A*/%0Afunction%20leoHighlightsSnooze%28%29%0A%7B%0A%20%20try%0A%20%20%7B%0A%20%20%20%20%20_leoHighlightsSnoozed%3Dtrue%3B%0A%20%20%20%20%20_leoHighlightsSimpleGwCallBack%28%22LeoHighlightsSnooze%22%29%3B%0A%20%20%7D%0A%20%20catch%28e%29%0A%20%20%7B%0A%20%20%20%20%20_leoHighlightsReportExeception%28%22leoHighlightsSnooze%28%29%22%2Ce%29%3B%20%20%20%20%0A%20%20%7D%0A%7D%0A%0A/**%0A*%0A*%20This%20is%20used%20to%20snooze%20the%20highlights.%0A*%20This%20gets%20fired%20into%20the%20top%20frame.%0A*%0A*%20@return%0A*/%0Afunction%20leoHighlightsSnoozeTop%28id%29%0A%7B%0A%20%20try%0A%20%20%7B%0A%20%20%20%20%20_leoHighlightsSnoozed%3Dtrue%3B%0A%20%20%20%20%20leoHighlightsHideElem%28id%29%3B%0A%20%20%7D%0A%20%20catch%28e%29%0A%20%20%7B%0A%20%20%20%20%20_leoHighlightsReportExeception%28%22leoHighlightsSnoozeTop%28%29%22%2Ce%29%3B%20%20%20%20%0A%20%20%7D%0A%7D%0A%0A%0A/**%0A%20*%20This%20should%20handle%20the%20click%20events%0A%20*%20%0A%20*%20@param%20anchorId%0A%20*%20@return%0A%20*/%0Afunction%20leoHighlightsHandleClick%28anchorId%29%0A%7B%0A%20%20%20try%0A%20%20%20%7B%0A%20%20%20%20%20%20if%28_leoHighlightsSnoozed%29%0A%20%20%20%20%20%20%20%20%20return%20false%3B%0A%20%20%20%20%20%20%0A%20%20%20%20%20%20if%28_leoHighlightsIsFrame%28%29%29%0A%20%20%20%20%20%20%20%20%20return%20false%3B%0A%20%20%20%20%20%20%0A%20%20%09%09var%20anchor%3D_leoHighlightsFindElementById%28anchorId%29%3B%0A%20%20%09%09anchor.hover%3Dfalse%3B%0A%20%20%09%09if%28anchor.startTimer%29%0A%20%20%09%09%09clearTimeout%28anchor.startTimer%29%3B%0A%20%20%20%09%0A%20%20%20%20%20%20/*%20Report%20the%20click%20event%20*/%0A%20%20%20%20%20%20leoHighlightsReportEvent%28%22clicked%22%2C%20window.document.domain%2C%0A%20%20%20%20%20%20%20%20%20%20%20%20_leoHighlightsGetAttrib%28anchor%2C%27leohighlights_keywords%27%29%2Cnull%2C%0A%20%20%20%20%20%20%20%20%20%20%20%20_leoHighlightsGetAttrib%28anchor%2C%27leohighlights_accept%27%29%2C%0A%20%20%20%20%20%20%20%20%20%20%20%20_leoHighlightsGetAttrib%28anchor%2C%27leohighlights_reject%27%29%29%3B%0A%20%20%20%20%20%20%0A%20%20%20%09leoHighlightsShowPopup%28anchorId%2C1%29%3B%0A%20%20%20%09return%20false%3B%0A%20%20%20%7D%0A%20%20%20catch%28e%29%0A%20%20%20%7B%0A%20%20%20%09_leoHighlightsReportExeception%28%22leoHighlightsHandleClick%28%29%22%2Ce%29%3B%20%20%20%09%0A%20%20%20%7D%09%0A%7D%0A%0A/**%0A%20*%20This%20should%20handle%20the%20hover%20events%0A%20*%20%0A%20*%20@param%20anchorId%0A%20*%20@return%0A%20*/%0Afunction%20leoHighlightsHandleHover%28anchorId%29%0A%7B%0A%20%20%20try%0A%20%20%20%7B%0A%20%20%20%20%20%20if%28_leoHighlightsSnoozed%29%0A%20%20%20%20%20%20%20%20%20return%20false%3B%0A%20%20%20%20%20%20%0A%20%20%20%20%20%20if%28_leoHighlightsIsFrame%28%29%29%0A%20%20%20%20%20%20%20%20%20return%20false%3B%0A%20%20%20%20%20%20%0A%20%20%09%09var%20anchor%3D_leoHighlightsFindElementById%28anchorId%29%3B%0A%20%20%09%09anchor.hover%3Dtrue%3B%0A%20%20%09%09%0A%20%20%20%20%20%20/*%20Report%20the%20hover%20event%20*/%0A%20%20%20%20%20%20leoHighlightsReportEvent%28%22hovered%22%2C%20window.document.domain%2C%0A%20%20%20%20%20%20%20%20%20%20%20%20_leoHighlightsGetAttrib%28anchor%2C%27leohighlights_keywords%27%29%2Cnull%2C%0A%20%20%20%20%20%20%20%20%20%20%20%20_leoHighlightsGetAttrib%28anchor%2C%27leohighlights_accept%27%29%2C%0A%20%20%20%20%20%20%20%20%20%20%20%20_leoHighlightsGetAttrib%28anchor%2C%27leohighlights_reject%27%29%29%3B%0A%20%20%20%20%20%20%0A%20%20%20%09leoHighlightsShowPopup%28anchorId%2C0%29%3B%0A%20%20%20%09return%20false%3B%0A%20%20%20%7D%0A%20%20%20catch%28e%29%0A%20%20%20%7B%0A%20%20%20%09_leoHighlightsReportExeception%28%22leoHighlightsHandleHover%28%29%22%2Ce%29%3B%20%20%20%09%0A%20%20%20%7D%09%0A%7D%0A%0A/**%0A%20*%20This%20will%20handle%20the%20mouse%20over%20setup%20timers%20for%20the%20appropriate%20timers%0A%20*%20%0A%20*%20@param%20id%0A%20*%20@return%0A%20*/%0Afunction%20leoHighlightsHandleMouseOver%28id%29%0A%7B%0A%09try%0A%09%7B%0A%20%20%20%20%20%20if%28_leoHighlightsSnoozed%29%0A%20%20%20%20%20%20%20%20%20return%3B%0A%09%20%20%20%0A%09%20%20%20if%28_leoHighlightsIsFrame%28%29%29%0A%09%20%20%20%20%20%20return%3B%0A%09%20%20%20%0A%09%09var%20anchor%3D_leoHighlightsFindElementById%28id%29%3B%09%09%0A%0A%09%09/*%20Clear%20the%20end%20timer%20if%20required%20*/%0A%09%09if%28anchor.endTimer%29%0A%09%09%09clearTimeout%28anchor.endTimer%29%3B%0A%09%09anchor.endTimer%3Dnull%3B%0A%09%09%0A%09%09anchor.style.background%3DLEO_HIGHLIGHTS_BACKGROUND_STYLE_HOVER%3B%0A%09%09%0A%09%09var%20underline%3D_leoHighlightsGetAttrib%28anchor%2C%22leohighlights_underline%22%29%3D%3D%27true%27%3B%0A%09%09%0A%09%09/*%20The%20element%20is%20already%20showing%20we%20are%20done%20*/%0A%09%09if%28anchor.shown%29%0A%09%09%09return%3B%0A%09%09%0A%09%09/*%20Setup%20the%20start%20timer%20if%20required%20*/%0A%09%09anchor.startTimer%3DsetTimeout%28function%28%29%7B%0A%09%09%09leoHighlightsHandleHover%28anchor.id%29%3B%0A%09%09%09anchor.hover%3Dtrue%3B%0A%09%09%09%7D%2Cunderline?LEO_HIGHLIGHTS_SHOW_DELAY_MS%3ALEO_HIGHLIGHTS_SHOW_DELAY_NO_UNDER_MS%29%3B%0A%09%7D%0A%09catch%28e%29%0A%09%7B%0A%09%09_leoHighlightsReportExeception%28%22leoHighlightsHandleMouseOver%28%29%22%2Ce%29%3B%20%20%20%09%0A%09%7D%0A%7D%0A%0A/**%0A%20*%20This%20will%20handle%20the%20mouse%20over%20setup%20timers%20for%20the%20appropriate%20timers%0A%20*%20%0A%20*%20@param%20id%0A%20*%20@return%0A%20*/%0Afunction%20leoHighlightsHandleMouseOut%28id%29%0A%7B%0A%09try%0A%09%7B%09%0A%09%09var%20anchor%3D_leoHighlightsFindElementById%28id%29%3B%0A%09%09%0A%09%09/*%20Clear%20the%20start%20timer%20if%20required%20*/%0A%09%09if%28anchor.startTimer%29%0A%09%09%09clearTimeout%28anchor.startTimer%29%3B%0A%09%09anchor.startTimer%3Dnull%3B%0A%09%09%0A%09%09anchor.style.background%3DLEO_HIGHLIGHTS_BACKGROUND_STYLE_DEFAULT%3B%0A%09%09if%28%21anchor.shown||%21anchor.hover%29%0A%09%09%09return%3B%0A%09%09%0A%09%09/*%20Setup%20the%20start%20timer%20if%20required%20*/%0A%09%09anchor.endTimer%3DsetTimeout%28function%28%29%7B%0A%09%09%09leoHighlightsHideElem%28LEO_HIGHLIGHTS_IFRAME_DIV_ID%29%3B%0A%09%09%09anchor.shown%3Dfalse%3B%0A%09%09%09_leoHighlightsPrevElem%3Dnull%3B%0A%09%09%09%7D%2CLEO_HIGHLIGHTS_HIDE_DELAY_MS%29%3B%0A%09%7D%0A%09catch%28e%29%0A%09%7B%0A%09%09_leoHighlightsReportExeception%28%22leoHighlightsHandleMouseOut%28%29%22%2Ce%29%3B%20%20%20%09%0A%09%7D%0A%7D%0A%0A/**%0A%20*%20This%20handles%20the%20mouse%20movement%20into%20the%20currently%20opened%20window.%0A%20*%20Just%20clear%20the%20close%20timer%0A%20*%20%0A%20*%20@return%0A%20*/%0Afunction%20leoHighlightsHandleIFrameMouseOver%28%29%0A%7B%0A%09try%0A%09%7B%0A%09%09if%28_leoHighlightsPrevElem%26%26_leoHighlightsPrevElem.endTimer%29%0A%09%09%09clearTimeout%28_leoHighlightsPrevElem.endTimer%29%3B%0A%09%7D%0A%09catch%28e%29%0A%09%7B%0A%09%09_leoHighlightsReportExeception%28%22leoHighlightsHandleIFrameMouseOver%28%29%22%2Ce%29%3B%20%20%20%09%0A%09%7D%0A%7D%0A%0A/**%0A%20*%20This%20handles%20the%20mouse%20movement%20into%20the%20currently%20opened%20window.%0A%20*%20Just%20clear%20the%20close%20timer%0A%20*%20%0A%20*%20@param%20id%0A%20*%20@return%0A%20*/%0Afunction%20leoHighlightsHandleIFrameMouseOut%28%29%0A%7B%0A%09try%0A%09%7B%0A%09%09if%28_leoHighlightsPrevElem%29%0A%09%09%09leoHighlightsHandleMouseOut%28_leoHighlightsPrevElem.id%29%3B%0A%09%7D%0A%09catch%28e%29%0A%09%7B%0A%09%09_leoHighlightsReportExeception%28%22leoHighlightsHandleIFrameMouseOut%28%29%22%2Ce%29%3B%20%20%20%09%0A%09%7D%0A%7D%0A/**%0A%20*%20This%20is%20a%20method%20is%20used%20to%20make%20the%20javascript%20within%20IE%20runnable%0A%20*/%0Avar%20leoHighlightsRanUpdateDivs%3Dfalse%3B%0Afunction%20leoHighlightsUpdateDivs%28%29%0A%7B%0A%09try%0A%09%7B%0A%09%09/*%20Check%20if%20this%20is%20an%20IE%20browser%20and%20if%20divs%20have%20been%20updated%20already%20*/%0A%09%09if%28document.all%26%26%21leoHighlightsRanUpdateDivs%26%26%21_leoHighlightsIsFrame%28%29%29%0A%09%09%7B%0A%09%09%09leoHighlightsRanUpdateDivs%3Dtrue%3B%20//%20Set%20early%20to%20prevent%20running%20twice%0A%09%09%09for%28var%20i%3D0%3Bi%3CLEO_HIGHLIGHTS_MAX_HIGHLIGHTS%3Bi%2B%2B%29%0A%09%09%09%7B%0A%09%09%09%09var%20id%3D%22leoHighlights_Underline_%22%2Bi%3B%0A%09%09%09%09var%20elem%3D_leoHighlightsFindElementById%28id%29%3B%0A%09%09%09%09if%28elem%3D%3Dnull%29%0A%09%09%09%09%09break%3B%0A%09%09%09%09%0A%09%09%09%09if%28%21elem.leoChanged%29%0A%09%09%09%09%7B%0A%09%09%09%09%09elem.leoChanged%3Dtrue%3B%0A%09%09%09%09%0A%09%09%09%09%09/*%20This%20will%20make%20javaScript%20runnable%20*/%09%09%09%09%0A%09%09%09%09%09elem.outerHTML%3Delem.outerHTML%3B%0A%09%09%09%09%7D%0A%09%09%09%7D%0A%09%09%7D%0A%09%7D%0A%09catch%28e%29%0A%09%7B%0A%09%09_leoHighlightsReportExeception%28%22leoHighlightsUpdateDivs%28%29%22%2Ce%29%3B%20%20%20%09%0A%09%7D%0A%7D%0A%0Aif%28document.all%29%0A%09setTimeout%28leoHighlightsUpdateDivs%2C200%29%3B%0A%0A%0A/**%0A%20*%20This%20is%20used%20to%20report%20events%20to%20the%20plugin%0A%20*%20@param%20key%0A%20*%20@param%20domain%0A%20*%20@param%20keywords%0A%20*%20@param%20vendorId%0A%20*%20@param%20accept%0A%20*%20@param%20reject%0A%20*%20@return%0A%20*/%0Afunction%20leoHighlightsReportEvent%28key%2C%20domain%2Ckeywords%2CvendorId%2Caccept%2Creject%29%0A%7B%0A%20%20%20try%0A%20%20%20%7B%0A%20%20%20%20%20%20var%20gwObj%20%3D%20new%20Gateway%28%29%3B%0A%20%20%20%20%20%20gwObj.addParam%28%22key%22%2Ckey%29%3B%0A%20%20%20%20%20%20if%28domain%21%3Dnull%29%0A%20%20%20%20%20%20%20%20%20gwObj.addParam%28%22domain%22%2Cdomain%29%3B%0A%20%20%20%20%20%20if%28keywords%21%3Dnull%29%0A%20%20%20%20%20%20%20%20%20gwObj.addParam%28%22keywords%22%2Ckeywords%29%3B%0A%20%20%20%20%20%20if%28vendorId%21%3Dnull%29%0A%20%20%20%20%20%20%20%20%20gwObj.addParam%28%22vendorId%22%2CvendorId%29%3B%0A%20%20%20%20%20%20if%28accept%21%3Dnull%29%0A%20%20%20%20%20%20%20%20%20gwObj.addParam%28%22accept%22%2Caccept%29%3B%0A%20%20%20%20%20%20if%28reject%21%3Dnull%29%0A%20%20%20%20%20%20%20%20%20gwObj.addParam%28%22reject%22%2Creject%29%3B%0A%20%20%20%20%20%20%0A%20%20%20%20%20%20gwObj.callName%28%22LeoHighlightsEvent%22%29%3B%0A%20%20%20%7D%0A%20%20%20catch%28e%29%0A%20%20%20%7B%0A%20%20%20%20%20%20_leoHighlightsReportExeception%28%22leoHighlights%28%29%22%2Ce%29%3B%20%20%20%20%20%0A%20%20%20%7D%0A%7D%0A%0A/**%0A%20*%20This%20will%20expand%20or%20collapse%20the%20window%20base%20on%20it%20prior%20state%0A%20*%20%0A%20*%20@return%0A%20*/%0Afunction%20leoHighlightsToggleSize%28clickId%29%0A%7B%0A%20%20%20try%0A%20%20%20%7B%20%20%0A%20%20%20%20%20%20_leoHighlightsDebugLog%28%22leoHighlightsToggleSize%28%29%20%22%2B_leoHighlightsPrevElem%29%3B%20%20%20%20%20%20%20%20%20%20%20%20%0A%20%20%20%20%20%20/*%20Get%20the%20hover%20flag%20and%20change%20the%20status%20*/%0A%20%20%20%20%20%20var%20size%3D_leoHighlightsPrevElem.hover?1%3A0%3B%0A%20%20%20%20%20%20_leoHighlightsSetBottomSize%28size%2CclickId%29%3B%0A%20%20%20%7D%0A%20%20%20catch%28e%29%0A%20%20%20%7B%0A%20%20%20%20%20%20_leoHighlightsReportExeception%28%22leoHighlightsToggleSize%28%29%22%2Ce%29%3B%20%20%20%20%20%0A%20%20%20%7D%0A%7D%0A%0A/**%0A%20*%20Call%20into%20the%20kvm%20that%20will%20then%20do%20a%20callback%20into%20the%20top%20window%0A%20*%20The%20top%20window%20will%20then%20call%20leoH%0A%20*%20%0A%20*%20@return%0A%20*/%0Afunction%20leoHighlightsSetSecondaryWindowUrl%28url%2C%20customerId%2C%20phraseId%29%0A%7B%0A%20%20%20try%0A%20%20%20%7B%20%0A%20%20%20%20%20%20_leoHighlightsDebugLog%28%22leoHighlightsSetSecondaryWindowUrl%28%29%20%22%2Burl%29%3B%20%20%20%20%20%20%20%20%20%20%20%20%0A%20%20%20%20%20%20var%20gwObj%20%3D%20new%20Gateway%28%29%3B%0A%20%20%20%20%20%20gwObj.addParam%28%22url%22%2C%20url%29%3B%0A%20%20%20%20%20%20gwObj.addParam%28%22phraseId%22%2C%20phraseId%29%3B%0A%20%20%20%20%20%20gwObj.addParam%28%22customerId%22%2C%20customerId%29%3B%0A%20%20%20%20%20%20gwObj.callName%28%22LeoHighlightsSetSecondaryWindowUrl%22%29%3B%20%20%20%20%20%20%20%20%20%20%20%20%20%20%20%20%20%20%20%20%20%20%0A%20%20%20%7D%0A%20%20%20catch%28e%29%0A%20%20%20%7B%0A%20%20%20%20%20%20_leoHighlightsReportExeception%28%22leoHighlightsSetSecondaryWindowUrl%28%29%22%2Ce%29%3B%20%20%20%20%20%0A%20%20%20%7D%0A%7D%0A%0A/**%0A%20*%20Call%20into%20the%20kvm%20that%20will%20then%20do%20a%20callback%20into%20the%20top%20window%0A%20*%20The%20top%20window%20will%20then%20call%20leoH%0A%20*%20%0A%20*%20@return%0A%20*/%0Afunction%20leoHighlightsSetSecondaryWindowUrlCallback%28url%2C%20customerId%2C%20phraseId%29%0A%7B%0A%20%20%20try%0A%20%20%20%7B%20%0A%20%20%20%20%20%20_leoHighlightsDebugLog%28%22leoHighlightsSetSecondaryWindowUrlCallback%28%29%20%22%2Burl%29%3B%0A%20%20%20%20%20%20%0A%20%20%20%20%20%20/*%20Clear%20the%20hover%20flag%2C%20if%20the%20user%20shows%20this%20at%20full%20size%20*/%0A%20%20%20%20%20%20var%20size%3D_leoHighlightsPrevElem.hover?0%3A1%3B%20%20%20%20%20%20%0A%20%20%20%20%20%20_leoHighlightsDebugLog%28%22leoHighlightsSetSecondaryWindowUrlCallback%28%29%20%22%2B_leoHighlightsPrevElem%2B%22%20--%20%22%2B_leoHighlightsPrevElem.hover%29%3B%0A%20%20%20%20%20%20%0A%20%20%20%20%20%20/*%20Get%20the%20elements%20*/%0A%20%20%20%20%20%20var%20iFrameBottom%3D_leoHighlightsFindElementById%28LEO_HIGHLIGHTS_IFRAME_BOTTOM_ID%29%3B%0A%20%20%20%20%20%20leoHighlightsUpdateUrl%28iFrameBottom%2Csize%2Cnull%2Curl%29%3B%0A%20%20%20%20%20%20%0A%20%20%20%20%20%20_leoHighlightsDebugLog%28%22leoHighlightsSetSecondaryWindowUrlCallback%28%29%20%22%2Burl%29%3B%20%20%20%20%20%20%20%20%20%20%20%20%0A%20%20%20%7D%0A%20%20%20catch%28e%29%0A%20%20%20%7B%0A%20%20%20%20%20%20_leoHighlightsReportExeception%28%22leoHighlightsSetSecondaryWindowUrlCallback%28%29%22%2Ce%29%3B%20%20%20%20%20%0A%20%20%20%7D%0A%7D%0A%0A/**%0A%20*%20This%20will%20set%20the%20text%20to%20the%20Top%20%0A%20*%20%0A%20*%20@param%20txt%0A%20*%20@return%0A%20*/%0Afunction%20leoHighlightsSetExpandTxt%28txt%29%0A%7B%0A%20%20%20try%0A%20%20%20%7B%20%0A%20%20%20%20%20%20var%20topIFrame%20%3D%20_leoHighlightsFindElementById%28LEO_HIGHLIGHTS_IFRAME_TOP_ID%29%3B%0A%20%20%20%20%20%20if%28topIFrame%3D%3Dnull%29%0A%20%20%20%20%20%20%20%20%20return%3B%0A%20%20%20%20%20%20%0A%20%20%20%20%20%20/*%20Get%20the%20current%20url%20*/%0A%20%20%20%20%20%20var%20url%3DtopIFrame.src%3B%20%20%20%20%20%20%0A%20%20%20%20%20%20if%28url%3D%3Dnull%29%0A%20%20%20%20%20%20%20%20%20return%3B%0A%20%20%20%20%20%20%0A%20%20%20%20%20%20/*%20Extract%20the%20previous%20hash%20if%20present%20*/%0A%20%20%20%20%20%20var%20idx%3D-1%3B%20%20%20%20%20%20%0A%20%20%20%20%20%20if%28%28idx%3Durl.indexOf%28%27%23%27%29%29%3E0%29%0A%20%20%20%20%20%20%20%20%20url%3Durl.substring%280%2Cidx%29%3B%0A%0A%20%20%20%20%20%20/*%20Append%20the%20text%20to%20the%20end%20*/%0A%20%20%20%20%20%20url%2B%3D%22%23%22%2BencodeURI%28txt%29%3B%0A%20%20%20%20%20%20%0A%20%20%20%20%20%20/*%20Set%20the%20iframe%20with%20the%20new%20url%20that%20contains%20the%20hash%20tag%20*/%0A%20%20%20%20%20%20topIFrame.src%3Durl%3B%0A%20%20%20%7D%0A%20%20%20catch%28e%29%0A%20%20%20%7B%0A%20%20%20%20%20%20_leoHighlightsReportExeception%28%22leoHighlightsSetExpandTxt%28%29%22%2Ce%29%3B%20%20%20%20%20%0A%20%20%20%7D%0A%7D%0A%0A/*----------------------------------------------------------------------*/%0A/*%20Methods%20provided%20to%20the%20highlight%20providers...%20%20%20%20%20%20%20%20%20%20%20%20%20%20%20%20%20%20%20%20%20%20%20*/%0A/*----------------------------------------------------------------------*/%0A%0A/**%0A%20*%20This%20will%20set%20the%20expand%20text%20for%20the%20Top%20window%0A%20*/%0Afunction%20leoHL_SetExpandTxt%28txt%29%0A%7B%0A%20%20%20try%0A%20%20%20%7B%0A%20%20%20%20%20%20_leoHighlightsDebugLog%28%22leoHL_SetExpandTxt%28%29%20%22%2Btxt%29%3B%20%20%20%20%20%20%20%20%20%20%20%20%0A%20%20%20%20%20%20_leoHighlightsSimpleGwCallBack%28%22LeoHighlightsSetExpandTxt%22%2C%22expandTxt%22%2Ctxt%29%3B%20%20%20%20%20%20%0A%20%20%20%7D%0A%20%20%20catch%28e%29%0A%20%20%20%7B%0A%20%20%20%20%20%20_leoHighlightsReportExeception%28%22leoHL_SetExpandTxt%28%29%22%2Ce%29%3B%20%20%20%20%0A%20%20%20%7D%0A%7D%0A%0A/**%0A%20*%20This%20will%20redirect%20the%20top%20window%20to%20the%20passed%20in%20url%0A%20*%20%0A%20*%20@param%20url%0A%20*%20@param%20parentId%0A%20*%20@return%0A%20*/%0Afunction%20leoHL_RedirectTop%28url%2CparentId%29%0A%7B%0A%20%20%20try%0A%20%20%20%7B%20%0A%20%20%20%20%20%20try%7B%0A%20%20%20%20%20%20%20%20%20var%20domain%3D_leoHighlightsGetUrlArg%28window.document.URL%2C%22domain%22%29%0A%20%20%20%20%20%20%20%20%20var%20keywords%3D_leoHighlightsGetUrlArg%28window.document.URL%2C%22keywords%22%29%0A%20%20%20%20%20%20%20%20%20var%20vendorId%3D_leoHighlightsGetUrlArg%28window.document.URL%2C%22vendorId%22%29%0A%20%20%20%20%20%20leoHighlightsReportEvent%28%22clickthrough%22%2C%20domain%2Ckeywords%2C%20vendorId%29%3B%0A%20%20%20%20%20%20%7Dcatch%28e%29%7B%0A%20%20%20%20%20%20%20%20%20_leoHighlightsReportExeception%28%22leoHL_RedirectTop%28%29%22%2Ce%29%3B%20%20%20%20%0A%20%20%20%20%20%20%7D%0A%20%20%09%09%0A%20%20%20%09_leoHighlightsRedirectTop%28url%29%3B%0A%20%20%20%7D%0A%20%20%20catch%28e%29%0A%20%20%20%7B%0A%20%20%20%09_leoHighlightsReportExeception%28%22leoHL_RedirectTop%28%29%22%2Ce%29%3B%20%20%20%09%0A%20%20%20%7D%0A%7D%0A%0A/**%0A%20*%20This%20will%20redirect%20the%20top%20window%20to%20the%20passed%20in%20url%0A%20*%20%0A%20*%20@param%20url%0A%20*%20@param%20parentId%0A%20*%20@return%0A%20*/%0Afunction%20LeoHL_RedirectTop%28url%2CparentId%29%0A%7B%0A%20%20%20leoHL_RedirectTop%28url%2CparentId%29%3B%0A%7D%0A%0A/**%0A%20*%20This%20will%20redirect%20the%20top%20window%20to%20the%20passed%20in%20url%0A%20*%20%0A%20*%20@param%20url%0A%20*%20@param%20parentId%0A%20*%20@return%0A%20*/%0Afunction%20leoHL_RedirectTopAd%28url%2CparentId%29%0A%7B%0A%20%20%20try%0A%20%20%20%7B%20%0A%20%20%20%20%20%20try%7B%0A%20%20%20%20%20%20%20%20%20var%20domain%3D_leoHighlightsGetUrlArg%28window.document.URL%2C%22domain%22%29%0A%20%20%20%20%20%20%20%20%20var%20keywords%3D_leoHighlightsGetUrlArg%28window.document.URL%2C%22keywords%22%29%0A%20%20%20%20%20%20%20%20%20var%20vendorId%3D_leoHighlightsGetUrlArg%28window.document.URL%2C%22vendorId%22%29%0A%20%20%20%20%20%20leoHighlightsReportEvent%28%22advertisement.click%22%2C%20domain%2Ckeywords%2C%20vendorId%29%3B%0A%20%20%20%20%20%20%7Dcatch%28e%29%7B%0A%20%20%20%20%20%20%20%20%20_leoHighlightsReportExeception%28%22leoHL_RedirectTopAd%28%29%22%2Ce%29%3B%20%20%20%20%0A%20%20%20%20%20%20%7D%0A%20%20%20%20%20%20%0A%20%20%20%20%20%20_leoHighlightsRedirectTop%28url%29%3B%0A%20%20%20%7D%0A%20%20%20catch%28e%29%0A%20%20%20%7B%0A%20%20%20%20%20%20_leoHighlightsReportExeception%28%22leoHL_RedirectTopAd%28%29%22%2Ce%29%3B%20%20%20%20%0A%20%20%20%7D%0A%7D%0A%0A%0A/**%0A%20*%20This%20will%20set%20the%20size%20of%20the%20iframe%0A%20*%20%0A%20*%20@param%20url%0A%20*%20@param%20parentId%0A%20*%20%0A%20*%20@return%0A%20*/%0Afunction%20leoHl_setSize%28size%2Curl%29%0A%7B%0A%20%20%20try%0A%20%20%20%7B%0A%20%20%20%09/*%20Get%20the%20clickId%20*/%0A%20%20%20%09var%20clickId%3D_leoHighlightsGetUrlArg%28%20url%2C%22clickId%22%29%0A%20%20%20%09%0A%20%20%20%20%20%20var%20gwObj%20%3D%20new%20Gateway%28%29%3B%0A%20%20%20%20%20%20gwObj.addParam%28%22size%22%2Csize%29%3B%0A%20%20%20%20%20%20if%28clickId%29%0A%20%20%20%20%20%20%20%20%20gwObj.addParam%28%22clickId%22%2CclickId%2B%22_blah%22%29%3B%0A%20%20%20%20%20%20gwObj.callName%28%22LeoHighlightsSetSize%22%29%3B%0A%20%20%20%7D%0A%20%20%20catch%28e%29%0A%20%20%20%7B%0A%20%20%20%09_leoHighlightsReportExeception%28%22leoHl_setSize%28%29%22%2Ce%29%3B%20%20%20%09%0A%20%20%20%7D%0A%7D%0A%0A/**%0A%20*%20This%20will%20toggle%20the%20size%20of%20the%20window%0A%20*%20%0A%20*%20@return%0A%20*/%0Afunction%20leoHl_ToggleSize%28%29%0A%7B%0A%20%20%20try%0A%20%20%20%7B%0A%20%20%20%20%20%20var%20gwObj%20%3D%20new%20Gateway%28%29%3B%0A%20%20%20%20%20%20gwObj.callName%28%22LeoHighlightsToggleSize%22%29%3B%0A%20%20%20%7D%0A%20%20%20catch%28e%29%0A%20%20%20%7B%0A%20%20%20%20%20%20_leoHighlightsReportExeception%28%22leoHl_ToggleSize%28%29%22%2Ce%29%3B%20%20%20%20%20%0A%20%20%20%7D%0A%7D%0A%0A");
This article is
What is the duplicate article?
Why is this article offensive?
Where is this article plagiarized from?
Why is this article poorly edited?

Miami Heat: Like this team?