NBA Playoffs 2011: Kobe Bryant and Each Playoff Team's Most Dangerous Weapon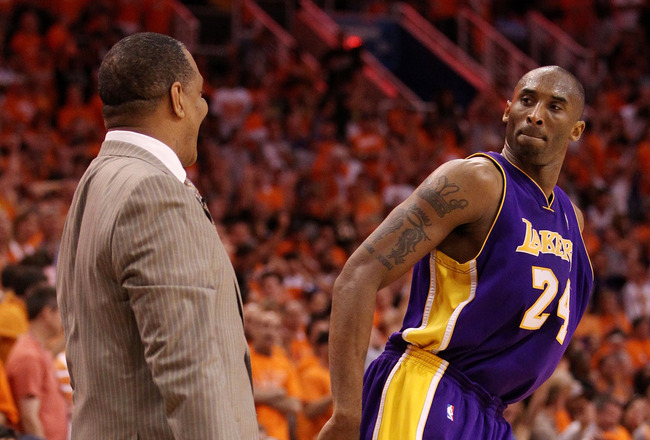 Christian Petersen/Getty Images
We all know the assassins when we see them. In the basketball world we always see them coming; we always "feel" something when they're around. We, as fans of the opposing team, just know that the mere presence of a roster's dangerous weapon can influence the game.
We may exhale a sigh of relief when the weapon misses its mark, as every one, big or small, legend or pretender, is known to do. But there is always that moment when the ball is delivered into the hands of the deadly and the space-time continuum stops and seconds become hours.
"Will the shot go in?" "Are we going to lose?" "No!" "STOP!" "Tackle him if you have to!"
We think of a lot of players as dangerous because they can hit shots when needed but, as it is often forgotten, the most dangerous players know how to influence a game beyond just shooting. It's finding the open man, making the right pass, grabbing a key rebound, blocking a shot or, at the very least, altering it.
In a sport where no athlete is perfect, the deadliest weapons make us feel, and worry, that their success rate is 100 percent.
Of the 16 teams in the playoffs, here is a list of each team's most dangerous weapon. Some are blatantly obvious while others, I hope, surprise you.
Boston Celtics: Ray Allen
Despite being a Hall of Fame-caliber talent, Ray Allen is often considered the "lesser" of the Big Three (or Four if you count Rondo) in Boston simply because Paul Pierce and Kevin Garnett have such bigger personalities.
But the worst kind of assassin is the silent one: The one you sometimes forget about who will find his way to rip out your heart. As evidence, see the video above (it was tough to narrow the selection down to one! There are so many). Even when you are READY for him, he'll still get you.
Ray Allen has flirted with superstardom on other teams and even pursued acting in which your image is literally hundreds of feet tall and available everywhere. But it is as the glorified role player in Boston, and shot after shot after shot of daggers, that will define the soon to be Hall of Famer.
Yes, Garnett can end a game on defense and demoralize you on a last-second shot (see New York vs. Boston, Game 2, 2011 First Round) but Allen has been making throat-stomping popular in Boston for not only years in the past, but for years of memories in the future.
Ray Allen Playoff Factoid
Allen started playing in the league in 1996. From 1996 to 2007, Ray Allen played in only 37 playoff games with Milwaukee and Seattle, winning only three series, reaching the Eastern Conference Finals in '01.
When he joined Boston in 2007-08, he played 26 total playoff games his first year in Celtic green. In year two, 14, and in year three, 24. If you add the two played so far this year, Ray Allen has played 64 percent of his career playoff games in the last four seasons, playing the other 46 percent in the first 11 years!
Proving that playoff experience might not always be a key to winning, Allen, though he struggled a bit against Atlanta in the 2008 first round and struggled mightily in the 2008 semis, broke through and is now a perennial big-time shot taker that most opponents fear.
He's hit nine three-pointers in a playoff game twice.
New York Knicks: Answer Forthcoming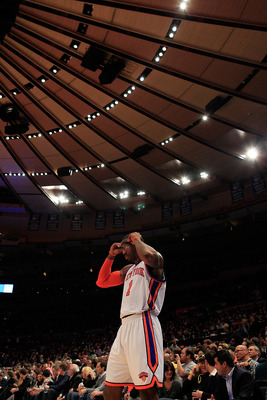 Chris Trotman/Getty Images
I sat down for a good day thinking about who the Knicks' most dangerous weapon is, and I just can't say. I'm sorry to all the Knicks fans or anyone else who really wanted my answer but, I just can't say. But here are the (quite obvious) nominees:
Amar'e Stoudemire, PF
He's the ultimate example of a hybrid player: a power-finesse guy. Amar'e isn't exactly soft, per se, but he seems to exhibit the raw physical power and domination only when he's comfortable or he's mentally put himself up to the task.
Sometimes he really underachieves, and that doesn't exactly inspire fear. However, when he is on, clear the lane because you're about to be a poster. This unexpected spark of hardwood monstrosities make people wary of the man-child.
Carmelo Anthony, SF
When it comes to the regular season and the 2009 playoffs, you dare (or dared) not mess with 'Melo. Sure, the team concept kind of fell apart when 'Melo wanted to take over, and defense was simply a legend Anthony heard in bedtime stories when he was little, BUT could you stop him?
'Melo hasn't met a 50-point game he hasn't liked and fears no lane defender, regardless of size. However, for whatever reason, this ruthless tenacity and raw talent hasn't translated, as 'Melo has made six first-round exits in seven attempts (will it be seven out of eight soon?).
People can't stop 'Melo at times, but they certainly plan for him and use his sometimes selfish play against his other teammates.
Chauncey Billups, PG
Nicknamed "Mr. Big Shot," Billups, even in advancing age, is coasting off the near legend he created in his Detroit days, when he led Detroit to a title. In total he has gone to seven straight Conference Finals (six with Detroit, one with Denver).
Billups lacks the youthful step he once had and his reputation exceeds him sometimes, but just when you think he's down, Billups will nail something close to a 36-footer, fully defended, and it will go in, nothing but net.
Players love playing with him, and he's still adept at knowing when to pass and when to shoot, but is his "Mr. Big Shot" moniker something the fans believe in, and are coaches trying to draw up plays against him?
Knicks Playoff Factoid
Despite playing exceptionally well against the Celtics in the first two games of the first round (Celtics lead 2-0), the Knicks are still fighting for their first playoff victory since April 29th, 2001.
On that date, the Knicks took a 2-1 lead on the Toronto Raptors in the best-of-five first-round series. Since then, the Knicks have lost eight straight playoff games across 10 years.
Philadelphia 76ers: Andre Iguodala
Philadelphia's other A.I. is a constant source of trade banter since he possesses just enough positives to be valuable to many teams, but just enough negatives for team's to live without him.
That said, when Iguodala is on fire, he's on fire. Listed as a 6'6" forward, Iguodala is athletic enough to play guard. Because of said athleticism, he can cause mismatch problems with bigger power forwards by slashing and/or shooting from mid-range (three-point shooting not recommended).
The 76ers are not an elite team yet, and Iguodala is certainly their biggest star. Elton Brand provides rock-solid power and a guaranteed 20-10 when healthy but, despite the consistency issues, A.I. is perhaps the most dangerous.
Unpredictability will drive a coach mad, as you can't plan a consistent game plan around a certain player, BUT the same works for an opposing coach. A.I. causes plenty of headaches for other coaches, as they don't know which A.I. they're going to get.
Andre Iguodala Playoff Factoid
Iguodala clearly learns from his playoff experiences. With the exception of his depressingly low 2011 scoring average vs. the Heat (a meager 4.5 PPG), Iguodala has improved in every major statistical category in virtually the same amount of games each appearance.
2005 Playoffs: 5 GP, 9.8 PPG, 4.6 RPG, 3.0 APG
2008 Playoffs: 6 GP, 13.2 PPG, 4.8 RPG, 5.0 APG
2009 Playoffs: 6 GP, 21.5 PPG, 6.3 RPG, 6.7 APG
2011 Playoffs: 2 GP, 4.5 PPG, 7.5 RPG, 8.0 APG
A.I. has also kept up a playoff career average of 2.1 steals per game, nabbing 41 in 19 total games played.
Chicago Bulls: Derrick Rose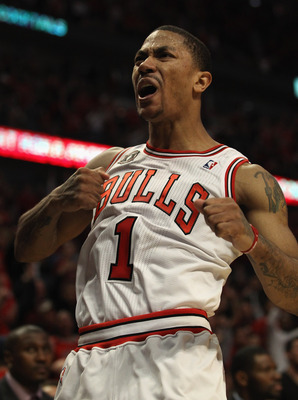 Jonathan Daniel/Getty Images
I was going to say Keith Bogans just to see what you'd say (Dr. Jack Ramsey might like me). But this one was clearly the easiest choice. The likely MVP has taken the Bulls on his back and simply propelled them back to respectability.
What more can you say about the guy? Not since a Bulls guard named Michael Jordan has there been a player who can bend the laws of physics (if not outright break them) to achieve his goal of scoring on a layup. Two, Three, heck, four defenders can barely stop him.
Rose's worst enemy at this point is himself. His shooting, while improving, is dreadful BUT he knows when to pass and, unlike many stars of his caliber, the ego has yet to get in the way. Such a young guy buying into the team concept with the maturity to know when to take over? I call that dangerous.
Bulls Playoff Factoid
The Bulls have an impressive trophy cabinet. They have eight division titles, six conference titles and six NBA championships.
The problem: only two division titles existed outside the Michael Jordan era, and there were no championships before or since.
In fact, the Bulls had only won three total playoff series from their formation in 1966 until Jordan's arrival in 1984-85. From 1984-85 to 1997-98, the Bulls won 31 series (out of a possible 39), grabbed six division titles, six conference titles and six championships.
Since then, the Bulls have only breached the first round once.
Derrick Rose has led the Bulls to one of its two non-Jordan division titles and now has the Bulls up 2-0 against the Indiana Pacers in this year's first round. Are greater things in store?
Indiana Pacers: Tyler Hansbrough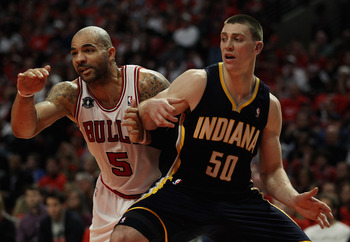 Jonathan Daniel/Getty Images
Here comes one of the "shocking" picks, I'm sure. Yes, the Pacers have pure scorer Danny Granger and an impressive Darren Collison (who is unstoppable on NBA 2K11 for some reason).
But Tyler Hansbrough represents the future of the noble Indiana franchise that has yet to reach the promised land with an NBA title. And while Hansbrough is not your go-to player in crunch time or a guy you would call a superstar, he IS immensely dangerous.
Why? Because he is unassuming. He looks kind of soft and easy to push around, sure, but Hansbrough is gritty and tough and crashes boards with the biggest of them. The 6'9" power forward might be a little shorter then other PFs, but his 250-pound body, while not ripped, can be immovable.
And his ability to grab offensive boards and provide garbage buckets to his team is immensely helpful. I guarantee you no power forward wants to block out this guy. Add an incredible work ethic and hustle (remember when everyone said he wasn't NBA material?) and Hansbrough will provide for his team and cause headaches for defense.
He has a lot to learn but he is entering these playoffs with a bang. Watch out for this kid in the future.
Tyler Hansbrough Playoff Factoid
In 22 of Hansbrough's 70 games played in the regular season, Hansbrough grabbed more or as many offensive boards as he did defensive rebounds in a game. He appears to be keeping that tradition in this year's playoffs by grabbing 40 percent of his total rebounds offensively.
Because of this, his FG%, total rebound rate and PPG have risen in both the regular season and playoffs. He scored 22 points with four rebounds (two offensive) in his playoff debut.
Atlanta Hawks: Josh Smith
Listed as 6'9" and a mere 225 pounds, Josh Smith is one of the tallest leaping defenders on the planet. Dwight Howard may get all the defensive hardware to put on the mantle, but Smith is always right behind him.
Despite his smaller size then most power forwards or centers, Smith can block with the best of him. He's averaged 2.2 blocks in the regular season for his career (1.8 in the playoffs) and though he hasn't won a blocking title yet (thanks to Howard), he's come in second twice and third once. Keep in mind, his surrounding competition has been seven-plus footers like Tyson Chandler and Andrew Bogut.
But while plenty of players block, Smith's ability to play transition offense/defense makes him the Hawks' most dangerous player. Yes, Joe Johnson will score lights out and hit long threes and big jumpers, but Smith also puts in a respectable 15-17 PPG with seven to eight boards.
But in the end, it's the defense that makes him so dangerous. He'll score on you, with decent range, AND reject your shot. He's still young and has improved his rebounding, to go along with his established defense and blocking, in every playoff appearance.
Hawks Playoff Factoid
The Hawks have never won more than two consecutive playoff series. Back in the 1960s, the last time the Hawks made a "conference" final (then called division), the second round was actually the conference/division title.
And even earlier, in the early '60s and '50s, when the Hawks won a title, the second round was the Finals itself.
Since Josh Smith joined the Hawks, the Hawks ended their eight-year drought of appearing in the playoffs in Smith's third year, when his star started to rise. But Smith still hasn't led them past that difficult second round yet. Is this the year?
Miami Heat: Dwyane Wade
I'm sure I'll hear from The Cult of LeBron on this one, but Dwyane Wade is the most dangerous weapon on the Miami Heat, and if the Heat win a title, it will most likely be because of Wade.
LeBron provides some impressive shots and will set up teammates, but when the throat needs to be stepped on, only Wade can deliver for the shockingly thin Miami squad.
Wade has proven himself in the past with one ring already on his finger. He's a bit deceptive as he appears to be lackadaisical when approaching the three-point line but then, out of nowhere, he gets to the hole and scores, often with an and one.
His only chink in the armor is the constant chinks in his armor. The oft-injured Wade is so valuable that if he were to suffer another major injury during these playoffs, the Miami Heat have been reduced to another LeBron-run Cleveland team, which means failure come crunch time.
People aren't scared of LeBron and they certainly aren't scared of Bosh, but very few, if any, can stop Wade and opposing coaches know that. If it's a close game, very few in the sport are either loved (by fans) or feared (by opponents) than Dwyane Wade with the ball in his hands.
Dwyane Wade Playoff Factoid
Wade has never played a full regular season in his career, maxing out at 79 in 2008-09. Overall he's played 547 out of a possible 656 games, missing 16 percent of his career due to injury.
However, of the 69 playoff games he was eligible to play for, Wade's played in 68 of them. When it's time to go, Wade goes, regardless of the pain.
Orlando Magic: Dwight Howard
I'm just going to read milestones about Superman because DESCRIBING Dwight Howard's game always gets doubters in a hissy about how he really isn't that good. So here are some nice little factoids about Dwight Howard that are indisputable which you can fight about amongst yourselves:
Three-time Defensive Player of the Year
Six Eastern Conference Player of the Month Awards
17 Eastern Conference Player of the Week Awards
ALL-NBA Rookie First Team (2004/05)
ALL-NBA Third Team (2006/07)
ALL-NBA First Team (2007/08, 2008/09, 2009/10)
ALL-Defensive Second Team (2007/08)
ALL-Defensive First Team (2007/08, 2008/09, 2009/10)
Five-time NBA All-Star
Led league in total rebounds five times
Two Blocks Titles
Three Rebounding Titles
One FG% Title
One Gold Medal
One Eastern Conference Championship
Three Division Titles
Six playoff series victories
29 playoff victories
Slam Dunk Champion (okay, that means nothing)
Youngest Player to reach 1,000-7,000 rebounds
Only player to win DPOY three times in a row
Only player ever to win a block and a rebounding title back to back
Only Kareem Abdul-Jabbar and DH12 have won a blocks, rebounding and FG% titles in one year
NBA Finals record with nine blocked shots in one game
NBA Finals record with most blocked shots over a seven game series
Playoff career high of 46 points; second highest is 40
Led only team in history to both come back from 3-2 down series deficit to a Boston Celtics team and beat Boston on it's home floor in a deciding Game 7
At 25, already ranks in top 50 in blocks
Scored over 10,000 points
Shoots career 57%
Only one Dwight Howard team has regressed in win total for a season. Every other time except 2011, the team's record has stayed the same or increased.
Should I go on? He's by far the Magic's deadliest weapon, if not one of the league's most dangerous. He effects both sides of the court and has redefined the center position.
Los Angeles Lakers: Kobe Bryant
I know the video above is not the all-time Kobe moment, but to me it shows the extreme confidence and tenacity of a weapon who knows he's going to hit his target.
No debate in the world seems as heated as "Kobe is Terrible/Kobe is the Greatest" except maybe "LeBron is Terrible/LeBron is the Greatest" (if not, of course, "LeBron vs. Kobe"). I'm not sure why this is. In the end, I suppose it comes down to cult of personality.
Kobe has a lot of the same skills and determination that MJ had. But MJ is loved for it by a majority while Kobe is hated for it by the majority.
But even as an Orlando Magic fan myself, who suffered at the hands of Kobe Bryant in the 2009 NBA Finals, I think the man is the GREATEST current player in the NBA. So when you ask me to write a list of the playoff team's greatest weapons, Kobe Bryant HAS to be the poster child for it. Not just for the Lakers but just the concept.
I'm ready for the comment section to show me all the debunked "Kobe is clutch" stuff, but just watch the video above. That alone exemplifies the deadliest weapon. And that wasn't even Kobe's greatest moment. Believe it or not, he's done better.
Kobe Bryant Playoff Factoid
Kobe has the 28th (tied with Shaq), 12th, seventh and fifth-highest single-playoff total scoring seasons in NBA history. And, believe it or not, his position as seven and five came during his title years of '09 and '10, when people thought he was slowing down.
Dallas Mavericks: Jason Kidd
Ronald Martinez/Getty Images
Another surprise pick, eh? Look, I've seen Dirk Nowitzki-led teams tank it far too many times for me to put him as the Mavericks' greatest weapon. And I don't have faith in putting the ball in Tyson Chandler's, Jason Terry's or Shawn Marion's hands when the game needs plays to be made.
Sure, Kidd is 73 years old and his raw numbers have gone down, but he still has the masterful court vision to find Dirk when he needs to hit the right shot or feed Chandler in the areas he's most comfortable in.
And while Dirk has been to an NBA Finals himself, Kidd has been to two and took a legendary Spurs team to a 2-2 tie before losing the next two and the title. Players of Kidd's age don't stick around as starters of championship contenders unless they can provide.
And Kidd's greatest gift may be being the decoy. While all the other players get the attention, sneaky Kidd might just propel himself to yet more triple doubles and assist a game winning shot, if the games are even that close.
Hey, he even might hit a three here and there for a little bonus. Be wary of Kidd, if not, you may regret it.
Jason Kidd Playoff Factoid
Kidd is one of five active players in the top 20 of playoff games played to not win a title; he's played in 123. The others are Steve Nash (No. 10, 118 games played), teammate Dirk (No. 13, 104), Antonio McDyess (No. 17, 95), Kurt Thomas (No. 19, 91) and former Net teammate Richard Jefferson (No. 20, 89). All of those players, save Nash, have at least made an NBA Finals.
Memphis Grizzlies: Zach Randolph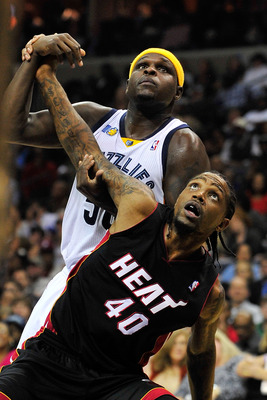 Grant Halverson/Getty Images
The first thing that has to be mentioned is that Zach Randolph anchored the very first Memphis Grizzlies team to win a playoff game. That in itself is an accomplishment. Two-time NBA champion Pau Gasol couldn't do it, but Randolph did (with help, of course, from his own Gasol).
Randolph, a former teammate puncher on the Jail Blazers, has transformed himself from troubled journeyman with inconsistent results to reliable bruiser/All-Star who could score, grab rebounds, block shots and, most importantly, LEAD a team as previously woeful as the Grizzlies to respectability.
Looking at Randolph, it's hard not to see him as the Grizzlies' greatest weapon: Versatile and huge, Randolph is all over the floor scrapping.
Case in point: Go into Getty Images and try to find a clean, straight-up picture of Zach Randolph. You can't. He's all over the place: twisted between players, tangled up in other people's arm pits or legs, trying to do something to help the Grizz win.
Memphis Grizzlies Playoff Factoid
The Grizzlies, despite four playoff appearances, have only played three separate teams in the playoffs. They've played (and are playing) the San Antonio Spurs, the Phoenix Suns and the Dallas Mavericks.
The Grizz began their revenge mission by getting their first playoff victory against the same franchise that swept them 4-0 when they first made the playoffs in 2004, the Spurs. They currently lead the Spurs 1-0 in the first round of the 2011 Western Conference playoffs with Randolph as their lone All-Star on the squad.
If they beat the Spurs in the first round, they'd still have a chance to exact revenge on another Memphis broom sweeper, the Mavs, if they get to the Western Conference Finals. Crazier things have happened.
New Orleans Hornets: Chris Paul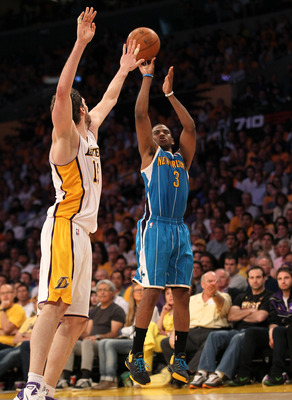 Stephen Dunn/Getty Images
As the heart and soul of the New Orleans franchise (who could literally make the franchise disappear if he was to depart), Paul needs to be at his A-Game at all times if the Hornets are to succeed. He is by far the Hornets' most dangerous weapon, as he possesses the amazing athletic talent and overall skills to dominate the game and run the floor.
He has 11 career triple-doubles and has averaged a double-double four times (six if you like to round his multiple 9.8 and 9.9 assist seasons). He has a good shot and a great eye, but it hasn't often led to his team winning consistently (see below).
But either way, when David West is out, Paul is the fastest athlete, the highest scoring player and the most creative on the floor. As we all were witnesses to last weekend against the Lakers, Paul has it in him to dominate even the champions. Can he keep it up for an entire seven-game series?
Slightly Negative Chris Paul Playoff Factoid
I, personally, am not sold on Chris Paul. For every major playoff shock or success, like beating the Lakers in LA in Game 1 of the Western Conference first round last weekend or a 3-1 lead over the defending champ Spurs in the 2008 semis, Chris Paul teams have also had some epic fails.
Take for instance that 3-1 lead over the Spurs. The Spurs were a lower seed and down 3-1, but came back to win three straight and clinch a spot in the Western Conference Finals.
And then there was that first-round debacle in 2009, when the Hornets not only lost 4-1 to the Nuggets, but lost the must-win Game 4 (in which they were already down 2-1) by 58 points! The final score in that one was a ghastly, Me-vs.-the-computer-on-Easy 121-63 in favor of the Nuggets. Not a typo.
Add Paul's injury woes, and the dude still has a lot to prove to me from the playoff perspective.
San Antonio Spurs: Tony Parker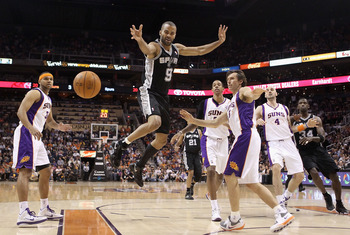 Christian Petersen/Getty Images
This, next to the Knicks, was the toughest one to call. You got "The Big Fundamental" Tim Duncan, who may be the greatest power forward in history. You, of course, have Manu Ginobili, whose breakneck pace and reckless abandon give defense headaches.
But Tony Parker, a former NBA Finals MVP, is just too talented and dangerous to leave off the list (especially since Duncan is older and Manu, so far, is out of the playoffs).
Tougher then he looks, faster then he should be and quietly effective at point guard duties like finding the open man and assists, Parker is a disaster to guard due to his height and fast legs. He has solid range but can kill anybody on a drive, Earl Boykins and Yao Ming alike.
The Spurs are so loaded anyone could really go on this list from their starting five (except McDyess), but Parker is no less deserving. It just shows you how powerful the Spurs are that Parker could be interchanged so easily.
Quick Tony Parker Playoff Factoid
According to NBA.com, Tony Parker is the first, and only, European to win the NBA Finals MVP. Take that to quiz night and show it off.
Denver Nuggets: Nene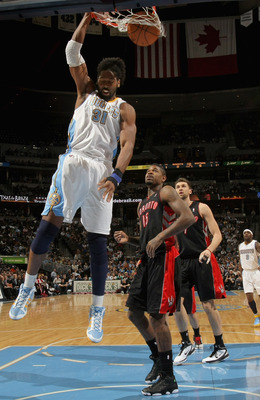 Doug Pensinger/Getty Images
The Renaissance Man of the NBA, Nene isn't particularly dominant at any one thing. The 6'11" but seemingly undersized forward has only averaged about seven rebounds a game during his career and a shade under one block while pitching in about 12.5 PPG.
The numbers, certainly, don't make the box score explode or make kids buy Nene jerseys and wish they were him. Nene is, traditionally, not a great player but a good one.
But watching Nene is far different then seeing his work on paper. If he scores, at a high FG% by the way, it is always at the right time. He may not get 10+ rebounds a game, but he certainly is crashing the basket for them. He might only block a shot a game, but it usually is a key one.
Nene is an enigma on paper but a surefire team leader on the court. When you watch a broadcast of a Nuggets game, Nene is never absent. He's always there, and not because of his always changing hairstyle.
With the explosion of Carmelo Anthony gone and more traditional role players in (like pass-first PG Raymond Felton or shooting-forward Danilo Gallinari), Nene can thrive in a system not star-driven but defense heavy. He doesn't NEED to score 20 a game to be dangerous and effective. But he is all the same.
Nene Playoff Factoid
No matter how the series is going, you can count on lifetime Nugget Nene to shoot at a high percentage. Since 2007, he's shot 58, 55, 54, 62 and 81 percent (one game so far this season) for a career average of 55 percent. His free-throw percentage on the other hand is almost the same number as his FG% (64).
PS: Spell Check does not like the name Nene.
Oklahoma City Thunder: Russell Westbrook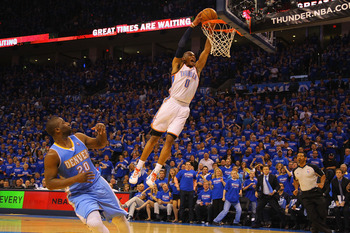 Dilip Vishwanat/Getty Images
I previously wrote in another B/R column that if I were a GM and had a choice between Kevin Durant and Russell Westbrook at the time of my pick, I'd take Westbrook.
I love Durant and he is almost as dangerous as Westbrook (Durant has the scoring edge), but if I wanted to build a franchise that wins, I'd have to go with a guard who can run the floor and create more offense.
Durant obviously averages more points then Westbrook (27.7 to 21.9), but Westbrook aids the offense by dishing out an average (in terms of last season) of close to nine assists, as many as 27 extra points (or as little as 18). Durant's 2.7 makes his total point value at, if we round, roughly between 33 and 37 points created per game to Westbrook's 40-49.
And it's not like Durant and Westbrook are too different in rebounding. Durant, despite a taller height, averages 6.8 while Westbrook, for a guard, averages 4.6. If we are going off of raw numbers, I think Westbrook creates the most offense and brings less attention to himself (Durant is clearly the icon star of the Thunder).
But, as we all know, numbers don't tell the whole story, BUT I've been impressed with Westbrook's play, and I think without him, Durant would be a little less talented. Westbrook runs the team and Durant runs the orders with perfection. If I could have both, it'd be great. But if I have to pick one, I'll take Westbrook.
Russell Westbrook Playoff Factoid
Russell Westbrook, sadly, is tied for third (with a number of other players) all time in most turnovers committed in a game with eight (the record is 11).
Portland Trail Blazers: LaMarcus Aldridge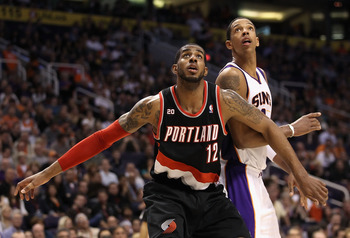 Christian Petersen/Getty Images
Who is LaMarcus Aldridge? Well, he's a career 17 PPG, 7.5 RPG, 1 BPG mega-forward who has been silently dominating teams in the small market of Portland, Oregon.
And his regular-season success has continued and gone on to flourish in the playoffs. His first appearance in the playoffs, his second year in the league in 2008, gave the Blazers a spark, as he averaged 19.5 PPG, 7.5 RPG and 1.6 BPG in a six-game losing effort to the Rockets. His playoff career averages have stayed roughly the same.
However, his star is rising. Aldridge was named Western Conference Player of the Month in February 2011, and in a Brandon Roy-run city, Aldridge is starting to emerge as the star.
At 6'11" and 240 pounds, there isn't much Aldridge can't do that won't frustrate an opponent. He won't shoot threes, but he has a decent range for shots and shoots at a relatively high percentage (career 49 percent, playoffs 47 percent). And he WILL score and rebound.
His height can drive opponents nuts if he sticks to shooting, but he can also post and slash, his height giving him plenty of options to get his 17-20 points per game.
Aldridge isn't a leader yet to the point that he can single-handedly get the Blazers out of their first round malaise, BUT he is the most dangerous option right now since he can do just about everything at such a large size and so tall a height.
Trail Blazer Playoff Factoid
The Blazers have made the playoffs only six times since their epic collapse against the Lakers in the 2000 Western Conference Finals. And of those six times (which include the '11 playoffs in which they find themselves down 0-2), they haven't been able to get out of the first round.
If they were to get past the Mavericks and move on to the semis for the first time since that 2000 season, they'd likely face the dreaded Lakers again (pending the Lakers beat New Orleans), which could either make Portlanders feel more sorrow or could be the first step in exorcising some serious demons. Will Aldridge lead the charge?
Keep Reading

Los Angeles Lakers: Like this team?