2011 NBA Playoff Predictions: Lakers vs. Heat and 10 Dream Finals Matchups
Jamie Squire/Getty Images
The first round of the NBA playoffs just started a few days ago, but plenty are already wondering which teams will meet in the NBA Finals.
The favorites in the Eastern Conference are the Bulls, Celtics and Heat. Out West, it's still the Lakers (although San Antonio, Oklahoma City and maybe even Dallas have a shot).
With all 16 teams still in the hunt, there are quite a few Finals possibilities out there. This slideshow will detail the 10 best matchups for the championship round.
10: Celtics vs. Spurs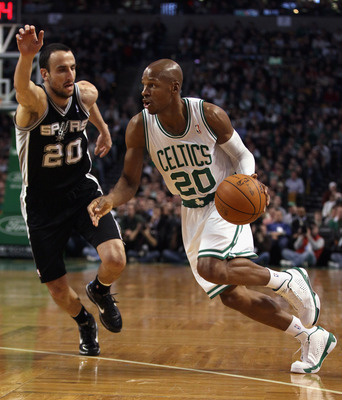 Elsa/Getty Images
The Intrigue:
Outside of Tony Parker and Rajon Rondo, all the biggest names on these two teams are past their prime.
They've been at or near the top of their conferences for a while now, but their championship window may be closing more rapidly than they'd like to admit.
This year could be the last chance to see these two veteran squads go at it for the league's top prize.
Who Would Win?
These two teams match up very well, and calling a winner is extremely difficult. It could certainly go either way, but I think San Antonio's experience and depth will come through.
Perhaps most important would be the fact that the Spurs would have home-court advantage in a series between these two.
San Antonio in 7

9: Grizzlies vs. Pacers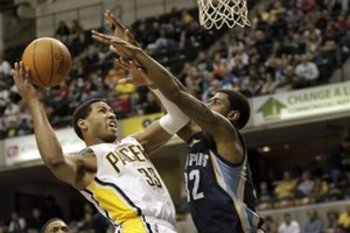 The Intrigue:
How awesome would it be for the two lowest seeds to make it all the way to the Finals?

Who Would Win?
These two teams are about as closely matched as Boston and San Antonio (just lower on the overall spectrum). Home-court advantage and a superior frontcourt would help Memphis win the series.
Memphis in 6

8: Thunder vs. Bulls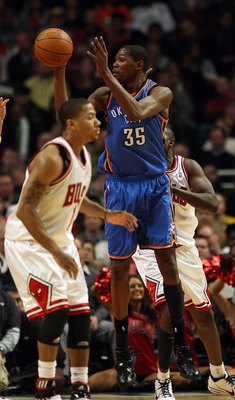 Jonathan Daniel/Getty Images
The Intrigue:
The Bulls and Thunder are two of the best young teams, with two of the best young superstars.
Both squads play extremely hard, which would lead to a very exciting brand of basketball for the Finals.
Who Would Win?
They split the season series and, despite what people may think, there really isn't much of a gap (if any) between Derrick Rose and Russell Westbrook.
They had pretty much identical numbers against each other this past year, and that's true if you extend the head-to-head comparison to their entire careers.
Plus, Westbrook arguably had better overall numbers this past season.
Then there's Kevin Durant. Chicago is a great defensive team, but I'm afraid even they can't completely stop Durant. He didn't shoot great against them this year, but he still averaged 29.5 points in the two games.
Oklahoma City's upgraded frontcourt would cause a lot of problems for Chicago as well. They don't score much, but they don't need to. Serge Ibaka and Kendrick Perkins may be the best defensive interior duo in the league.
Finally, the Thunder have an X-factor off the bench in James Harden. He can come in and cause a lot of problems for Chicago's second unit.
All of that is important, but the biggest key is Oklahoma City's dynamic duo of Westbrook and Durant.
With the exception of Miami's LeBron James and Dwyane Wade, I think Oklahoma City may have the best duo in the league (and the gap isn't as wide as you may think).
Oklahoma City in 6

7: Magic vs. Lakers
Sam Greenwood/Getty Images
The Intrigue:
Some think it would be cool to see a rematch of the 2009 NBA Finals, but the biggest piece of intrigue here would be the speculation on Dwight Howard's future.
If the Lakers ran over the Magic the way they did in '09, the "Dwight to the Lakers" chatter would grow to a dull roar.
Who Would Win?
The Magic have a huge advantage at point guard, and a decent one at center. But even if Jameer Nelson and Dwight Howard played out of their minds, Orlando would have a hard time beating Los Angeles.
Pau Gasol and Andrew Bynum may be able to get Howard into foul trouble. Ron Artest's defense would cause major problems for Hedo Turkoglu.
And of course, Kobe always seems to find a way to turn back the clock a few years once the Finals roll around.
Los Angeles in 6

6: Thunder vs. Heat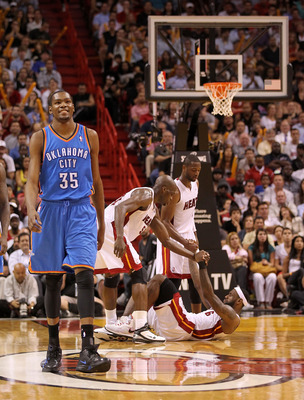 Mike Ehrmann/Getty Images
The Intrigue:
It would be very interesting to see the league's most humble superstar against the league's cockiest superstar.
It's hard to imagine a back-to-back scoring champion being any more down-to-earth than Kevin Durant is. And it's hard to imagine anyone having a more inflated image of himself than LeBron James does.
Plus, these two teams were built in pretty much opposite fashion. Oklahoma City was assembled mostly through the draft and we all know how Miami came together.
Who Would Win?
As I mentioned a couple slides back, the gap between Miami's dynamic duo and Oklahoma City's isn't that wide.
When you combine their averages for points, rebounds and assists, Westbrook and Durant are just barely behind James and Wade.
In a seven-game series, the duos would pretty much cancel each other out.
The biggest factor would be Chris Bosh. He may have a difficult time against the likes of Serge Ibaka and Kendrick Perkins. If he was able to have a good series, Miami would probably run away with this.
Home-court advantage would likely play a role as well, and Miami would have it.
Miami in 6

5: Nuggets vs. Knicks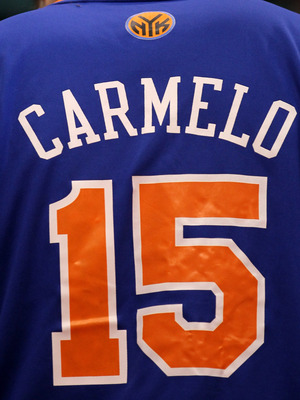 Stephen Dunn/Getty Images
The Intrigue:
Do I really have to explain?
The Carmelo Anthony trade was the biggest single moment of this past season, and there has been plenty of discussion about the teams involved.
Who Would Win?
The Nuggets have significantly more depth, they're better coached, and they actually play defense.
The Knicks' biggest strength is their offensive firepower, and Denver can at least match them in that capacity.
Denver in 7

4: Mavericks vs. Heat
Layne Murdoch/Getty Images
The Intrigue:
For selfish reasons, this is the series I want the most.
No team deserves a Finals rematch as much as the Mavericks do. They were up two games to zero when NBA officials decided to give Dwyane Wade the title at the free-throw line.
Wade averaged 18.3 free-throw attempts a game over the last four games of the series, and did little to earn his trips to the line.
Not even Michael Jordan got the kind of calls Wade was getting. The series had many wondering if the fix was on.
Who Would Win?
I am admittedly biased, but just indulge me for a moment.
Miami would have home-court advantage, but the teams had identical road records and Dallas played in a significantly better division than Miami did.
Plus, Dallas was 2-0 against Miami this year. Granted, those games were closer to the beginning of the season, but I don't think you can completely ignore it.
Two big keys to a series between these two teams would be Shawn Marion and DeShawn Stevenson. They're both solid on-ball defenders, and while they wouldn't stop LeBron and D-Wade, they could slow them down.
After those two matchups, the Mavericks have significant advantages everywhere else. Jason Kidd is much better than Mario Chalmers and Mike Bibby, and Tyson Chandler will dominate every Miami center.
Then of course there's Dirk, who should be able to torch Chris Bosh.
Defensively, Chandler would probably cover Bosh and Dirk would take whatever mummy the Heat send out to play center.
All things considered, Dallas would be able to exact revenge in this potential series.
Dallas in 7

3: Lakers vs. Bulls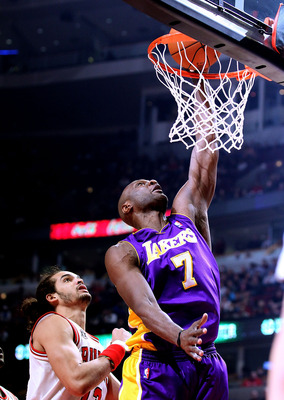 Jonathan Daniel/Getty Images
The Intrigue:
Michael Jordan won his first title against the Lakers in 1991. Wouldn't it be fitting for Derrick Rose to do the same?
Who Would Win?
Everyone knows the Lakers are a different team once the Finals start. It would be the only time they'd match the Bulls' energy. And with that even, superior talent would win out.
Los Angeles has much more depth and experience, and would probably overwhelm Chicago in a fashion similar to the way they did Orlando in 2009.
Los Angeles in 6

2: Lakers vs. Celtics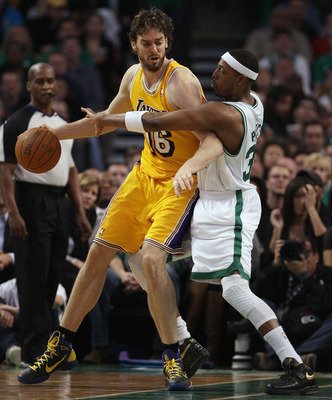 Elsa/Getty Images
The Intrigue:
The Lakers and Celtics have one of the most timeless rivalries in all of sports. Its recent resurgence has been fantastic for the NBA.
Who Would Win?
Excitable Boston fans still claim to this day that they would have won last year's finals if Kendrick Perkins had played.
That's obviously not true, but don't try to have a logical argument with a Celtics fan—it's not possible.
Let's suppose Kendrick Perkins was the X-factor who could neutralize the size of the Lakers. Well, he's not there anymore.
Home-court advantage and superior depth helped Los Angeles win the title against Boston last year, and those things would be the deciding factors if they met again this year.
Los Angeles in 7
1: Lakers vs. Heat
Mike Ehrmann/Getty Images
The Intrigue:
Scores of NBA fans have been hoping for a LeBron and Kobe showdown at the Finals for the last three or four years.
With The Decision and all the hype surrounding it, there's another dimension of intrigue here.
Who Would Win?
Miami owned Los Angeles in the regular season, but this isn't the regular season.
Like I've said over and over, the Lakers are a different team in the playoffs. And they step it up even one more notch when the finals roll around.
The frontcourt of Los Angeles and their superior depth will prove too much for Miami on the NBA's biggest stage.
Los Angeles in 7

Keep Reading

Los Angeles Lakers: Like this team?